Last Updated on April 3, 2023
Most people, most of the time would be happy with a house makeover. Given that this isn't a Sims simulation, we can't just continuously redecorate once we get bored because it would take up a ton of time and money.
So, this article will cover three ways that are either extremely cheap and easy to whip up and bring life into your rooms again or so unique that it'll take a long time before you ever get bored of them!
Printed ornaments and posters
Getting a lovely landscape painting or a world map is very common, and for good reason. However, it's not totally unique to you. This is why "Live, Laugh, Love" became so popular because we were craving more personal expressions for our walls. Of course, that backfired, given every other home now has that quote.
What you're looking for is something more akin to Giftza, a place where there are hundreds of posters and printed ornaments that are intended for hanging. Whilst the website revolves around family gifts and cool mugs, it offers a wide selection of things you can hang on your wall. More importantly, these are in-depth messages and sentimental ornaments – something you don't see every day.
Going this route when decorating your walls is relatively cheap and super easy to chop and change once they're up. Just make sure to not settle for anything less than a message that could've been written by you, which means not neglecting the funny posters too.
Fabric and tapestry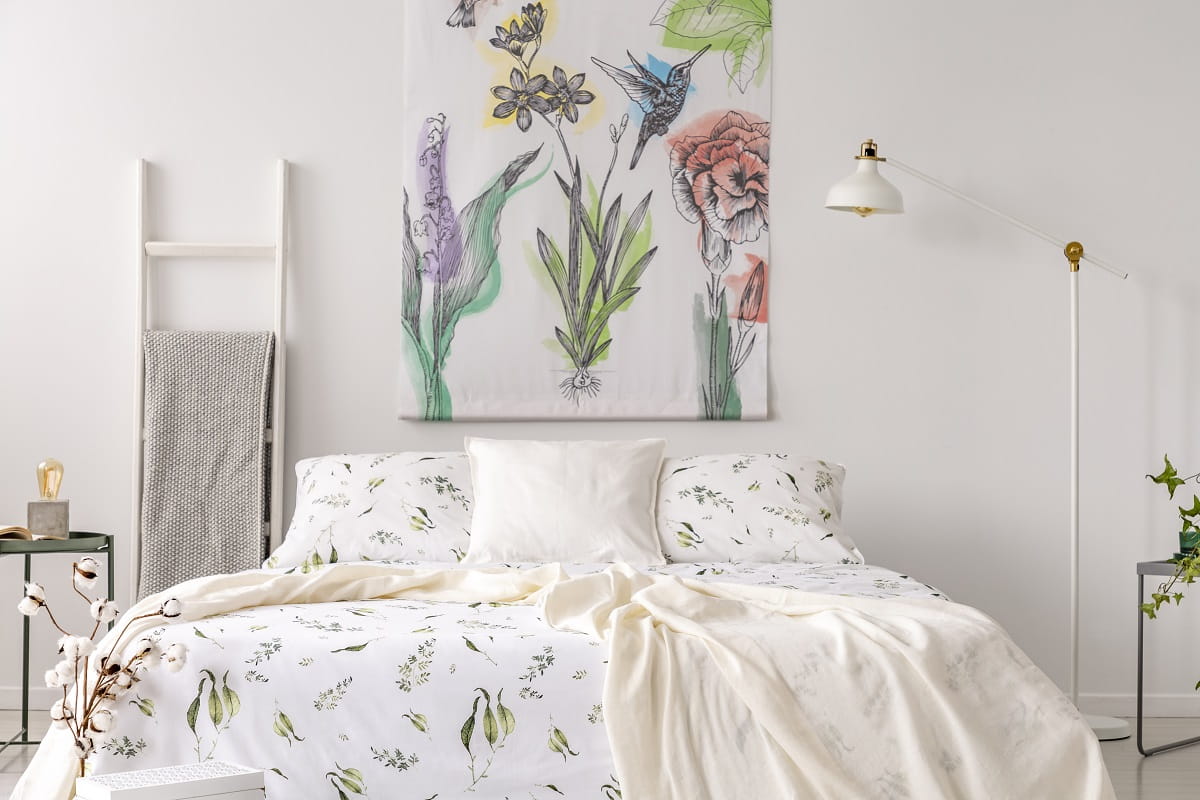 Tapestry can be a very cheap way to completely transform a room. Whilst it often has bohemian connotations, which is great if you want a bit more of a hippy-vibe in your home, it doesn't have to be. There are tones of tapestry fabrics out there with traditional patterns and designs and more muted color pallets.
These are great to hang above a bed, as it's kind of like building a feature wall within 25 seconds of hanging it up. Furthermore, some can double up as blankets for when you take them down, meaning it's a totally low-risk buy. Alternatively, they can lay on top of bed linen which can save you from buying new linen for the sake of an aesthetic redesign.
Hanging plants
Plants don't have to be sat in the garden or windowsill, they can be placed in hanging pots or on a wall-mounted planter. Bringing nature into the home is rarely a bad idea, but hanging plants on the walls is as novel as it is stunning.
Bird's Nest Fern, Boston Fern, Burro's tail, and arrowhead plants are all great for hanging on a wall indoors. They will bring color, life, and fresh air into the home. Alternatively, you can have herb plants hanging in the kitchen to add extra zest to your meals. Further, if you're in lockdown and working from home, having wall plants in your office can help mentally get through the day.
Once you have the apparatus for hanging plants such as mounts, it will become cheaper to swap and add new plant life into the home.