Last Updated on April 1, 2023
Bananas are a popular fruit variety readily available in countries around the world. Some scientists believe that bananas were the very first fruits on Earth. South-East Asia is considered the birthplace of the fruit, where several varieties of bananas grow to this day. 
Bananas are an excellent ingredient for many cooks in South-East Asia. It might be surprising to learn that bananas also have seeds in them. 
 Platforms like prepared cooks not only reveal interesting food facts such as this, but also give you excellent, innovative recipe ideas to impress your family or friends. 
In 2019, Asia alone produced over 63.14 million metric tons of bananas. This is proof of the high consumption levels of bananas in the region. 
Bananas and Seeds
Bananas, like most other fruits, do have seeds in them. The varieties of bananas found in the jungles of Malaysia, the Philippines, and Indonesia have seeds in them. This fact may come as a surprise to most people, as commercial bananas do not have visible seeds in them. 
It is because the commercial bananas found these days have been genetically modified, wherein the seeds remain underdeveloped.
With mutations and difficulty finding viable banana seeds for growing new plants, farmers soon realized that seeds were not necessary for banana farming. This realization led to the cultivation of the species we enjoy today, the seedless banana.
Contrary to belief, banana plants are not some tree but a herb plant that grows up to 15 meters in height. It is the banana bulb or rhizome from which the plant grows and not the seeds. Banana flowers appear in about six to seven months, and in another two to three months, the plant starts bearing fruit.
So as banana seeds became obsolete in the production process, the sweet, yellow, seedless bananas we see today became popular.
What Can You Do With Banana Seeds?
Most varieties of bananas, commercial and wild, are safe for consumption. However, there are some varieties of bananas that grow pea-sized seeds and are extremely tough to eat. These seeds are still edible but are avoided because of their texture and toughness.
You Can Eat Wild Bananas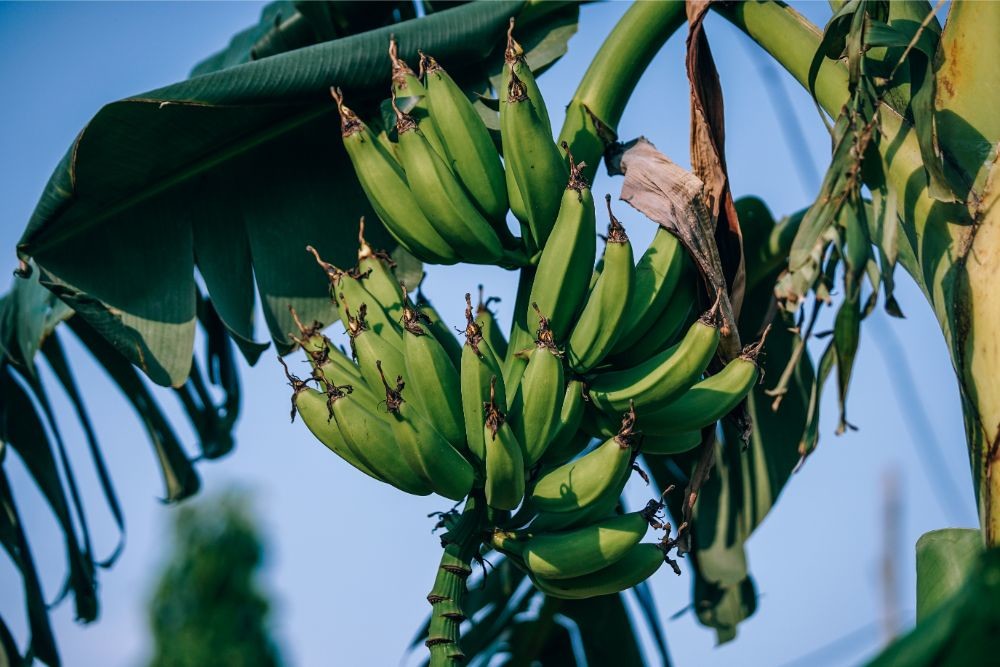 Wild bananas will ultimately differ from the way your regular bananas look and taste. They will not be sporting vibrant yellow skin. Instead, you will find these bananas in different shades of green, yellow, or red.
Wild bananas are typically found in tropical regions. These varieties are derived from two other species known as the Musa balbisiana and Musa acuminata. 
As mentioned earlier, some wild bananas may have tough seeds which are difficult to chew and swallow; these bananas belong to the balbisiana category.
 The bananas belonging to the acuminata category will still have plenty of seeds, but they will have a chewy texture to them than tough. The pulp of these bananas could be deliciously sweet, but the seeds will more or less be bland. 
Wild banana seeds are not poisonous, and they are safe to consume. However, banana seeds get their reputation of being inedible because of their rugged texture. As a result, people tend to eat the fleshy part and leave out the seeds not because they are inedible, but because they are bland and simply not worth spending time chewing.   
You Can Grow Wild Bananas
The issue with edible bananas is that the number of seeds they produce which can be used to grow banana plants is meager. This is because finding viable seeds after the germination and extraction process is complex. Due to these difficulties, modern-day farmers shifted to using the existing plant parts to grow new ones.
If you can get your hands on viable banana seeds and are prepared for the labor-intensive work this fruit demands, you can grow your wild bananas at home, just like you would any other fruit. Once the seeds germinate, it will take a few months before the plant starts bearing fruit.
These wild bananas will significantly differ from the bananas you see in your local supermarket. Yes, they might taste sweet, but their flavor will be different from your regular bananas. 
Over 1000 different species of bananas exist worldwide, which may be surprising to some people. Of course, Cavendish is the most popular banana species, but various other species like the Blue Java, Macabu, and Nino are equally revered in their respective native regions.
Websites like prepared cooks do a fantastic job of providing such insightful information about cooking and health in tips, recipes, and hacks that help amateur cooks greatly.