Last Updated on March 8, 2022
Are you looking to have a new logo? You may engage a professional designer or use a logo maker online and make your own logo. In both cases, you will need to get the logo image in varying file formats, which will enable you to market your business in different areas.

Why do you need multiple files of your logo?
A logo in most cases will be in the form of an image like as of the best logo design companies in 
this
 article. Each image is suitable for a specific use. Your new logo design must have the capability of fitting in different medias of a company such as:
Packaging branding
Websites
Branding uniforms
Branding other promotional media like cups, pens, signs among others
Below are the different types of files you need to get with your new logo design
Vector files
Vector files make use of mathematical equations that enable the production of a flawless image even after rescaling. They are better than raster files that use pixels and are not resizable because each pixel becomes unclear when resized. Examples of raster images are JPG, PNG and GIF files.
Vector images are available in the following formats.
.eps: This is an Encapsulated PostScript image. It is an older type of vector graphic which does not support transparency like modern file formats
.ai: It's a logo image created in Adobe Illustrator (.ai) for use in digital graphics and print graphics. It supports transparency.
.svg: It is a Scalable Vector Graphic format. It uses XML and also the SVG image is readable by both machines and humans. You can use the SVG file for your new logo design on the web to enable indexing, scripting, and searching.
.pdf: This is a Portable Document Format that enables the exchange of documents across various platforms. It is editable using Adobe Acrobat. In addition, it allows the compression of files for sending over the internet.
Additionally, a PDF file format for your new logo ensures that the logo formatting is the same on any device and is easy to share.
The vector file allows full-color CMYK or Pantone versions for Ai, EPS, and PDF. SVG allows the use of RGB in full color. Furthermore, it allows the use of a single color in both white and black.
Why your new logo should come in an EPS, AI or SVG file format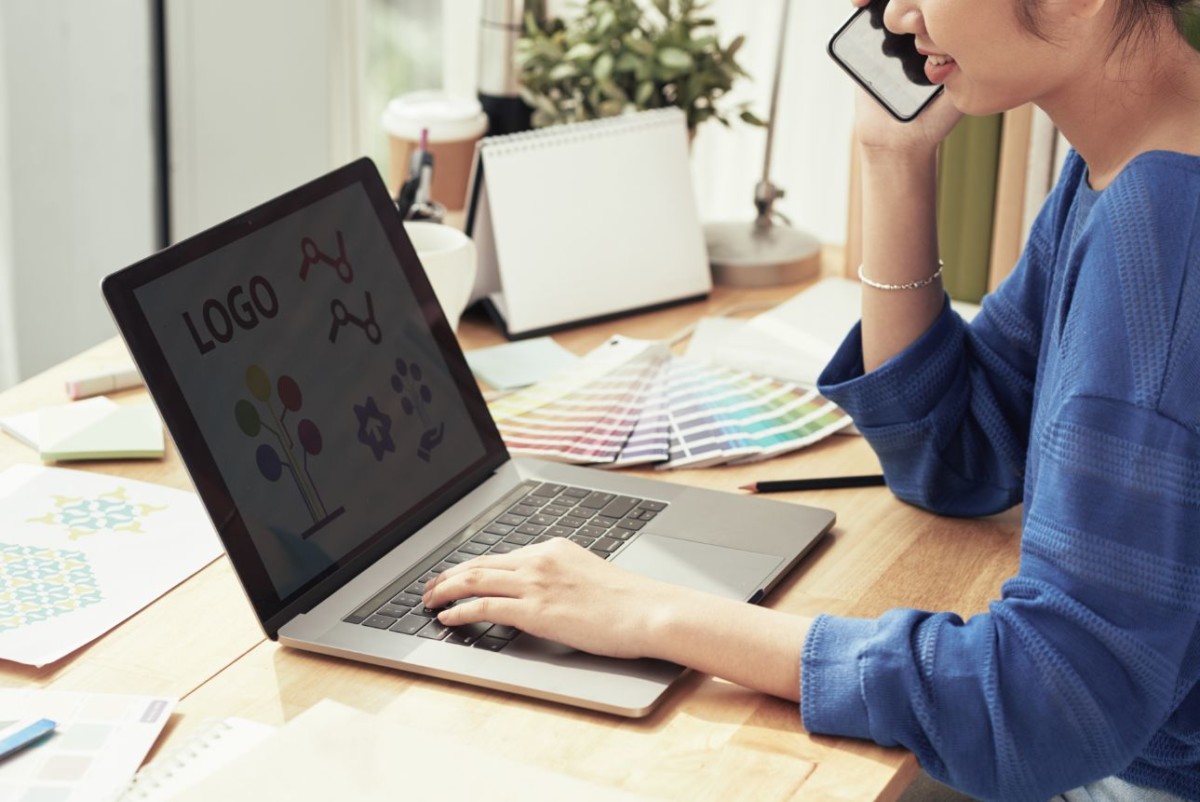 The logo design in this file format is vector-based and is the master file that a designer works on. In addition, the file contains text and graphics that you can edit.
Benefits of EPS, AI or SVG file format
Enable scaling during print. This type of file format will allow you to scale your logo on large displays – billboard and also on small displays such as pens and business cards. The image format will not distort due to scaling.
You can edit the file using Corel, Adobe Illustrator, or Photoshop.
The new logo design will be in vector format
Examples of how to use your new logo in EPS format
Printing materials like cards, flyers, brochures, posters, and others
Printing on clothing like T-shirts, hats and more
When sending the logo to a designer for additions or changes
High-Resolution Logo Images
The resolution in your new log is measured by the pixel density which is either shown as DPI (Dots Per Inch) or as PPI (Pixels Per Inch). If your new logo design is for use on print, you need a high resolution of 300dpi. This resolution will enable you to rescale your logo design to fit different media.
Low-resolution images are best for use on the web and usually have 72dpi in density. This type of resolution will not allow you to resize the new logo design.
Joint Photographic Experts Group (JPEG) also JPG file format
An image in JPG format for your new logo design will enable its use in digital cameras, mobile devices, tablets, and on the internet. The file format allows compressing making it easy to share and upload on websites and social media.
Portable Graphics Format (PNG)
It is a useful file format for your new logo design. It has a transparent image background making it suitable for websites and social media when you have a background with color.
Furthermore, an image in the PNG file format does not lose quality on compressing or decompressing.
In addition, your new logo design in PNG will be easily applicable in letterheads when using Word, presentations, cover photos, and as well as a watermark.
Get the Logo Files for Use in Different Settings
When getting logo files for your new logo design,  you must get in multiple file formats to fit specific purposes.
For digital purposes like presentations, websites, blogs, social media and as watermarks on images you should get PNG or JPG files
When you are sending your logo for printing on business cards, mugs, T-shirts, billboard newsprint, and others, choose a vector file. (EPS, PDF or SVG if your printer accepts)
Therefore, ensure you request all the file formats above when getting your new logo design.