Most companies and organizations have clearly defined goals that they intend to achieve within specified timelines. These goals normally originate from the organization's top decision-making organs. They then cascade down to every department, with each department performing unique functions to advance the company's set objectives.

To accomplish these objectives within the stipulated timeframes, every member (including the rank and file members) of the company must pull their weight. And this is where the problem usually begins.

While some teams may perform their assigned duties diligently towards realizing a company's missions, others may not be so effective at discharging their mandates. For large organizations, this can seriously affect progress and derail the company's ambitions.

Therefore, it's necessary for every serious organization to set and measure its performance. One effective tool for gauging a company's performance and progress towards its goal is known as KPI.

In this post, we'll unpack everything there is to know about KPI as a tool for measuring performance within the business and corporate circles.
What Is A KPI And How Does It Work?
KPI is an abbreviation for 'key performance indicator.' Also known as key success indicators (KSI), KPIs refer to measurable values that help determine how effectively a company or organization is working towards achieving a common goal. KPIs are highly instrumental in helping businesses establish whether they're utilizing their resources effectively.

For instance, a company may have a goal of ramping up its revenues by 30% over a given financial year. A great key performance indicator can help the company determine the viability of the set objective. The tool can also provide insights into actionable steps that the business can take towards realizing its ambitious revenue increase goal within one financial year.

But KPIs aren't just useful for measuring the performance of a company or organization against its set objectives. Individual professionals can also leverage these tools to gauge their overall potential and productivity.

Another thing worth noting is that KPIs don't necessarily guarantee success. These tools are only meant to help you focus your critical resources (time, money, and energy) on the set objectives. But if implemented effectively, KPIs can help companies and professionals improve their resource management and decision-making skills significantly.
What KPI Is Not
The terms 'KPIs' and 'metrics' are often used interchangeably. However, they do not exactly denote the same thing.

While KPIs are tools used to monitor success towards set goals, metrics are quantifiable measures used to track progress and performance. Common metrics include employee happiness, revenue increase, machinery acquisition, increase in website traffic, etc.
What Is The Purpose Of KPIs?
We've already introduced key performance indicators as tools for tracking a company's performance and progress towards its common goals. But perhaps you still find that definition a bit vague and are wondering if your business requires these tools at all.
Well, KPIs can be used primarily for the following objectives:
1. Providing Actionable Plans
It's exciting to set ambitious goals. After all, every business desires to scale new heights every day.

But the million-dollar question is, do you have any actionable plans to implement towards reaching your goals? KPIs can help you answer this question.
2. To Gauge Individual Employee and Team Contribution
Numerous reasons can cause an employee or department to not pull their full weight in helping a company realize its objectives. Common ones include limited resources and lack of employee motivation.

However, there are also instances where some workers simply choose to slack off in the hope of riding on their colleagues' hard work and dedication. Using a KPI, you can easily pinpoint these employees or departments and take the necessary measures to address their inefficiencies.
Features of KPIs
Key performance indicators are not made equal. The best way to establish the quality of a KPI is to determine whether it fulfills the "SMARTER" framework.
The framework breaks down as follows: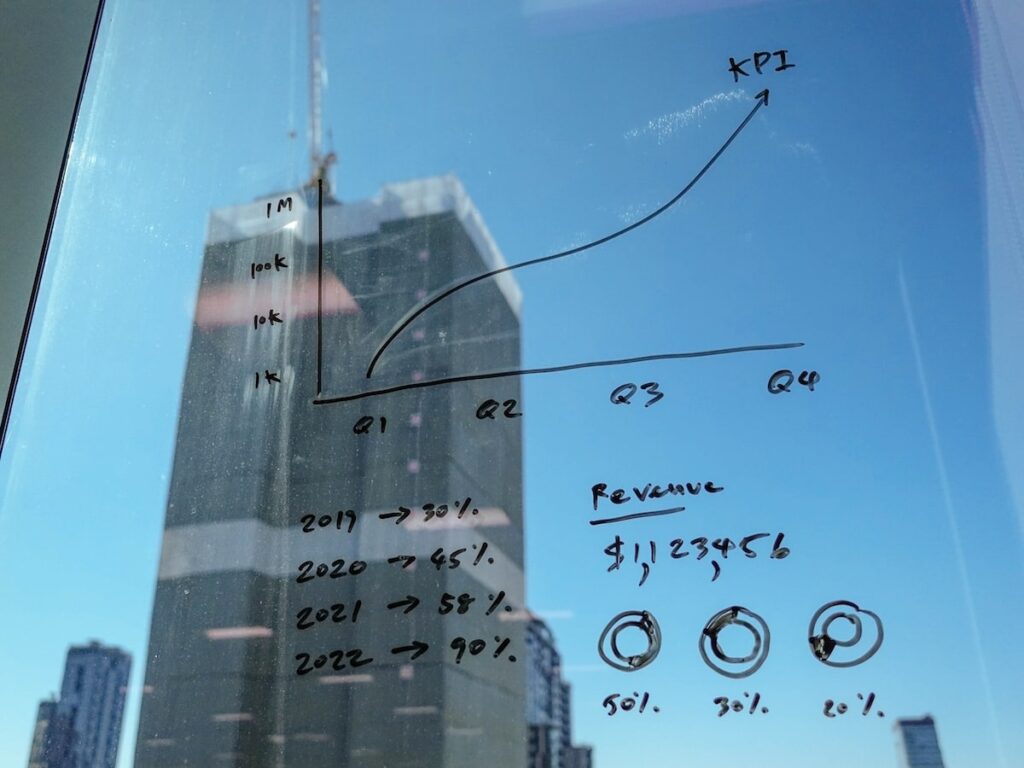 a) Specific
A key performance indicator should be clear and well-defined. The tool should also be detailed enough to capture every objective you wish to achieve.

Avoid vague or ambiguous KPIs, such as "improve customer satisfaction." Instead, you could opt for a KPI like "improve customer satisfaction by addressing negative feedback within 1 week or receiving them."
b) Measurable
The measurability of a KPI simply refers to the ability to quantify it. Note that you can only gauge the performance of your business against quantifiable success. And success in business is generally measured against specific dollar amounts, percentages, or raw statistics.

Don't just have "revenue increase" as your KPI. Why not break it down into measurable amounts, such as "increase revenue by 20% over the next financial year?"
c) Attainable
Achievability is another crucial aspect of a key performance indicator. Attainable goals can offer your employees the much-needed motivational boost as they know they're working towards realistic expectations.

It's okay to choose a KPI that's out of sight. But it shouldn't be out of reach.
d) Realistic
KPIs should also be relevant to the services your business or organization offers. In other words, the indicators should advance your company's broader mission.

Let's assume that your company is working towards developing a new technological gadget and you happen to be attached to the public relations department. It's easy to sit back and relax since the bulk of the work will be executed by departments charged with innovation and strategic planning.

However, KPIs will still require you to play an active role even if the project at hand isn't directly related to your area of expertise.

Based on the above scenario, you can start drafting a press release that you'd send to news outlets when the product finally comes out. You can share a draft of the press release with other employees as a way of motivating and helping them align themselves with the project at hand.
e) Time-bound
KPIs are generally measured against specific timeframes. The most important thing here is that these timeframes should be realistic.

A multinational giant like Coca-Cola cannot set a KPI of, say, "to win one client per month" if the client only guarantees $50 in monthly expenses for the company's products. A more financially viable KPI would be something like "to acquire majority stakes in one million-dollar corporation per month."
f) Evaluate
A key performance indicator should be evaluable. In other words, you should be able to examine it at any given time to ensure it's still working towards your objectives.

Evaluating a KPI is an excellent way to determine whether the tool is still relevant.

Numerous changes may have taken place from the time you set your goals, rendering the KPI irrelevant. For instance, you might already have met your objectives, in which case you'll no longer need the tool.

Evaluating a KPI from time to time also allows you to pinpoint any blockers to success. These evaluations will let you determine whether the originally assigned financial or human resources are helping you achieve your set objectives.
g) Reevaluate
Reevaluation of a key performance indicator refers to the ability to readjust the tool at specific periods.

During these periods, you can determine whether it's necessary to update your KPIs to make them achievable, realistic, and aligned with your company's objectives.

You can always choose a reporting frequency that works for you, such as halfway through or towards the end of the KPIs timeframe.
Types of KPIs
Key performance indicators fall into two broad categories, namely Lagging vs. Leading Indicators and High vs. Low Indicators
i. Lagging vs. Leading Indicators
Lagging key performance indicators are used to measure the current state of a business and its accomplishments towards its goals after a set duration.

Examples of lagging KPIs include:

• Website traffic after a month of intensified digital campaigns
• The number of attendees to a highly-publicized event
• Revenues earned from a program

Leading key performance indicators adopt a futuristic approach, where they measure the success of a business at a later period. These KPIs can help a business to predict the outcomes of decisions made today.

Examples of leading KPIs are:

• Prospects for employment opportunities
• Interests in new markets
• Value addition to current products
ii. High vs. Low Indicators
High KPIs target the objectives of an entire organization. These indicators measure the performance of a company or organization as a whole, usually against its competitors.

Low KPIs analyze the performance of individual departments, teams, or employees. These tools measure how the efforts exerted at a company's lower levels translate to its overall growth.
Besides the above-mentioned types, key performance indicators can also be classified as follows:
a) Financial KPIs
Financial KPIs focus on revenue generation.

Examples include:

• Growth in Revenue
• Gross Profit Margin
• Net Profit Margin
• Inventory Turnover
• Operational Cash Flow
• Current Accounts Receivables
b) Customer KPIs
As the name implies, customer KPIs analyze the viability of the measures a business takes in ensuring customer satisfaction.

Common customer-focused indicators include:

• Number of Customers Retained
• Ratio of Positive: Negative Feedback
• Average Support Resolution Time
• Percentage of Market Share
• Customer Lifetime Value (CLV)
• Customer Acquisition Cost
c) Process KPIs
These key performance indicators monitor the operational procedures a business undertakes and how viable these processes are.

Examples are:

• Number of Defective Products
• Sum of Produced Products
• Project Completion Time/Service Delivery Time
• Resources Required To Deliver a Single Project
• Employee Satisfaction Rating
d) Sales and Marketing KPIs
These are tools for measuring the success of a company's sales and marketing campaigns.

Examples include:

• Number of New Contracts Signed Over a Given Duration
• Dollar Value of New Contracts Signed Over a Specific Period
• Average Conversion Time
• Hours Dedicated To Sales Follow-ups
• Amount of Marketing Material Published Over a Given Period
Final Word
KPIs aren't a preserve of companies and organizations. Anyone can use these tools to measure progress towards their set objectives. Just remember to adopt a suitable KPI depending on the nature of your goals.