The world has changed dramatically.
Who knew that you can buy almost anything with a few clicks, then have these items shipped to you on the same day? It's crazy if you think about it. Decades ago, our forefathers would never have fathomed how technology could evolve to bring commerce to our doorsteps.
And it can only get bigger. With more people working from home and customers growing more perceptive with purchases, businesses are changing, too. From unique products, quick payments, to faster shipping, and sustainable packaging, these are common expectations in ecommerce.
If you've always dreamed of having your own store, don't feel daunted by these tasks. With Shopify, you could turn that dream into a reality.
What is Shopify?
Founded in 2006 in Ottawa, Canada, Shopify wasn't always the all-inclusive online selling platform that it is now.
The company was created by Tobias Lutke, Daniel Weinand, and Scott Lake sometime in 2004. They wanted to sell high-end snowboarding gear. When that didn't work out like planned, the business was re-branded in 2006. As of 2019, there are over 820,000 merchants on the platform.
Today, Shopify is a great software to use if you want to begin your ecommerce journey. This is recommended for small- and medium-sized enterprises, particularly mom-and-pop stores, as everything is super user-friendly. No knowledge on coding, plug-ins, or add-ons? Don't worry: Shopify will have the barebones covered so you can start as soon as you set up shop.
Another awesome feature of Shopify is that it allows for dropshipping. This is a business model wherein a merchant does not carry any products. Instead, every time a purchase is made, these orders are sent to a third party seller that ships the item directly to the customer. If you want to test the ecommerce waters without getting your hands full of inventory, then dropshipping may be for you.
While Shopify is an amazing partner to help you kickstart your business dreams, do remember that they don't help with the physical aspects of selling (i.e. shipping and products).
How does Shopify work?
One of the best things about Shopify is that it gives first-time users a FREE 14-day trial to see how the platform works. NO credit card required, NO surveys, NO hoops to jump through – just your email. Use this opportunity to see if the service is a right fit for your ecommerce needs.
Step 1: Sign up.
You can choose to sign up through the FREE 14-day trial OR choose a pricing plan immediately. Should you decide to subscribe after your free plan, you can quickly do so on your dashboard.
Verify your email address and enter your personal details (name and address). You will then be directed to your homepage where you'll find the basic tools (e.g. Orders, Products, Analytics, etc.) you need to get started.
Step 2: Set up your online shop.
Here, you get to pick a theme, add a domain name, and install apps.
Visit Shopify Themes to start shopping for a nice look for your online store. There will be FREE and premium themes. The free ones aren't bad and are great if you're simply starting out; but premium ones do carry more options. However, they can set you back anywhere from $140 to $180.
Before adding a theme, make sure to select View Demo so you get a preview of how your future website will be like.
Next, get a domain name (e.g. mysoap-shop.com) so customers remember you. Then add apps that will help you manage your business online (options will be based on where you're located). These apps can range from messaging, delivery, to automated sales and inventory.
Step 3: Edit your settings.
This is when you're going to customize the little details such as adding your logo, fonts, pictures, and links. If you're not familiar with branding and how it can affect your business, you may want to pause and take care of that first.
Having a solid brand will help customers recognize you from the competition, and will also boost your standing in your chosen industry once you're more established.
Step 4: Add products.
Once you've taken care of the details of your online shop, it's time to add products.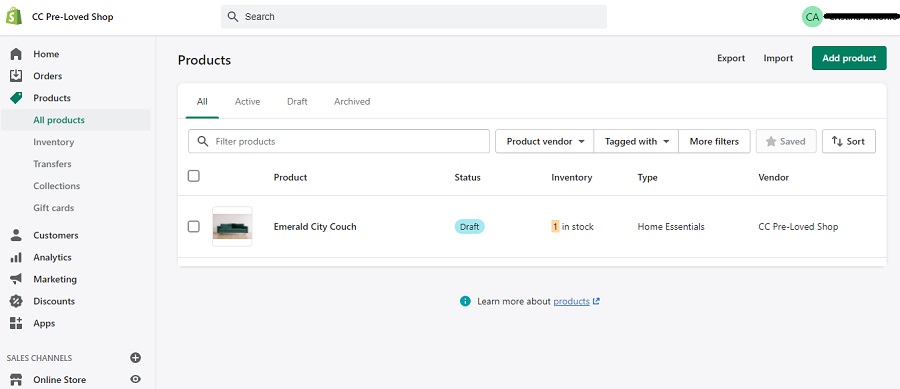 Make sure to make your product titles honest yet catchy. Don't forget to write a short description, add photos, price the item, charge for tax (check or uncheck this box), set the quantity, and enter shipping details (vital for physical products).
Categorize your products so you and your customers can easily sort through them.
Step 5: Pick payment options.
As Shopify is an all-inclusive platform, you will get PayPal Express Checkout as the default payment processing provider. However, you can choose other methods if you prefer.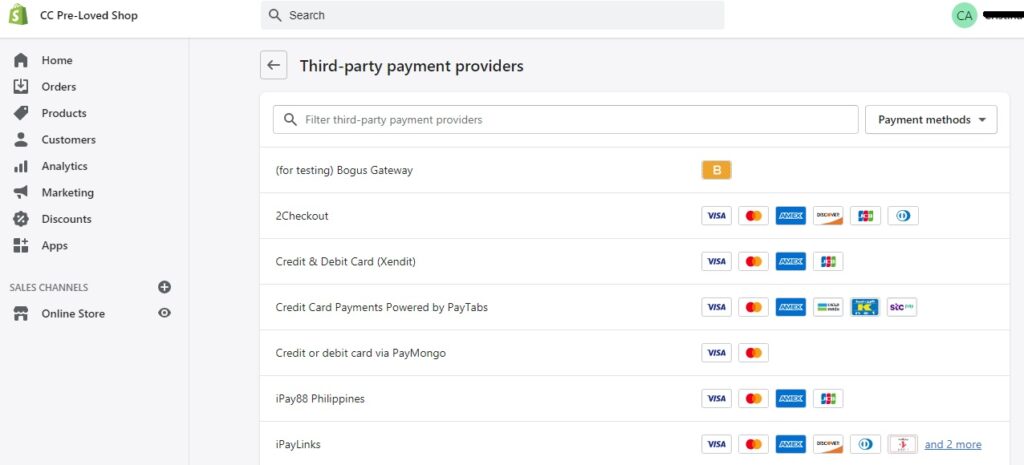 Under the 'Third-party providers' tab, you'll be given a list of available options in your country. Just make sure you're familiar with their fees and limitations before setting it up.
Step 6: Verify business details.
Before publishing your online store, go over everything to ensure you've smoothen out every detail.
Do you want a blog on your website? Did you already buy a domain? Do you want to set up a marketing campaign? Did you add link for your social media channels? Did you test if your payment process works? Go to Settings for a final run-through.
Step 7: Make Your Shop GO LIVE.
Once you're happy with your shop, it's time for the world to see it. Please note that during your 14-day free trial, your online store will be password-protected and only visitors whom you give that password to can view it.
To remove this, pick from any of their affordable pricing plans that start at $29 for basic services. After upgrading your plan, go back to the admin page. Uncheck 'Enable password' from your settings, and your store is now LIVE!
Make sure to iron out all the kinks (i.e. taxes, shipping fees, pricing plan, etc.) before jumping into the ecommerce world. Feel like you forgot something? Check out Shopify's general checklist for starting a new store.
Shopify Pros and Cons
Shopify may seem like a do-it-all software – and it is, on some respects – but it has its pros and cons.
Two of the biggest reasons to sign up is because of the software's user-friendliness and low startup cost.
For those who are just beginning, or want to test the ecommerce waters, you don't want to spend thousands of dollars on something you may stop using after a year or two.
Meanwhile, small businesses run by older generations may not be so tech savvy. These two market segments will find Shopify fairly easy to use and cost-effective, as well. Only have a couple of items for sale? Then the platform will be perfect for you, too!
On the other hand, two of the cons against Shopify would be pricey add-ons and their strained customer support.
While their basic subscription fees are manageable, adding certain apps or themes can increase expenses. Entrepreneurs must remember that at some point, your store will grow and will need additional support.
A good number of the apps may not be supported by Shopify. And if it did, adding it to your current plan may seriously affect your bottom line.
A good question to ask yourself early on is: "What is my plan for my business in the next five years?"
If your answer is to scale up and sell to a wide range of customers internationally, then Shopify may not be for you.
Bottom Line
No dream is too small. Whether you want to become a florist, a soap maker, or a fashion designer, you shouldn't let anything get in the way of your vision. Yes, it's not going to be easy. But nothing in life that's worth having ever came easy. Besides, you'll have Shopify with you to make that ecommerce road less bumpy.
As a fellow dreamer once said:
"All our dreams can come true, if we have the courage to pursue them."