Last Updated on April 2, 2023
Security is one of the primary concerns in the online world these days. According to recent stats, there is a hacker attack every 39 seconds. A security breach not only cost companies in terms of money, but it also affects reputation and customer trust.
Therefore having a foolproof security system is mandatory in a web or mobile application.
As per a recent web design stat, WordPress is being used by 37% of the websites. Therefore, WordPress is one of the main hotspots for hackers to try their luck. Having strong security is evident in WP powered websites.
Using a security plugin protects your WP powered site from brute force attacks, malware, and hacking attempts. In this blog post, I have hand-picked some topmost WordPress security plugins that can be used to make your website free from cybercriminals. But the risk level can be mitigated through other ways, such as working with a professional IT consultant.
Why Should You Use a WordPress Security Plugin?
A security breach on your WP powered website can cause serious damage to your business as well as it will affect the reputation of your company.
Cybercriminals can steal all your crucial information or the data belonging to your customers
A compromised site can be used to distribute various malicious codes to unsuspecting users and various other websites.
When your website gets affected, you can easily lose access to your website, lose data, get locked out, or all your data could be held, hostage
Your website can easily be defaced or destroyed by hackers, which can affect your search engine rankings and brand reputation.
You can scan the WordPress site for security violations at any time. Although, cleaning up a hacked WordPress site without the help of professionals can be very difficult for non-technical users. In order to avoid being hacked, you should follow safety best practices in order to protect your site.
One of the most crucial steps in securing the WordPress site is to start using the WordPress security component. These plugins help you tighten WordPress security while blocking the brute force attack on your WP powered website. Let's take a look at some of the best plugins for WordPress security, and how they help you protect your WP website.
PS: You can use only one plugin from this list. Having a plethora of security plugins active from this below-mentioned list can lead to various bugs.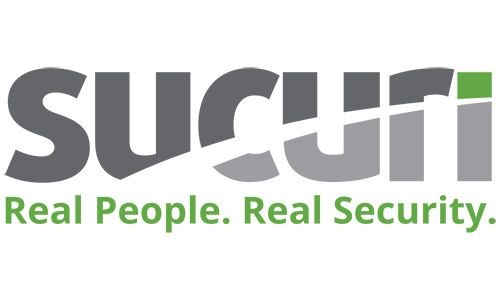 Sucuri is the leading and trusted security service provider. It is one of the best WordPress security plugins and tools in the market used by many WordPress plugin development companies. It provides free basic plugin Sucuri Security that helps you tighten and foolproof WordPress security and clears your WP powered website for common threats.
But the real catch of this security plugin is the paid plans, which come with the best in class WordPress firewall protection. This firewall helps you prevent various malicious and brute force attacks from accessing WordPress.
Sucuri Firewall filters out bad data traffic even before this traffic reaches your server. In addition to this, it offers static content from its CDN servers. In addition to the security, a DNS-level firewall with a content distribution network gives you a huge boost to its performance and speeds up your WP powered website.
Most importantly, it security plugin clean your WordPress site if malware is affected at no additional cost. You can even make a website that is already affected by any particular malware, and they will clean it up for you. Furthermore, most WordPress development companies use the Sucuri security plugin on most of their websites.
For more information, see our full Sucuri review to find out how you helped us protect our sites.
Features:
They will clean up your WP powered website at no additional cost if it gets malware
Their firewall protection helps you block various brute force attacks from accessing your site
It lets you conduct powerful malware scanning
Effective hardening of security
Keeps track everything that is happening on your website, including last logins, file changes, and failed login attempts
Can reduce the load time of server and improve your performance of your website by blocking various malicious traffic
Serves static content from their own content distribution networks
Protects your website against XSS, SQL Injections, and all known attacks
Wordfence is another popular security plugin for WordPress based websites. It offers a free version of the plugin that comes with powerful detection exploit, malware scanner, and threat rating features. This will automatically scan your site for common threats, but you can start a full scan at any time using this plugin.
You will be alerted if there are signs of any security breach with elaborated instructions for repairing them.
In addition to this, Wordfence comes with a built-in WordPress firewall. Although, this firewall works on the server just before the loading of WordPress. It makes them less effective than a DNS-level firewall for example Sucuri.
Features:
Free to install and use for as many websites that you need
Monitors hack and visit attempts on the real-time basis including origin, their IP address, time, and time spent on the website
It also tracks and alerts you about various breached password usage so that you can create a new strong password on an immediate basis
Protects from severe brute force and other similar attacks with limiting failed login attempts
Runs on your own server instead of being a cloud-based platform it can slow your website
iThemes is a WordPress based security plugin from the developers behind the popular BackupBuddy plugin. Like all of their plugins and products, iThemes Security offers a nice clean interface for users with lots of options.
It comes with security hardening, file safety checks, strong password enforcement, login attempts to limit, 404 detections, brute force protection, and many more. iThemes Security does not comprise a website firewall. In addition to this, it does not include a malware scanner and uses a Sucuri Sitecheck malware for its working.
Features:
2-factor authentication for the extra layer of security
Powerful password enforcement
Plugin scans and 404 detection
Locks out any dangerous IP that scans for vulnerabilities on your WP website
Scheduled WordPress backups
Sends email alerts in order to notify you of any recent updates in a file on your website that may be malicious
Ability to limit login attempts
Although there is no malware scanner or website firewall, they do use Sucuri's Sitecheck malware scanner
This WordPress Security Plugin is quite a powerful Security auditing and monitoring tool. This security plugin enables you to easily apply any basic WP security best practices on your website. In addition to this, it comes with features like login lockout in order to prevent brute force attacks, file integrity monitoring, IP filtering, scanning for suspicious patterns of database injection, user account monitoring, and many more.
Furthermore, it comes with a basic website-level firewall which can easily be detected and block some common patterns for you. Although, it is not very effective as Sucuri plugin and you will often be asked to include various suspicious IP addresses manually.
Features:
Scanning for various malicious patterns
Login lockdowns after various failed attempts to log-in
IP filtering so as to block any geographical locations or specific people
You can easily view a list of locked out users in order to unlock individuals in just a few clicks
A password strengthening tool in order to allow you to generate strong passwords appropriately.
A website-level firewall
User account monitoring
Lets you manually blacklist all the suspicious IP addresses
Anti-Malware Security is another useful and useful program for WordPress to combat malware and security. The plugin comes with actively saved definitions that help you find the most common threats.
The malware scanner software allows you to easily scan all files and folders on your WordPress site for malicious code, malicious backgrounds, malware and other known patterns of malicious attacks.
The plugin requires you to create a free account on the plugin to access the latest definitions as well as get some premium features like brute force prevention. The plugin also makes a call to developer sites to check for updated definitions.
While the plugin does extensive tests, it often shows a large number of false positives. Matching each of them with the source file is a lot of work.
Features:
Powerful password enforcement
Plugin scans and 404 detection
A two-factor authentication method for the extra layer of security
Locks out any dangerous IP that scans for vulnerabilities on your WP website
Scheduled WordPress backups
Sends email alerts in order to notify you of any recent updates in the file on your website that may be malicious
Ability to limit login attempts
Although there is no malware scanner or website firewall, they do use Sucuri's Sitecheck malware scanner
BulletProof Security is a popular WordPress security plugin. It has some great features. This WP based security plugin comes with a setup wizard that helps you through plugin settings.
In addition to this, the settings panel includes links to comprehensive documentation in order to help you comprehend how security settings and scans work. It comes with a scanner allowing you to check the integrity of files and folders of the WordPress website.
For rigidity of the security, it comprises passive session logoff, login protection, a database backup tool, and security logs. In addition to this, you can set up email notifications with security logs and get notifications when a user is blocked.
Features:
A somewhat easy-to-use setup wizard
Email notifications with various security logs when a user gets blocked from access due to various failed login attempts
Database backups
Malware scanning and firewalls
Idle session logouts
Login protection
Let's Wrap Up
We hope that with the help of this article you find the best WordPress security plugin for your WP powered website. If you liked this blog, please share the article on your social channels and spread awareness. If you still find any difficulty in securing your WP based website, feel free to hire WordPress developers who have experience in creating custom WordPress security plugin development services for you.