What Are YouTube Tags?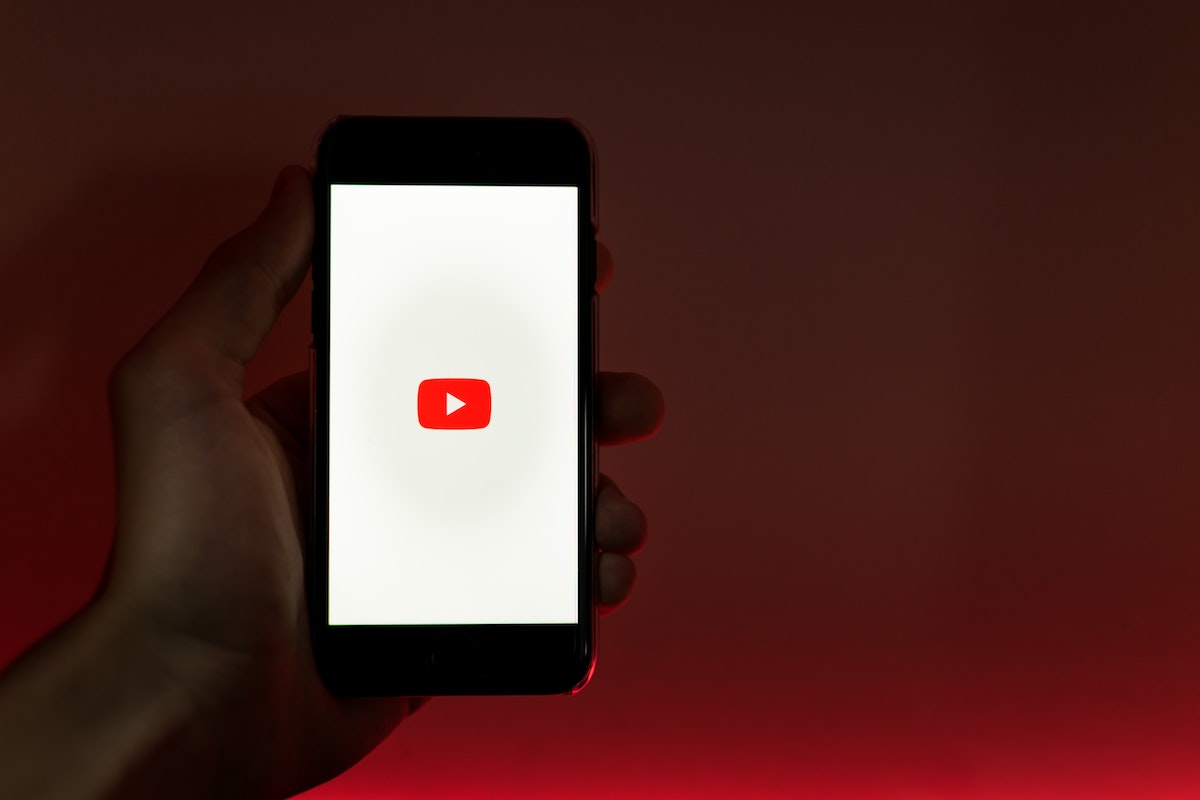 YouTube tags refer to the descriptive keywords that allow YouTube to grasp and rank videos on the platform. For instance, YouTube might place your videos on a specific category depending on the tags used.

YouTube tags are instrumental in making content on the website discoverable by other users. Therefore, they play a crucial role in boosting your videos' organic reach, further broadening your visibility on the platform.

Another significant benefit of YouTube tags is that they can counter the consequences of misspelled target keywords. You can easily tag the misspellings without necessarily incorporating them into your title or description.

Last but not least, YouTube tags can make you organize and locate your own content on the platform. To make that happen, you'll need to do self-referencing tagging.

Now, it's important to note that YouTube generally limits tags to around 400 to 500 characters (including spaces). So, you must ensure that every character counts when generating captivating tags.
Tips and Tricks to Create and Leverage YouTube Tags
Contrary to what you may think, you don't need to be an SEO specialist to create powerful YouTube tags. There are numerous invaluable tips that you can implement to come up with captivating tags on the platform.

The following are some of the common YouTube tags best practices to observe:
1. Plan your tags carefully
One of the most effective ways to get ahead of YouTube algorithms is to plan your tags properly, and there are various ways to go about that.

First, you should consider making your first tag your target keyword. That's because YouTube relies heavily on the first tags when ranking content on its search engine result pages (SERPs).

After making your first YouTube tag your target keyword, now order the rest of the tags by the level of importance.
2. Keep it relevant
It should go without saying that all YouTube tags must be relevant to the videos they're accompanying. For instance, if you're vlogging about travel and tourism, you could incorporate a tag on the top tourist destinations in the world. Or, one on how to save for your vacation.

Also, consider incorporating broad keywords into your tags. Broad keywords simply refer to the keywords that describe the general topic that your video addresses. For instance, an instructional video on 'How to Use a Photocopier' should preferably have the keyword 'Photocopier' in the tag.

In the same breath, try to incorporate specific keywords that attempt to describe exactly what your video is about. This will help YouTube's filter functionalities in sifting out your videos from a sea of related content. Based on the same example of using a photocopier, you could include the keyword phrase 'repair a photocopier' to suggest that the video primarily addresses repair and maintenance of a photocopier.
3. Keep it short
The fact that YouTube offers up to 500 characters for a typical tag doesn't mean that you have to exhaust all the characters. The convention is to include 2 – 4 keyword phrases. How short or long those phrases are depends on whether your tags include short-tail or long-tail keywords.

As you endeavor to keep the tags short, also keep them fewer. A YouTube video can have around 10 tags. Anything more than that could sound spammy.
4. Don't mislead your audience
Every informational videos posted on YouTube (or other websites) must meet the minimum threshold of being factually and statistically correct. The tags you use for such videos should equally be correct. Embedding misleading tags is the easiest way of losing followers on YouTube.

But that's not the worst thing that could happen.

Note that it's against YouTube's policies to post misleading tags. Violating these policies in an attempt to outsmart fellow YouTube users might lead to the suspension or eventual termination of your YouTube channel.
5. Get inspiration elsewhere
Despite your best efforts, it may be difficult to come up with a spellbinding YouTube tag. However, you need not fret, as there are tons of places you can get inspiration from.

For instance, you could check the keyword tags from high-ranking videos on the same topic. You could also check YouTube's auto-suggest feature for relevant tags.

Even better, you can avoid the whole rigor of tag generation by opting for a YouTube tag generator tool.
8 Best YouTube Tag Generators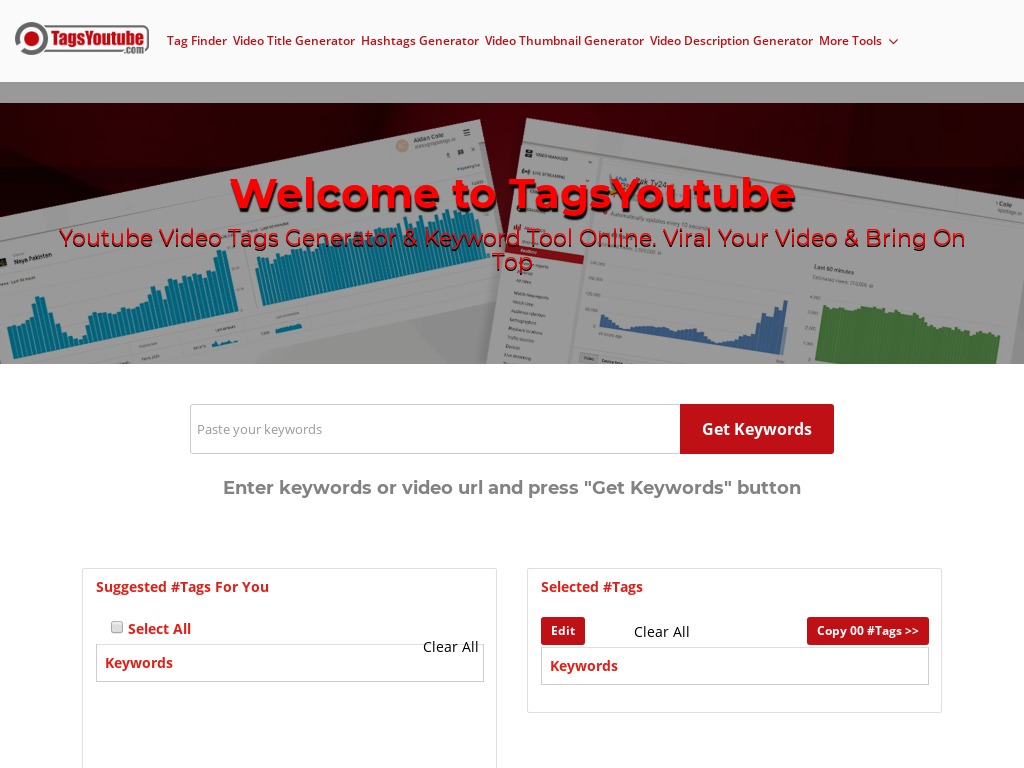 Pricing: Free version available, paid plans start from $9/month

Tags YouTube is a powerful YouTube tag generator that works incredibly fast. To use the tool, you simply type in the specific keywords you'd want ideas for and then allow the tool to generate a list of related keywords. There's a copy button that lets you copy all the tags you want from the generated list.
Pricing: Free version available, paid plans start from $7.50/month

While many YouTube tag generators are primarily designed for the purpose of tag creation, VidIQ does you one better. The software comes with other nifty features that might help in boosting your YouTube's rankings. Examples include video SEO, video scoring, keyword research, and tag analytics.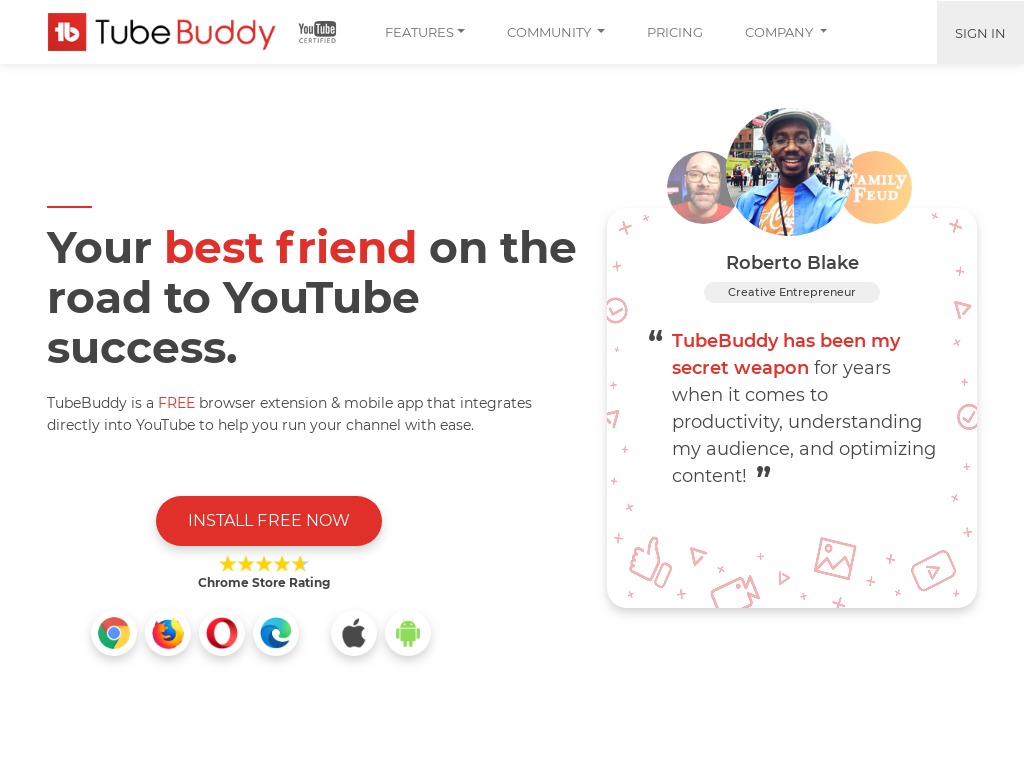 Pricing: Paid plans start from $9/month, free trial available

Tube Buddy works both as a YouTube extension and a mobile app. The tool comes with a slew of features that you can use to optimize your YouTube channel, including tag generation. It even allows you to view or import tags from other relevant trending videos.
Pricing: Free

The first thing to love about SEO Book is its global footprint. When you brainstorm YouTube ads using this tool, you get a range of suggestions based on trending videos from around the world. But SEO Book doesn't just generate your YouTube tags. The service also tracks the performance of those tags, constantly keeping you ahead of your competitors.
Pricing: Free version available, paid plans start from $3.99/month

If you're looking for a YouTube tag generator but are a bit strapped for cash, you should probably look in the direction of RapidTags. For starters, RapidTags is free to use. And for a paltry $3.99/month, you can unlock the program's cool features, including the ability to edit tags before applying them to your videos.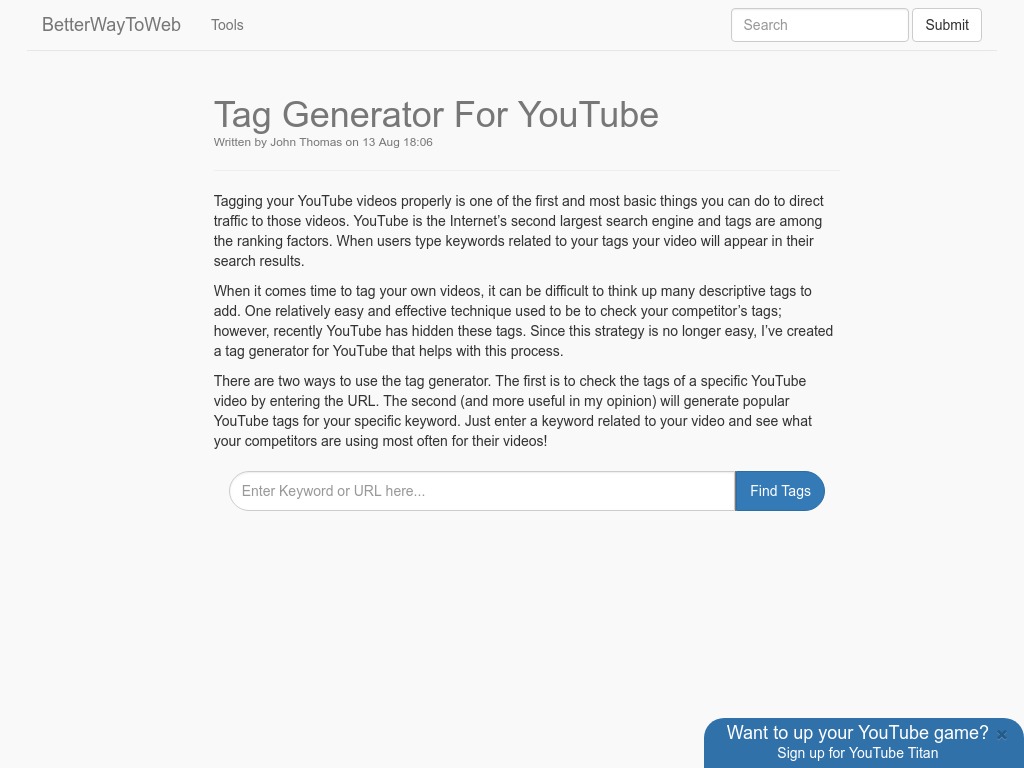 Pricing: Free

Here's another YouTube tag generator that's entirely free to use. The service comes with two different tag generation techniques. The first method includes checking for relevant tags using video URLs. Alternatively, you could initiate a tag search from scratch by entering specific keywords related to your topic of choice.
Pricing: Free version available, paid plans start from $8/month

With Keyword Keg's free version, you'll be able to generate YouTube tags based on the top five results. You can pay $8/month for more advanced keyword searchers, which show search volumes as well as trends and ad suggestions.
Pricing: Paid plans start from $38/month

Keyword Tool may not be the most affordable YouTube tag generator on this list. But you surely get value for your money. The tool helps to brainstorm YouTube tags by providing you with a range of keywords, along with how those keywords have trended over the past 12 months. You also get insights on the keywords' search volume. There's an option for exporting tags in excel or CVS formats, as well as the provision for generating tags in multiple languages.
Final Word
Generating YouTube tags, be it manually or using tag generator tools, isn't enough. You must constantly endeavor to monitor and update the tags to align them with the trends and changing needs of your audience.