What Is A Fake Email Generator?
There are numerous online activities that require you to have an email before you can participate in them. For instance, you may need an email address to fill out online surveys, enter promotions, subscribe to a service, and even test-drive an application.

Using your official email for all of these services is not always a great idea.

For starters, your email inbox could be filled with spam even months after opting out of the service. Secondly, you might have already used your primary email for the same service. Or, you may just be reluctant about using your official email on these platforms, especially if you cannot vouch for the credibility of the websites.

That's where a fake email address comes in.

Also known as a temporary email, disposable email, or throwaway email, a fake email allows you to partake of any activity where an email address is mandatory. Once you're done using the service, you can always discard the fake email and revert to your primary email address. It's one of the best ways to browse anonymously and prevent your sensitive personal information from slipping into malicious third-parties.

Now, you can either create a fake email manually or save yourself the trouble by using special apps known as fake email generators.

Read on as we unravel the top 10 fake email generators to create throwaway emails.
YopMail is an email generator tool that lets you create a fake email with one click. The fake emails you create using YopMail adopt the '@Yopmail.com' domain name, which means that you only provide the username.

Also, YopMail emails come with no password, allowing you to access them anywhere and from any device.

Another thing to love about YopMail is that you don't necessarily have to register on the platform or download the app, as it works just as fine online. The tool also auto-deletes all messages older than 8 days.
This throwaway email generator couldn't have been more aptly named. Temp-Mail helps you generate temporary email addresses that you can use to unlock tons of online promotions, test drive websites and applications, or otherwise browse anonymously.

The tool is also one of the most advanced fake email generators out there, offering you loads of features to help you stay secure from online hackers.

Indeed, Temp-Mail is all you need to keep your inbox spam-free, as well as safe from marauding robots and intrusive ads.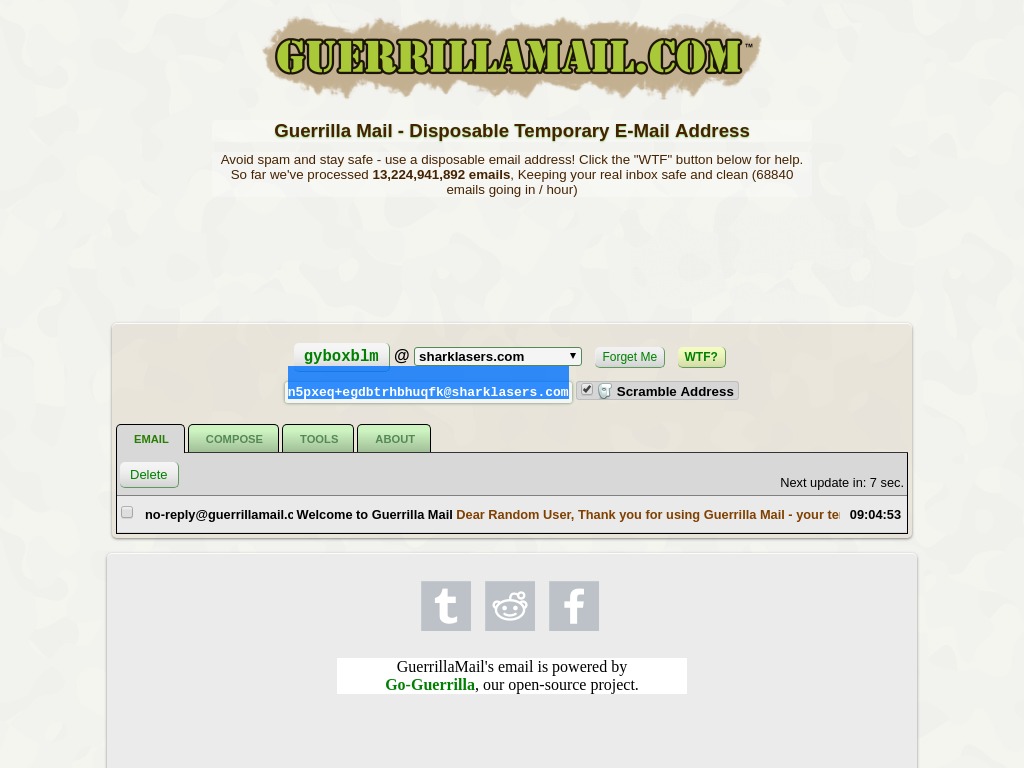 Many fake email generators simply let you generate an email that you can use to log into websites and that's all. However, Guerrilla Mail does you one better.

First, the throwaway email addresses that you create using this platform can be used to send and receive emails. Guerilla Mail also doesn't require registration, which makes it remarkably fast and easy to use.

Each time you visit the platform, the website generates a random email address. Which is an excellent feature considering that each email has a 60-minutes validity period. There's also the option of choosing an address for yourself. Either way, you won't need a password to sign in to your email.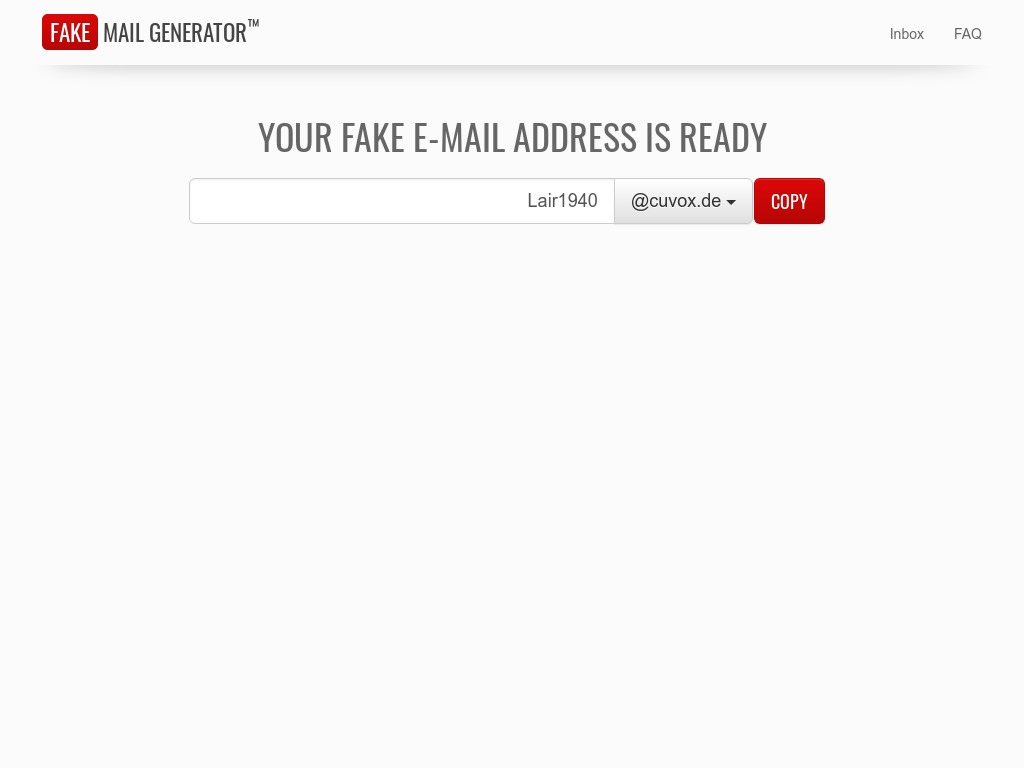 Much like Guerilla Mail, the temporary emails that you create using Fake Mail Generator can be used to send and receive emails. But that's not the only notable feature of this fake email generator.

The tool also comes with a host of domain names to choose from. There are up to 10 different domain names, most of which are country-specific.

Fake Mail Generator is also completely free to use and doesn't require registration to get started.
One of the coolest features about Email Generator is that its fake emails have a validity period of 231 days. And you won't need to sign up for an account to generate a disposable email.

Email Generator also ranks high among the most user-friendly temporary email generator tools out there. A single click is all it takes to generate your fake emails with this service.

You can then use email to perform a range of functions, including signing up to social networking platforms, registering for a test account, etc.
Emailfake.com is your go-to fake email generator when you want to create a temporary email with your preferred username and domain name. That's particularly important in maintaining a level of discretion, as having your fake email bear the domain name @emailfake.com would certainly raise some eyebrows.

Besides, Emailfake.com lets you generate as many fake email addresses as you wish, with each email coming with a 231-day validity period.

The tool works online, thereby eliminating the hassles of download and installation.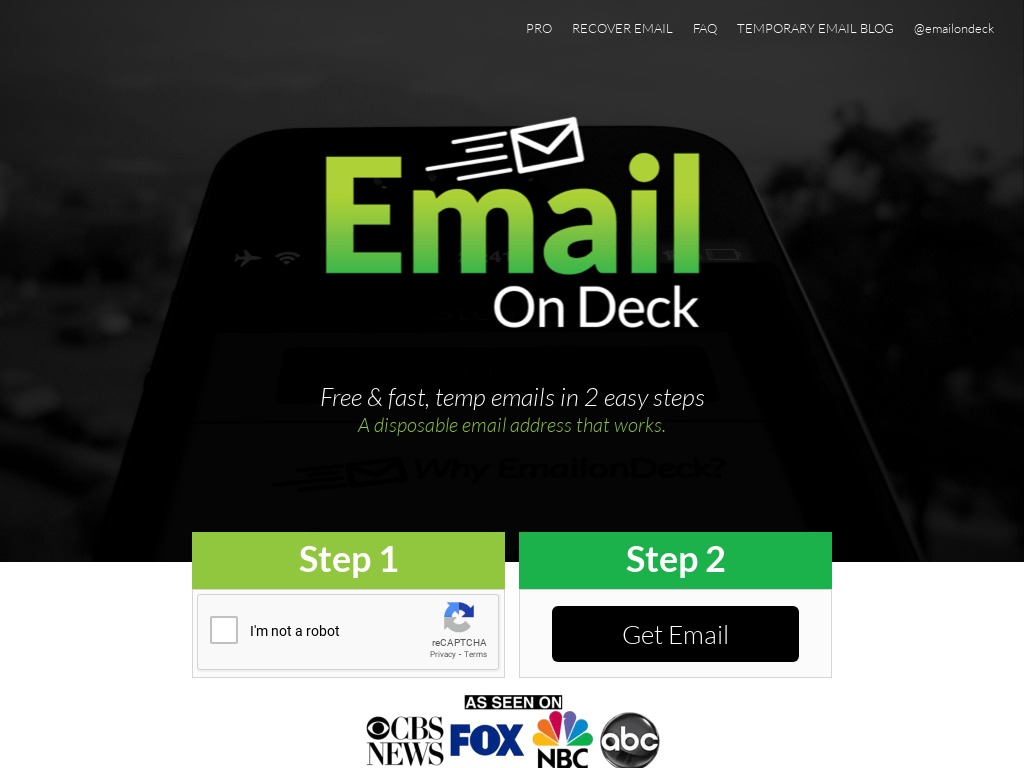 Looking for a disposable email generator that's incredibly fast and completely free to use? You might want to look in the direction of Email on Deck.

This service has been ingeniously designed that it constantly deletes emails, which eliminates spam even in the fake email.

But perhaps the best thing about Email on Deck is that it's cryptocurrency-friendly. So, the emails you create using the service can be used to verify codes from cryptocurrency websites or even sign up for cryptocurrency accounts.
True to its name, 10MinuteMail allows you to create fake email addresses that get automatically deleted in 10 minutes. Therefore, you won't have to worry about your fake email's inbox getting spammed.

But the '10 minutes' rule isn't cast in stone, as you can actually push your mailbox validity period to 100 minutes. That makes it easy to recover your emails even after the account has expired.

10MinuteMail is also one of the only temporary email generators that's compatible with mobile devices.
Mailnator allows you to generate fake email addresses that you can access anywhere and from any device or website. The tool auto-deletes your emails after a couple of hours and doesn't require any registration to use.

The tool also lets you use its @Mailnator domain or embed your own domain to Mailnator.

Mailnator's Personal plan is free to use. Even better, you can upgrade to the paid versions like Team Plus plan and Enterprise plan to unlock the tool's other nifty features.
Like most fake email generators on this list, Throwawaymail lets you create disposable emails free of charge, and without needing to sign up for an account.

Also, you can generate as many fake emails as you want and use them for various online activities, such as for website sign-ups and confirmation emails.

Throwawaymail auto-deletes email addresses after 48 hours. However, there's also the provision for extending the validity period of your email address by a few more hours.
Conclusion
Fake email generators are resourceful services for regular online users who are constantly signing up for new websites or test-driving applications. With the above-reviewed tools, you'll be able to create an email address that you can discard as soon as it has served its purpose. Which is an excellent strategy in keeping your official primary email address safe from the prying eyes of online hackers.