When it comes to navigating new lands in search of ATMs and other vital amenities, no service outshines Google. Sure, you can hire a tour guide but we both know how colossal their fees can get. Plus, sometimes you just need to be pointed in the right direction and not tag a stranger along.
Of course, there are Google maps alternatives that you can go with like Waze, GeoGuessr, Citymapper, Maps.me, and What3words. But hey, we bet you didn't even know there are other map choices, right? Well, that's because Google maps app comes as part of the package for most phones and browsers. And it's so easy to use.
In this mini article, we are going to show you how to use Google Maps to find nearest ATMs. Now, let's get down to business.
Using Google Maps to find closest ATM
Step one: open your Google map app and type in 'ATMs near me. While we don't advocate using your phone while driving, you can also tap the microphone and speak into it. Should be less cumbersome compared to typing.
Step two: view results in the way you want-either as clusters or as a list.
Or this way…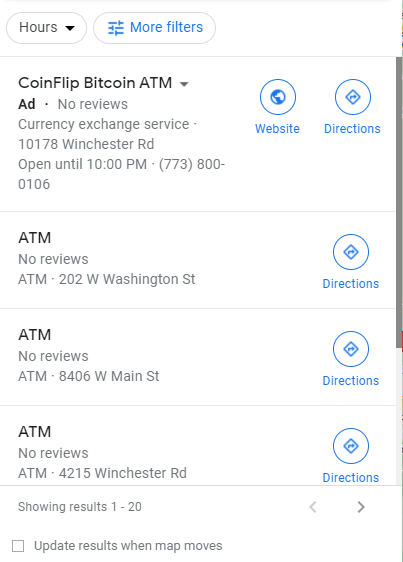 Step three: filter results based on operating hours, working days, or distance. Gladly, the list of the ATMs will be arranged in order of the closest to the furthest. So those at the top are ones you should try out first.
Step four: check reviews to be sure the ATM you are going to use exists and offers better rates. As for the latter, that information is rarely available. You will have to visit the ATM to find out withdrawal charges.
Step five: visit the ATM of your choice by clicking on the car icon or 'directions' tab. This will clearly detail your path, distance, and the time it will take to get there. From here, you have two choices, go with the live preview of the map (which uses bandwidth) or download the map and use it offline. We strongly advocate for the latter.
Quick tips
When searching for ATMs or gas stations, it's better to filter with 'open now' or 'open 24 hours.' This way, you don't have to waste gas or energy visiting a closed business. And you know what? You can actually save a location for easy access the next time.
If you are riding in a huge city with many roads, railways, and waterways, you may want to click the 'options' section and uncheck tolls, ferries, and highways.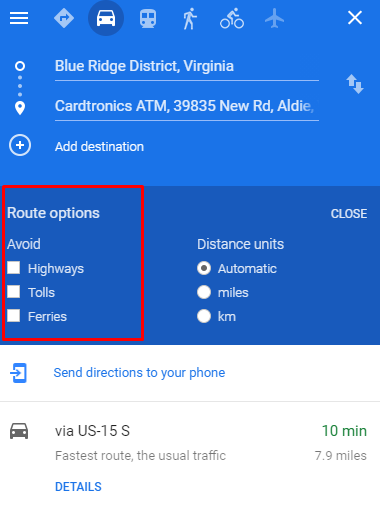 Guess what, now you know how to find ATMs near you using Google maps. Remember the app saves your location history for those who would like to retrace their earlier steps of a wild event. If you don't want that, then delete your location history permanently to avoid future tracking. Goodbye and stay safe always.