Every travel experience begins with route and transportation planning, especially if you are off for a long trip. This is where flight search engines step in to help you make a better calculation and find a perfect solution for your journey.
But there is one thing you need to take into account here – different platforms will show you completely different search results, so choosing the right search tool is essential if you want to identify the finest option.
Our goal is to help you with that, so keep reading to see the eight best flight search engines that will help you to find a great flight deal. Let's take a look!
1. Skyscanner
Skyscanner is a well-known flight search engine that adds low-cost airlines to the search result lists. What we love about Skyscanner is that it has a clear user-interface with multiple search results that are easy to interpret and compare. You can expect the platform to send you fare alerts and offer a variety of vacation plans, while the only downside is the lack of baggage fees (you have to look for these manually).
2. OneTravel
If you are looking for a flight search engine with effortless scheduling abilities, then OneTravel may as well be the ideal tool for you. This is particularly important for tourists with flexible traveling dates. The only thing we don't like about OneTravel is that it comes with a service fee of $35 per ticket.
3. Skiplagged
The third flight search engine on our list is a popular choice among travelers who are targeting the lowest fares exclusively. Namely, Skiplagged is for its low-cost orientation and so you can use it to minimize travel expenses. The platform is also great for users who don't want to experience jet lag because it offers a broad scope of multi-stop flights.
4. BookIt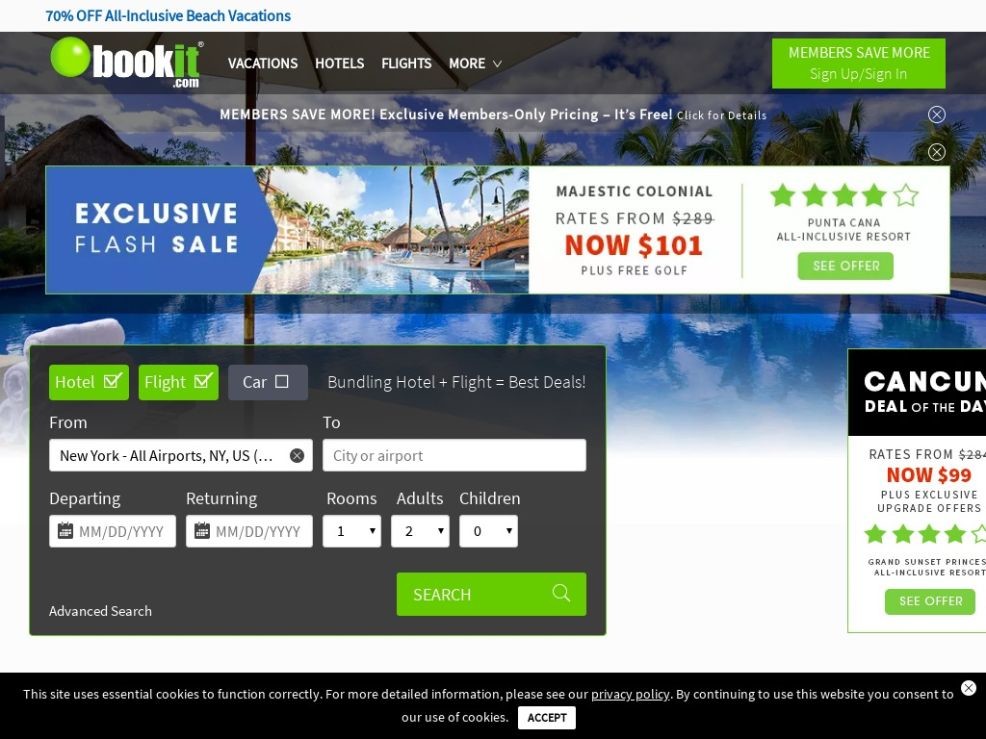 BookIt is a useful flight research tool with clearly marked prices and itineraries. The platform displays flight options without any stops, but you can also see the ones with up to two airplane transfers. The only thing we don't appreciate about BookIt is that it charges you a fee, but doesn't exactly state how much because it is added to the total price without any explanations whatsoever.
5. Agoda
If you don't like Agoda, you don't like a well-designed website. This flight search engine is second to none when it comes to user-friendliness and it also delivers the desired results almost instantly. Instead of waiting for the tool to react, you can expect Agoda to show you the best flight plans in no time.
6. TravelZoo
Tourists who are not time-bound can use TravelZoo to create the most practical travel arrangement quickly and effortlessly. How does it work? Instead of entering the precise dates, you can type in a broader period such as a month or a season. TravelZoo will then search for the cheapest and fastest travel routes.
7. Momondo
A lot of tourists look for last-minute flight plans, which is why we have to mention Momondo. It's a powerful flight search engine that covers pretty much all the major airline companies worldwide. Besides that, Momondo is very successful at selecting the lowest fares.
8. Trip Advisor
The last entry on our list is Trip Advisor, a provider that extended the reach by introducing the flight search feature to its versatile portfolio. The platform is lightning-fast and it usually finds by far the best flight arrangements. At the same time, Trip Advisor is combining services to provide users with all-around travel packages.
Conclusion
Finding a perfect flight deal is often a boring and time-consuming task, but it becomes much easier if you take advantage of a good research platform. In this post, we showed you the eight best flight search engines that could help you to find a great flight deal. Now it's your turn to check out each option and to let us know which one do you like the most!