Last Updated on March 29, 2021
Music licensing refers to the process whereby copyrighted music content (including audio tracks, video tracks, movie scores, and other sound effects) is made available for commercial use. The process typically happens via an agreement known as a music license, and the contract guarantees some payment to the song's copyright holders.

Once you have express authorization to use a piece of music, there's no limit to the number or nature of projects you can apply it for. For instance, you could use the music on a movie, Broadway performance, television show, television commercial, or video game. You can even use the track as background music during a high-profile event, such as a wedding or fundraiser, without worrying about facing copyright infringement accusations.

Sounds plain and easy, right? Well, it hasn't always been that way.

Up until recently, creatives looking for copyrighted music to use in their projects had to go through a rigorous negotiation process. At the very least, they had to negotiate with the real artists, the songwriters, record labels, and the music publisher. Failure to convince just one of these stakeholders meant that you couldn't use the music for commercial purposes.

Fortunately, the emergence of music licensing companies made the process of purchasing copyrighted music simple and straightforward.

A music licensing company does the hard work of connecting you with a song's artist and other copyright holders, including the record label and publisher. To make the entire music licensing process even easier, these companies have licensing contracts that state how much you'd pay to acquire licensing for the music.

The following is a rundown of some of the best music licensing companies that every digital creator must know.
Year Founded: 2016

Established in 2016, Artlist is a relatively new music licensing company. However, the company's online library already boasts more than 12,000 songs drawn from various categories.

Artlist stands out in its annual subscription-based model. With a yearly subscription, you can download music content as many times as you wish. You don't have to pay licensing fee each time you want to use a piece of music. That makes Artlist the go-to music licensing company if you're creating multiple projects, such as slideshows or instructional videos.

Another thing that sets Artlist apart is its implementation of numerous filters. Of notable mention is a filter for video editors that's designed to classify audios on the platform in terms of the types of videos you can use them for.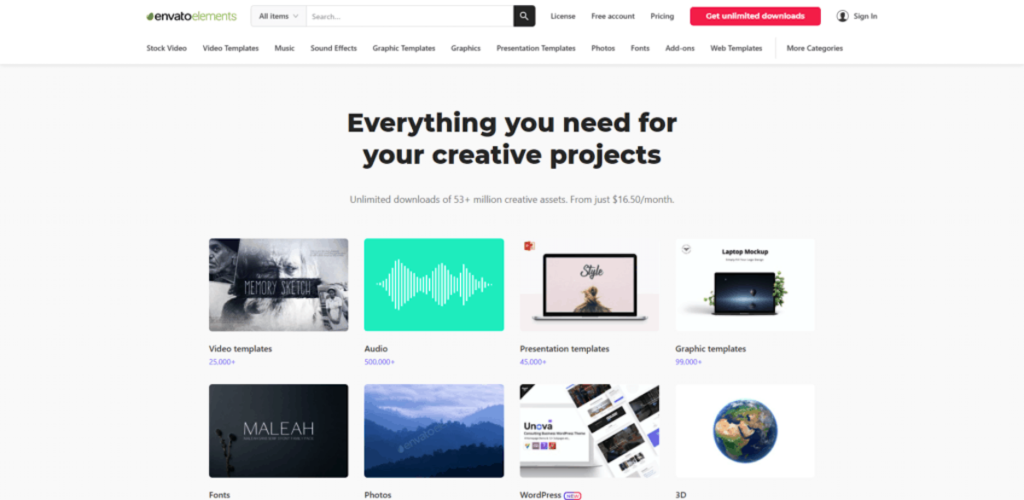 Year Founded: 2006

Envato Elements boasts over 54 million high-quality digital assets, including music, videos, images, graphics, WordPress themes, web templates, CMS templates, to mention but a few. It's one of the most reputable online platforms that offer music licensing.

You can search for the music of your choice using the website's search function. Alternatively, you can sample from its over 510,000 audios to find a song that goes with your project.

The music licensing process at Envato Elements is rather straightforward, as all of the company's digital assets are covered under its lifetime commercial license.
Year Founded: 2008

Two years after establishing Envato Elements, the founders noted a disproportionately high number of users looking for digital audio content. To meet the ever-surging demand for audio downloads, the founders went ahead to establish AudioJungle, a distinct Envato Elements marketplace that primarily offers royalty-free music.

As a music licensing company, AudioJungle provides five different types of licenses. In addition to applying for music licensing, the platform also has a forum where you can take advantage of free tutorials, engage with other creators, or view the profiles of popular artists.

The use of an intuitive ecommerce-esque grid display makes the website incredibly easy to use.
Year Founded: 2013

YouTube is the world's leading online video-sharing platform. So, it makes perfect sense that the company also provides music licensing services.

Released in 2013, YouTube Audio Library has grown from a paltry 150 songs back then to thousands of royalty-free and even copyright-free music. The library uses powerful filters that allow you to hone in on a song of your choice based on various aspects, such as its genre, mood, duration, attribution, etc.

And there's no limit to the number and types of songs you can acquire licensing for on YouTube Audio Library. Whether you're looking for instrumentals or sound effects, the library has it all.
Year Founded: 2009

Formerly known as Audioblocks, Storyblocks is another top-rated music licensing company. You should consider Storyblocks as your preferred music licensing website if you're a bit strapped for cash. That's due to the company's flexible and budget-friendly licensing plans.

Storyblocks has thousands of royalty-free audio content that you can purchase and use multiple times for commercial and personal projects. The company updates its library frequently to ensure that users get fresh content each time.

A search function located on the top left of the website allows you to search for the music of your choice. Alternatively, you can scroll down the website to sample some of the trending music and sound effects.
Year Founded: 2008

Jingle Punks started as a music agency, which later developed its own online audio library known as The Jingle Player. The company claims to have more than half a million audios in its catalog.

Jingle Punks mostly offers music licensing to bigger creative organizations, such as moviemakers and television studios. However, they also serve the average creative out there looking for suitable audio content for their projects, such as social media vloggers.

Like most music licensing companies, Jingle Punks places its songs in various categories. Users can search for their favorite songs based on standard filters like Duration, Instrument, and Mood.
Year Founded: 2015

Soundstripe is another relatively new music licensing company on this list that prides itself on its vast library of high-quality audios. The company constantly updates its library, allowing you to sample some of the most recent audio tracks. Thanks to these updates, users can get their hands on hundreds of new songs every month.

As you might expect, Soundstripe is a subscription-based music licensing company. Which means that you can only enjoy its services when you sign up for a paid membership.

But once you're a member, there's no limit to the number of songs you can play and download from the company's library. Plus, every single download comes with a single-use license, which allows you to use the song for an unlimited duration, even after canceling your subscription.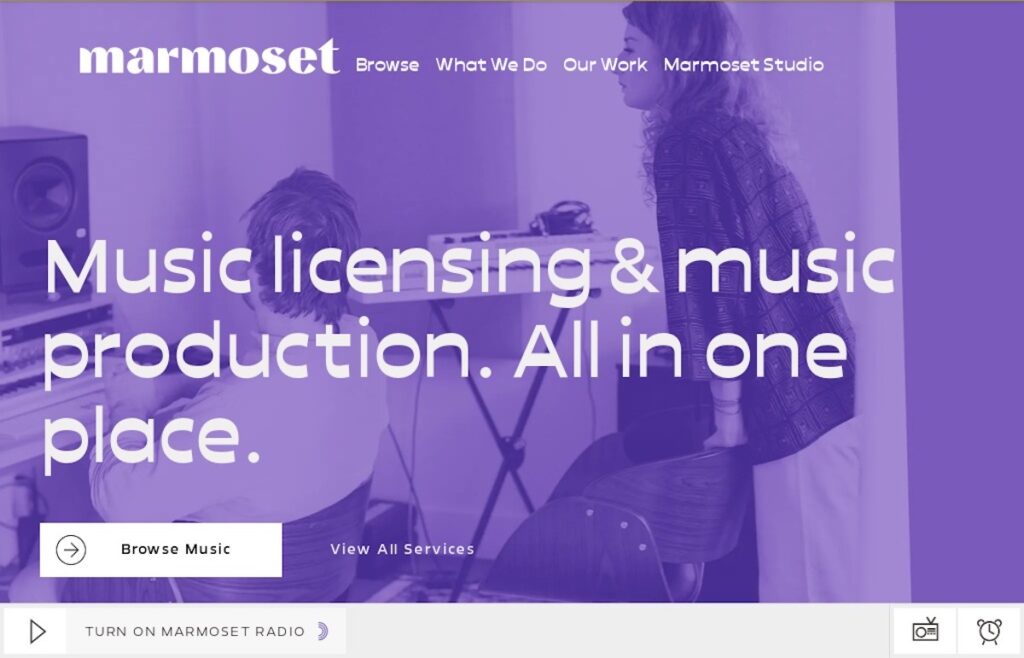 Year Founded: 2010

Established in 2010 by Ryan Wines and Brian Hall and headquartered in Portland, Oregon, Marmoset is a renowned music licensing platform that provides thousands of audio assets to digital creators. The company mostly publishes songs by rare and emerging independent artists. That makes it an excellent recommendation for creators looking for fresh and rare music content to use on their projects.

But that's not all – Marmoset still allows you to search for songs on its library using various powerful filters. Some of the popular search filters include Mood, Vocals, Arc, etc.

What's more, the company offers a variety of music licensing options, depending on the pricing plans and usage rights. There are licenses for independent films, small businesses, crowdfunding, etc.
Year Founded: 2009

The first thing you'll love about Epidemic Sound is a service known as 'YouTube subscription,' which is targeted at vloggers looking for the perfect music for their YouTube videos. However, you don't necessarily need to be a YouTuber to benefit from Epidemic Sound's music licensing services.

The platform boasts over 32,000 tracks as well as more than 60,000 sound effects. It also undertakes continuous site updates, which grants users access to newer songs every month.

And while Epidemic Sound is a subscription-based service, the company has flexible pricing plans to suit every budget. Plus, there's a 30-day free trial that allows you to test-drive the company before committing fully to it.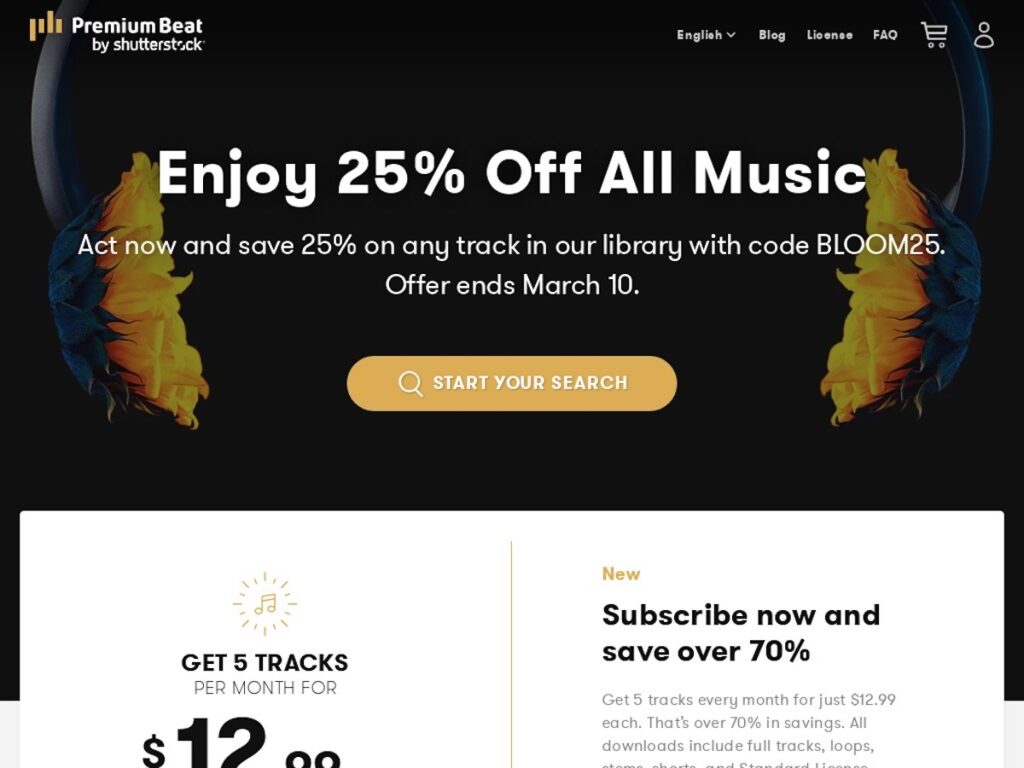 Year Founded: 2005

There's a reason Premium Beat is the preferred music licensing company for some of the world's most reputable organizations like Amazon, National Geographic, Google, and Vogue. Perhaps it's because of the company's hassle-free music licensing procedures. Or maybe it's due to their 100% copyright-clear audio tracks.

Whichever the case may be, Premium Beat is definitely a favorite place to acquire music licensing. For a paltry $12.99/month, you can purchase a license for up to 5 tracks.

The company's website displays some of the most trending songs, as well as new releases and top recommendations by its experts. If you still cannot find the track you're looking for, there's an option of searching for it using a search feature located at the top of the page.
Conclusion
Evidently, there's no shortage of companies offering music licensing services to digital creatives. But as you shall find, these companies differ fundamentally in the range of services they provide. Therefore, due diligence is necessary when scouting for a music licensing website.

For starters, go for companies that provide high-quality music. The company should also offer a variety of licensing options, including an option that lets you use a song multiple times upon paying a one-off licensing fee. And when all is said and done, you deserve a music licensing service that offers competitive pricing plans.