Last Updated on April 6, 2023
A staple of the regular work office, the standing desk has been around for a long time, so it should be no surprise to see me say that you should maybe consider getting one for your home office! More than just a taller desk, standing desks hold a wide range of benefits including:
Improving of posture due to not needing to lean over or look down all of the time
The mitigation of chronic back pain caused by sitting all of the time
Being upright can help to maintain focus and concentration to a higher degree than being seated
You can move your body and increase blood flow at a much better rate when using a standing desk.
Studies have even suggested that you do not even need to continue standing all day, claiming that the optimum way to improve focus and be more productive in work is to alternate between being seated and standing. These studies further declare that over a 6-month period, those studies experienced a 50% increase in productivity when alternating between standing and seated.
However, this article is not here to bring you a list of best seated desks, what I want to do before giving you the top 5 standing desks on the market today is remind you of 2 key things that you need to consider before committing to a standing desk, as well as 3 important criteria to look for when finding the right desk for you.
Things to keep in mind before committing
Be sure to consult a doctor before buying a standing desk, while they may have their perks, you may not have sufficient leg or back strength to be on your feet for long periods. This is especially important if you have an underlying medical history.
If you do have a standing desk, regardless of how fit or in shape you are, be sure to stretch or move around every once in a while, so as to increase the blood flow and decrease the stiffness in your muscles.
Criteria to consider when searching
Value
Value itself is a subjective term, one person may find value in something that another will not find value in. However, for the purpose of this article, I chose the standing desks based off of value for money in relation to its features, most of which included built-in charging ports, larger or smaller storage units, and quickness of installation. For me, these are three of the most important features that a standing desk should have in order to be a simple and productive workspace.
Size
Size as a criteria for buying has to be examined in two key ways, firstly in relation to the height of the table and its ability to be adjusted as needed, depending on the persons height, as well as the size of the worktop itself. If a desk is too large or small when adjusted, it will only further damage your posture, and if there is not enough space on the desk itself, it will likely lead to a less productive workspace.
I don't own a standing desk personally, but after seeing this, I want one. There is so much about this $400 desk that I think makes it worth the money. To start, its design is stunning, it is a crisp white with sturdy legs that can hold up to 100kg in weight.
The desk can be used as a regular desk but with the push of a button on a touchscreen controller, the legs can grow up to 45-47-inches high. Not only that, but the desk is compact with a tidy storage compartment underneath that you can use for your laptop, keyboard, mouse, or notebooks and pens. The desk also comes in a gorgeous piano black and on the front has USB ports to allow you to charge your phone or tablet as well.
The desk itself is made of tempered glass and can even be used as a whiteboard that you can write on! The dual motors allow the airlift feature to lift the table for you and although It is quite a heavy desk at 82 pounds, it is jam packed with innovative features and is my personal favorite desk on the list. Its multifunctionality is too good to ignore.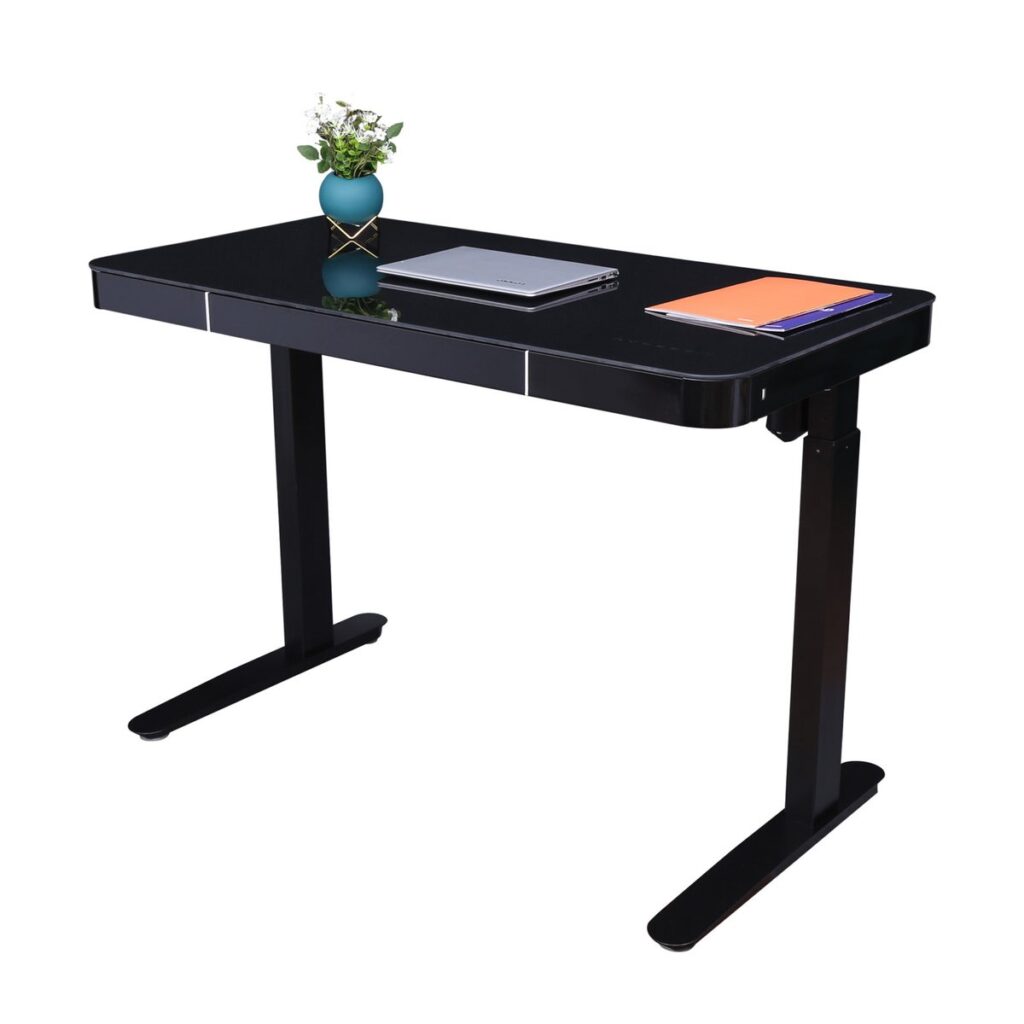 The tempered glass standing desk is hard to follow in my view, but the Apex Elite does do a good job. Another motorized standing desk that has a competitive price, ample desk space and a modern look, the Elite has a lot to like about it also. It has a dual motor mechanism that is solid, if not a little slower than others, but with the massive worktop desk on top that can be forgiven.
There are two versions of this desk available, one has a 60-inch-long desk and the other, a whopping 71-inch-long desk, both of which are just as good as each other, but it is up to you to decide what size best suits your needs.
Some reviews question the stability of the desk at a variety of heights, but the desk does have 4 different height settings and a metal beam underneath it to keep it stable. Its price, like many other standing desks is quite hefty, coming in at $550-650 depending on the size you want, but the large surface area and versatility of the desk somewhat justifies the price.
In terms of actual build quality, the Uplift V2 is probably the king on this list. Its built-in stability braces allow for the user to experience complete stability at any height, a feature that some standing desks are said to lack. Its dual motors that raise and lower the worktop are said to be the quietest of any of the desks on the market and it has an anti-collision technology built in which I find particularly impressive, whereby if the desk hits anything on the way up or down, it stops.
What I like as well is that on the Uplift website, when you chose to buy the desk, you have a range of customization options available to you. Allowing you to choose the wood type you want, or pay extra for better and rarer wood types, for example you can pay $800 on top of the $600 base cost for a pheasant wood finish.
For me, I like the plain black or the whiteboard effect, similar to the Seville Classics above. You can also choose the color of the legs, the keypad type, the size of the worktop, and a wireless foot switch that will raise or lower the table without you needing to move a finger.
If you are trying to stick to a budget, then the En1 by Flexispot is probably the best choice for you. It comes in at about $250 but tends to be $210-230 on sale. The desk itself is modestly sized with the tabletop coming in at 48-inches long, giving you enough space without overpowering.
It is similar to the Uplift above in that it has quiet motors and an anti-collision system. It also has memory pre-sets so that at the push of a button, you can raise or lower your desk to a pre-programmable height.
The desk itself is touted for its sturdiness as well, with the ability to hold up to 100kg in weight, it has an average sturdiness rating of 4.7 stars on Amazon, which shows that customers trust it. In terms of its value for money, I would definitely say that $250 is a fair price for this desk, considering the fact that it is $100-150 cheaper than any other desk on the list, it is definitely the budget option of the lot.
Yes, you read that correctly, this is not a full standalone standing desk, it is a conversion tool that you can add on to your own desk that will make it a standing desk! For me, this is the perfect portable tool that you can use to have your own standing desk, wherever you go. Now I will warn you, this converter costs about $400, but it is because of the convenience and portability.
The converter itself can be used on any existing desk, has its own keyboard tray, has a one-touch height adjustment and a memory function that allows you to save your settings. Similarly to the Uplift V2, the website offers a range of products that pair well with the desk, one such product is the active anti-fatigue mat, which is $90 and offers a soft stability for your feet, allowing you to stand for longer periods.
You can buy a single monitor style converter or a double or triple desktop variant, but like any of Uplifts products, you will need a lot of money to get the chance to utilize it.