Last Updated on April 16, 2021
Home appliances make our lives easier in many ways, but then they can also break down when you least expect them. When a gas stove, fridge, or washer acts up, it wastes your time and could lead to costly inefficiencies. A financially wise homeowner should know when to DIY the issue and call a professional repair expert. 
Common Appliance Problems That Can Be Fixed from Home
Appliance maintenance and repair at home can keep your devices in a healthy working condition and save you from excess spending. But it would take a keen eye and proactive care, for when a small issue escalates, it becomes harder to DIY through it. 
Think about dryer lint build-up, for instance. This is a problem that can slow down the efficiency of your dryer. Clothes will take too long to dry, and sometimes a nasty burning smell emanates from the machine as are the result of the issue. But all it takes to fix the issue in this early stage is cleaning the filters and vent. You won't need a professional for that. 
But it's critical to do it right because lint accumulation could start a fire. If not done promptly, this could eventually lead to dryer overheating and other issues that would compel you to call in the pros and replace parts. That'd be not good for your finances. Other simple DIY appliance repair tasks at home including off food debris from the igniter to get your stove burner to light and removing pet hair from refrigerator coils to make it efficient again. 
Appliance Repair Warning Signs
Suddenly your fridge does a poor job, and food comes out spoilt. Before that, you may notice that the cooling function is lackluster at best. It just doesn't get cold enough. While there could be an issue with your selected temperature settings, the problem could go deeper, perhaps, involving a spoilt compressor or faulty thermostat. And if there are more water and ice build-up than normal, usually that's an indication that the drain is blocked. 
For a faulty dryer, you may notice that it stopped spinning, and your clothes are taking longer to dry or not drying at all. This could be a symptom of a broken drive belt. On the other hand, if the machine is overheating, that could signify that the element is shorted or that you need to remove the built-up lint.  When you see any of the issues mentioned above, it's time for you to call on a repair company that specializes in dryer repair.
For a range, a burnt-out heating element would be hard to miss. The appliance won't heat. If you look at the burner element and it is not bright red when turned on, that's a clear indicator that there is an issue. And if your appliance doesn't light, the issue could be a damaged spark module or a faulty ignition switch. One symptom could have various wide-ranging underlying causes. Consulting a repair expert helps with a precise diagnosis that can save you from costly guesswork. 
When to Call Appliance Repair Guys
Not every appliance repair issue can be fixed at home. For instance, a problem such as 'microwave not heating' calls for an expert set of eyes and special tools. The problem could result from a burnt-out diode, a defective door switch, or the irreparable magnetron. For repairs and replacements, one needs the expertise plus the right supply of parts. You most likely don't have a microwave repair toolkit at home, and you might run into high costs trying to buy the items needed. A professional repair expert comes with everything that is needed to do the job efficiently.
One other example of when to call an appliance repair expert is a noisy washer. The underlying cause could be a faulty tub bearing, whose intricacy in repair and replacement surpasses most DIY skill levels. Replacing this part often requires the entire unit's disassembly and then replacing the outer tub and bearing. If the cause of the fault is a defective bearing system, you will need to have the right manufacturer components to replace the bearing and outer drum as an assembly. This can be a costly and finicky undertaking if you do it yourself. 
How to Find the Right Appliance Repair Expert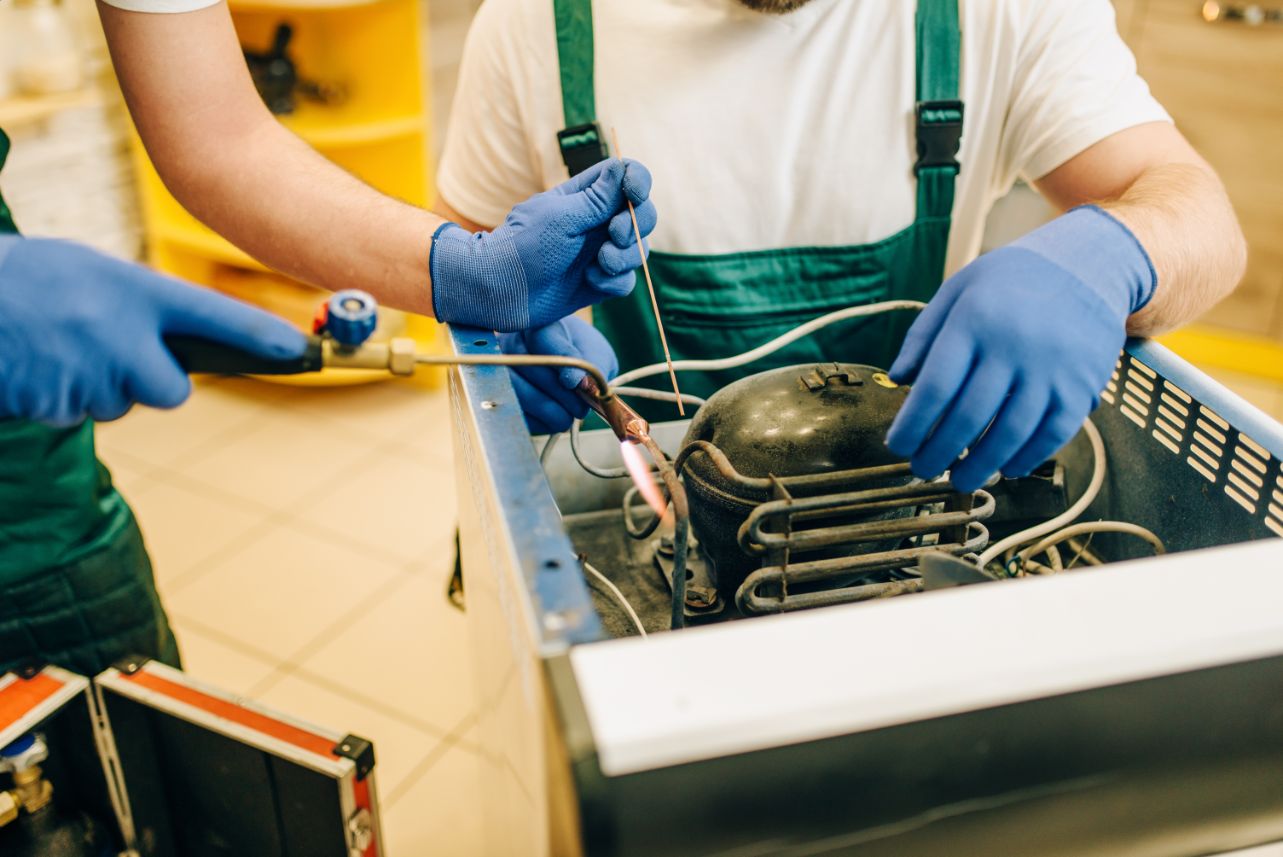 The right appliance repair experts should be men and women of high integrity that you can let into your home and trust to do the right job. You can do a quick search on Google or Bing with a search term of "appliance repair company near me" or appliance repair tech. Then do a quick background check online, then review the company history. Check their BBB accreditation—they must have one—and choose a company with higher ratings and positive reviews.
Ask about pricing in advance and choose a repair company that gives you a quote that shows transparency and affordability in billing. Once you find someone willing to work with a lean budget, determine whether they are knowledgeable in your appliance brand. The right repair professional expert should be skilled in fixing appliances from all brands. 
One other thing that you might want to ask before you hire them is service warranties. Do they provide warranties for their services? If a company doesn't provide warranties or a money-back guarantee, then you know they are not reliable. Keep searching.
TLDR: Minor appliance repair issues can be DIY-able if you spot and tackle them early as part of your repair maintenance.
However, some issues can be too complex, needing skills and special tools and parts. Calling a professional appliance repair expert can be a smart money move.