Indoor plants are not just the only ones that can add to the natural beauty of a room at home or at work. Pots or planters are also a big deal. Choosing planters of different shapes, colors, textures and styles can help elevate the visual appeal of your living or working space. An eye-catching planter does not only showcase the plant it is holding spectacularly, but it also acts like a charming décor itself.
Potted plants indoors make a space more inviting. They make a room cozy and refreshing to the eyes. They provide the vivacity of nature and all its revitalizing qualities. Potted plants indoors do not just revive you after a hard day's work – they also add freshness to your home, which is often just cluttered with inanimate furniture. They can give any room an airy feel, so you don't feel suffocated or cooped up.
The great thing about planters these days is that they're no longer limited to home use. Several portable plant pots are specially made for office desks and workspaces. They help enhance the look and feel of the office space – making a usually formal room more inviting.
The design of planters you see on the market now are far from the conventional ones available a few years back. Today's planters and pots are designed using a variety of materials in different colors and textures. They're created for both function and decoration.
Shopping for planters ideal for both home and office design can be a bit overwhelming with the number of choices available on and offline. To help you trim down your choices, here are FIVE common types of multipurpose planters you may want to consider.
Plastic Pots and Planters
If you're looking for a planter that is durable and demands minimal maintenance, plastic pots are your best bet. Unlike planters made of clay or ceramic, greeneries on plastic planters usually require less attention in terms of watering.
Plastic planters these days are also generally made up of eco-friendly materials and are stylish enough to match different home or office interior design.
Terracotta Pots and Planters
Considered the most traditional type of pots, terracotta planters have always been a staple when it comes to gardening. Terracotta planters placed indoors require regular watering as the material tends to absorb the extra moisture from the soil.
But they look beautiful if you are aiming for a rustic, country style. Aloe Vera is an ideal plant for indoor terracotta planters. Cacti are also perfect for these pots.
Ceramic Pots and Planters
One of the most recent additions to gardening containers are planters and pots made of ceramic. This is arguably the most versatile type in terms of complementing the interior design of where the potted plants will be.
Ceramic planters come in different sizes, colors, textures and shapes. Their designs are varied as well. They give off all the benefits you get from plastic planters plus more – as they are more visually appealing.
Plant pots made of ceramic can be placed on the floor, on a balcony deck, on plant stands, on table tops and desk tops, and practically anywhere. Ceramic planters can also be used to store decorative items like scented candles.
In fact, the stylish ones don't need any plant or décor at all. They can sever as chic focal points in a room or centerpieces on a table.
Stainless Steel Pots and Planters
Sporting a sleek, stylish and modern look and feel, planters made of stainless steel take both the functional and aesthetic purpose to a whole new level.
Planters and pots constructed from stainless steel are best for minimalist and contemporary-themed home or office interior. They also make the color of the plants pop. Stainless steel planters are available in different shapes and sizes, too.
Hanging Pots and Planters
For limited spaces, hanging pots and planters are your best options. They provide the beauty and charm of greenery without taking too much floor space. They can be hung on the kitchen window sill or the balcony. There are hanging planters that are specifically designed for living rooms, too.
Plant hangers are made of various materials – plastic, terracotta, ceramic, stainless steel and more, so you can just choose which one best suit the look or style you're aiming for.
Quick Planters Buying Tips
Here are two important factors you must consider to properly choose a planter, especially one you plan on displaying on your desk.
Think of the plant. Regardless of the material you choose, the planter should look good with the plant it holds. There are a lot of planters specially made for certain types of plants. Consider these pairings to ensure you get the most out of your planter. It's also important that the size of the plant is appropriate to the size of the planter.
Look at the space where you're going to put the planter. Not all styles or designs are universal. Some planters are best displayed on a tabletop. Others are meant for deck railings. When choosing where you'll put the planter, it's important to look at the big picture. Don't just focus on a single flat surface.
Ready to shop for a brand-new planter? Here are some of the best planters on the market today.
Available in sets of three, Repose Yano Planter is made of lightweight cement and natural fiber. It has a beautifully elongated style, has a rubberized base, and is weatherproof. With its organic look and feel, it can artfully showcase greenery anywhere.
SOMMERLAND Vertical Garden Planting Cylinder Display System offers a visually appealing way to display smaller plants and succulents. The planter is designed for vertical gardening, and best for limited spaces. The metal-based cylinder is made of high-quality material for a premium surface.
A diamond-shaped terrarium glass plant-holder, Mkono's wall hanging planter is known for its versatility. Not only can it be filled with small plants, it can also house decorative objects. It's ideal for home, garden, or office spaces. It can also be used as a wedding giveaway or a holiday present.
Designed to complement contemporary and ultra-modern styles, MyGift's Clear Glass Succulent Planter Box is triangular and angled in display. It's the perfect way to house small plants as well as decorative candles. It can be displayed horizontally, vertically, and can even be placed on a wall atop a frame or a piece of décor.
Sold in sets of three, these ceramic white planters from T4U are great for succulents, cactus plants and herbs. Each small flower container is about 2.75 inches in diameter. The set complements minimalist home or office interior design.
Originally designed after the World War II, Modernica's planter is made up of three ceramic bowls and a metal tri-stand. The half-spheres bowls can be placed in both indoor and outdoor areas. The pots are also unattached to the tri-stand, so they can be placed on a tabletop or other flat surface.
Intricately handmade, Aorta is one of the most eye-catching planters in the market today. It's made of solid yet pliable softwood and bears a resemblance to the human heart. Nestled at its center is an air plant. The design will be available in various colors, graining, and dimensions soon.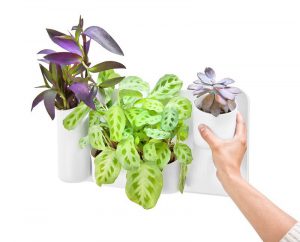 Designed for vertical planting, Urbio's Happy Family Wall Planters is modular, magnetic and versatile. It's segmental, so its placing can be customized based on the area or room where it'll stay. It's also fortified with strong neodymium magnets that help hold a range of weights to the wall.
Best for showcasing small live plants like succulents and cacti, T4U's Japanese style planter is three inches in diameter and made of white ceramic. It has a small hole at the bottom enabling water flow so the plants stay healthy. It best complements Asian-themed rooms or spaces. Aside from plants, the pot can also house decorative items like scented candles.
Known for its style and versatility, the Lota Vase and Ash Base planter features a natural texture of a sustainably-sourced wood. It's delicately made from mouth-blown glass. Its classic look makes it a great accessory for any home interior designs.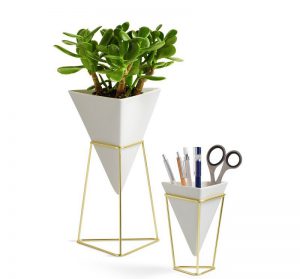 Designed to adorn a work space, Umbra's Trigg Desk Vessel is an extension of the famous Trigg collection, a line centered on geometric shapes and graphic quality. The Trigg Desk planter has a ceramic body extended with a wire frame. It can store greenery and stationery.
Sporting a minimalist look and feel, Kikkerland's Concrete Desktop Planter is made from solid concrete. It's designed to be an eye-catching desktop accent. It has a terraced base to hold business cards, pens, and other small office supplies.
Ideal to hold succulents and cacti, this larger version of Kikkerland's Concrete Desktop Planter is a multipurpose container. It not only houses greenery, its terraced based can also hold office supplies like pens, paperclips, and the like.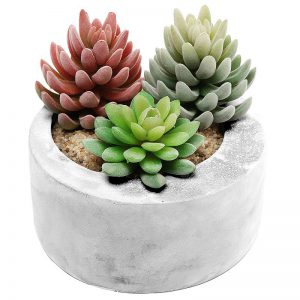 MyGift's modernized succulent pot planter sports a minimalist design. It's made of heavy-duty cast and is designed for both indoor and outdoor spaces. Apart from greenery, it can also be used as a candle holder.
Chive's eye-catching planter is made up of eight tube shape flower vases in different colors. The tubes in red, gray, blue, and orange assortment are fully glazed. It's a great gift for any occasion.
Greenbo's vibrant balcony planter fits all railing sizes. This turquoise deck planter needs no screws or brackets as it's designed to be self-mounted. It also has a patented anchoring system for anti-theft protection.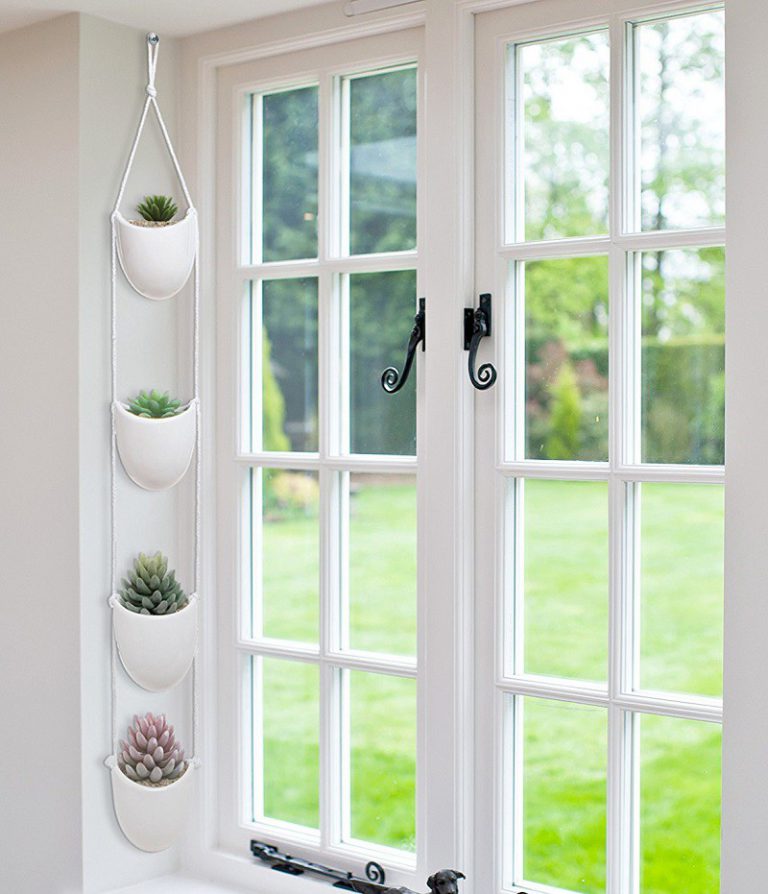 Part of MyGift's extensive collection of planters, this rope-hanging planter is made up of white ceramic. It features four small pots that are suspended in two white rope lines. It's a great décor to complement contemporary and minimalist home interior design.
18. 
Boxcar Planter Set – Walnut & White Dimensions
Handmade in Oregon, USA, Boxcar Planter Set contains three succulent planters cut from one block of solid wood and three inserts made of stainless-steel. The ends of the pots are hand-painted that adds to the set's eye-catching appeal. The pots are also coated with an oil-based finish for additional beauty and long-lasting use.
A unique-looking plant pot aquarium, Outgeek's Wall Fish Bubble Wall Hanging Bowl is made up of high-quality clear acrylic tank. The set includes a plant and some colored rocks. All it needs is a fish and a place for it to be showcased.