Last Updated on April 4, 2023
Like any other musical instrument, learning to play the drums requires countless hours of practice. Unlike guitars or keyboards, though, drums usually only have one volume –loud! Everyone knows that practice makes perfect, but no one likes to hear your banging practice. 
That's where electronic drum kits enter into the show. Forget about neighbors banging on the wall. They are the perfect choice for beginner drummers as it is easy to practice without making a lot of noise and can fit in smaller spaces. Here are some reasons why electric drum kits are suitable for beginners.
Benefits of an Electronic Drum Set
Mastering the drums is a real treat, but learning an instrument from the ground up may be a challenging task. According to Robert Emery, a one-of-a-kind multi-skilled musician and founder of Ted's List. Whether you're a first-time buyer or a progressing drummer looking for an investment kit, it's time to cleanse the preconceptions and understand what electronics could do for your drumming. 
Electronic drum sets are not only quiet, but they also sound fantastic and are easy to play. Here is why electric drum kits have been the go-to kits for beginners of all ages:
Easier to Practice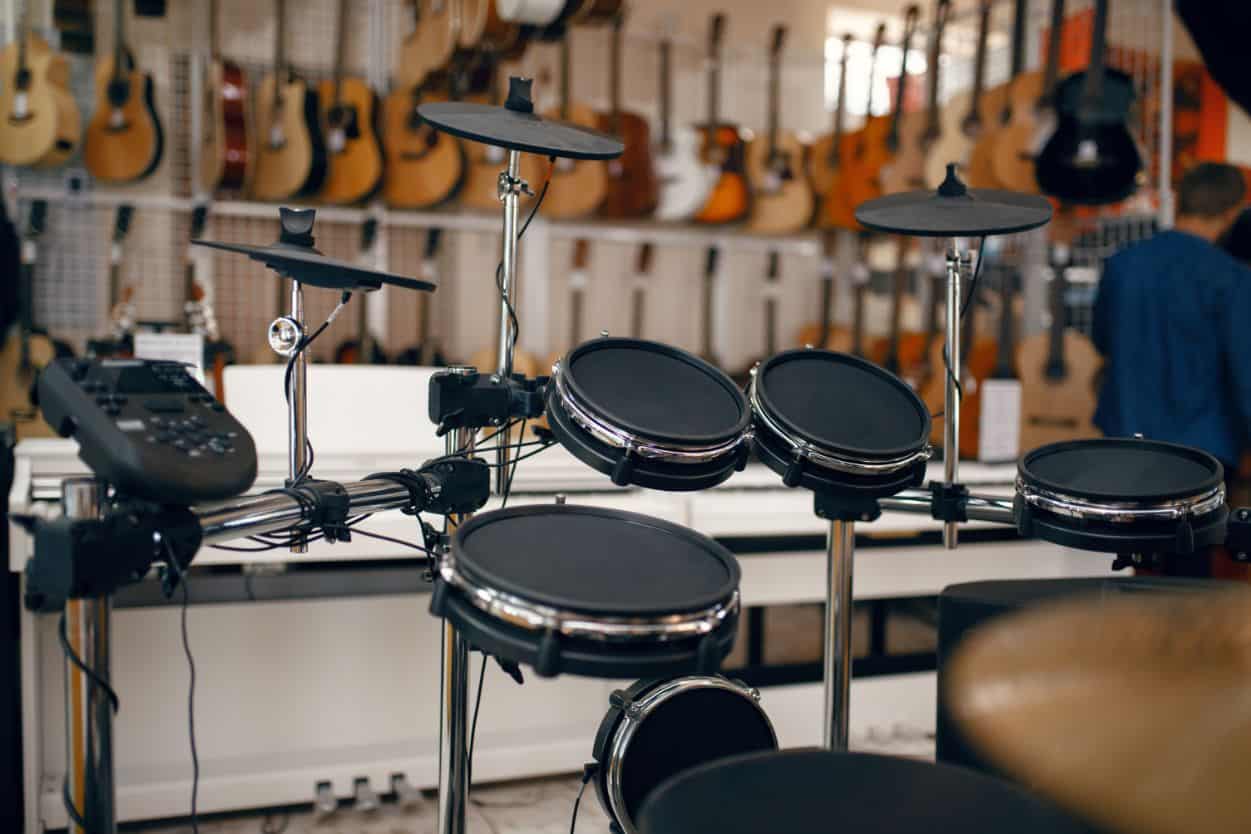 One of the most noticeable advantages of an electronic drum set is that it is easier to learn and practice. Most electronic drum kits come with built-in rhythms and often recording or sequencing capabilities. These pre-programmed rhythms are very beneficial for beginners because they can help practice coordination skills and muscle memory required to become a pro drummer.
Versatility
Electronic drum kits let you bring the sound of professional recording studios to your home. Bring the sound of any drum kit in minutes and change styles in seconds with hundreds of sound effects at your fingertips. Just imagine: you can change the sound of your drums to mimic a studio-quality classical kit, a massive rock kit, a groovy hip-hop kit, or just about any style you can think of.
If you're looking for an instrument that is less of an investment and will allow you to cut your teeth on drumming, electric drum kits provide plenty of features at an affordable price. That versatility is beneficial for beginners looking for their vibe and first band. Still, it also provides more skilled drummers with a toolbox of helpful tones for recordings and live performances.
Learning Tools
The most incredible learning tool that comes along with an electronic drum set is the built-in metronome. Electric drum sets have advanced features that allow you to learn quickly and improve your skills by playing with the built-in metronome. 
A metronome is a tool that produces a steady beat, allowing the drummer to follow it while they practice playing individual beats or bass lines. Another game-changing feature is this kit comes with built-in training modes, allowing you to play along with a drum track, and it will tell you if you are on beat or not. Great for beginners and people getting back into playing drums.
Limits Noise
Are you a new drummer who has no desire to disturb the people around you? Are you interested in recording your drum sessions for later playback or using them in your compositions? Do you want all of this at a price that won't break the bank? If so, then an electronic drum set is just what you need. You can now enjoy practicing or playing along to your favorite songs without disturbing other members of your household or neighborhood as they are quiet and easy to play.
Moreover, electronic drums make it simple for recording enthusiasts to produce ground-breaking recordings without the need for microphones and preamps.
Portable
Electronic kits are the most space and travel-friendly. As a result, electronic drums are ideal for those who want to practice on their schedule and in any location. Whether you're a beginner drummer looking for a drum kit that sounds great or a full band trying to find a reliable-yet-compact live solution, the latest models of electronic kits have something for everyone.
Easy Recordings
While each electronic drum set has its unique features, most models allow for easy recording of your artistry. Recording on traditional drums can be a hassle because you need to soundproof the room and have high-quality microphones and equipment. With an electronic set, you don't need any microphones or soundproofing. You can even connect it directly to your PC or mixer and record sounds instantly.
Should You Go Electronic or Acoustic?
Many a fledgling drummer may wonder if a five-piece e-drum set or a legit acoustic drum kit is the better choice. Well, that would depend on various factors, the most determinant of which include:
Features
It's not a surprise that the electric kit edges ahead in this department, offering not only tons of alluring DSP effects, adjustable onboard sounds, hassle-free MIDI and audio output, but also a broad range of training and coaching tools that are crucial to every newbie drummer's learning journey. 
Cost
"Getting what you pay for" tends to apply more to e-drums than their acoustic counterparts. In electronic drums, the difference in both playability and sound quality between low and high-end kits is much more profound compared to acoustic drums. So, while a budget acoustic drum set may see you through those fledgling days and even a bit beyond that, there should be more satisfaction in an e-drum upgrade even if it is more likely to occur sooner and more frequently in those early days of learning. 
Final Verdict
Adding an electronic drum set can be a solid move if you're looking to step up your drumming game. With all things considered, beginner drummers worldwide look to electric drum kits as a reliable source for their musical needs. Not only are they great for practice and performance, but they also give you limitless room for your creativity and excellence. According to Robert Emery, don't forget to check out the top  14 Electronic Drum Kits for Beginners at Ted's list.