Sometimes you need to send a fax, as rare occurrence as it might be, signing contracts, documents, or other materials where a PDF just doesn't cut it are still scenarios where a good and old-fashioned fax can be useful. Online fax services are the 21st century solution to a 20th century problem.
With more streamlined and easier to access fax services than ever before, gone are the days where you or your company need to buy a fax machine or find one in a local office supply shop. This list will provide you with some of the best online fax services that will make the ever-rarer task of faxing an easy process. First, we must address what exactly an online fax service does, why you may need one, and what to look out for when choosing one. 
What is an Online Fax Service and Why You Need One! 
An online fax service is a tool that lets you send and receive faxes without the need for a fax machine. All you need is Wi-Fi and an email account, and you can subscribe to a service and utilize its features. Subscribing to any of the below services will give you a fax number, once a fax is sent to your number, it is turned into a file and sent to your email. It's that simple. There are a few reasons why online fax is the way forward: 
Convenience – using your computer or laptop to fax is so much easier than using a machine, especially in the modern workplace, hovering everything in one is much more efficient in terms of space and cost. It is also perfect if you are on the go and using your mobile device. 
Security – Many online services are compliant with enhanced GDPR regulation and data protection which is attractive for many businesses. Internet faxing is encrypted, which gives companies and individuals peace of mind. 
Paperless is best – going green is a big thing for many companies in today's world. Similarly, even individuals can make the efforts and save on paper. All electronic files sent can even be signed electronically, reducing the need to print hard copies, and saving you or your company time in the process. 
What to Look for in an Online Fax Service? 
Price
As with any subscription service, you want to be sure that you are getting a good deal for your money. Shopping around and assessing different price points is always a good idea. Keep an eye on free trial offers too, many of the services on the below list offer comprehensive free trial periods that will let you try before you buy. 
Features
There are only so many features that an online fax service can provide, but there are some standard features that should be looked for. In particular encrypted security is a feature that will help with data protection for any company as well as the ability to incorporate multiple users. Different plan offerings are also nice because you can tailor what you need to a specific plan or scale up or down depending on how much faxing you plan on doing. 
Accessibility 
The issue of Accessibility comes down to availability on mobile devices or through applications. Not all services on the list do have an app but being able to access files through your mobile is a big plus. 
The List
In terms of feature rich fax services, RingCentral ranks as one of the best on the market. Allowing you to store up to 200 faxes and with an easy to navigate interface it makes us comprehensive and easy to use for anybody looking to send or receive faxes. It has a handy mobile app that works just as efficiently as the desktop site and with high end security encryption, all data sent and received is well protected.
The ability to fax flexibly, regardless of your device, as well as its advanced functionality, allowing you to fax groups of people, receive notifications seamlessly and save all faxes onto an online cloud, make RingCentral an attractive option. In terms of the plans it offers, it can be expensive. The fax 1500 is their basic plan, allowing up to 1500 pages to be faxed per month at $17.99. Whereas the office plan, allows for unlimited fax, phone, and video use.
Both plans allow you to add an additional number for $4.99 per month, per number, which is a good price. However, $25 per month for the business plan would be quite steep for smaller businesses or individual users. RingCentral is a great service however and if you are looking for a service with great security and quality features, as a larger business or someone who does a lot of faxing, it is a viable option. 
2.

mFax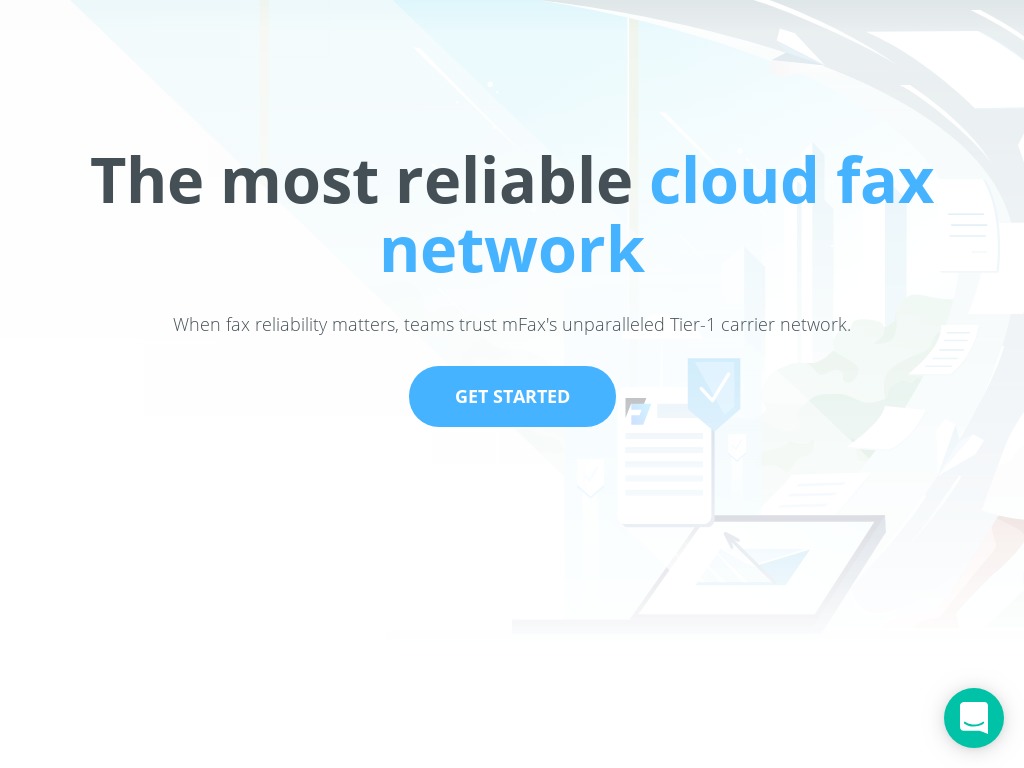 If you are part of a smaller business and would like to use a service that gives access to more users, then mFax is a very viable option. They have a variety of well-priced packages that set out to accommodate the needs of businesses both large and small. Expect to pay between $9 per month for their solo tier, $50 per month for their Business tier which allows up to 15 users, or $95 per month for their Infinity tier, which allows up to 50 users. While the latter two may seem expensive, for the amount of users that are given access, their service works out to be very cost efficient.
What I love about mFax is their really simple interface, it is very modern and clean looking. Their support line is also strong, especially if you are a US based company. They pride themselves on quick 5-10 minutes response times for support queries during business hours. They have a solid email to fax feature and while there is no app, they do have a well-integrated web portal that can be easily accessed via mobile.
They offer a demo service as well which is a 15-minute walkthrough of mFax, how it works and how it can help you, which I think is a really fantastic addition to their service. The biggest con is that there is still no way to sign or edit documents digitally as of yet. But overall, mFax is a well-rounded and well-priced service, especially if you are looking to add multiple users to your plan.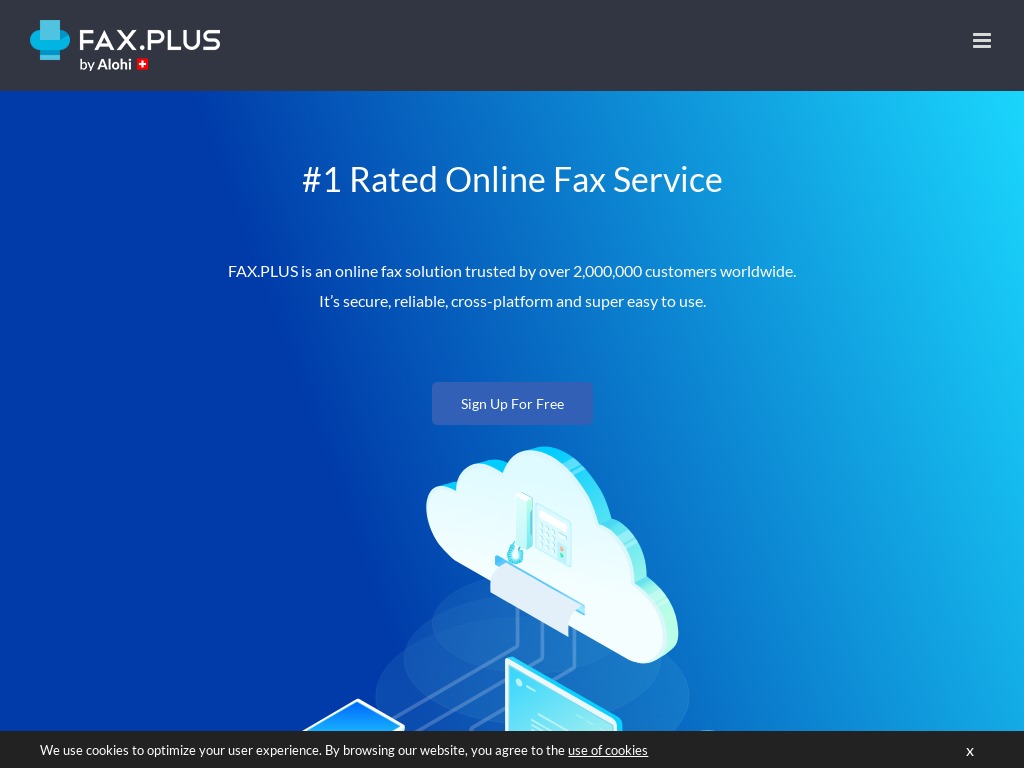 If you are looking for a more cost-efficient fax service that packs a punch, Fax.Plus is a good option. Ideal for freelancers, those working from home or in a home office, Fax.Plus offers both a solid free version of its services as well as a handy $5.99 per month plan for 100 pages sent or received. You can scale up to $8.99 or $19.99 depending on what you need, but for the price, the smaller plan gives you the best value.
The free plan allows you to only send faxes (up to 10 per month with a charge of $0.20 per page after that) but it is a good starting point which gives you access to some of its features. The interface is very user friendly, with a clean and minimal design and you can send faxes via email and phone both quickly and efficiently. It offers the user a seamless and intuitive mobile experience too.
However, it is worth noting that as of now, you can only sign electronically through the mobile app. Fax.Plus is a low priced, high quality, secure fax service that in my view, offers the most modern and feature packed service for the individual user considering its price point. 
MetroFax is often touted as the best online fax service. I won't tell you which service to choose, but MetroFax has pretty much everything you need in one place. $9.95 per month lets you send or receive up to 500 pages, it supports a variety of file formats, has a solid cloud storage system, a good interface for easy use as well as a well-integrated mobile application.
You also get access to a 14-day free trial with the ability to use all of its features which is a great show of competency on their behalf. Price plans do scale up to $25 or $35 per month for higher volume faxing if you feel it is needed, making MetroFax a quality choice for larger companies as well as smaller companies.
The cloud integration with the mobile app allows you to send faxes via phone, or even through Google Drive and Dropbox. This versatility and integration with other applications as well as the aforementioned features only go to strengthen the claims that MetroFax is an industry leader.
The final service on this list is the most security conscious fax service of all, SR Fax. It is HIPAA compliant and allows you to block spam faxes as well as specify how long you want your sent and receive faxes stored on cloud for. SR Fax is the commonly used by medical organizations, as it adds an extra layer of security to patient documentation without compromising functionality.
The standard plan offers an industry leading 60-day free trial and the more HIPAA compliant business plans offer a 30-day free trial. Either way, you are getting to use a competent and secure service. The standard user plan is $3.29 per month and allows for 25 pages to be sent or received. This is ideal for people or businesses who do not do much faxing. Its $45 per month plan allows up to 2500 pages of faxing and is great for larger businesses.
It also offers a host of healthcare plans that specifically cater for medical companies. This is a no-brainer if you are in that area and looking for a fax service. There is no solid mobile app, and if you are not a healthcare company, there are more viable options that will cater to you. However, SR Fax is a very competent service, nonetheless.