To make your web product look and perform superbly, you need to keep well informed of the latest UI / UX trends that continuously develop. And when it comes to taking good advantage of these trends, consider working with only an experienced and well-versed UI  /UX Design Agency: https://cieden.com/design.
The updated lists of UI / UX design trends appear every year, as is the situation with trends. When all designers start to follow this or that trend, it becomes worthless because of over saturation. So the way out is to check them out from time to time to offer clients something new. For business owners, it's a source of ideas for their brands' development.
As an agency with over 5 years of experience with web app design, we know how to use UI / UX trends to create visually delightful and practical digital products for all industries. So here we have a list of modern UI / UX design trends that dominate the market in 2022. Make the best UI and UX design best practices and create solid and capable products that pay off.
1. Micro-interactions
While not a complete innovation, micro-interactions are becoming the authoritative trend of 2022 in web design. And it's pretty easy to understand why: every little micro-interactive in the UI has all chances to become the one that distinguishes a good application from an excellent one.
Thanks to micro-interactives, you are free to experiment with design solutions to please the user and to put even more fun and excitement into their experience. Also, let's not forget that it's not enough to look nice and be user-friendly now; it's essential to be different, attract attention, and become recognized. As the use of micro-interactions increases, any website or app without any may get overshadowed.
It's not a piece of cake to surprise someone with huge animations these days, so now it is more desirable to use small and even tiny animated elements for user encouragement. You remain minimalistic and stylish at the same time.
2. Augmented Reality (AR) & Virtual Reality (VR
)
It's not the first year of VR and AR applications being on the market, but in 2022 they are becoming a solid trend that can't be unnoticed and underestimated. 
More and more functional and creative updates attract the attention of both design agencies and business owners. On the one hand, the technologies seem innovative to the market, and on the other hand, they are already actively used by technical giants such as Apple, Microsoft, and Facebook. 
As a notable example, the IKEA application allows you to "try on" the furniture in your interior and thus choose what suits you best. It immensely helped the company to increase its income even during the quarantine.
3. Unique Illustrations
When it comes to illustrations, there usually arises a confrontation between 2D and 3D. Year after year, the same question remains. The truth is that for now, both the first and the second ones are trendy. 
As it's been said above, the main thing is to be unique, evoke the right emotion, and be recognized. If it's better to focus on minimalism while working with the interface, you should give yourself total freedom to have fun with colors, angles, and shapes when it comes to the illustrations.
Another highlight is vector illustrations in SVG – Scalable Vector Graphics format. PNGs, GIFs, and JPEGs lose their quality by increasing the display resolution. It brings you to the need to keep a separate file for each screen type. SVG saves you the trouble of doing this since the vector format can be enlarged and reduced without quality loss.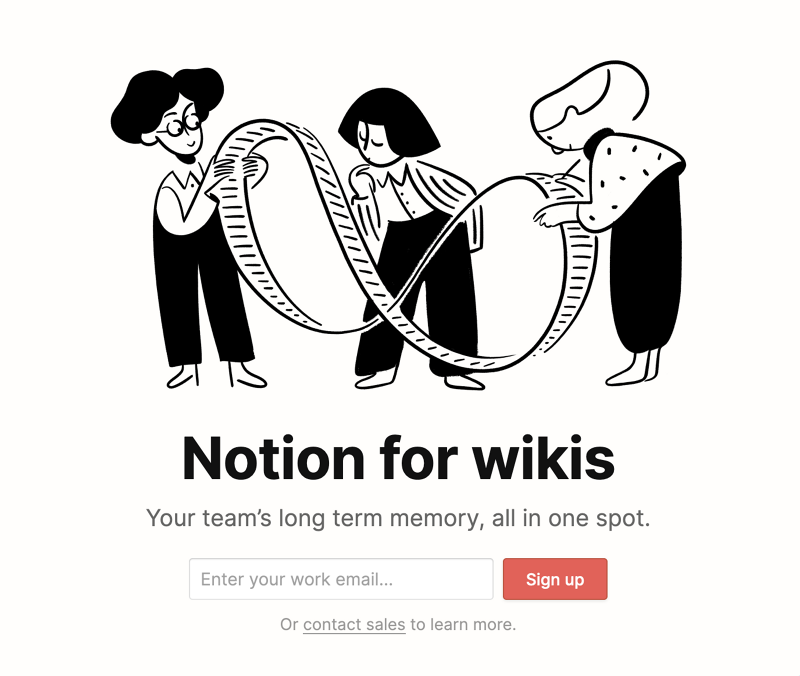 Image Source: bluebed.net/Notion
4. Bold Typography
The websites that are entirely built on typography are not among things that can surprise someone anymore. They look very wholesome and entertaining. A qualified and fully responsible approach to the choice of fonts is of great importance, given that users tend just to glance and run the lines of the page content. Bold helps draw attention to important things and make the information memorable.
Working with typography, you must bear in mind that customers often associate it with your brand. The well-chosen bold font you use in your design is nearly as important as the logo is.
 Image Source: 1stwebdesigner.com/web-design-trend-big-and-bold-typography/
5. Minimalism
Minimalism remains among the latest UI trends and is not going to lose ground. Now the functionality of the elements plays a crucial role. It is critical to highlight the most important things, help convey the product's primary value as quickly and clearly as possible, and help the user get the most positive emotions. Components used solely as decoration become irrelevant.
For a user whose eyes are accustomed to overly interactive advertising from all sides, minimalism and functionality in the design could prove decisive.
Conclusion
First impressions are based mostly on design. Traffic and conversions are directly related to it. Not important how useful your product is; with an outdated design, it is just ineffective. The only way to make customers follow you and stand out among competitors is to get better with UI and UX design.
So there they are, five exciting UI design trends to keep you on your toes in 2022. Staying up-to-date on recent trends won't just challenge and improve your skills as a UI / UX designer; it will also ensure you remain in tune with your users' shapeshifting needs and preferences. You'll also enjoy the bonus of always being one step ahead of the competition as we enter a brand new decade in design.