There are several factors that make up a good logo design of a company. Aside from being unique, it should also reflect the values of your company or brand. The best ones that have stood the test of time were not only memorable, they were also flexible.
Don't let the design process daunt you. Whether you're just starting out or you want to rebrand your business, you can create the logo of your dreams with the help of today's free design resources. No need to spend hundreds of dollars, too!
Below are some of the best logo generators to help bring your logo ideas to life:
Free Logo Generators
1. Turbologo.com
Turbologo is a AI based logo generator that can make a truly unique and professional logo. Turbologo logo maker is adapted for ordinary users, no design skills required and it's free to try. Turbologo also have a gallery of templates containing more than 3,000 logos of various subjects.
2. Logodesign.net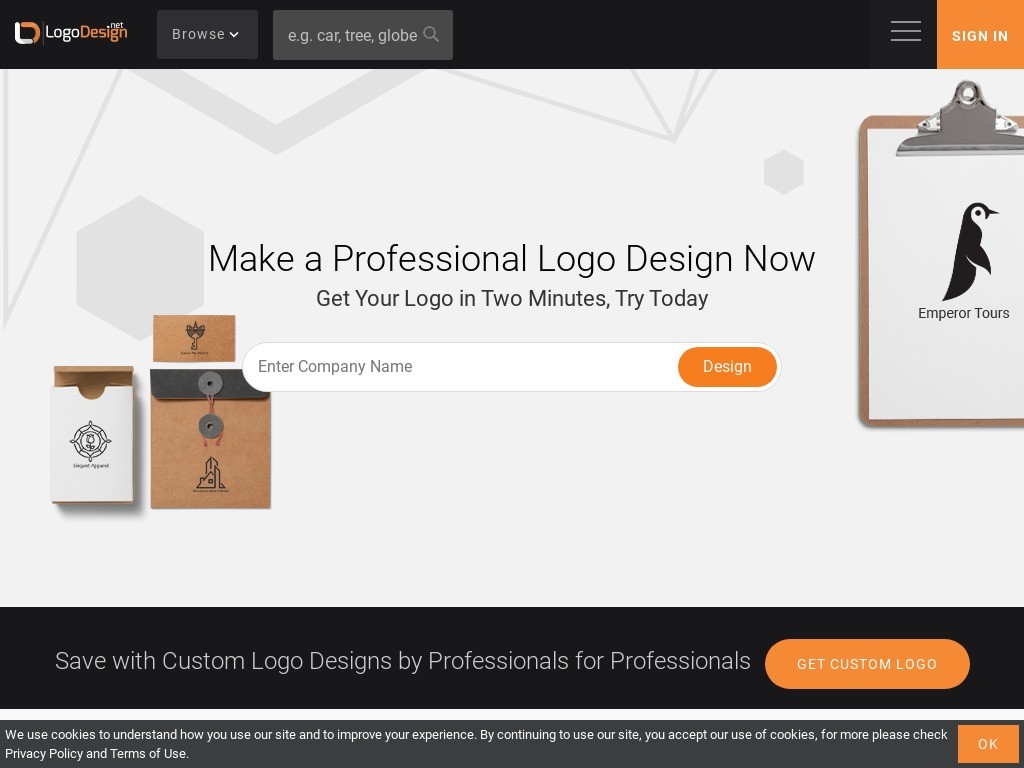 Logodesign.net allows you to quickly make a professional logo in just two minutes. With their free DIY logo maker you can create unlimited logos of your choice with unique blends of your own taste, requirements and style. To start, simply enter your company name. You will then be presented with dozens of unique logos to choose from. 
3. LogoMyWay Logo Generator
LogoMyWay made sure the process of creating a logo design is simple to use with hundreds of great looking logos to select from. Once you select the logo that best fits your business you can begin to customize it based on your brand. You can change fonts, colors and shapes and download your new logo instantly. It's free to use but you'll need to pay to download the logo files.
4. Logo Genie
Want to see some logo-making magic? Then get your hands on Logo Genie. They make the design process super simple thanks to a highly intuitive platform that's fast and user-friendly. Just enter your company name and in seconds, they will show you beautiful templates based on your industry. After that, just tweak your chosen logo using icons, colors, or text. Sign up to download your new logo in your preferred file format.
5. Logaster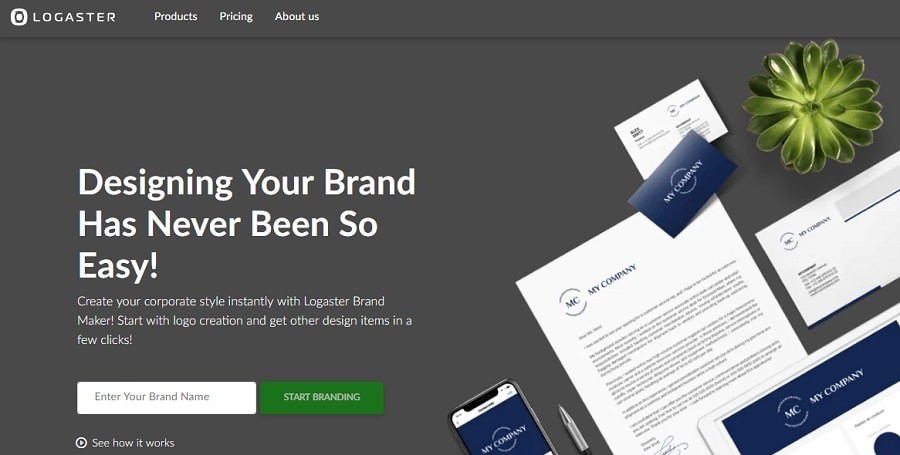 With Logaster, you don't just get a logo, you get an entire branding kit. Their services include your very own logo featured in marketing materials such as business cards, letterheads, social media banners, wallpapers, and a brand book. You just type in your company name, add your slogan, pick an industry, and choose a color scheme (optional) and you're done!
6. Logo Type Maker
Featuring more than 1,000 professional templates and an affordable €1.99 basic plan, Logo Type Maker is ideal for startups or businesses that don't have a lot of budget for redesign. To date, their platform boasts of more than 2 million logos created for all kinds of companies.
7. Canva
One of the most popular design tools in the market today, Canva is a great go-to when you need a simple logo for FREE. Sign up and choose from dozens of pre-made templates. Tweak it a bit and download in JPEG, PNG, or PDF formats. Animation is available only for premium users.
8. Ucraft
While Ucraft is in essence, a powerful website builder, they also have a logo maker tool. The advantage is that you can download a FREE PNG file of your finished product. The downside however is that, they don't provide templates or design ideas. But if you just want the barebones (i.e. text and icon), then this tool would be perfect for you.
9. DesignEvo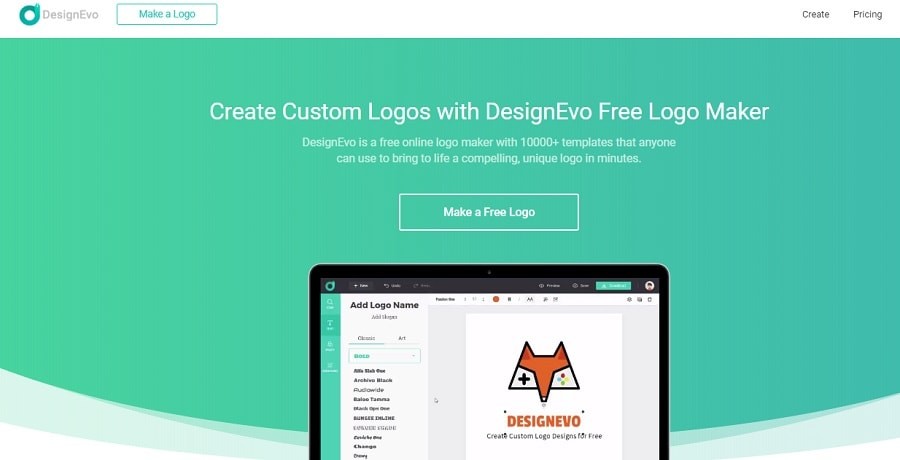 This free logo maker keeps it fun with over 10,000 templates, fonts, icons, to make sure your logo truly reflects your brand's personality. DesignEvo also lets you store your ideas on the cloud so you can quickly retrieve and tweak it anytime, anywhere.
10. Fotor
A free photo editor and design maker, Fotor also lets you create your own logos with their user-friendly platform. Either choose from their beautiful pre-made templates, or make one from scratch using stickers, images, icons, text, and basic shapes. This online tool can help you edit photos and make collages as well for your business.
11. Shopify
The Shopify Logo Maker is here to enable Shopify shop owners to customize their online presence with their very own logo. Save time and money as you make design elements by yourself. With a well-stocked image library, it's never been so easy to get started. The only downside is that some popular icons or templates may already be in use by other businesses – so be sure to check before creating your own.
12. Logo Garden
Get something simple and beautiful in just a few minutes with Logo Garden. You just select your industry, enter your business name, pick an icon, choose a color scheme, and that's it! Plus, they also offer the option of having a pro design your logo for you. For as low as $39.99, you can have a professionally finished logo, with up to three revisions, as well as high quality files ready for download, in just one business day.
13. Graphic Springs
Spend just minutes making a lovely logo for your brand or business. Graphic Springs makes this possible with their super fast AI platform. While there are no templates, you have access to thousands of images for all types of industries (e.g. food, manufacturing, constructions, dating, etc.).
14. Envato Elements
Envato Elements is a great resource for logo design ideas. Just filter your search and check out hundreds of elements created by pro designers worldwide. Sign up for free and enjoy unlimited downloads with a single commercial license. Many of these logo designs are fully editable so you're free to play around with them after your download.
15. DesignMantic
Nothing could be simpler than using DesignMantic to create your business logo. From their homepage, you just need to select a service (logo or business card), type in your company name, and select your industry. In just a few seconds, you'll get dozens of logo inspiration, ready for download.
16. Zillion Designs
Zillion Designs helps businesses get dozens of logo designs instead of just one! Run a logo contest for as low as $199 and see professional designers from all over the globe compete to win your prize. You'll be swamped within hours, you don't need to wait for days to get something amazing. Once you've set your eyes on a logo you like, just close the contest and pay the artist for his or her hard work.
17. Designhill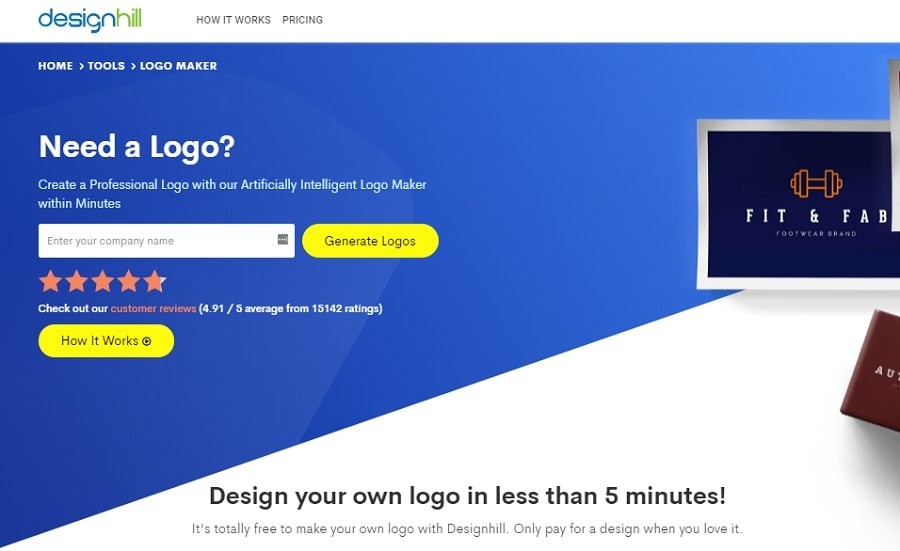 This platform provides you with a couple of choices when designing your logo. You can use their super fast AI-powered logo maker tool, crowdsource ideas by hosting a design contest, or choose to work directly with a designer. Designhill is all about creative freedom. So no matter what you're in the mood for, they've got you covered.
18. LogoCreator
LogoCreator.io is a brand new tool that offers thousands of pre designed logos which are easily edited and customized. It is a one page application and all downloads are completely free. You can download vector files as well as high-resolution. Great solution for anybody.
19. Hipster Logo Generator
Looking for minimalist ideas? Then get your fix of minimalist logo design with Hipster Logo Generator. In just three easy steps, you can craft your very own hipster logo that will appeal greatly to the younger generation. Try it today!