Videos have become a crucial part of both our personal and professional lives in the last decade. Platforms like YouTube, Facebook and TikTok have revolutionized the link between videos and social media, so as a creator, you want to ensure that you have the best quality videos possible. This is where availing of video enhancing software can be of use. These tools use a variety of editing techniques such as:
Increasing resolution

Applying filters

Overlaying

Removing noise & sharpening focus 
This is just a small selection of the services that these enhancing tools can provide. The reality is, you can have the best content on the internet, but if the video quality is sub-par, your brand will suffer. However, video enhancers are not just for use on social media sites, they can also be used for personal videos to improve quality or indeed by professionals looking to sharpen up a presentation for a client or a boss.
This article looks to give you a list of 5 of the best video quality enhancers, each in a particular area. Ideally it will help someone looking for a specific enhancer that may fit their needs. Some of them are AI powered, others are not, but each service works in its own unique way and will deliver different results. But what should you look for in a video enhancing tool when looking to buy? 
Freedom
You want to be given the freedom to edit and express your video creation in whatever way you want if you need to! Yes, it is crucial that there are good templates available to help speed up the editing process but having the ability to edit your own work without restriction is what will make your video even more unique. 
Value
Most enhancers, particularly AI ones, will come at a cost. That is perfectly fine as long as you are getting a solid set of features that justify your purchase. Never be afraid to shop around and look for the best deals on music generators that can match your needs. 
Best Mobile App: Videoshop 

Best AI: DVD Fab Video Enhancer

Professional and Affordable: Adobe Premier Pro

Easiest to Use: iMovie

Best Features: Lightworks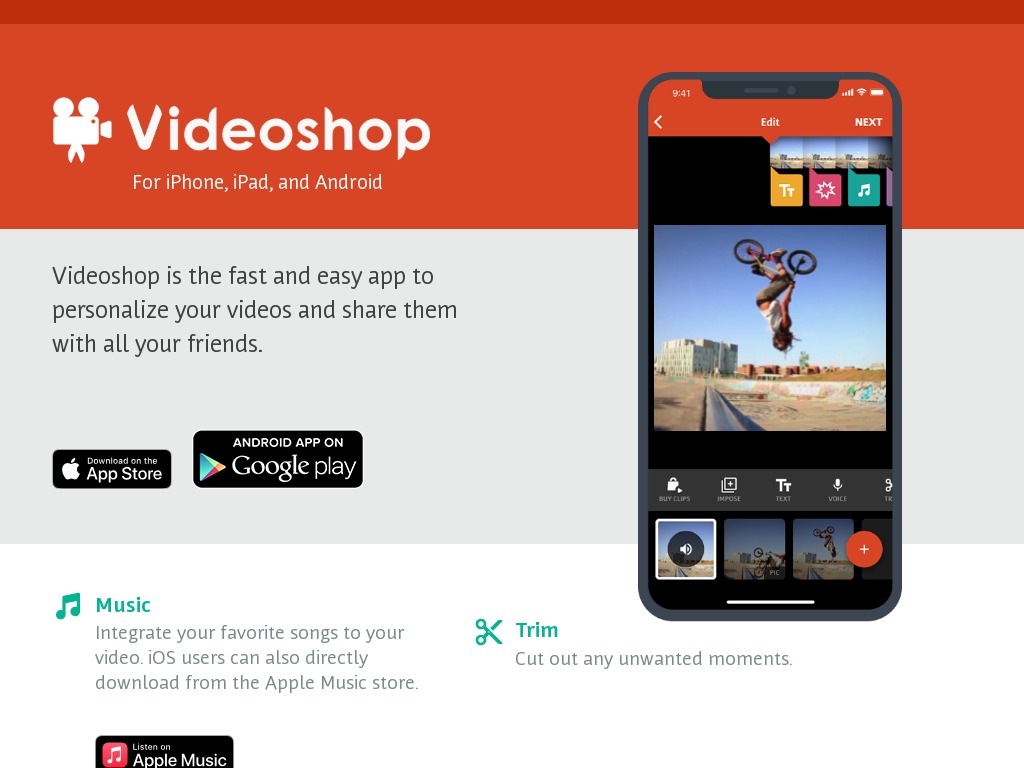 In terms of quality, ease of use, integration and versatility, Videoshop is by far the best video enhancing mobile app available. It is free to use with a basic account and has a wealth of built-in features that make video enhancing easy and accessible. It aims to make video improvement as simple as possible which makes it user-friendly, especially if you want to upload on to social media.
The enhancer itself allows you to crop, add sound effects, introduce fast or slow motion and add voiceover which is a nice feature. There is a seamless integration with Apple Music and Spotify, and you can easily share on any social media platform. The reason this beats any other mobile app in its field is because for one, it is always updating. It introduces new features regularly with its updates to continue enhancing and supporting its cross-platform availability.
Its list of features is also exhaustive compared to other apps; it feels like Videoshop is optimized for mobile use which makes enhancing on the go much easier. The tools are responsive, giving minimal delay and lets you add tweaks quickly. If I were to pick any negatives, they would be the slightly clunky interface, if it were a little more streamlined, that would be nice. Also, some of the more advanced features will require you to pay, but for the service you receive and the tools you get access to, the value is 10/10. 
When it comes to AI controlled video enhancers, there are quite a few quality services available for use. DVDFab Video Enhancer is in my view the best of the lot. It is dedicated to enhancing videos that are of low resolution straight to 4k. to do this, it combines powerful AI tech with high end graphics cards to enhance even the oldest of videos.
It does this through its resolution technology which predicts where the missing pixels are naturally. It enhances these pixels, and the result is a crystal-clear video. The software boosts resolution, sharpens the image, corrects and enhances color where needed. This is the beauty of AI vs non-AI, all of these smaller tweaks are done for you based off of what the advanced software feels should be changed. This is a real time saver for the professionals and a life saver for the amateur. Where I feel this AI is particularly brilliant is if you have old family videos or videos with friends on a phone or a disc, this AI will breathe new life into old memories.
The app is supports a variety of video formats and is supported by a range of processors and graphics cards. It has an easy-to-use interface, and you can even enhance your videos in their free trial. The only sticking points are its lack of versatility (only available on windows desktops) and its steep price point at $80 per month. Considering its service, its ease of use and its top-notch AI technology though, the price is justified. 
If you are looking for something a little more affordable with similar pro editing capabilities (but without the AI software) then consider Adobe's flagship video enhancer. While not an AI service, hence the drastically cheaper price point, it has all the editing features you will need to be able to do it yourself. It has arguably the best motion graphics software on the list with features like eliminating camera shake and detailed slow and fast motion editing tools.
It also allows you to re-format any footage. It contains a versatile and well-integrated menu panel that allows you to work on a selection of products at the same time. This is ideal for busy professionals or freelancers who are working on a few projects at the same time. You get control over fonts and color and included is a panel which lets you add your most used features so that they are close when needed.
The 'Premier Clip' application on mobile devices also pairs nicely with Premier Pro for even increased versatility and integration. With its limitless editing features, outstanding scope of tools to use, versatility, level of integration that spans the entire Adobe library and its $10 per month price tag, this app is the ultimate tool for those looking to enhance or edit videos. 
From one extreme to another, iMovie is probably the easiest of the tools to use on this list. Although it is an Apple exclusive and is lacking in some of the professional editing capabilities of Adobe, it does contain an array of easy to implement editing tools.
Is it is compatible with every media application Apple offers like it's iPhoto, iTunes and Garage band and has a simple to navigate user interface that directs the user to exactly where they want to go. It offers 4K video support with easy uploading features for anyone using social media, you can voice over audio, add visual effects or crop as well, which works well for users with any agenda.
For me it is the small features that make a service seem effortless and iMovie's auto-save and easy integration features make using the service seem so straight forward and stress-free. If you have an Apple desktop if you edit on that it will instantly sync to your phone too. If you want a free video editing enhancer, have an Apple device or simply want an easy-to-use robust software, in my view there is no better app. You won't get the highest quality of features, but you may not need them, and iMovie does exactly what it should, which considering its price tag nobody can complain about. 
I have spoken a lot about features on this list, and every service here can really make a case for having the best video enhancing features on the market, but in my view, Lightworks takes this one. With Lightworks, you can edit 2D and 3D videos, export your video and give read or write access, customizer shortcuts, work with every platform and software you can think of, from Linux to OS. You can also enhance up to 4K resolution.
They pride themselves on being the cutting-edge editing tool for the everyday user and considering the tools and features at their disposal they are speaking the truth. Lightworks supports a wide range of formats, offer a 7-day free trial and contain a quick start guide along with FAQs for anyone looking to take full advantage of their software. Its drag and drop content management system makes using its video enhancements even easier and with extensive support attached, if you have any issues, they will strive to resolve them.
Lightworks has worked with movie production before, and their site lets you know that you have "Hollywood level strength editing in your hands" which is a big claim to make. However, with the array of features you have access to as well as its high levels of compatibility, its formatting capabilities and its reputation, combined with its $25 per month price tag, it makes Lightworks an efficient and affordable tool.