Ever since Airbnb was launched in 2009, the company has continued to revolutionize the travel landscape by allowing average apartment owners to rent out their space to guests.
This noble idea was inspired by statistics that continually portrayed the number of travelers as growing disproportionately faster compared to that of accommodation facilities. 
Thousands of apartment owners looking for side gigs responded by listing their properties on the site. And the incredibly affordable accommodation fees charged by Airbnb endeared many travelers to the company.
As expected, Airbnb became an instant craze. Presently, the company has over 7 million property listings on its site, spread across 80,000 locations around the world. 
Sadly, things haven't been quite rosy with Airbnb over the past couple of years. Demand surges and unreliable support are some of the concerns many travelers have had to contend with. 
Thankfully, there are dozens of Airbnb alternatives out there that are committed to ensuring that your vacation is something to cherish forever. Read on as we explore some of them.
Best Airbnb Alternatives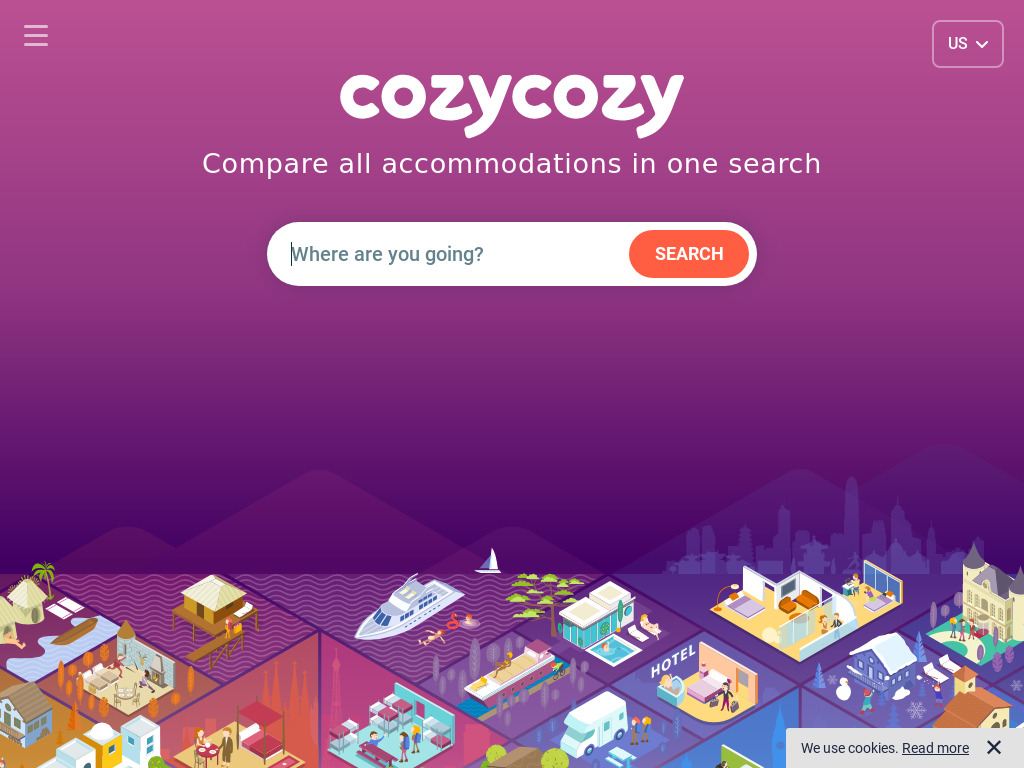 Number of Properties: 20+ million
Area Covered: Worldwide 
cozycozy is a search engine that allows travelers to compare a full range of accommodation options available, so you're guaranteed to find the best place that meets your needs and at the best price.
They offer a range of accommodations such as: apartments, houses, hotels, youth hostels, lodges, boats, tree houses, cottages, cabins, and more. They even have an option to do home swaps!
Number of Properties: N/A (They go for quality rather than quantity)
Area Covered: 22 Countries (Mostly Europe)
Plum Guide is not just a booking platform. It's a benchmark for quality. And in the unruly world of holiday homes, it's the only mark of quality you'll need.
They take a systematic approach to vetting every single home on the planet and accepting only the top 3%. Like a Michelin Guide, but for homes. They do it by putting every home in a destination through a meticulous vetting process, which includes identifying candidate homes through proprietary AI, interviewing hosts and sending our Home Critics to visit and test nominated homes in person.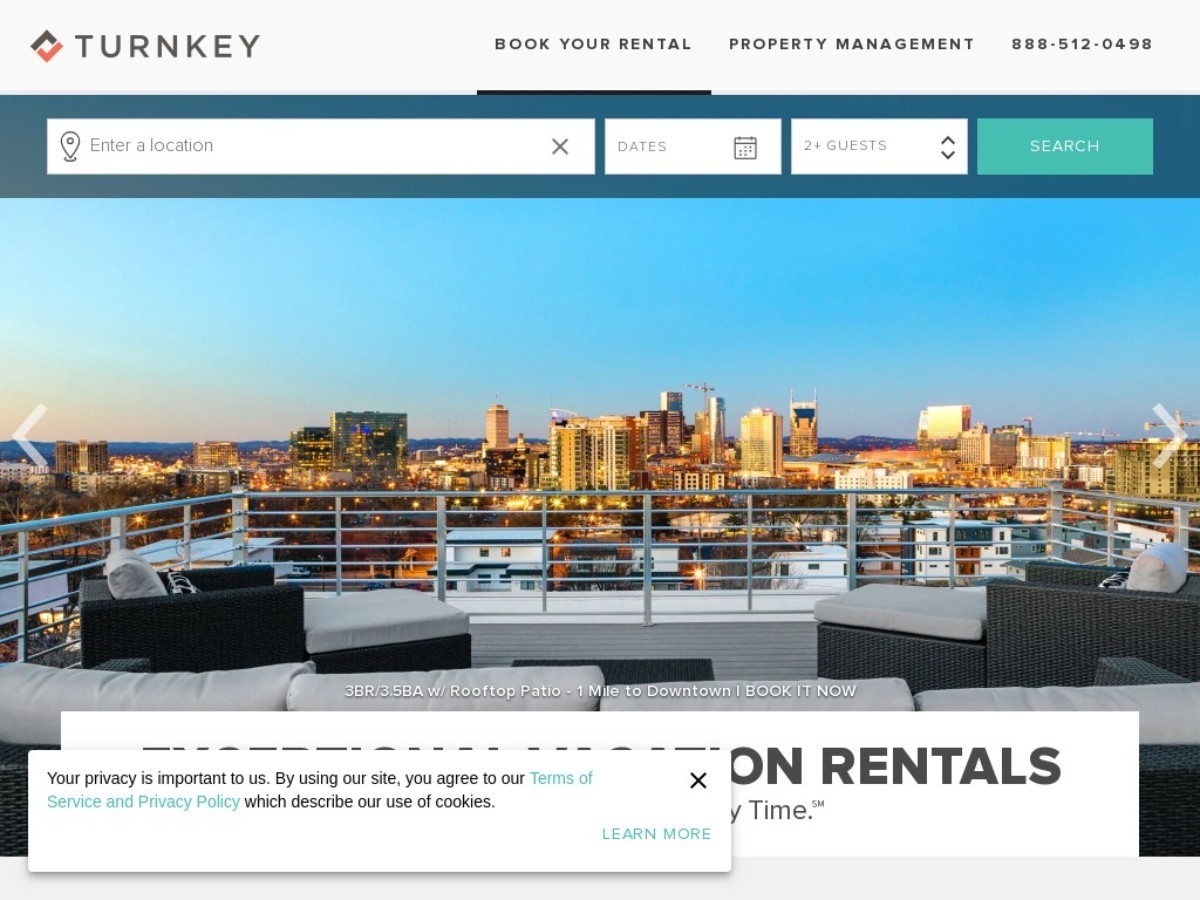 Number of Properties: Around 3,700 homes
Area Covered: About 55 locations in the US
Turnkey is another excellent Airbnb alternative that's almost exclusively available in the US. The company requires its guests to be at least 25 years to rent a home with 3 or more bedrooms, or at least 21 to rent a facility with less than 3 bedrooms. 
Turnkey also believes in the comfort and security of its clients. That's why guests are thoroughly screened before they're allowed to book a rental facility with the company. 
As a guest, you're entitled to 24-hour support without necessarily contacting the company directly. 
Number of Properties: Over 6 million homes
Area Covered: Mostly Europe but also spread elsewhere, except Oceania.
The primary distinguishing feature of 9flats is that it allows you to rent the whole place instead of just a single room within the apartment. That makes it an ideal choice for an all-family vacation as well as for guests who are looking for privacy. 
Each apartment is thoroughly reviewed on the 9flats website, with clear titles and descriptions stating the number of people that can fit in there and the minimum number of nights that you can stay. 
Whether you're looking for luxury beachfront villas in Miami or quaint chalets in the Alps, 9flats has got your back.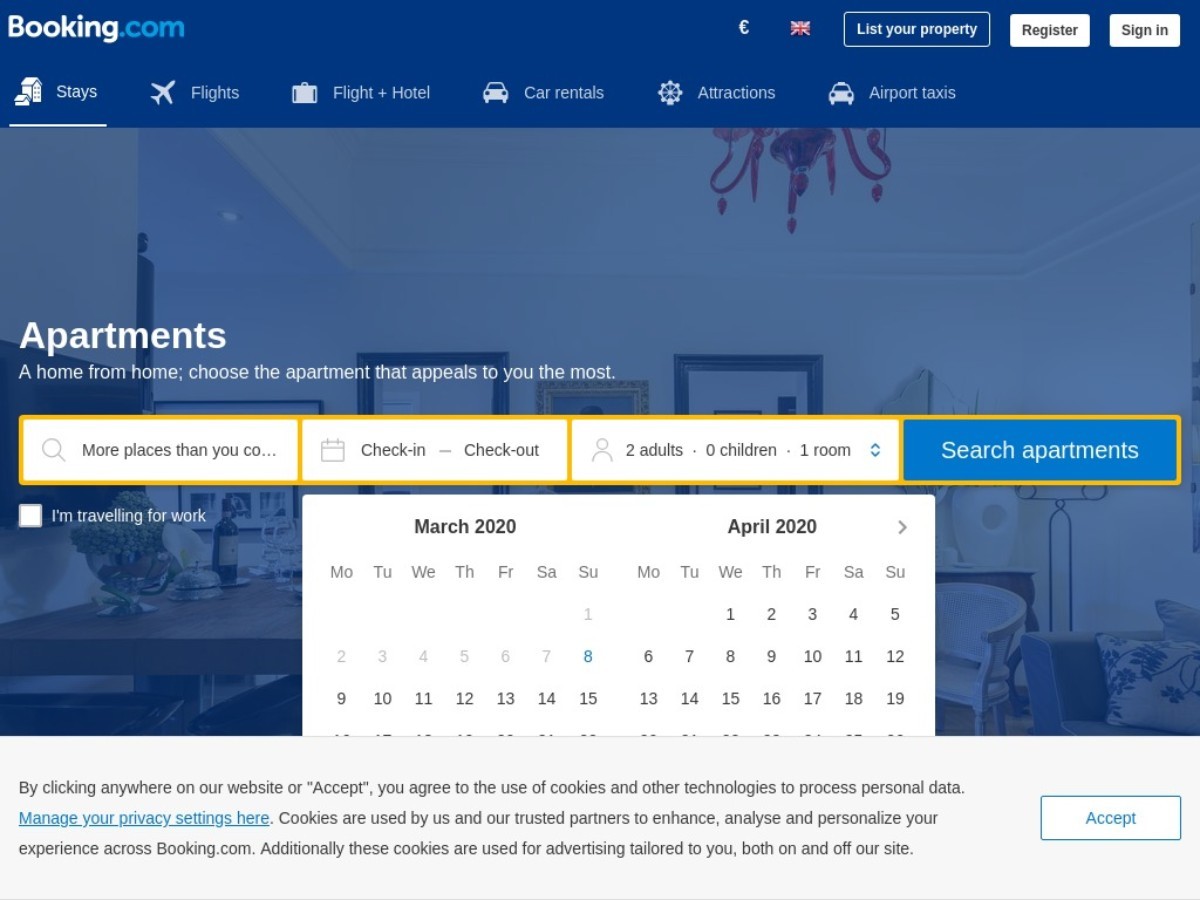 Number of Properties: Over 685 000 apartments
Area Covered: Worldwide
Booking.com needs no introduction as far as hotel booking services is concerned. Besides facilitating hotel accommodations to thousands of their clients around the world, the site also offers vacation apartments and rentals. 
Whether you fancy the glamorous experience of luxury hotels or the homely ambiance of vacation apartments, you can always look to Booking.com for amazing rental deals. 
Even better, the site also provides great recommendations for many other travel-related services. You can use Booking.com to book flights as well as find local car rental companies, restaurants, and tour guides.
Number of Properties: Over 2 million homes
Area Covered: Over 190 countries worldwide
HomeAway strives to live up to its name by offering homely rental spaces to its clients. No wonder the site is mostly famous among travelers aged 35 – 50 who are looking for accommodation facilities that recreate the home environment. 
One of the most outstanding qualities about rental apartments by HomeAway is that you enjoy twice the space you would get in hotels, with about half the price. 
Also, the site implements a Trip Board feature where you can save your favorite rental spaces and seek the opinion of your fellow travelers before booking the facility. It's an excellent way of experiencing the apartment before physically getting there.
Number of Properties: Over 600,000
Area Covered: 114 countries
Formerly known as RentalsCombined, Interhome is famous for its professional approach to vacation rentals. The company matches apartment owners with professional property management companies. 
The companies let the apartments on behalf of their owners, which means that as the apartment renter, you don't necessarily have to be available for the duration that your property is occupied. 
That professional touch to vacation rentals is the reason Interhome is considerably popular with business travelers. Of course, the rental fees may be a little on the higher side, considering the range of services involved. To make up for that, Interhome doesn't charge any booking fee.
Number of Properties: Over 55,000
Area Covered: 160 countries worldwide
As a traveler, you know how reassuring it is to rent an apartment that exudes a homely aura. But what if there was a way to take the experience a notch higher by living with your host family? Well, now there is, thanks to Homestay. 
HomeStay offers travelers an opportunity to, not only enjoy the convenience of renting a luxury apartment, but also explore local cultures by living with the property owners in their homes. 
Of course, you'll be renting a spare room in their apartment, which still guarantees you a degree of privacy. The accommodation package includes one all-family breakfast where you'll make acquaintance with your hosts.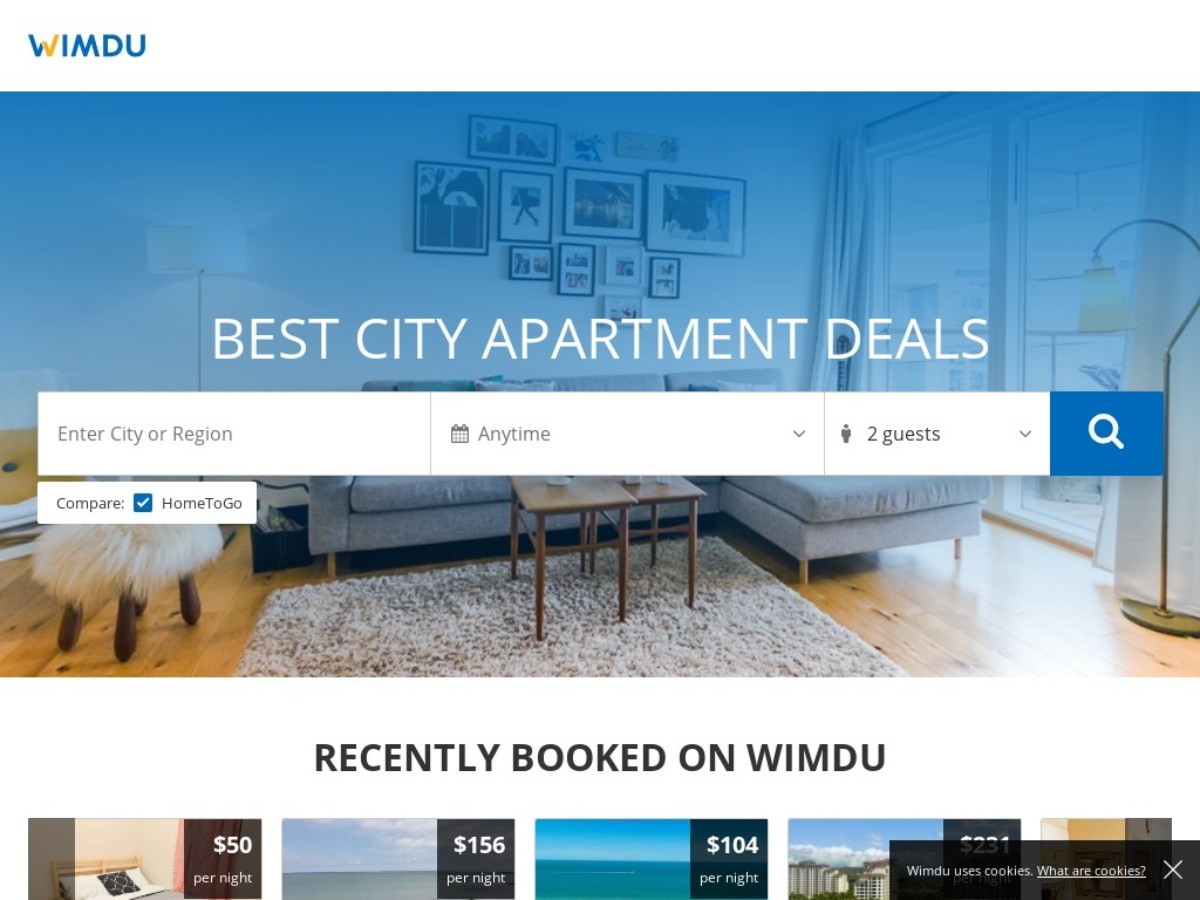 Number of Properties: Over 350,000
Area Covered: Worldwide
Wimdu is arguably the best vacation rental service provider in Europe. The company has thousands of listings on the most luxurious and affordable city apartments all over Europe and in several locations around the world. 
Wimdu encourages its clients to invest in reading up reviews on a rental apartment before making their reservations. That way, a guest can take a scoop into the facility and determine whether the services offered are matched for their needs. 
Payments on the platform are processed within 24 hours of check-ins, which provides peace of mind for both the host and the guest.
Number of Properties: Over 400,000
Area Covered: Worldwide
Couchsurfing doesn't charge you a dime for renting an apartment. The arrangement is that the host provides you free accommodation with the hope that one day, they'll travel to your hometown and use your facilities in return. 
This kind of pay-it-forward travel arrangement may sound unrealistic, but it's an ideal way to socialize and establish strong connections with your host. 
While Couchsurfing strives to ensure that its clients secure the most comfortable rental facilities, the host and guest have too much leeway in terms of the space layout and other amenities. Therefore, you can freely discuss with your host on how you'd wish to have the space customized to your needs.
Number of Properties: Over 830,000
Area Covered: 190 countries
When searching for great accommodation facilities around the world, you'll rely heavily on reviews and recommendations. You want to get a glimpse of the experience and expectations before settling on a facility, just to avoid any unpleasant surprises. 
FlipKey understands that too well, which is why their rentals are backed by traveler reviews from one of the most reputable online travel companies – TripAdvisor. 
Unlike Airbnb, FlipKey doesn't offer a shared-room option, which makes it a perfect fit for solo travelers looking for ultimate privacy.
Number of Properties: Over 13,000
Area Covered: Over 10 states in the US
VacayHero, or Zaranga, as it was previously known, is mostly available in the US. It has rental facilities in states such as Alabama, Arizona, Nevada, Oregon, Utah, California, Florida, etc. 
Established in 2011 and headquartered in San Francisco, VacayHero prides itself on its exceptional customer service. Before booking any property on VacayHero, you can read comprehensive reviews on that facility to determine its suitability for your needs. 
The company also enables its clients to make all their payments onsite at the time of booking, which covers all expenses, from cleaning fees to service charges.
Final Word
Airbnb remains one of the most prestigious online travel companies. But as we already mentioned, a common challenge with the company is its perennial demand surges, which ultimately affect rental fees.
Fortunately, there are numerous Airbnb alternatives you can try out, some of which guarantee more luxury and comfort at budget-friendly rates.