Last Updated on October 25, 2023
Bali, often synonymous with sun-kissed beaches and azure waters, has long been a magnet for travelers and investors alike. However, venture a little inland, and you'll discover a world rich in culture, tradition, and unparalleled natural beauty. Ubud, Bali's cultural epicenter, provides a rejuvenating divergence from the coastal charm, weaving together verdant rice fields, age-old temples, and a lively arts panorama.
The discerning traveler and investor will find not just the beachfront properties; plenty of villas for sale in Indonesia are now frequently listed in the serene landscapes of Ubud. This article delves deep into the charm of this town, exploring its inland adventures and the burgeoning property investment opportunities.
A journey through time and culture
Ubud, often regarded as the cultural nucleus of Bali, is a treasure trove of historical landmarks and artistic expressions. Apart from its scenic splendor, the town stands as a vibrant reflection of Bali's deep-rooted legacy, blending age-old traditions effortlessly with modern living. Each corner of this town tells a story, echoing the whispers of the past and the vibrant rhythms of the present.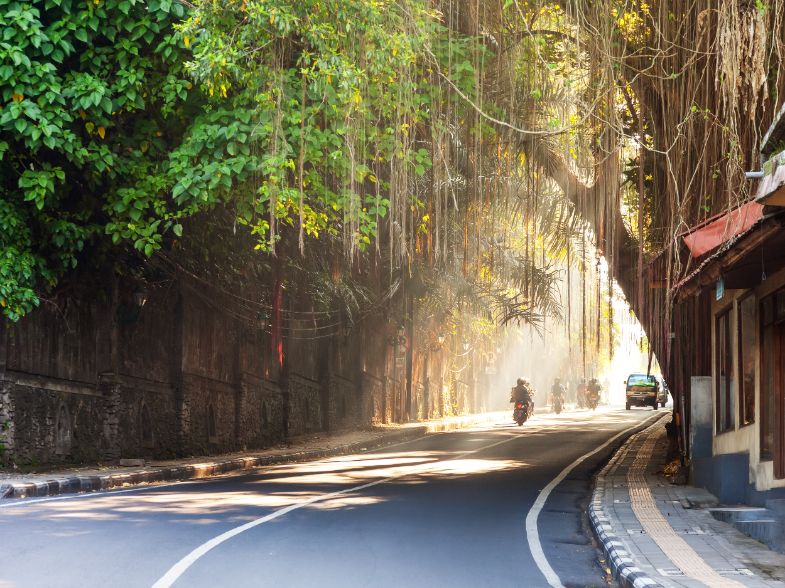 The famed Monkey Forest is not just a haven for long-tailed macaques but is also a sacred site. Dotted with ancient temples and wrapped in legends, this forest is a reflection of the harmonious coexistence of nature and spirituality in Balinese culture.

The Tegalalang Rice Terraces are a mesmerizing sight, with cascading green fields that showcase the island's age-old Subak irrigation system. Beyond their aesthetic appeal, these terraces symbolize the communal and agricultural traditions of Bali.

You can visit numerous temples and shrines, each narrating tales of gods, goddesses, and ancient rituals. These spiritual sites, often adorned with intricate carvings and guarded by stone statues, offer a glimpse into the deep-rooted religious beliefs of the Balinese people.

Bustling markets are a canvas of colors, textures, and creativity. From handcrafted jewelry to traditional Batik paintings, these markets are a testament to the town's thriving artistic community and its commitment to preserving indigenous crafts.
Ubud is more than just a tourist destination; it's a living museum of Bali's cultural legacy. Whether it's the sacred groves of the Monkey Forest or the rhythmic chiseling sounds at the craft markets, every experience in this town is a step closer to understanding the soul of Bali.
Embracing the Balinese way of life
Nestled amidst verdant landscapes and steeped in cultural richness, Ubud offers more than just fleeting tourist experiences. For those seeking a deeper connection with Bali's essence, this town presents itself as an idyllic residential choice. Its unique blend of nature, culture, and community creates an environment that beckons individuals to lay down roots.
Here are the key features of the Balinese way of life:
The gentle

sounds of nature, from the rustling leaves to the distant temple chimes, provide a peaceful backdrop for daily life away from the bustling beachfronts.

Living here means being surrounded by art, dance, and tradition. Residents have the opportunity to partake in local ceremonies, learn traditional crafts, and even attend dance performances, fostering a deep appreciation for Balinese culture.

This town is often regarded as Bali's wellness hub. With numerous yoga studios, meditation retreats, and organic cafes, it promotes a holistic approach to health and well-being.

The local community is warm and welcoming. New residents often find themselves forming deep bonds with their neighbours, participating in community events, and even contributing to local initiatives.

With a strong emphasis on eco-friendly practices, from organic farming to sustainable architecture, Ubud encourages residents to adopt a green lifestyle, ensuring harmony with nature.
Choosing to reside in this Balinese paradise is not just about finding a home; it's about immersing yourself in a community that values tradition, nature, and well-being. This place is perfect for a life enriched with purpose and cultural depth.
Real estate opportunities in Ubud
Situated at Bali's core, Ubud is celebrated for its verdant terrains, dynamic arts community, and profound cultural legacy. Over the years, it has become a sought-after destination for tourists, expatriates, and investors alike.
Here's a look at the real estate opportunities and types of property available:
The town is famous for its luxurious private villas, often surrounded by rice paddies or set amidst the jungle. These villas come with modern amenities and often feature traditional Balinese architecture.

For those looking to build from scratch, there are various land plots available, ranging from those in the town centre to more secluded areas.

While not as prevalent as villas, there are several apartment complexes and condominiums, catering to those who prefer this type of living.

For a more authentic experience, one can also find traditional Balinese houses, known as "Bale", available for purchase.
The prices in Ubud vary widely based on the type of property, its location, size, and amenities. Generally, villas are the most expensive, with prices starting from a few hundred thousand dollars and going up to several million for ultra-luxurious properties. Land plots can range from a few thousand dollars for smaller plots to millions for larger, prime locations. Apartments and condominiums are generally more affordable, with prices starting from as low as $50,000. Traditional houses, depending on their condition and location, can be found for as low as $30,000.
In terms of investment, Ubud also has a lot to offer. With its ever-growing popularity among tourists, investing in properties that can be turned into vacation rentals or bed-and-breakfast establishments can yield significant returns. The town's reputation as a cultural and artistic hub means that real estate here will always be in demand. Thus, buying property as a long-term investment can be lucrative. 
Ubud's unique charm
Beyond its allure as a travel destination, Ubud presents promising real estate opportunities for those looking to reside or invest in a piece of paradise. Whether it's the serene villas overlooking rice terraces or the bustling heart of the town with its art markets and temples, there's something in this town for everyone. If you want to explore more property listings and investment opportunities across Indonesia, the real estate aggregator Indonesia-Real.Estate offers a comprehensive platform to start the journey.