Since the advancement of technology, more and more people find that they barely have time to breathe. As today's lifestyle is stacked with a multitude of goals, you may wonder when you could squeeze in just a bit of time for yourself.
It's important to prepare both mind and body for tasks ahead. Normally, you would need to enroll in specialized courses to be better equipped in dealing with stress and what it does after work.
The good news is there are apps that are quite accessible and does not need a learner to attend a class to learn how to relax when needed the most. Here is our list:
10 of the Best Meditation Tools
1. The New Headspace
The New Headspace is an app that introduces the basics of meditation and its importance in daily life. This promises to teach meditation in 10-minute daily sessions.
This also offers "courses" in combating sleeplessness, anxiety and how to make better relationships. Learning the rudiments of meditation is provided right after installing the application.
2. MindFi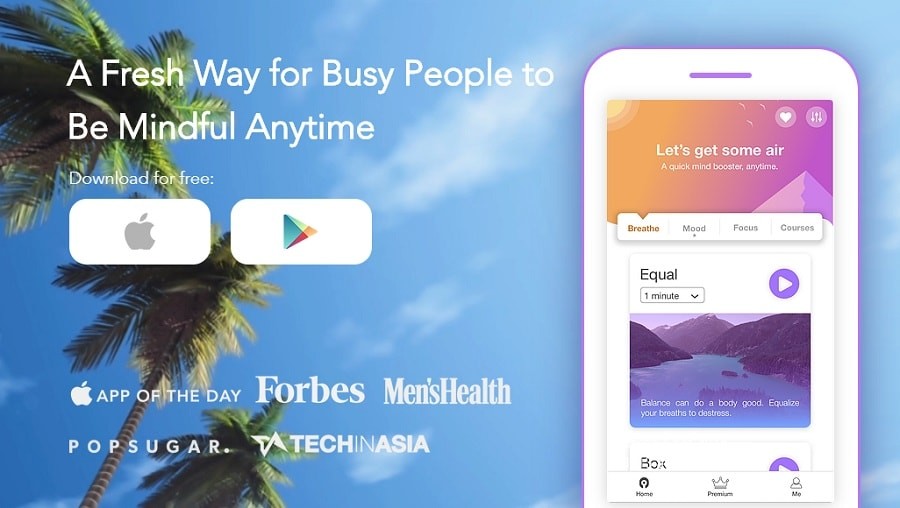 This platform advocates the notion of being able to meditate on the go – even in hard, tough situations. MindFi sets up the best times to de-stress based on your body clock and also keep track of your progress each time.
3. PAUSE
PAUSE uses methods taken from old Tai Chi principles. This means instead of plainly listening to voices and other sounds for meditation, PAUSE makes use of using onscreen fingertip movements to find your body's "rest and digest response". This helps in regaining focus and releasing stress.
4. Oak Meditation 2.0
Oak offers a breathing, meditation and sleep guide in an easy-to-use interface. The Oak Meditation 2.0 app also includes nature sounds for calming and stress relief. Unlike other current offerings, getting the most out of the app does not require a subscription.
5. CALM
With customizable meditation times and varying degrees of meditation courses available, CALM has something from beginners to meditation to those looking for more advanced sessions. The selection of guides covering anxiety, focus, stress, sleep, relationships, and more is expanded on a daily to weekly basis.
6. Simple Habit
Guided meditation methods to combat stress, sleep better, relax faster, breathe easier, improve focus and maintain a happier outlook. Choose from an expanding selection of free sessions on all situations and topics to get the most of your day with Simple Habit. In five minutes, one can be readily-meditated to face daily living.
7. Silenz
This app is currently offered to MAC and/or iOS users. This is a utility app designed for those who use headphones a lot. Silenz monitors the sounds in your surroundings and detects what the user may need to hear (i.e. human speech).
This reacts by pausing or adjusting the volume of media players to ensure that its user is made aware of what's going on, or there's someone who needs to be listened to. This app can also mix surrounding sounds with your music.
8. Meditation Studio
For a one-time purchase price, Meditation Studio offers a diverse collection of select meditation methods and classes for those seeking other means to meditate. It also makes select meditations accessible even without an internet connection as downloadable content.
9. SelfMonk
SelfMonk takes pride in being a voice app that is designed with Airpods users in mind.
This program works with Siri and Apple Watch as a voice command that gets the user meditating immediately. Its ease of use (mainly by asking Siri for "SelfMonk") makes sure that even those who are used to visual interfaces for their meditation apps will get the hang of the product in almost no time spent.
10. Bedtime
Today's setting makes sleep something hard to do, or even forget about because of so many things to do at once.
With Bedtime, not only will the user be taught the right way and the right time to go to bed, it will also make going to sleep something to look forward to. It also makes sure you stay in bed once your head rests on a pillow. Available for iOS users only.
All these services and programs are there to give your mind more focus and dabble less on what is obvious with the world around us. Whether it's an actual course on meditation or listening to de-stressing sounds, there is a tool that suits your needs. We hope you enjoyed this list of meditation tools.