What Is A Travel Blanket?
A travel blanket is basically a rug that helps you to keep warm and comfortable whilst you travel. Although a travel rug is such a crucial item for travelers, it seldom features in most packing lists. And many travelers never realize they need a travel blanket until the vagaries of the weather begin to take a toll on them.
Worse yet, even those who, at least, remember to carry some semblance of a travel rug never pay close attention to the fundamental features that a travel blanket must have. As you shall find, a travel blanket should serve additional purposes beyond its main function of keeping you warm.
Read on as we explore some of the top features to look out for when buying a travel blanket. We'll also highlight the best travel blankets you might consider purchasing for your next trip.
Factors to Consider When Shopping For a Travel Blanket
1. Fabric
Fabric is the main factor that should guide your choice of a perfect travel blanket. And when it comes to the right fabric for a travel blanket, various factors come into play. First, you need a fabric that's easy on your skin. You also need a material that's breathable enough. And lastly, there are care and maintenance issues to consider, which basically come down to how easy it is to clean the fabric.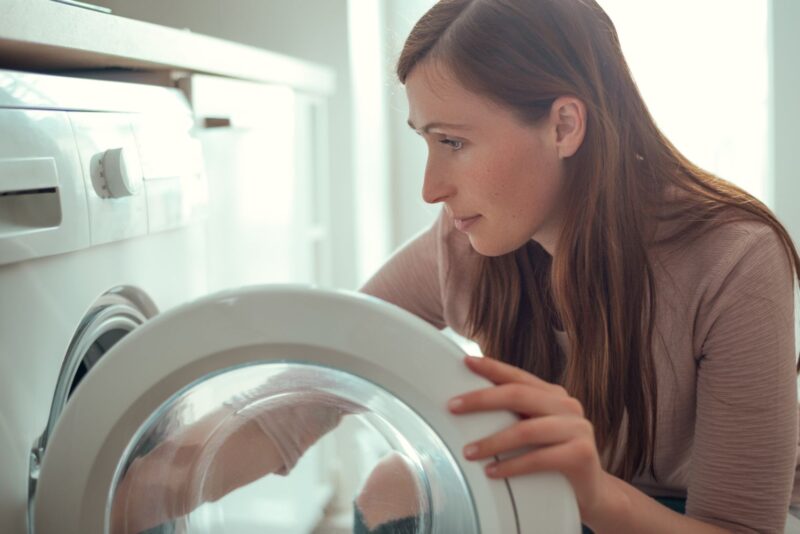 Most travel blankets are made of polyester, down, or fleece. Each of these fabrics comes with its own perks and drawbacks.
Polyester is the most common material of the three. It's relatively inexpensive, durable, and lightweight. These characteristics may change slightly, depending on whether the blanket is made of pure polyester or a blend between polyester and other materials, such as nylon.
Down is famous for its considerably high warmth-to-weight ratio, making down blankets remarkably easy to carry and comfortable to use. Down is also fairly lightweight and durable.
Lastly, fleece is commonly used for plush travel blankets. Travel rugs made of fleece are reasonably soft and cozy. If comfort and convenience and your primary considerations when looking for a travel rug, then your best bet is to settle for fleece travel blankets.
2. Comfort Level
In terms of comfort, you should choose a travel blanket that's soft to touch, easy on your skin, and fits snugly around your body. The convention is that the fluffier the travel rug is, the better.
3. Size and Weight
The size of a travel rug should vary depending on the size of the user. At the very least, a travel blanket must cover your entire body, from your neck right down to your ankles.
However, overly large travel blankets come with some challenges. First, the section that overlaps around your legs gets dirty easily, making it difficult to maintain these blankets. Also, extra-large travel rugs might significantly eat into your packing and storage space.
As you check on the size of your travel rug, also ensure that the bag is of standard weight. Contrary to popular perception, size doesn't always equate to weight. Generally, the weight should be determined by your airline's recommended weight for carry-on luggage.
4. Ease of Washing
This ties back to the material that your travel blanket is made of. Experts encourage choosing a travel rug that's machine-washable. The blanket should also be made of a material that dries quickly.
5. Portability
This is a factor that most travelers often skimp on when shopping for travel rugs. However, you deserve a travel rug that's not only soft and comfortable but also easy to carry.
Some travel rugs are designed with carry bags while others have straps that allow you to latch the blanket onto your backpack or suitcase
6 Best Travel Blankets
1. Cocoon Coolmax Travel Blanket
Pros
• Multiple color options
• Highly breathable
• Incredibly lightweight
• Machine-washable
Cons
• Relatively costly costly
• A bit thin
Product Description
Cocoon Coolmax Travel Blanket comes in a wide range of color options to suit the diverse needs of travelers. It's also small, lightweight, and compact enough for use in any plane, bus, or train. The compact and lightweight design makes it possible to pack Cocoon Coolmax inside your standard suitcase or backpack hassle-free.
While this travel rug is large enough to cover your full body, it nicely folds down and doesn't use up a lot of room in your backpack. The polyester material makes the product lightweight, while also accounting for its extended durability.
2. BlueHills Premium Soft Travel Blanket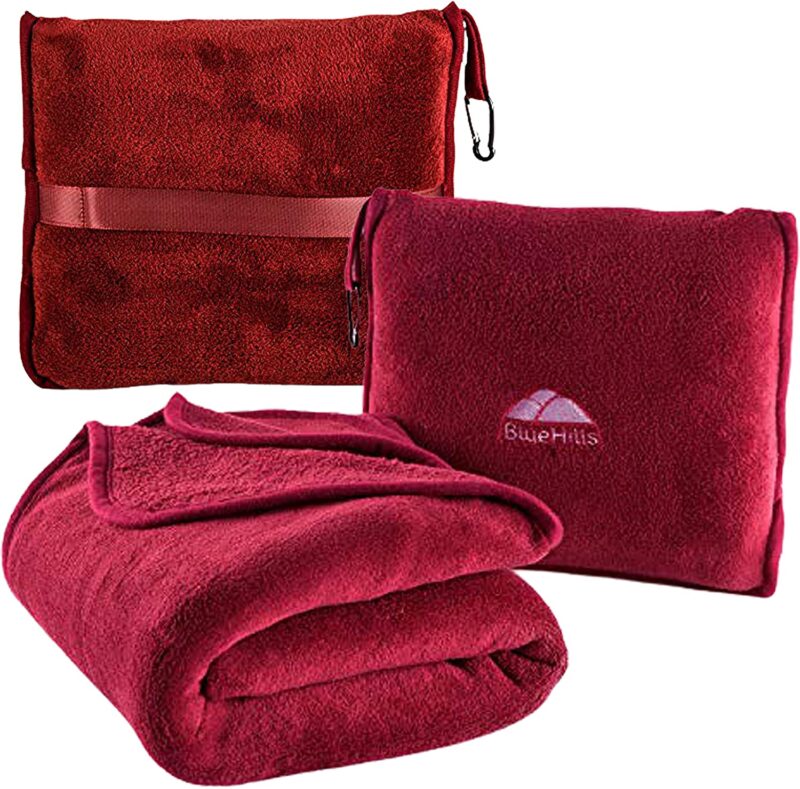 Pros
• Soft and comfortable
• Excellent as a throw blanket
Cons
• Relatively costly
• Not recommended for washing with warm water
Product Description
BlueHills Premium Soft Travel Blanket is made from premium soft micro-plush material, making it incredibly soft and warm. The product is sold with a soft micro-plush carrying case that you can conveniently use as your pillow while traveling or camping. The carrying case also accounts for this travel rug's portability and ease of storage.
Still on portability, BlueHills Premium Soft Travel Blanket is designed with a hand luggage belt through which it attaches to your suitcase, backpack, or hand luggage.
3. Travelrest 4-in-1 Premier Class Travel Blanket with Pocket
Pros
• Perfect for use both at home and while traveling
• Comes in a foldable pouch for ease of carrying
Cons
• Limited color options
• Cannot be washed with regular clothing due to fuzzing and shredding
Product Description
Travelrest 4-in-1 is designed with plush coral fleece, making it one of the most comfortable travel rugs out there. The soft, ultra-plush material used makes Travelrest 4-in-1 the right travel blanket for travelers who are looking for a touch of comfort and luxury.
The material is also designed to cover your entire body, from the shoulders to the feet, without slipping down. When you buy Travelrest 4-in-1, you also get a built-in carry-case w/strap for easy transportation. The blanket can also double up as an impromptu pillow when required.
4. World's Best Cozy-Soft Microfleece Travel Blanket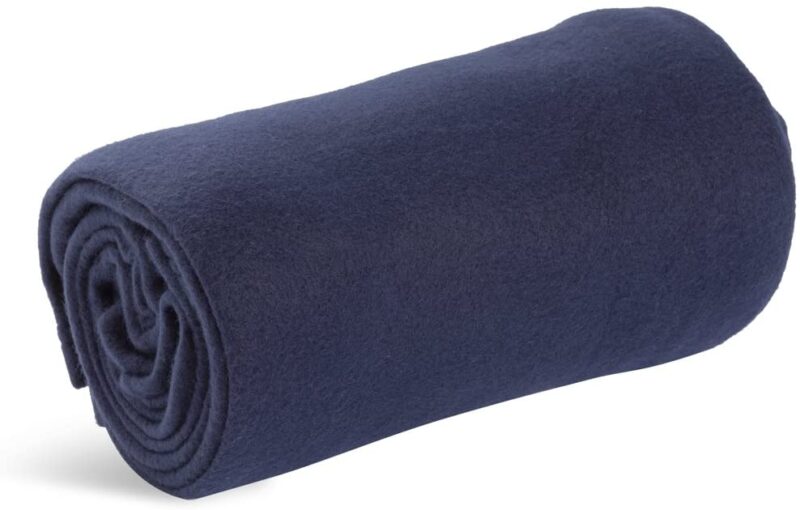 Pros
• Relatively affordable
• Compact design makes it easy to pack and carry
Cons
• It's fairly thin for traveling during frosty conditions
Product Description
This travel blanket has deservedly earned its tag as the world's best, thanks to its lightweight and compact design, as well as extended durability. The blanket is made with 100% polyester fleece-knit, making it incredibly soft and comfortable to cuddle in.
World's Best Microfleece Blanket is also one of the most affordable travel rugs out there, and it's reassuring to note that the manufacturer didn't sacrifice quality at the altar of affordability. It's machine-washable and is compatible with warm water. Just ensure you don't use any bleach or iron it.
5. Cabeau Fold 'n Go Travel and Throw Blanket
Pros
• Foldable design for ease of carriage
• 4-in-1 functionality; blanket, pillow, lumbar support, and seat cushion
Cons
• Limited color options
Product Description
Cabeau Fold 'n Go is made with a high-quality and durable French microfiber material. The material is also machine-washable, making it easy to keep your travel rug clean all the time. Though the blanket measures 60 by 36 inches, you can conveniently fold it into 12 x 4 x 7 inches, and carry it in your suitcase or backpack.
The manufacturer also included a durable handle through which you can attach the blanket to your other luggage. The blanket's compact design allows you to use it as an impromptu pillow, lower back support, or seat cushion.
6. Praktikal Pocket Blanket
Pros
• 100% money-back guarantee
• Highly waterproof, sand-proof and puncture-resistant
Cons
• Relatively small
• Limited hook points
Product Description
If you're looking for a travel blanket that you can comfortably use outdoors, then look no further than the Praktikal Pocket Blanket. This travel rag is designed in waterproof and sand-proof material, which not only makes it easy to clean but also ideal for outdoor activities, such as camping and picnics.
Praktikal Pocket Blanket can also conveniently serve as a beach mat or table cover during indoor events. The blanket measures 66 by 55 inches. However, you can fold it into 4.7 by 3.6 inches for ease of carrying in standard backpacks or suitcases.
Wrap Up
Travel blankets add an extra layer of comfort and convenience to your travel experience. Which explains why you should conduct your due diligence before buying a perfect travel rug. The products that we've reviewed here rank among the most recommended travel blankets, scoring highly in comfort, portability, and durability.