For many years, companies and individuals have used expensive tools to bring black and white photos to color. However, in today's world, nothing is ever black and white, especially when it comes to technology.
This is because artificial intelligence has made colorization easy and accessible to everyone. The beauty of AI is that it removes all the work.
The software learns what colors objects and people are likely to have been. Over time the software has become more accessible too, through the introduction of affordable software for your laptop or an application on your phone, so now you can customize and colorize on the go!
This article looks to give you the list of the 5 best AI photo colorizers and the pros, cons and cool features associated with each one. 
Why you may want to use a colorizer
There are a few key reasons why you may want to make use of a colorizer:
You could be doing a school project.

You could be a historian looking to research the little intricacies of the past.

You could be an enthusiast of pictures from a particular time and adding color may bring that picture to life. 

You may even have old family or old friend photographs that you may want to modernize.
Regardless of your intentions, there needs to be a few prevailing qualities within each service that will help make your decision easier. 
What to look for in a colorizer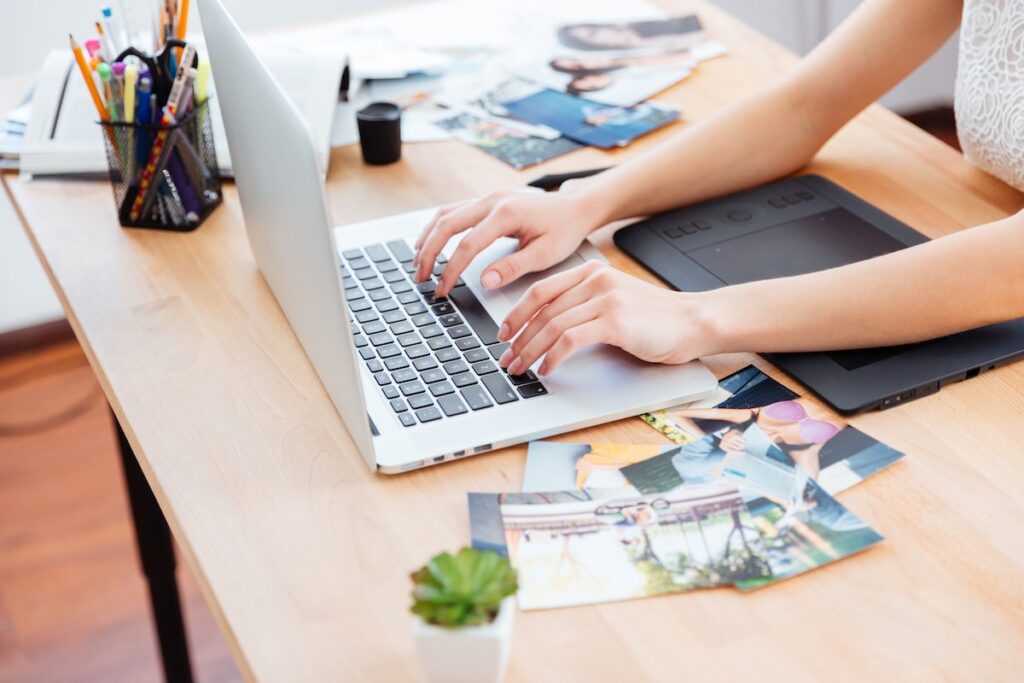 Quality: the main feature to look for in any photo editor is quality. You want to be sure that when you commit to a software that it gives you the best quality for your pictures. Quality comes in different forms, it can be quality of colorization or the quality of interface and of the tools available, either way, it must tick the boxes.
Ease of Use: most services should be easy to use, especially if they have worn primary function Palmer finding tools with impressive built-in pre-sets can make life easier too. AI controlled colorizers are easiest to use because they do the work for you, however they can be more expensive. 
Value: if you are going to pay, you want to make sure that the service is worth your money. Value can mean many things, but overall, it is the quality of service you get for the price that you have paid. Tools, integration, and versatility should be taken into account. 
MyHeritage is more than just a photo colorizer app, which is why it is part of this list and why it costs $200 per year. On a larger scale, is lets you trace your family tree, but it also uses powerful AI colorization tools that add color to black and white pictures. You also have the option to sharpen them.
Being able to color and enhance old family photos and then possibly use the same website to find out who those people are in the photos is an amazing service, those who long to know more than just what color that girls dress was can have their questions answered. It is a nice idea. In terms of its ability to colorize, it contains industry leading technology that makes colorizing easy and there is even a 14-day free trial that lets you colorize and enhance up to 10 pictures for free.
Uploading is easy and results are given within seconds, it works closely with DeOldify to help make the user experience simpler and offers high quality service. In terms of its price point, I would be hesitant to tell you to be gung-ho and spend $200 but use the free trial if you really want to test the software. If you want to trace your family heritage as well as colorize old pictures, then purchase MyHeritage, but if all you want is a solid colorizing tool, I would continue reading on.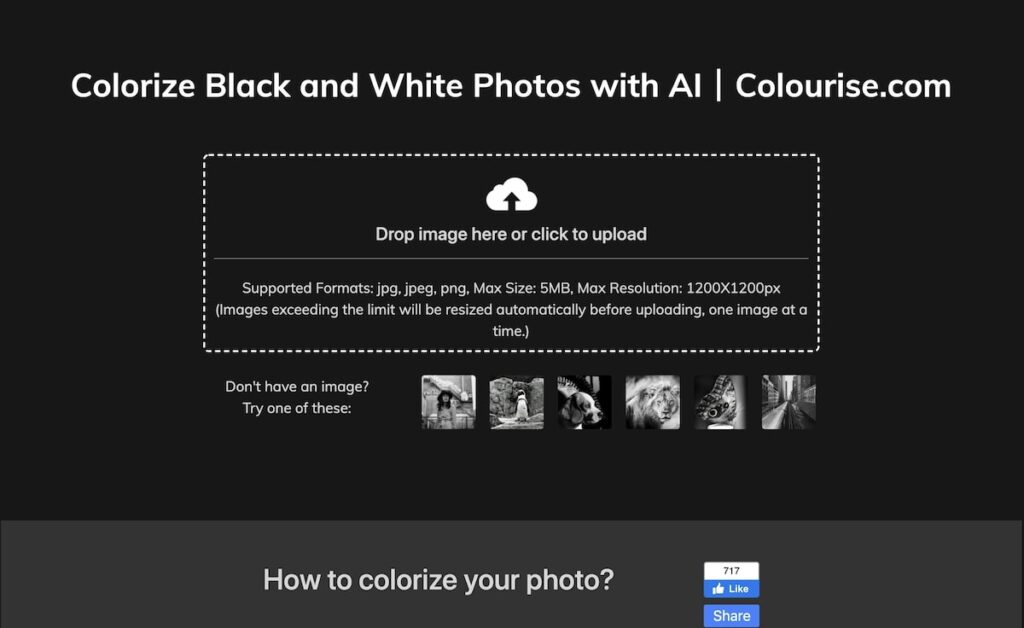 Perhaps the opposite of MyHeritage in terms of its price, its simplicity and its minimalist approach is Colourise.com. A service that is free and made to be used both quickly and efficiently. What I love about Colourise.com is its hassle-free approach. It requires no signing up or payments, all you have to do is add your picture and let the tool do its job. It supports a variety of picture formats too and even though it is free, it attaches no watermark to your pictures which can give users peace of mind.
While the max picture size is 5mb, you'll be hard pressed to find a picture larger than 5mb in size. Another feature I like is their clean and concise website. The first thing you see is the drag and drop upload format on top of the site, below that, they tell you how to upload through tutorials in case you did not know. Then below that, they tell you why they are the best through citing their ease of use, free service, and colorizing quality. It is bold, simple, and effective.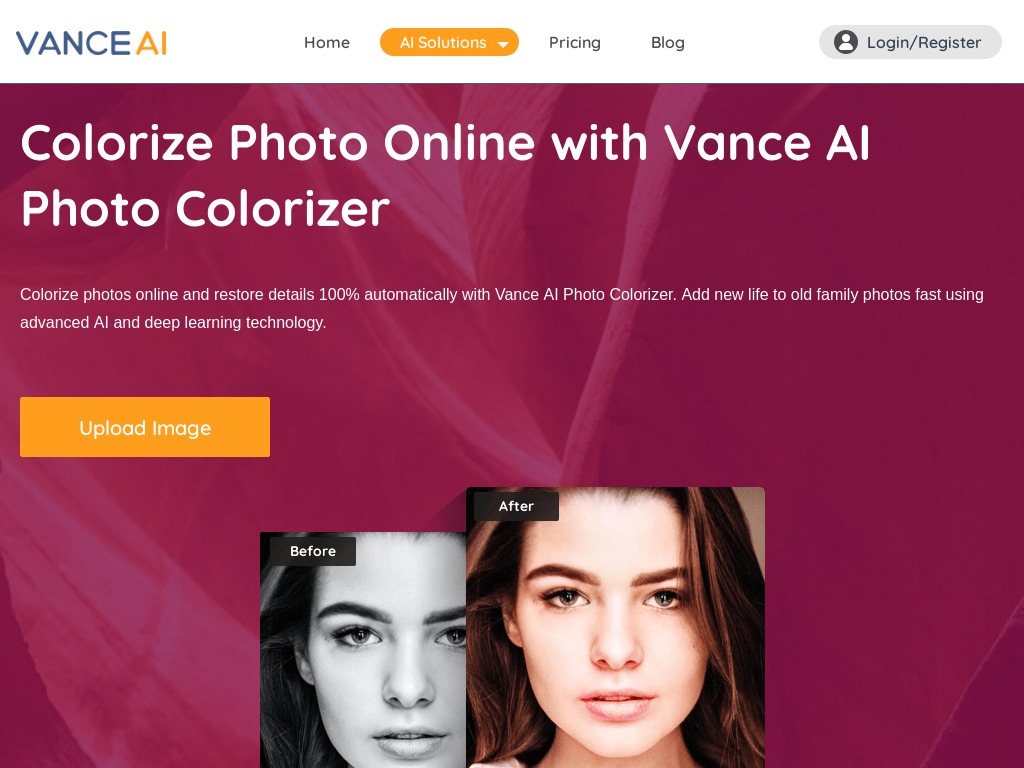 Vance are well known for their wealth of AI tools, their photo colorizer is another feather in their Cup because it is an excellent and proficient service. Their deep learning technology colorizes photos in seconds and supports PSD format which is ideal for professionals and regular Photoshop users.
While its editing options are not as solid as others on the list, with the AI intelligence attached to Vance products, very few, if any edits are needed. What is great about Vance products and no different here is their intuitive interface, it makes for an easy learning curve and the user feels like they have full control over the editing of their image.
It also contains a data-safe guarantee, meaning your pictures will be deleted from their server within 24 hours guarantying excellent data protection. In terms of the power and accuracy of its enhancing tools it is good, but there are better tools out there, however you will pay a lot more for them.
If you are looking for a reliable company with a good reputation and product, Vance is $9.99 per month and allows for up to 200 photos to be edited in that time. Even if you don't use up your credits, they will carry over into the next month. Vance understands the true value of money and quality. They get the balance exactly right here. 
If you want a photo colorizer with a host of editing features, Movavi is a great service to buy. They pride themselves on simplicity but offer a wide range of photo editing features that give you the final say in how your black and white photos turn out. They function primarily as a video making and editing software company, but they channel their high-level video editing software into their picture colorizing software, and it is very effective.
Despite its solid Bank of editing features, one problem that does arise is quality. Colors can still show up as quite muted and skin can appear to be discolored. It's AI is good and with a free trial you can colorize up to 10 pictures for free.
However, at a $45 price tag it is not cheap, although it is a once off payment. There are more consistent colorizers for a better price, but if you want to make use of their very good editing features and the simplicity of Movavi and their video editing tools as well, it is at least worth a trial.
The final application on this list is Luminar, it is more of a professional tool, but adds to the mixture of different level services available on this list. It works as a standalone app or as a plugin, and if you have photo editing skills, Luminar has powerful editing and brushing tools.
Colorization is manual with this service but for experienced photo editors that can be good as it gives full control to them. There are a variety of tutorial videos on their site and at $89.00 for a lifetime membership, along with a 30-day money back guarantee, I think Luminar offers real competence at an excellent price.
Its advanced AI technology and simple layout means that the user feels both competent and in control of editing their pictures. They claimed to be the first image editor fully powered by AI and with this, you save time, and the possibilities are endless. Its versatility in being able to work on its own or as part of Adobe Photoshop and other applications is an attractive feature and with powerful tools, you can colorize black and white pictures and edit them to your liking in seconds.