What Is An Online Survey Tool?
If you run an e-commerce business or research-based organization, you probably already appreciate the significance of online surveys. Online surveys are a creative way of collecting useful information that might offer you more insights on how your target audience is responding or likely to respond to your products, services, or ideas.

Now, conducting online surveys is hard enough. But interpreting and distributing the collected data is even harder.

Fortunately, there are now plenty of powerful software and services, known as online survey tools, which make the often-tedious and expensive process of online surveys more affordable and less time-consuming. Using an effective online survey tool, you'll be able to collect and interpret data quicker and more accurately than you would if you were conducting the survey manually.

Read on as we unveil 10 of the best free online survey tools that you can use to gather useful feedback.

Factors to Consider While Searching For a Suitable Online Survey Tool

All online survey tools aren't made equal. Neither is there a perfect tool for everyone, as each user has their unique requirements.

However, the following are some of the top features to look out for while searching for the best online survey service for you:
i. User-friendliness
As with any software, an online survey tool must come with user-friendly features. At the very least, the software should sport a neat and clutterless dashboard, fairly visible elements, and an ad-free interface.
ii. Multiple survey triggering options
There are numerous ways to trigger a survey. Examples include when a user exits your website, when a user clicks on a survey link, when a user scrolls down a page, and when a page successfully loads.
iii. Multiple types of answers
It's important that an online survey tool offers you various answer types, ranging from grid or matrix answers to multiple choice answers, unique choice answers, text boxes, etc. That way, you can determine the type of answers to accompany your questionnaires, depending on the specific demographic that your survey targets.
iv. Multiple survey display options
A suitable online survey tool should also come with a list of options on where you'd want to show your surveys. For instance, you might want to display the survey on your website, within an email, or on a page that's hosted by the survey.
v. User segmentation
This is a feature in certain online survey software which allows the service to determine who has access to the survey data. You could decide to make the collected data visible only to new or returning website visitors, or to visitors from specific geographical locations.
vi. Provision for branching logic/skip logic
Branching logic or skip logic is a concept where a survey question is framed depending on how the user responds to previous related questions. Assume that question #6 is 'Have you ever visited our online store?' Now, if the respondent answers 'yes,' question #6 would spawn a related sub-query like 'What product did you purchase?' If they answer in the negative, you'd skip the subsequent query and proceed to question #7. Again, this is a feature you'll only find in high-quality online survey software.

Needless to mention, a suitable online survey tool should be free to use, or at least reasonably affordable.
10 Best Free Online Survey Tools
Jotform Survey Maker is a free online tool that lets you create engaging surveys with its drag-and-drop interface. Get access to tons of templates and use custom conditional logic to make your surveys unique for every user.
Collect feedback and keep track of your submissions using their form analytics features. Gain insight into your users by analyzing the data. When you create your survey, embed it on your website or share it with just a link.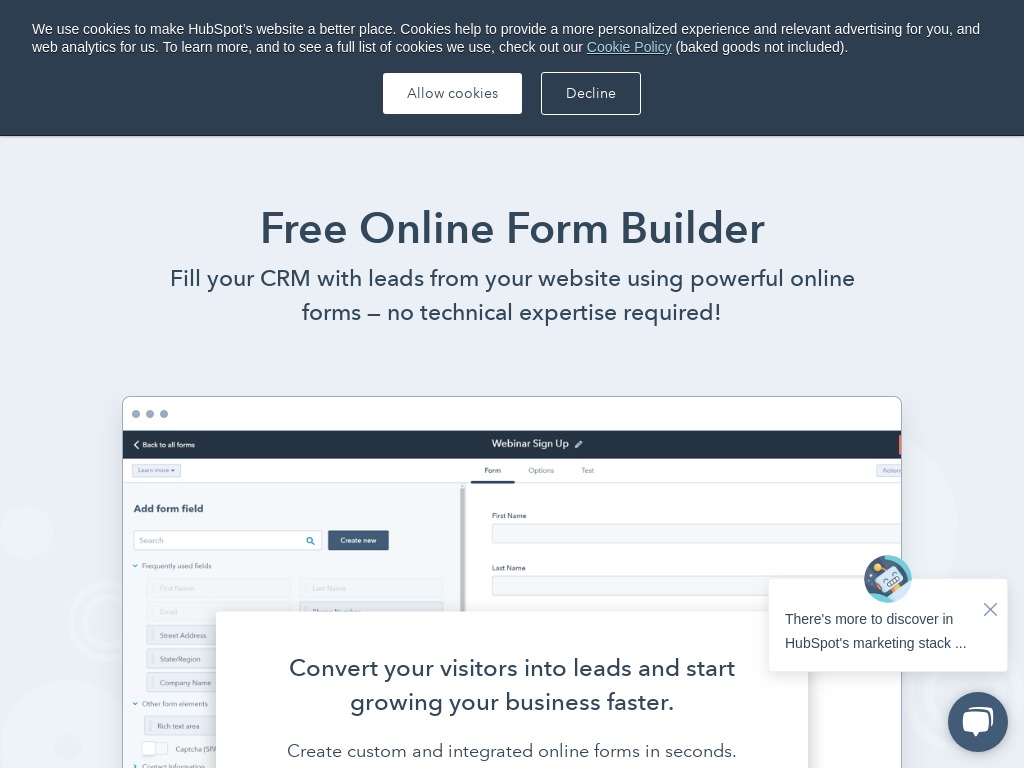 HubSpot Forms Builder is part of HubSpot's free CRM. The tool is remarkably easy to use, as you can either upload your own forms onto your website or use a separate form page.

After creating your surveys, HubSpot Forms transfers the data automatically into HubSpot CRM, giving you extra leverage on how you can manage your relationship with the respondents.
Typeform is a powerful online survey tool that comes with a clean, attractive, and intuitive interface. The software has both free and paid versions. The free version, which is known as CORE Plan, provides users with 10 questions and 100 responses per month.

With the CORE Plan, you also get plenty of custom design themes and ready-to-use templates, as well as numerous data export options.
According to many reviewers, the one outstanding feature of SoGoSurvey is that the tool supports multilingual surveys. So, you can conduct your research in many of the world's popular languages, which is great for targeting wider demographics.

SoGoSurvey comes with several other desirable features, including branching logic and a detailed reporting system. The software's free plan offers unlimited surveys, up to 200 respondents, and a wide range of free data exporting options, including Word, HTML, and CSV.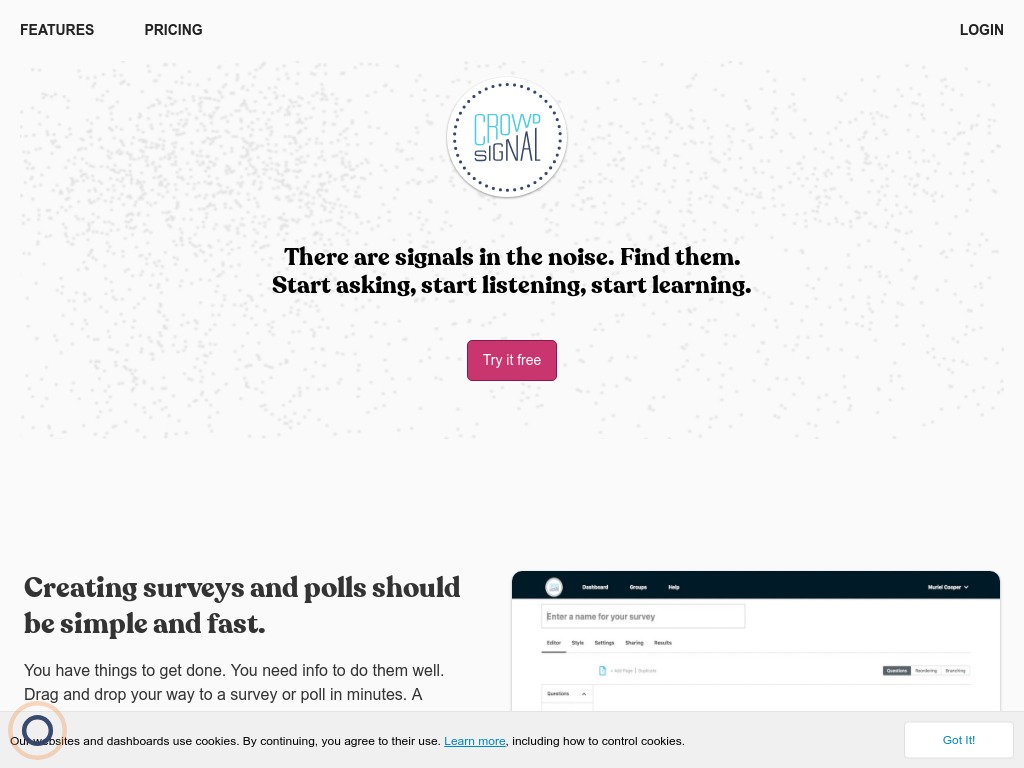 Crowdsignal is not a true online survey software but a survey plugin for WordPress. Even so, it still gets the job done and probably more effectively than many online survey tools out there. The software implements a drag-and-drop functionality that makes creating online surveys a breeze.

It also allows you to export your polls through email or social networking platforms like Facebook and Twitter. What's more – you can customize the appearance of each survey to your desired look.
True to its name, SurveyLegend is a legend as far as online survey tools go. The software offers cloud-based solutions, making it the go-to service if you're looking to conduct mobile-friendly surveys. The tool provides a variety of survey question types, such as text-based and media-based questions.

Once your surveys are ready, you can share the feedback via blogs, social networking platforms, or email in different file formats like PDF, Google Drive, or Microsoft Excel.
ProProfs Survey Maker is one of the top recommendations if you're looking for a user-friendly and reliable online survey tool at affordable rates. The software provides unlimited surveys, over 15 different question types, and more than 100 templates to conduct surveys on the go.

There are also over a million ready-to-use survey questions and a highly responsive support to address all your queries whenever you raise them. Needless to mention, you can share the feedback you generate from ProProfs readily on your social media accounts or your company's website.
Unlimited surveys, up to 10 different question types, and over 100 respondents per survey are some of the noteworthy features of Survey Monkey's free plan. Although the tool doesn't let you export data to any file format, the fact that it's cloud-based makes it easy to store your survey information securely and even add collaborators.

Survey Monkey is also one of the few online survey tools that doesn't necessarily require Wi-Fi connection to function.
Feedier is generally considered a premium-based online survey software. However, it also offers a free version that packs a truckload of features. The Feedier's free version entitles you to one account and one survey per month.

On the upside, you can generate unlimited feedback for each survey and customize either your follow-up or thank you emails. Its intuitive interface makes the online survey process smooth and enjoyable.
While some online survey tools come with lots of restrictions on their free versions, Survey Planet offers you unhindered access to tons of advanced features free of charge. With its free version, you can create unlimited surveys, as well as questions and respondents.

The version also includes additional customization features, such as the possibility of adding a survey theme. One glaring drawback to Survey Planet, however, is that it's quite difficult to export data using its free plan.
Google Forms by Google is a free online survey tool that comes with no restrictions on the number of surveys you can conduct. Neither does it limit the number of questions and responses in each survey.

The software lets you export your survey data automatically to Google Sheets for easier access, interpretation, and sharing. There's also the possibility of adding collaborators and embedding surveys into emails.
Final Word
Conducting online surveys may be a time- and money-consuming process. But it's reassuring to note that there are plenty of special tools that make the process easier. The above-reviewed online survey software not only come with tons of advanced features, but they're also free to use.