If you didn't know about Zoom before the COVID-19 outbreak, you most certainly have heard (or even used) this service. For the uninitiated, Zoom is a telecommunications tool that allows you to conduct virtual meetings with your staff, coworkers, or even family and friends.
The service has been of significant benefit during the COVID-19 pandemic after numerous companies around the world began to implement 'working from home' measures. All it takes to conduct a videoconference on Zoom is a laptop, desktop, or smartphone and a stable internet connection.
Of course, Zoom isn't the only teleconferencing tool available. There are a lot more virtual meeting software, including S
Skype, Google Meet, Microsoft Teams, Adobe Connect, and Cisco Webex, to mention but a few. However, Zoom outperforms many of its competitors in areas like affordability and media quality.
But like any videoconferencing tool out there, looking presentable on Zoom isn't a walk in the park. There are certain adjustments to make on your personal appearance as well as on your laptop or smartphone.
In this post, we unravel the top tips to boost your looks and confidence during Zoom meetings.
1. Ensure You Have The Right Device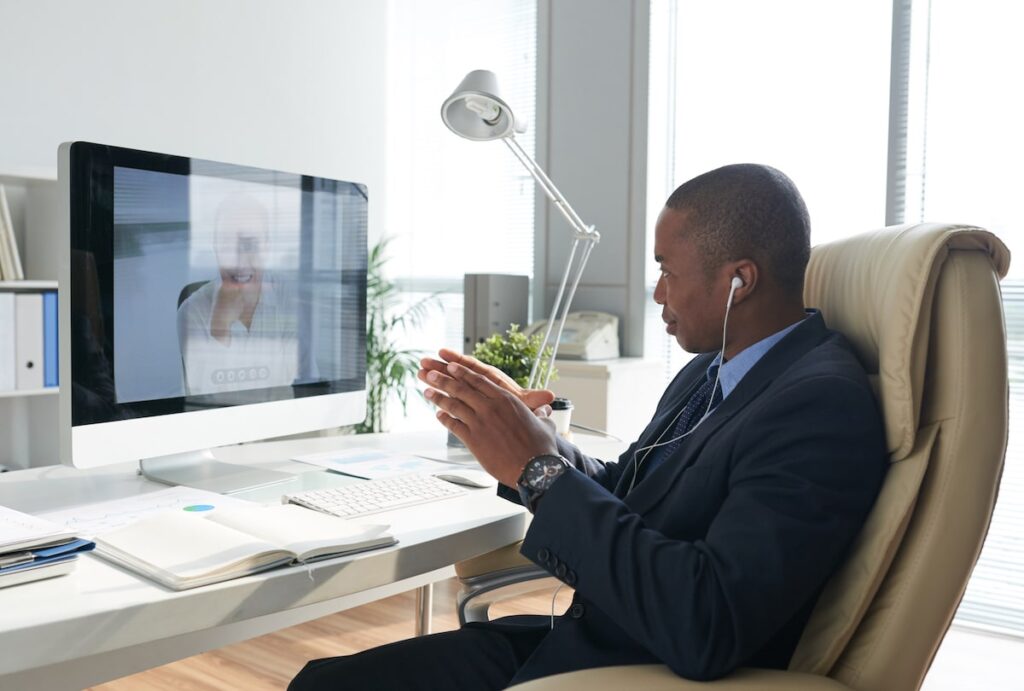 The first tip for looking presentable on Zoom (or having a Zoom meeting in the first place) is to have the right device. You basically need an internet-enabled device, such as a desktop, laptop, or smartphone.
We'd recommend a laptop because it's more reliable than a desktop in the event of a power outage. A laptop also has a larger screen than most smartphones, a requirement that's necessary in improving overall preventability during videoconferences.
Also, ensure that the laptop is sufficiently charged before joining any meeting. You never know how long the meeting could last and the last thing you want is for the battery to die mid-session.
2. Get Stable Internet Connection
Another part of getting started for a perfect Zoom meeting is ensuring you have a reliable internet connection.
You can always vouch for the speed of your home internet. But if you're connecting from public internet, such as from a local library or coffee shop, ensure you establish the speed and strength of the internet before going live.
The thumb rule is to opt for Ethernet as opposed to Wi-Fi. Generally, a hardwired internet connection tends to be faster and more reliable.
In terms of speed, aim for 5 Megabits per second (Mbps) or greater. You can test the internet's speed by running a random speed test for your device before joining a Zoom meeting.
3. Free Up Space on Your Hard Drive
It's advisable to ensure that your device's hard drive is spacious enough before joining a Zoom meeting. A full hard drive or a device that's been running for days on end can affect performance during videoconferencing.
So, free up some space by deleting old documents, photos, and video recordings. Better yet, you can send these files to the cloud or store them on an external hard drive.
4. Take Care of the Lighting
Reliable lighting is a key ingredient for looking good on Zoom. In fact, lighting is the most important requirement for holding any videoconference.
Experts recommend conducting Zoom meetings under natural light. So, be sure to draw all the window drapes to maximize the natural sunlight coming into your house. If that's not enough, you can conduct your Zoom meetings outdoors. Just choose a cool and quiet spot, with minimal distractions.
However, natural lighting can often be unpredictable. That's especially true for Zoom meetings held at night or during gloomy weather conditions.
In this case, your best bet would be to conduct your Zoom meetings indoors using artificial lighting. To make the most of your artificial lighting, install a center light and two sidelights on the stand where your laptop is placed, ensuring the light sources are right in front of you and facing your way. The center light will accentuate your facial features, whereas the sidelights will emphasize your shadows and glares.
5. Take Care of the Sound
Unless you're joining a Zoom meeting to be seen and not heard, you'd want to make sure that the other participants can hear you loud and clear. One way to do that is to invest in the right microphones.
Once you have the microphones, sync them with your device such that the audio and video come from the same source. To do that, consider getting wireless microphones as opposed to camera-mounted ones. This will reduce the risks of the audio dragging behind the video feed, which is usually common during broadcasts and livestreams.
Besides the microphones, you also need powerful HDMI-to-USB capture devices, including a capture card or converter box. The card or converter basically feeds footage to your laptop via USB. That ensures better footage quality while also reducing audio dragging.
6. Don't Forget the Background
Your face should be the center of attention for other Zoom participants, not the background. So, avoid being photographed in backgrounds that cause undue distractions.
The conventional wisdom is to insist on a clean, neutral background, such as a blank wall. You can also incorporate simple props like indoor plants or small pieces of artwork.
Most importantly, go for a background that enhances your facial appearance and delivery, not one that detracts from it.
Also, note that background isn't just about what others can see. It's also about what they can hear. So, mute all background noises. That includes noises from appliances like the radio, television, and refrigerator, as well as the noise from your kids.
Zoom comes with a mute button that you can use to block all ambient noises, allowing you and other participants to concentrate on the meeting.
7. Your Look Matters Too
The primary difference between Zoom conferences and regular meetings is that Zoom meetings happen virtually. Therefore, all the other rules of personal grooming pretty much remain the same.
Taking care of your personal appearance before joining a videoconference can go a long way in enhancing your preventability and confidence. So, take a shower, brush your teeth, get dressed, and possibly apply some makeup – the same way you would before going for an in-person interview.
Take particular care of your attire and makeup. When picking clothing to wear for a Zoom meeting, consider screen-friendly colors.
Women should preferably wear bright and warm colors, such as orange and yellow. Black and blue work best for most men, while light grey and light beige are perfect for both genders. Avoid white as it can be visually overwhelming.
It's also recommended to go for plain clothing as opposed to clothes that are checked, striped, or contain too many patterns. Patterns on clothing are highly distracting.
The following are other personal grooming tips you can implement to look superb for your Zoom meeting:
• Apply tinted foundation or moisturizer to even out any blemishes on your skin
• Test your makeup on your mirror or laptop camera to be sure it's presentable
• Implement the 'touch up my appearance' button on Zoom to smooth out remaining blemishes
Also, don't forget to mind your sitting posture.
The convention is to fill the screen, then look at the camera lens as opposed to the screen. And just like news anchors do, smile more often with your audience.
Wrap Up
It's always important to look presentable before going into any meeting or interview, regardless of whether the meeting happens in person or virtually.
We hope you can implement the above-reviewed tips to spot a fabulous look whenever you need to join a Zoom videoconference.