Omegle is a free online chat website that allows its users to communicate anonymously without needing to register for an account. Founded in March 2009, Omegle has continued to enjoy an enviable reputation for the duration the service has been around.
Omegle users can chat or video-call one another without worrying about their identity getting revealed, as the company doesn't disclose any personal information. That makes the website a popular chat platform for people of different ages and walks of life.
But what if you've grown out of love with Omegle for one reason or another?
Well, there's no need to fret as there are tons of chat platforms that work in a near-similar manner as Omegle. Read on as we unveil the top ten Omegle alternatives worth checking out.
1. AdultFriendFinder
Official Website Link: https://www.adultfriendfinder.com/
AdultFriendFinder is one of the most popular Omegle alternatives out there. The website boasts hundreds of millions of users. So, it's easy to find someone suitable to chat with regardless of your preferences.
Like Omegle, AdultFriendFinder takes your privacy seriously. The website lets you chat with random people without exposing your identity.
You'll need to register for an account before you can browse for free. After signing up for an AdultFriendFinder profile, you'll need to subscribe before actually chatting with other people. While that may seem like a drawback for some people, it's actually a great feature as it reduces the number of scammers and bots on the website.
2. OmeTV
Official Website Link: http://m.ome.tv/
OmeTV is another popular Omegle alternative you should consider checking out. The random chat platform is a great site if you're looking for people with whom to strike meaningful conversations. Many OmeTV users are aged between 25 and 35, which makes it a go-to website for people looking for love or lasting connections.
The website is incredibly easy to use too. A single click is all it takes to find a random chatmate. You can also filter the users based on parameters like country and gender.
OmeTV's ad-free interface makes the website even easier to use. You can use the service directly on the web or download the app from the Google Play Store or the App Store.
3. ChatRandom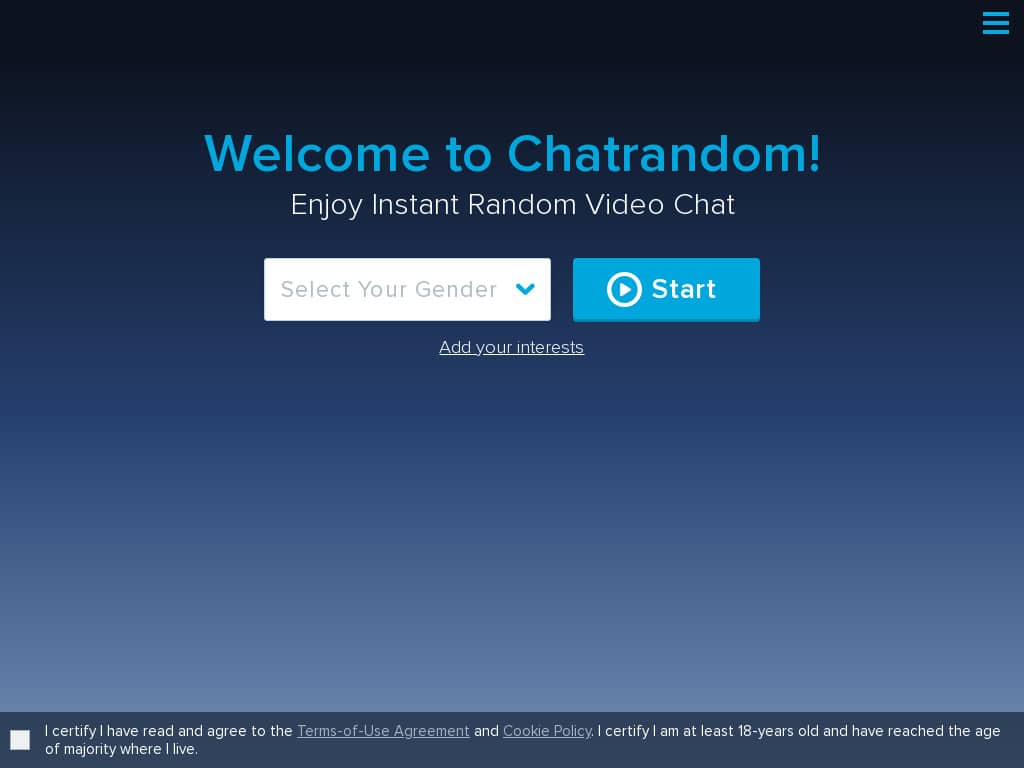 Official Website Link: http://chatrandom.com/
ChatRandom delivers in an area where many random chat websites have failed – pairing up a user with other random users on the platform. This stranger chat website continually undertakes system upgrades in a bid to add newer countries and languages.
ChatRandom supports one-on-one or group interactions. You can also filter out your chat sessions so you only engage members of a specific gender, sexual orientation, or language.
Plus, there's a provision for choosing to chat or video-call other users. You only need to indicate that you're 18+ years old.
4. Houseparty
Official Website Link: https://houseparty.com/
Houseparty is primarily a group video chat website that lets users connect via live video. You can chat with up to eight people in a single session.
Since the chats mostly happen via live video, it's important to only engage direct friends to prevent your identity from getting exposed. To help you with that, Houseparty sends alerts whenever a total stranger joins the sessions or if a user wants out of the chat room. What's more, you can lock a chat room to control who enters or leaves.
Houseparty comes with several native games that you can play to liven up your video interactions. The website works on all devices and operating systems, including Android, iOS, macOS, and Chrome extensions.
5. Chatroulette
Official Website Link: https://www.chatroulette.com/
Minimalistic design, ease of use, and millions of ready-to-chat strangers are some of the greatest selling points of Chatroulette. The website also filters all content before posting it. That goes a long way in reducing spam from the platform.
Like most Omegle alternatives, Chatroulette prohibits minors. Users must be aged 18 or over to sign up for an account. However, a majority of users are under 30, so it's a great platform to find serious chatmates.
Transparency is another thing to love about Chatroulette. The random chat website prohibits sexually suggestive content and faking of the cam streams.
6. HIYAK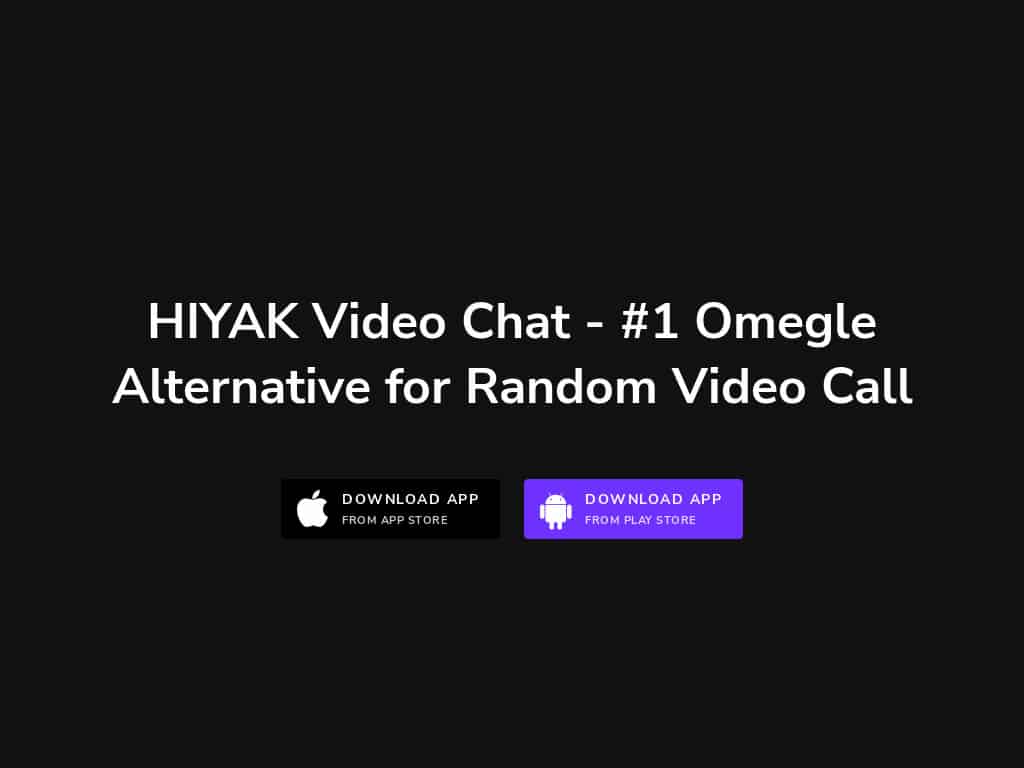 Official Website Link: https://www.hiyak.com/
HIYAK is a relatively new Omegle alternative. However, it's already giving other popular random chat websites a run for their money.
Besides offering the traditional random video calls and live chats, HIYAK also allows its users to control how the site's pairing system works. Users get to filter their matches depending on factors like age, gender, and personal interests.
You can use HIYAK online or download the app for your Android or iOS device. And needless to mention, HIYAK bans irresponsible users while also filtering out potentially spammy and abusive content.
7. Chat.org
Official Website Link: https://www.chat.org/
Chat.org is one of the most suitable Omegle alternatives in terms of the number of active users. The website only provides chat rooms, which some users may find a little inconvenient. But if you're specifically looking for a random chat website that lets you interact with millions of users anonymously, then you should definitely consider Chat.org.
Chat.org provides both text and video chat features. There are also features to reign in on errant chat room participants.
However, note that Chat.org is only free to an extent. You may need to upgrade your account to unlock some of the website's premium features.
8. TinyChat
Official Website Link: http://tinychat.com/
TinyChat is another popular random chat websites that you can try if you've grown out of love with Omegle. The website boasts chat rooms that can support up to twelve video feeds each. You can easily create a topic in which you'd like to generate interest, and control who joins or leaves your chat room.
Like Omegle, TinyChat supports chatting via text, audio, or video. The service is available directly from your browser. You can also download and install it on your PC or mobile devices.
TinyChat implements a loyalty program where users can earn coins and points. These rewards can then be used to unlock some of the website's premium features, including the ability to promote your chat room.
9. YouNow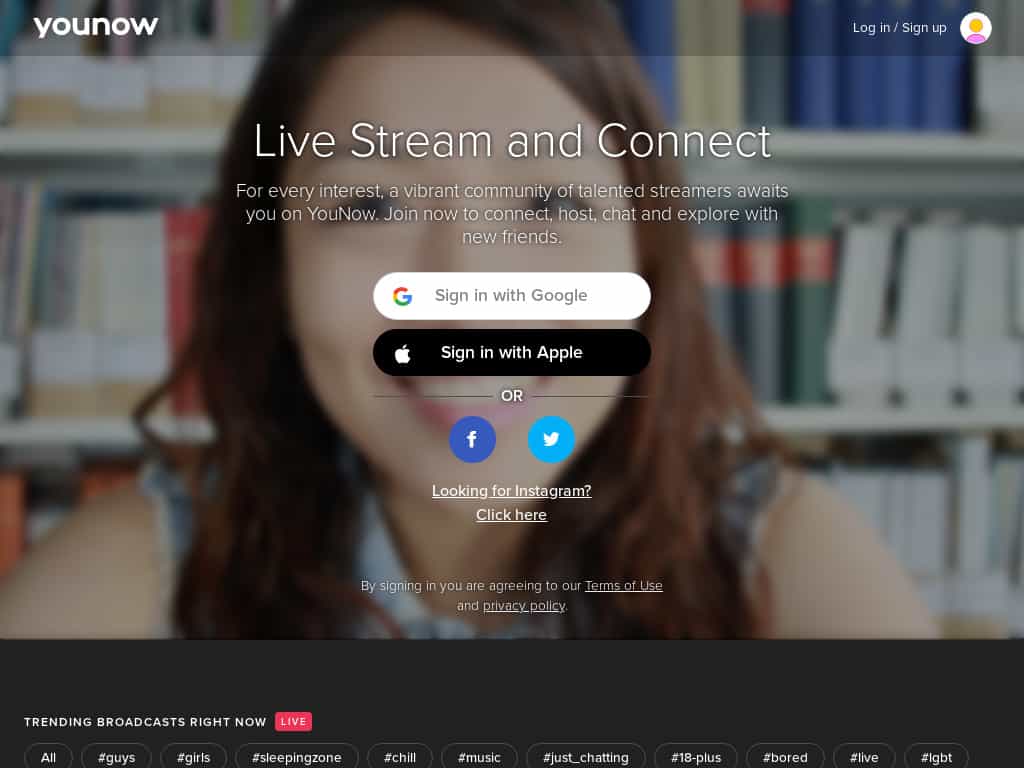 Official Website Link: https://www.younow.com/
YouNow shares a lot in common with Omegle. Both services support live chat, audio, or video broadcasts.
However, YouNow comes with additional features, such as the provision for trending and growing your fan base on the site. To make that possible, YouNow lets its users post their comments as well as buy gold bars which they can gift to fellow users on the platform.
Unlike Omegle that allows you to chat without signing up, you'll need to register for an account before you can enjoy YouNow services. The registration process is easy though. You can either use your email address or social media accounts like Facebook and Twitter.
10. MeetMe
Official Website Link: https://www.meetme.com/
The last Omegle alternative on this list has many qualities of a dating service, although it's not marketed as one. One feature that MeetMe shares in common with many dating websites is the provision for secretly admiring other users.
The service is mostly dedicated to linking up anonymous online users within the same geographical location, with a view to helping them arrange for physical meet-ups.
Like Omegle, MeetMe is an open network. This means that you can easily search and chat with anyone provided that they're online. The website asks for location permissions to ensure it pairs you with users within your local city.
Wrap Up
When looking for the best Omegle alternative, insist on websites that are generally free and easy to use, as well as those that boast millions of active users. It's also advisable to opt for a website that requires no registration, or at least one where the sign-up process is simple and straightforward.
And although all these platforms generally safeguard your identity, it's recommended to avoid signing up using your primary email address or social media accounts, just to be sure. Instead, consider using a fake address.