Adobe Photoshop has dominated the photo-processing market for close to three decades now. Photoshop remains one of the most popular photo-editing software, thanks to its wide array of advanced editing features. The software is particularly lauded for its incredible ease of use.

However, there's a hefty price tag to pay for Photoshop's user-friendliness and premium features. Fortunately, the photo-processing industry now features tons of software that are nearly as effective as Adobe Photoshop but completely free to use.

Today we will review the six best free online tools that get the job done as efficiently as Adobe Photoshop.
Colorcinch is a feature-rich favorite with many people who want to edit images, from beginner to more advanced. The photo editing tools make it easy to adjust exposure, contrast, color, etc., as well as cropping and rotating images, but there is so much more to this free online image editor. Create a range of graphic design projects using the most extensive libraries available on the internet for filters, effects, overlays, masks, graphics, and icons. Or use unique specialty effects such as the cartoonizer to turn any photo into a cartoon using the huge range of cartoon styles. 
Even though it's packed with tools and features, Colorcinch is refreshingly easy to use thanks to its super-efficient and user-friendly UI. Using Colorcinch is a breeze – no need to register with the site to use it, and all you need to do is upload your image and get to work. When you're done editing, choose from a range of export options and save. 
Official Website Link: https://www.adobe.com/products/photoshop-express.html

Photoshop Express for Windows: https://www.microsoft.com/en-us/store/p/adobe-photoshop-express/9wzdncrfj27n

Photoshop Express for Android Devices: https://play.google.com/store/apps/details?id=com.adobe.psmobile&hl=en

Photoshop Express for iOS Devices: https://itunes.apple.com/us/app/adobe-photoshop-express-edit/id331975235

Isn't it surprising that one of the top alternatives to Adobe Photoshop is a product by the same company? Well, it only goes to show that Adobe is now committed to offering high-end photo-editing software at reasonably reduced costs. Or perhaps, this might be an initiative to counter the ever-rising number of Photoshop alternatives by major Adobe competitors!

Adobe Photoshop Express comes with plenty of guides for novice users. With this software, you can capture your images and edit them seamlessly on your mobile device.

The tool is available for Windows as well as Android and iOS devices. It supports a variety of photo file formats, including PDF, PNG, PSD, PDD, DIB, GIF, Camera Raw, JPG, JPE, BMP, RLE, PSE, TIFF, and PXR.

But as you might expect, Photoshop Express comes with limited tools compared to its costlier counterpart, Photoshop.
Gimp for Windows: https://download.gimp.org/mirror/pub/gimp/v2.8/windows/gimp-2.8.18-setup.exe

Gimp for Mac: https://download.gimp.org/mirror/pub/gimp/v2.8/osx/gimp-2.8.18-x86_64-1.dmg

Gimp for Linux: https://download.gimp.org/mirror/pub/gimp/v2.8/

GIMP is an acronym for GNU Image Manipulation Program. The software has been around for nearly the same duration as Adobe Photoshop, which speaks volumes about its effectiveness and credibility.

One outstanding feature of GIMP is that you can implement your own changes to the software's unique source code. And after making those changes, GIMP lets you redistribute your version for free. On the contrary, Photoshop doesn't come with that flexibility and can, in fact, sue you for redistributing your own version of the edited image.

GIMP is compatible with various operating systems, including Windows, Mac, and Linux. It also supports numerous photo file formats, including JPEG, TIFF, GIF, BMP, TGA, PNG, PSD, etc.

The only notable downsides to GIMP are that the software lacks user support, and there's some learning curve involved before you can get a hang of it.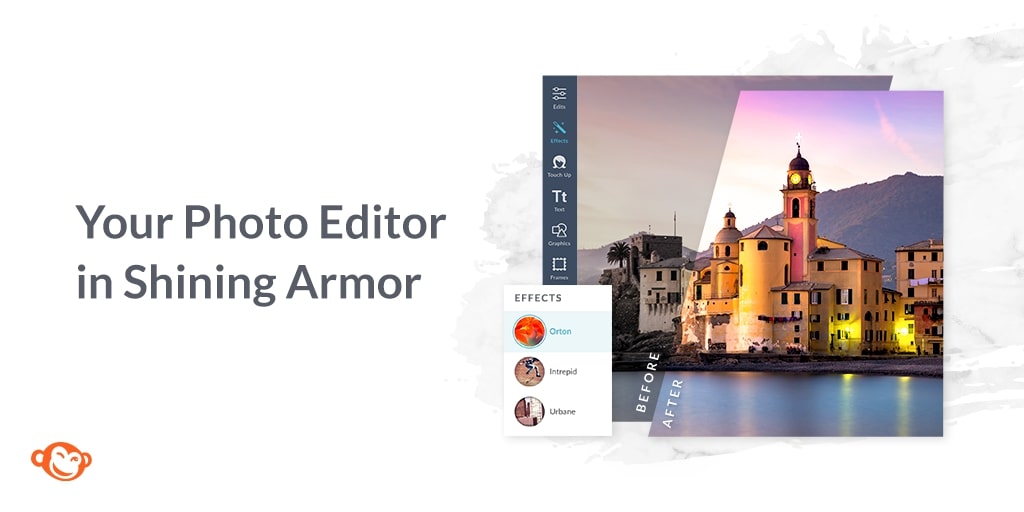 PicMonkey for Android Devices: https://play.google.com/store/apps/details?id=com.picmonkey.picmonkey&hl=en

PicMonkey for iOS Devices: https://itunes.apple.com/us/app/picmonkey-photo-editor-add/id1105556534

Don't read too much in the name, as there's nothing cheeky or mischievous about this photo-editing software. As a Photoshop alternative, PicMonkey prides itself on its simplistic design and user-friendliness. The software comes with a clutterlesss dashboard for a quick and easy photo-editing experience.

PicMonkey is available for both Android and iPhone users and supports a variety of file options, such as GIF, JPEG, PDF, PNG, and GIF TIFF.

Although it made it to our list of free Photoshop alternatives, it's important to note that PicMonkey is actually a subscription-based service. The software will cost you $3.99 per month if you purchase an annual package.

Even so, there's a free trial period that allows you to experiment with all the software's tools before you can possibly purchase the paid version. Also, the fact that PicMonkey is web-based means you can try it out without necessarily having to incur any download costs.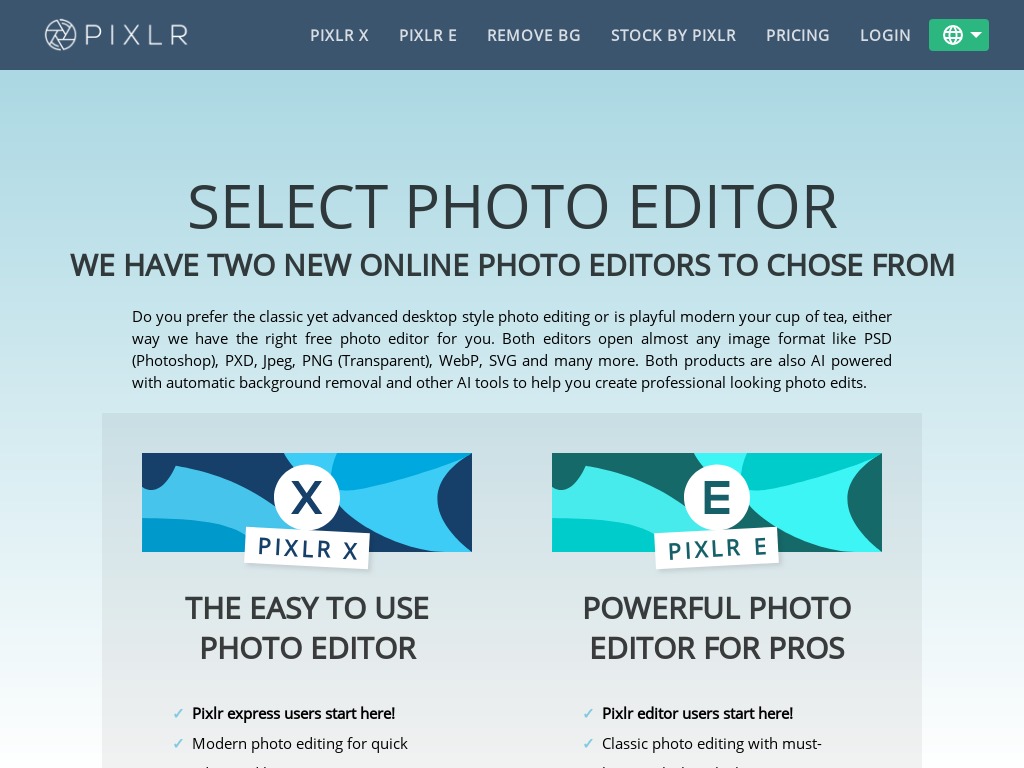 Pixlr for Windows: https://pixlr-desktop.en.uptodown.com/windows

Pixlr for Android Devices: https://play.google.com/store/apps/details?id=com.pixlr.express&hl=en

Pixlr for iOS Devices: https://apps.apple.com/us/app/pixlr-photo-collages-effect/id526783584

Pixlr is an exquisite photo-editing software by Autodesk. Like PicMonkey, this Photoshop alternative comes with a minimalistic design, making it user-friendly. If you ever experience any problems navigating through the website, there's highly responsive support that you can always shoot your questions to.

Pixlr is browser-based, which means that you don't have to download and install it to enjoy its amazing features. In addition to being web-based, you can also use Pixlr on your Windows as well as Android and iPhone gadgets.

Some of the photo file formats that Pixlr accepts include PNG, TIFF, JPG, JPEG, PXD, and BMP.

And needless to mention, Pixlr is free to use. There are also subscription plans that allow you to unlock the software's high-end photo-editing features.
Canva may not be as old as many of the apps on this list, but it's one of the most effective Photoshop alternatives. The app comes with thousands of unique design elements that allow you to manipulate your images to your desired specifications.

With Canva, you can design birthday cards, cover photos, social media graphics, banners, etc. The service also maintains a huge library of stock images that you can access and use on the go. Although some of these features will require you to purchase a Canva paid plan, many of the app's fantastic photo-editing tools are available for free.

Since Canva is browser-based, you can simply use the app online without downloading it. The photo-editing software supports a truckload of file formats too, such as GIF, TIFF, BMP, JPEG, and PNG.

On the cons side, Canva charges as much as $1 for each custom picture. While the $1 may not seem like much when you're only looking for one or two custom pictures, it's quite inhibitive for professional creatives and designers working with tons of custom photos.
Seashore for Mac: https://download.cnet.com/Seashore/3000-2192_4-54532.html

Seashore is the go-to photo-editing software for Mac users. The software is closely related to GIMP but comes with a simpler Cocoa user interface. It packs an array of editing tools, including gradients, brush strokes, and multiple layers.

One of Seashore's defining features is its intuitive interface, which comes in handy for Mac users who are a bit inexperienced with photo editing.

Like other Photoshop alternatives we've reviewed in this post, Seashore also supports quite a few file formats, including TIFF, JPEG, PNG, and CXF.

A glaring limitation with Seashore is that it's only available for Mac users. Also, while the software is free to use, it comes with fewer advanced features compared to Photoshop. Plus, Seashore supports comparatively fewer photo file formats, not to mention its limited range of user guides and tutorials.
Conclusion
Remember to always proceed with caution when choosing a free Photoshop alternative. The conventional wisdom is to try out the software first so that you can assess its speed as well as the range of tools it offers compared to Adobe Photoshop. In case if you need to use only several tools which Adobe Photoshop provides, choose ones that focus on a limited number of instruments. For example, Icons8 Background Remover that does only background removal, but process images with high-accuracy.