Salespeople are the backbone of the company. They are the ones who bring revenue, thus fueling the growth of the company. However, it is a stressful job, and the pandemic has added fuel to the fire.
We all need motivation, and if it is packed along with entertainment, nothing can beat it. So we have created a list of the 15 best movies for salespeople. 
So, without further delay, here is the list of inspiring and motivating movies for salespeople to help uplift their passion and determination towards their sales career.
1. Death of a Salesman
Death of a salesman is an Emmy-winning classic sales story adapted from the play "Death of a Salesman" by Arthur Miller. It is a sad and heartbreaking story of Willy Loman, played by Dustin Hoffman.
The movie shows how hectic the sales profession is as you have to continuously meet the goals to stay on the payroll. The sheer pressure of it takes a toll on the person. The movie shows that it's not a job for everyone.
The movie shows that you have to be thick-skinned and self-motivated to reach your goal. The career isn't a bed of roses; however, it's the only job to prosper if you continuously seek improvement.
Death of a Salesman cleverly portrays the failure of the American Dream by using door-to-door sales as a metaphor. It shows we need to adapt, or we may have a tragic end. 
2. Used Cars
Used Car is a movie that portrays the life of an expert used car salesman named Rudo Russo (played by Kurth Russell), who aspires to run for the state senate. 
After Rudy's dealer Luke Fuchs dies, he has to take over the business. So it is then; he faces a rivalry from Luke's brother, Roy L. Fuchs. 
Watch as these two men come up with ridiculous ways of promoting their business to get the upper hand.
Even after 41 years, Russell's charisma and his way of quick-talk have made this comedy film one of the go-to movies for sales fanatics.
You will notice an often-repeated dialogue in the movie by Russell, "Trust me!". This motto implies the confidence every good salesperson needs to have to succeed in their career.
3. Pursuit of Happyness
Pursuit of Happyness is an inspirational drama movie that shows how a positive and never-giving-up attitude can change your life. Will Smith played the role of Christopher Gardner. 
His exceptional performance won him an Academy Award Nomination and recognition worldwide.
Chris works as a salesman in the movie, but he finds himself and his five-year-old son (played by his son Jaden Smith) homeless after numerous unfavorable financial failures. 
He finally gets an unpaid internship at the brokerage firm, which would supposedly change his life for the better. He was waiting for such an opportunity, and once he has it, he grabbed it and invested his mind and heart into it. 
The movie is a true story based on the life of Chris Gardner. Chris now has a net worth of USD 70 million.
The movie truly teaches us never to give up and keep an eye for the opportunity that life presents. If you give your best, you will eventually succeed. The movie also shows how Will, as a salesperson, uses his people skills to persuade. It can indeed teach a thing or two about the Art of Persuasion.
Where to Watch It
Prime Video
Link to the trailer of the movie
4. Moneyball
Moneyball is an Oscar-nominated film that was released in 2011. It is a biographical sports drama film about Billy Beane, played by Brad Pitt. 
This movie tells the story of Billy- the general manager of the Oakland Athletics Baseball team, who was facing a tight budget and was struggling to sell his new ideas to scouting staff, players, and management about recruiting new players to build a strong team.
Another face to check out in this movie is Jonah Hill, who plays a recent Yale graduate, Peter Brand.
Watch how Billy counters the struggles and gains significant results with minimum resources- something most salespeople are challenged with every day.
Where to Watch It
STARZ
Prime Video
Link to the trailer of the movie
5. The Founder
The Founder is a biographical drama that tells the story of a 52-year-old milkshake machine salesman named Ray Kroc (played by Michael Keaton) who sees the potential of McDonald as a brand.
Ray is a visionary. He has been mediocre with all the ventures. While traveling he comes across McDonalds. He is awed by the efficiency and expertise. But what clicks him is the name. He pursues the McDonald brothers (played by Nick Offerman and John Carroll Lynch)  to partner with him.
The Founder inspires every sales rep to have a "whatever-it-takes" mindset and shows how a sales order should benefit both the indulging parties..
Watch the Founder and see how Kroc uses valuable sales lessons to close the deals profitably.
Where to Watch It
Netflix
Link to the trailer of the movie
6. The Wolf of Wall Street
Released in 2013, the Wolf of Wall Street is a biopic of the famous stockbroker Jordan Belfort (played by Leonardo DiCaprio), also known as the "Wolf." This Oscar award-nominated movie is one of the best sales movies of the decade.
The Wolf of Wall Street depicts Belfort scamming his way to the top and quickly falling to see his life and fortune crashing down.
In this movie, Jordan Belfort says: "If you give people a good enough 'why,' they will always figure out the 'how.'" This quote inspired many salespersons worldwide to establish the stage of creating a need and urgency of the prospect and follow the model of AIDA – Attention, Interest, Desire, and Action.
Watch the movie to see how Belfort educates his team to pitch fluently to the customers.
Where to watch it?
Prime Video
Link to the trailer of the movie
7. Boiler Room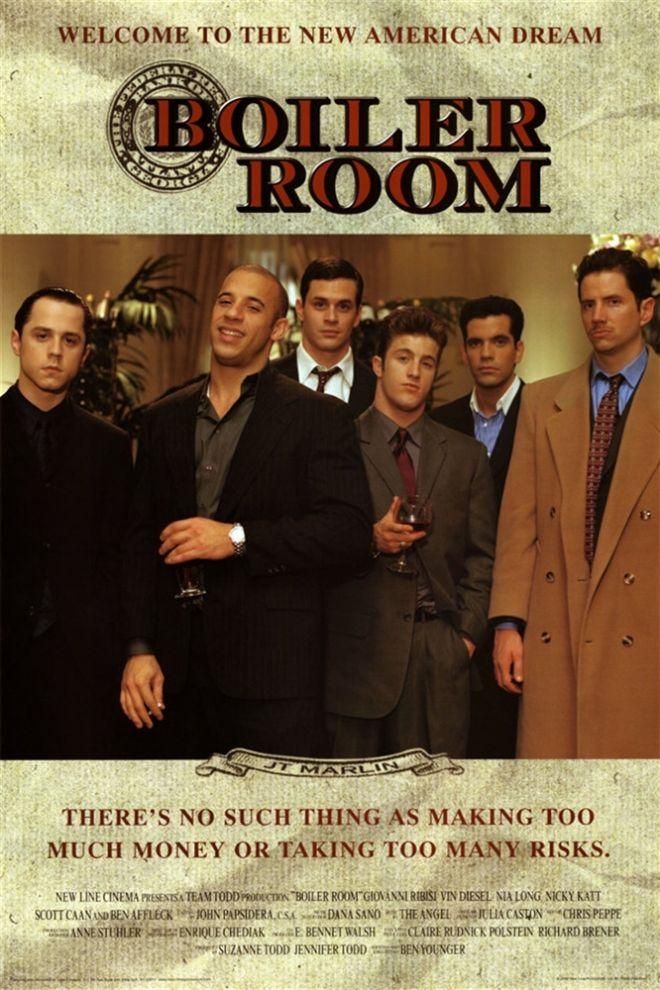 Boiler Room is another great sales movie of all time. In the movie the sales rep willingly asks people to purchase the scammy stocks in return for huge commissions.
The story revolves around Giovanni Ribisi (played by Seth Davis), who drops out of college and operates a casino till he lands a job as a stockbroker at a suburban investment company. 
He soon finds out that the organization is illegal and has a difficult decision to either continue or leave.
A quote by Jim Young (played by Ben Affleck) is popular in the sales world : "A sale is made on every call you make. Either you sell the client some stock, or he sells you a reason he can't. Either way, a sale is made; the only question is who is gonna close?" 
Watch this movie to go on a journey with the main character as he learns aggressive sales tactics to lure clients into investing and benefiting his company.
Where to watch it?
Prime Video
Link to the trailer of the movie
8. Jerry Maguire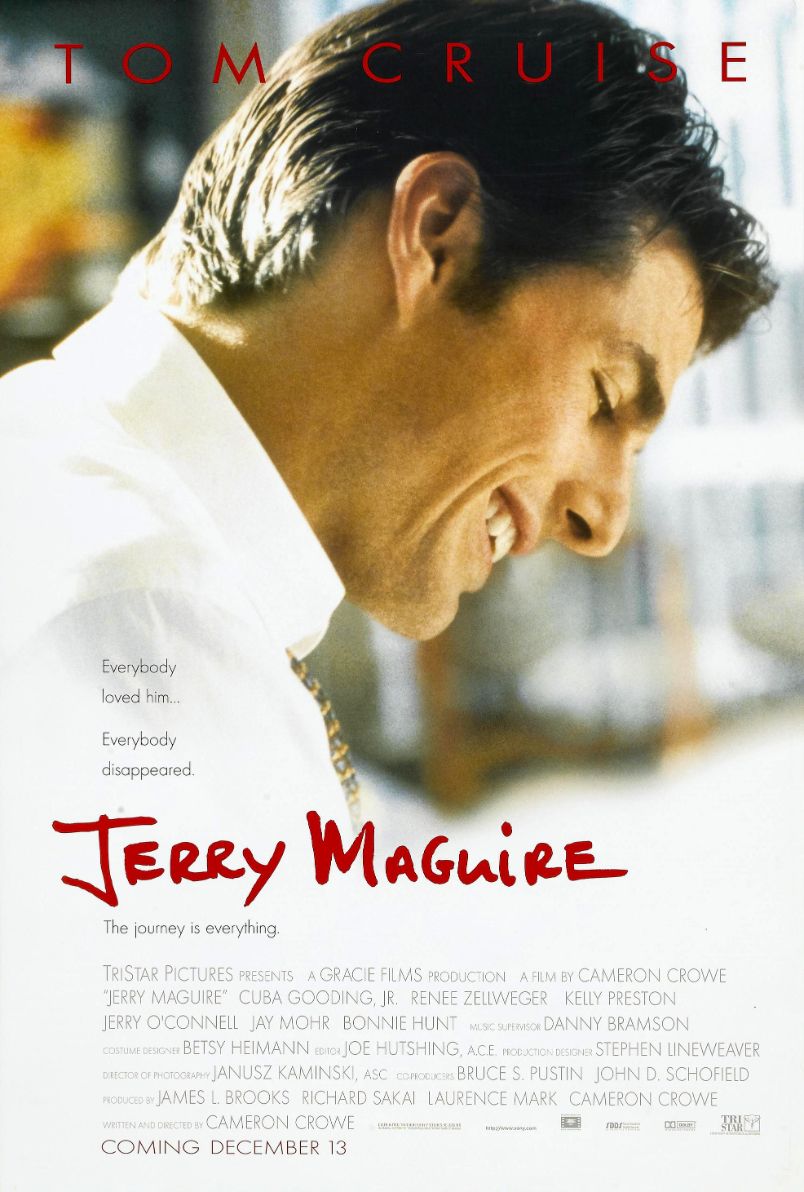 Jerry Maguire is a movie that revolves around the character of the same name, starring Tom Cruise. This movie was released in 1996, and since then, it is renowned as one of the best sales movies of all time.
Jerry Maguire is a successful sports agent at Sports Management International who loses his job by sharing his moral epiphany.
He establishes a new management company with his former secretary and one athlete, Rod Tidwell (played by Cuba Gooding Jr). He faces several difficulties in his new venture due to lack of resources and cunning competitors. 
Tom Cruise has done a phenomenal job in this movie, making it one of the best go-to movies for people interested in sales.
Where to watch it?
HBO max
Link to the trailer of the movie
9. Cadillac Man
Cadillac Man is a comedy movie where a character named Joey O'Brien (played by the legendary Robin Williams) goes into financial trouble and needs to sell a dozen cars in two days to repay his debts.
Cadillac Man shows the difficulties salespersons go through on a day-to-day basis with a twist of comedy.
Watch the character try to sell these used cars as he gets bombarded by more and more trouble.
Where to watch it?
Prime Video
Link to the trailer of the movie
10. Glengarry Glen Ross
Glengarry Glen Ross is a masterpiece. Directed by David Mamet, this movie is about a group of desperate real-estate salesmen. It has some iconic dialogues to remember such as "ABC- Always Be Closing"
Kevin Spacey plays the character of a manager in charge of getting sales leads, whereas Al Pacino plays the role of Ricky Roma, who talks his way to manipulating naive clients to buy worthless property.
Jack Lemmon and Alec Baldwin are two other megastars to check out in this movie.
Watch these men go through the ups and downs of being a senior sales rep.
Where to watch it?
Netflix
Link to the trailer of the movie
11. Wall Street: Money Never Sleeps
Wall Street is an American drama released in 1987 that depicts Wall Street's scenario during the 1980s. 
Legendary actors like Charlie Sheen (Bud Fox) and Michael Douglas star (Gordon Gekko) as two insider traders.
Bud Fox is inspired by Gordon Gekko and wants to work for him. However, the movie takes a twisted turn as Bud gets involved with Gordon's greed, hyper-materialism, drugs, and corruption. 
Bud Fox tries to destroy Gordon's evil antics but will his decision to be on the right side threaten his family's livelihood? Watch to find out.
Where to watch it?
Netflix
Link to the trailer of the movie
12. Promised Land
Promised Land is a movie based on a salesman named Steve Butler (played by Matt Damon)). He has an excellent track record in convincing landowners to sign mineral rights leases. It is his skills that get him noticed in the eyes of higher management.
The first half of the movie shows that you need to get into the buyer's shoes and connect emotionally if you want to sell whatever you're selling.
But as you continue watching, you'll see Butler arrive at a small town where he faces life-changing events.
By the end of the movie, you will question yourself- "Will you sell something that you don't believe in?"
Where to watch it?
Hulu
Link to the trailer of the movie
13. Door to Door
Door to Door is a movie that tells the story of the real-life salesman Bill Porter (played by William H. Macy) of Watkins Company. Bill had cerebral palsy and speech impediment, but his humor and strong determination won the hearts of many customers.
You will surely go on a rollercoaster of emotions as you see the devotion of his mother, who constantly helps him and lifts his spirits.
This movie motivates all sales fanatics to work hard and have perseverance. As a result, you can achieve your dream of being on top of your sales and marketing career.
Door to Door truly is a beautiful sales movie that tells the story of a tough sales veteran who did everything to close a sale.
Where to watch it?
Netflix
Link to the trailer of the movie
14. The Social Network
The Social Network is a movie about the founder of Facebook, Mark Zuckerberg. 
Jesse Eisenberg perfectly executes Mark's socially awkward and introverted character.
The movie depicts how a Harvard student creates a social networking site to bring people closer and defying all the odds and challenges he faces.
The Social Network gives critical lessons for people interested in a sales career. Watch this movie to learn why you should focus on the top of the sales funnel and not jump straight to the conversion stage.
You will learn a great product, and it will eventually gain significant attention from the people.
Where to watch it?
Hulu
Link to the trailer of the movie
15. Tin Men
Tin Men is an American comedy film released in 1987. It is an iconic sales movie that stars legendary actors like Richard Dreyfuss and Danny DeVito as competing aluminum-siding sales reps in Baltimore.
The tagline of the movie itself is pretty inspiring: "The American Dream Changes. The People Who Sell It Don't."
Tin Men teaches you to understand your competitors and never to treat them as your enemy. Instead, keep a healthy competition so that you can have sustainable growth for your company.
Watch this movie to see how two rivals play to their strengths instead of prying on other's weaknesses when a government official investigates their industry.
Where to watch it?
Netflix
Link to the trailer of the movie
So here are the top 15 best sales movies of all time. I'm sure you'll be motivated and get inspired to take your sales career on the next level after watching these movies.
Let us know which movie you loved the best. If you have any other sales movie in mind, feel free to tell us about it in the comments below.