Remember the time that you had an essay to finish by the end of the day? Or the time that you needed to take down notes from a video presentation for a report? And while working on it, do you also remember your brain fuel slowly running out from the constant thinking and your fingers getting numb from all that typing?
If your answer to these questions is yes – then keep on reading. There is in fact a way to help you finish your work quicker, thanks to good old technology, we now have what we call speech-to-text software.
In fact, expert studies have also proven that speech-to-text software helps in making the writing process more productive and more efficient because speaking the words is way faster and more accurate than simply typing it down. All you have to do is press a button or two, speak into the microphone of your mobile phone or computer, and poof – the program types down the words for you in a jiffy. 
Now isn't that a cool life hack? And to make your search for the coolest speech-to-text software much easier, here is a list of the 7 best speech-to-text apps in 2020 to get you started.
IBM Speech To Text is one of the most intelligent speech-to-text applications out there. Impressive features such as being able to quickly translate audio into 7 different languages and the ability to distinguish the speakers in an audio track.
Regardless of the quality of the audio being translated by the app, IBM Speech To Text does not fail to deliver high quality translations. The Lite version of IBM Speech To Text is currently free but the only catch is that you can only translate up to 10,000 characters a month.
If you're just starting out with using speech to text software, the simple yet powerful Google Chrome extension Speechnotes is the best program for you. Having been built using Google's speech recognition engines, Speechnotes is one of the most reliable and accurate speech translators released to date. Because Speechnotes does not require any registration or downloads to set up, getting started with Speechnotes is as simple as it gets. Speechnotes is currently available on the Chrome Web Store for free.
Developed by one of the leading companies in the technology industry, Apple Dictation is a speech-to-text application powerhouse. Apple Dictation is one of the most extensive speech-to-text applications in this list, offering its users full access to features such as multi-language support and specific voice commands to type in special characters onto your project via the Enhanced Dictation feature. However, as the name suggests, Apple Dictation is a free built-in software for Apple devices only.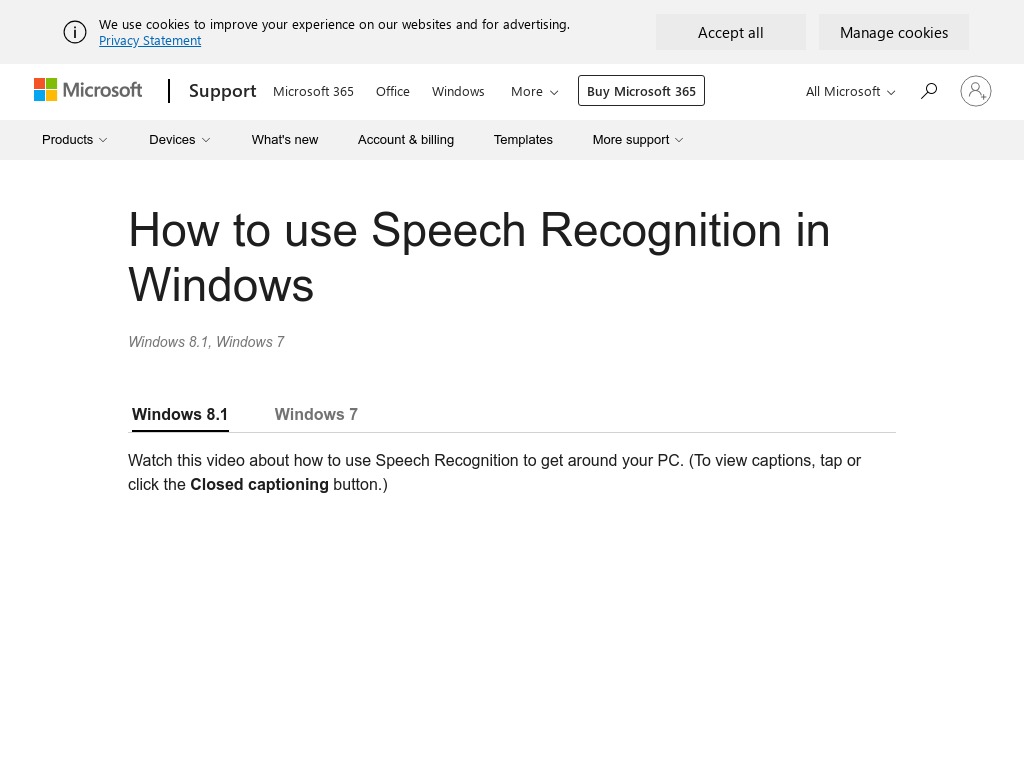 Very similar to the Apple Dictation program, the Windows Speech Recognition which as the name also suggests, is a free built-in feature for Windows devices. The program is limited to US English and you must be connected to the Internet for it to function properly. However, one major advantage that this program has over the Apple version is that it is more flexible, and it can be used almost anywhere within your Windows PC.
There is no doubt that Dragon Home is a strong competitor in the speech-to-text software industry. Having won more than 200 awards since its creation, the application boasts a 99% accuracy in its speech translation capacities.
Additionally, Dragon Home goes beyond with its convenient features such as a playback feature where you can listen to the translated words to check for errors and the flexible option of being able to use Dragon Home wherever you want – be it an email, a tweet, or a Facebook post, you name it. The application is available for Windows devices only. The digital download version costs $150 however a free trial version is also available.
If you're looking for an all-around application which can help you complete your work to near 100% accuracy, then Braina is the app for you.
Whether you're a beginner or someone who has some knowledge already with speech to text software, Braina is capable of assisting you all the way with its easy to understand and effective features such as support for more than 100 languages, customizable voice commands, text-to-speech playback – heck, it can even solve mathematical equations if you want.
Braina is available for Windows, iOS, and Android. The basic version is free while the Premium version will cost you $49. 
It is no secret that Google Docs Voice Typing is accepted by many as the best speech-to-text program currently available. And the best thing about it is that it will cost you absolutely nothing to gain access on all its features. Just make sure you're connected to the Internet, download and install Google Chrome on your device, create a Google account and you're good to go.
It's a simple yet powerful tool with features such as a library of more than 100 available voice commands which can easily format the translated words in whatever way you want – such as making the word bold or italic, maybe even both. Google Docs Voice Typing works on both Windows and Mac devices.
These are just some of the many other speech-to-text software out there which can perfectly handle all your automatic writing needs. For beginners however, it is highly recommended that you start off with the free applications in this list (or the free versions of paid apps if that's more to your liking).
Try to test out the waters and make sure your speech-to-text application of choice can handle your current surroundings. Not all apps are the same and some may work better for you than others. Nowadays, built-in speech-to-text features are available in almost all devices, regardless if you're using a Windows PC, an Android, or an Apple device. You will have no trouble in looking for a way to experience the benefits of speech-to-text.
P.S. This article has been written and translated via a speech-to-text application. Just kidding…or am I?