Last Updated on June 20, 2023
Barcelona is an iconic city of Spain. People from around the world travel every year to visit this beautiful city and experience the Catalan culture, the beautiful architecture, and the amazing beaches and food.
Barcelona is the capital of Catalonia and is the second most populated city in Spain. It has a very rich history for it has been under Romans and afterward the Frank law until declaring its independence. From being a small Roman colony to becoming a cosmopolitan city, it is now internationally recognized for its economy, its culture, its artistic heritage, its sports, and its social life.
Nowadays it is a very modern yet very old city for visitors to discover; the new elements work in harmony with the ancient as a way to preserve and celebrate them. The city is crowded with museums, churches, outdoor markets, and restaurant shops, making it ideal for walking around. The center of the town is around the "Old City" (Ciutat Vella).
This city is bordered by the Mediterranean Sea to the west, forming a coast with nine amazing beaches that stretch over five kilometers passing through several districts. It is popularly known for the local football club FC Barcelona since it is a very successful club worldwide.
The official languages of Barcelona are Catalan and Spanish. Although Spanish is widely used in public transport, most signs are in Catalan for it was established by law as the administrative language. Of course, locals appreciate when visitors try to use the native language, however, most of them are bilingual in Catalan and Spanish and are always predisposed to address tourists in Spanish.
Actually, there are many people that travel not only to experience the culture, but also to attend a spanish school barcelona to learn the language. It is important to avoid referring to Catalan as a dialect since it will offend locals. Catalan is a language that sounds a little bit like Portuguese, French and Italian.
English is also a spoken language by the staff of shops and bars in tourist areas. English speakers won't have problems trying to be understood, as people will generally make an effort to communicate and because Barcelona is a very touristic city.
When to visit Barcelona
Of course, most people plan to visit Barcelona during the summer, to enjoy the hot weather on the beaches. However, this time of the year means tons of people and tourists, just for the same reason. During the winter, there won't be too many people, the number of visitors is the lowest in the year, but the temperature is too low to enjoy the beaches. The ideal time for visiting Barcelona is in the late spring and in the early fall since there will be great weather without having the heavy crowds of people as in the summer.
Attractions and sights you must visit
What to do in Ciutat Vella
As we said, Ciutat Vella means "Old City", and it is called that way for a good reason since it is the oldest most central town of Barcelona. This city is the most visited by tourists, because of its history and all the attractions, such as:
The Gothic Quarter (Barri Gotic)
This old neighborhood contains many attractions, like numerous buildings from the medieval times, plenty of Roman ruins, and the Cathedral of Barcelona. Of course, it is overflowing with tourists, but it is worth it.
Les Rambles
Is a pedestrian walkway with beautiful trees, lined with shops, cafes, restaurants and chain stores. There are also street performers like artists offering pencil sketches or stunts. This is also the most visited place by tourists.
El Portal de L´Angel
Another pedestrian walkway where tourists can find the most expensive and in-style shops in all of Barcelona.
Plaça de Catalunya
Is a very famous square in the very center of the city, because of its many fountains and statues.
What to do in other neighborhoods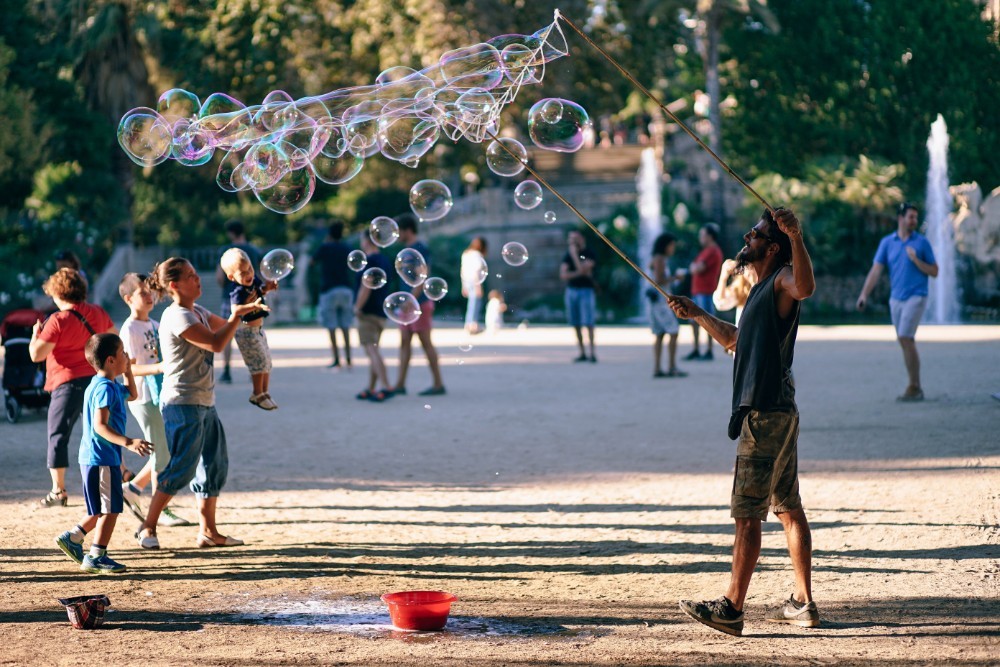 Sants Montjuic: You can ride the cable car through the sky, from the sea coast to the Montjuic mountain. You can also see a flamenco show (traditional Spanish performance with, dance and guitar music).
L´Eixample: It contains many of the most famous architectural wonders like La Sagrada Familia.