Streaming services have become more and more popular in recent years. Thanks to their accessibility and huge content library, it's easy to pick what you want to watch, pause it to get some snacks, then just continue where you left off, in case you fell asleep.
However, the longer you keep one, the more expensive it can become. Suddenly, $13 a month adds up when you look at your annual expenses. FREE streaming sites surely help in this arena. Like subscription services, they also have a massive content library of free online movies and TV shows – but without the strings of monthly payments.
To save you time (and the headache) of having to search for these gems yourself, here's a list of the best online movie streaming sites, free of charge.
Legal Copyright Disclaimer: Fancycrave does not verify whether websites hold the proper licensing for content delivered through their site.  Fancycrave does not endorse or promote illegal activity tied to streaming or downloading copyrighted works. The end-user shall be solely responsible for media accessed through any service or app referenced on this Website. Referenced applications/addons are not hosted by Fancycrave and this guide is for educational purposes only.  
Top FREE Online Movie Streaming Sites
1. VideoHunter
If you prefer downloading free movies offline for smooth and flexible playback, then VideoHunter might be your top pick. Different from other movie streaming sites, VideoHunter is an excellent online video downloader capable of downloading any movie from sites for free. As a movie-downloading app, VideoHunter lets you save and watch free movies from over 1,000 websites, including YouTube, Instagram, TikTok, etc. Be it drama, action, documentary movies, classic movies, or even the latest movies, all these entertaining and popular movies can be downloaded through VideoHunter in high quality with crisp and HD video resolution, offering you a great viewing experience.
Another useful feature of VideoHunter is that the app is equipped with a built-in proxy server. Once you enable the feature, you can access your favorite movie websites without regional restrictions. Overall, VideoHunter provides a great convenience for online movie enjoyment.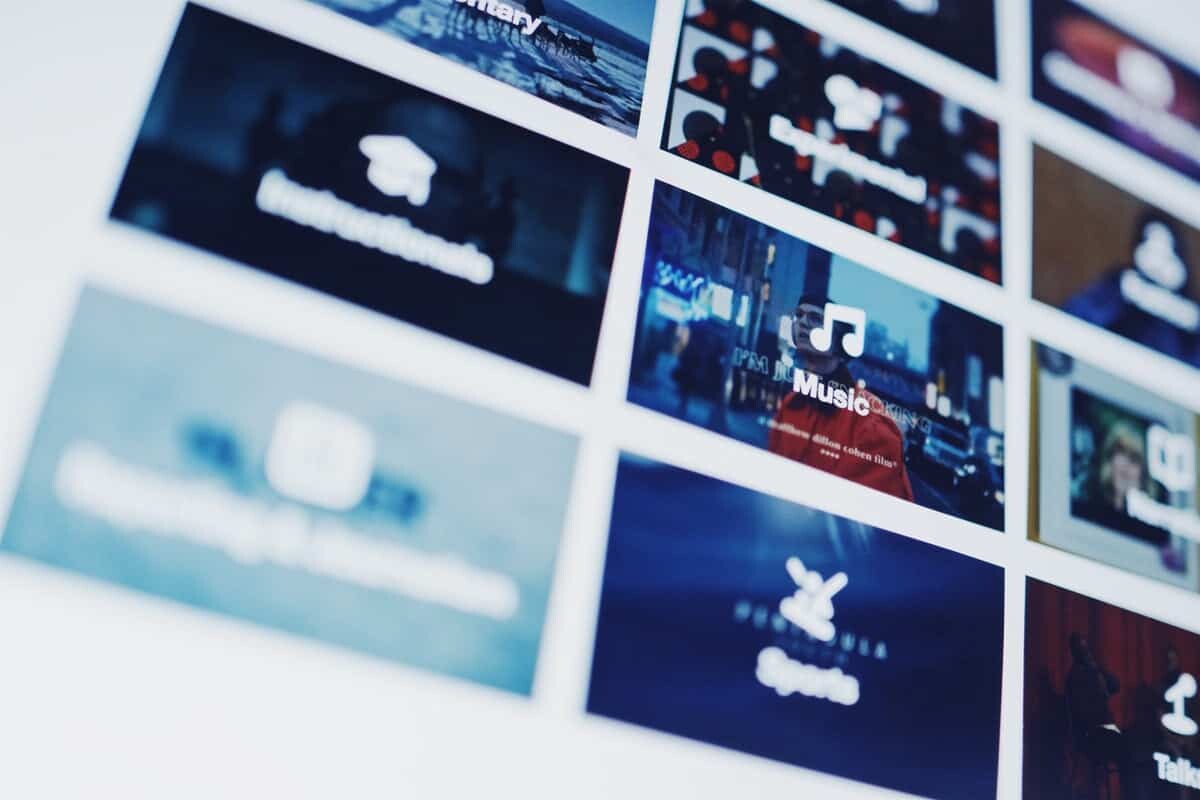 This video hosting, sharing, and services platform has short original films created by individual creators from all over the world. Quite similar to YouTube but with more privacy options (i.e. restrict viewership for your followers only, etc.), you can begin viewing content that's okay for public use. You can upload your own, too.
If you're a budding director or screenwriter, this is a good place to start. Not only can you watch inspiring content from likeminded people, you're able to put up your own content as well.
Cinefiles and movie buffs will always head to where the action is – and that's IMDb TV.
This is THE website to be not only to stream free movies online, but also to catch up on the most popular titles, DVD and Blu-ray releases, Box Office hits, Oscar and Emmy winners, celebrity gossip, and news about the movie industry. Please be advised that IMDb TV is only available for U.S. viewers at this time.
Hold on to your library card – because it just got better. Kanopy is a digital resource that will allow you to view topnotch movies, documentaries, foreign films, classic cinema, independent films, and educational videos for FREE, as long as you have a public library card.
For students and professors, you can use your student or professor login. Plus, you can view their content seamlessly on any device, like your TV, tablet, and of course, smartphone. For families, there's Kanopy Kids, offering a range of enriching, educational and entertaining films and TV shows for your little ones.
Nothing beats an ol' classic. And if you love these kinds of films, then you will love Internet Archive. Here you'll find a wide array of film Noir, silent films, sci-fi and horror that are over 70 years old, and more.
There are Charlie Chaplin movies, The Pied Piper of Hamelin, House on Haunted Hill, and My Man Godfrey, to name just a few. The best part is that you can download them. Just look at the available download options and keep the movies you like forever!
From their homepage, you can immediately see what's in store for your viewing pleasure. Choose from the wide range of genres, including: mystery, sci-fi, Western, family-friendly, thriller, Staff Picks, and even Popcornflix Originals.
For fans of classic films such as Horror Express, Othello, Cry Baby Killer, Steamboat Bill, and His Girl Friday, you'll find all that and more here. Do note that there will be ads, so turn off AdBlocker to enjoy their content. Also, some films may not be available in your country.
Currently, this site is available in the U.S. only. Most of their content is independent or indie films; however, they do add select new releases from time to time. For people who love classics or hard to find movies, this site may be more up your alley. Just make sure you're based on the U.S. to enjoy their offerings.
Similar to Kanopy, this streaming service will let you watch movies online for free, as long as you have a public library. Apart from films, this site features a rich collection of ebooks, music, comics, TV shows, and audiobooks to feed your mind.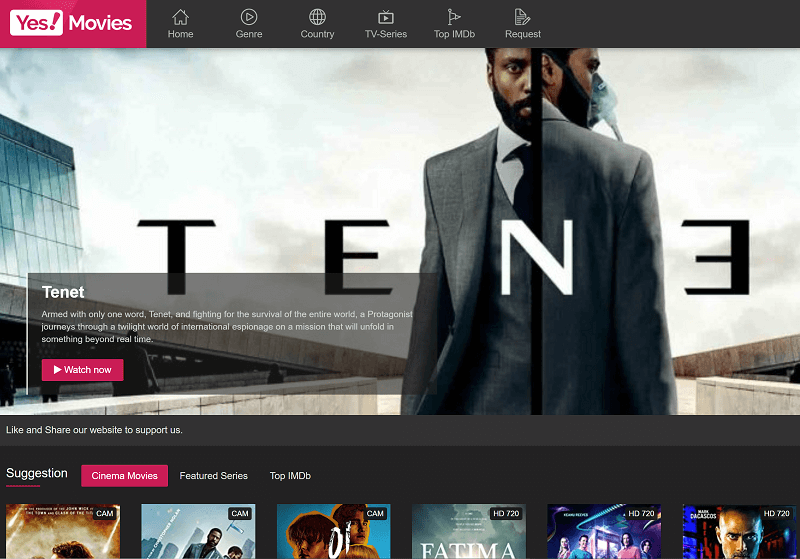 Here you'll have more choices in terms of genre, country/continent, as well as requested shows. Upon picking a title, you can view the synopsis, genre, duration, and video quality, so you'll know what to expect. For better viewing, you can select from which server to watch the content in.
You also have the option of either watching without registering, or becoming a member so you can save your favorite shows. It will have ads at the beginning, so if you're using AdBlocker or a similar app, you may want to turn it off to enjoy this site's content.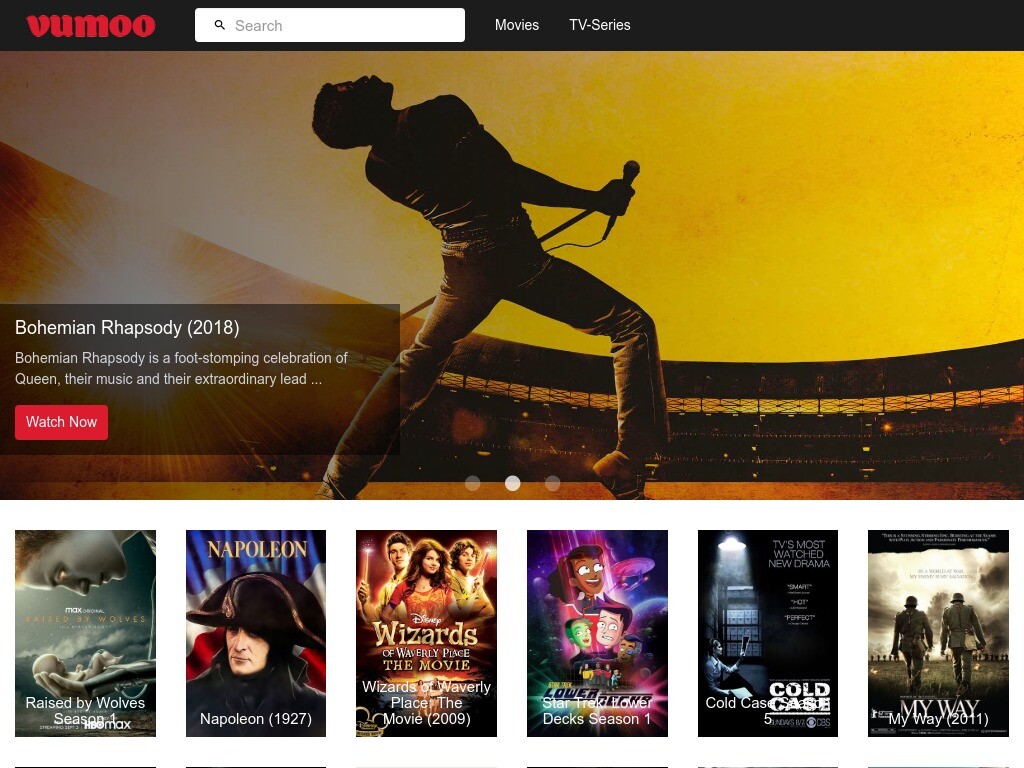 Want to watch new release movies online for free without signing up? Then you will love this streaming site. Simply choose a title from their homepage, or look for the title you want through the search bar. No documentaries though, just movies and TV shows.
For shows with more than one season, you'll need to type that in (i.e. 'Stranger Things Season 1' or 'Fresh Off the Boat Season 4'). You may not find ALL seasons present, as the site uses non-affiliated third parties as their file source. But so far, they do have an impressive library, so it's a cool website to bookmark.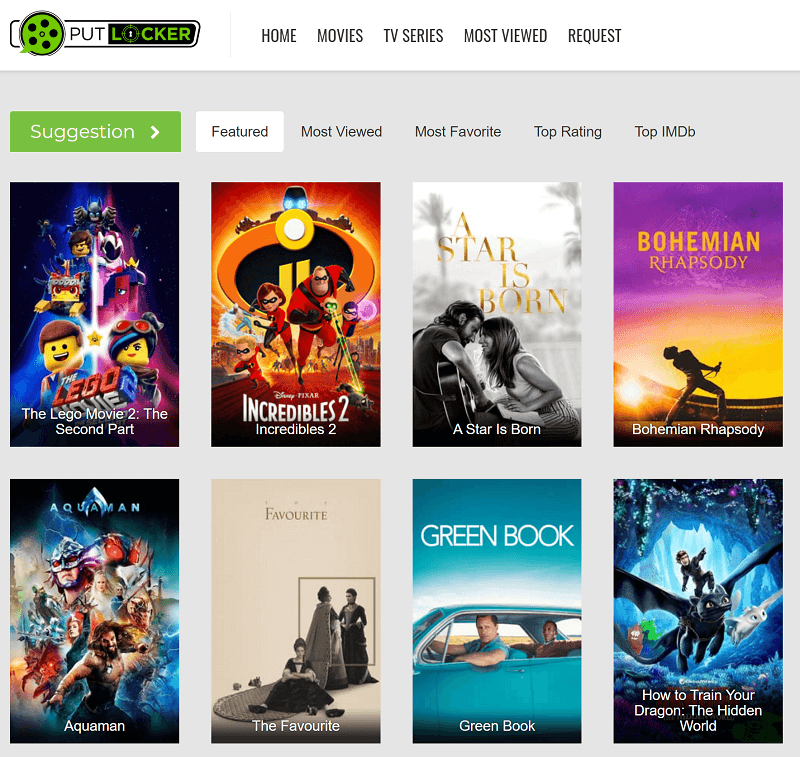 Hate ads or pop-ups? Then Putlocker is the site for you. Watch TV shows and movies online for free with no sign up necessary.
You can also request for a title that's not available in their database. From their homepage, you can look for a movie or show by using the search bar. Or you can discover something new by selecting Movies, TV Series, or Most Viewed from their menu.
You might be surprised to find some gems in the rough, or titles you've never even encountered before. Aside from Hollywood offerings, the site is also home to Asian and European films.
With more than 500,000 monthly visitors, it's no wonder AZMovies is one of the top sites for free new movies online. It works, even if you have AdBlocker on, which is great. Plus, all you need is to choose titles from their homepage, click Play, and you're good to go.
Feel free to use the search bar as well. Aside from browsing by genre, you can also browse by year, which is convenient, especially for movie fans. Titles available in HD will have the yellow sticker on the upper right hand side of the thumbnail, so watch out for that.
If movies are all that you're after, then you will fall in love with this free online streaming site. Take your pick from the latest gems, to animation, action, romance, as well as Top IMDb films.
Videos are available in either HD (High Definition) or SD (Standard Definition). Just look for the yellow label on the upper right hand side of each thumbnail. Just click on the title you want to watch, and it's pretty straightforward from there.
Technically a video search engine, Flixtor automatically scans and finds video content from the Web and lists them. For Cinefiles, this is a goldmine for information because you can see stuff like main actors, directors, and a quick synopsis.
There are also several ways to look for a movie or show you want. You can browse through their recommendation, choose from new releases, use the search bar, look for the most popular, or surf by genre, rating, or language. If the titles are classics, there might not be an HD version, but that's a small issue for their otherwise amazing content library.
Believe it or not, the biggest online video-sharing platform offers a few free movies from their YouTube Movies section. Since its rollout in 2011, they've been adding films, documentaries, and original content from YouTube creators. On the app, just click on Explore and select Movies.
There are two caveats: one is that the content may NOT be available in your country; the second is that, there is not a lot of free stuff to indulge in. Also, the ones that are available may not be your cup of tea. Still, if you're not picky, you can survive.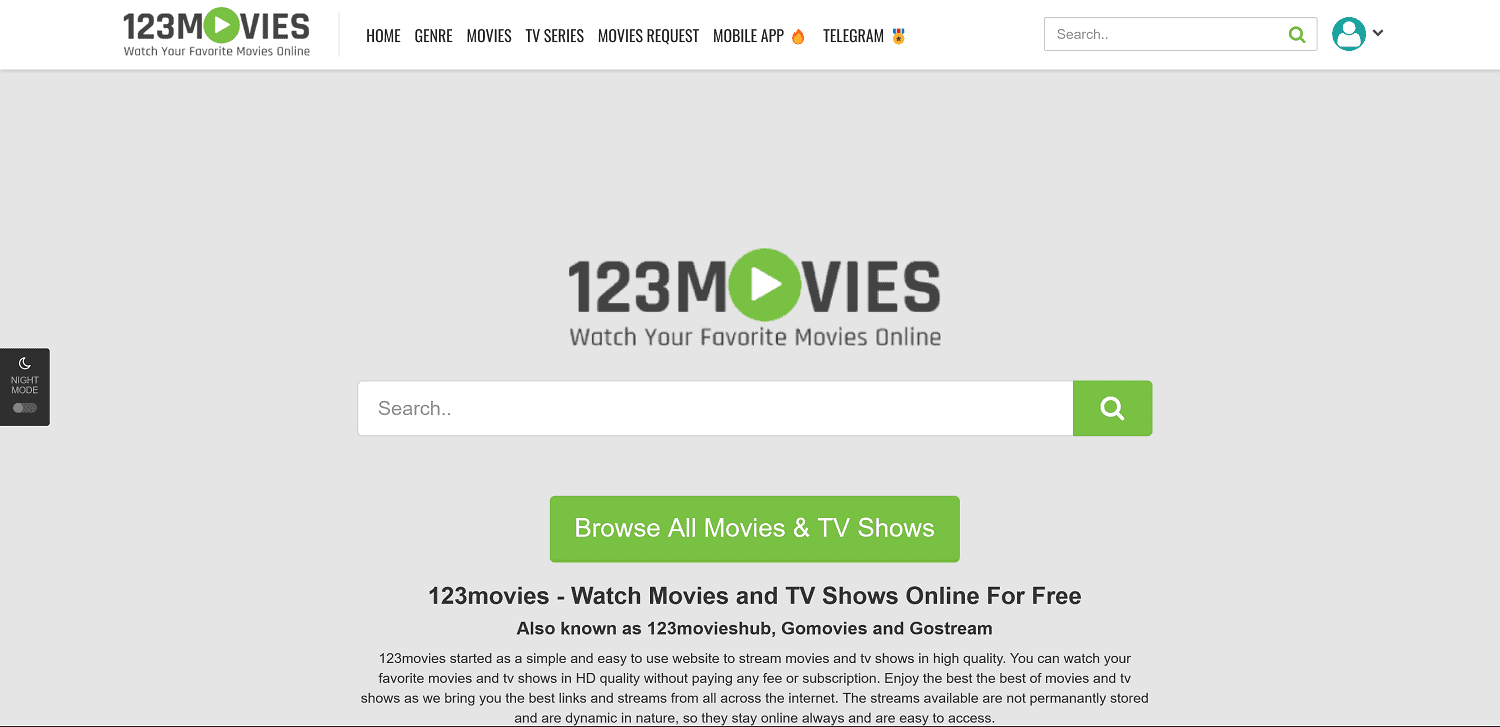 123Movies is one of the most popular, long-standing movie sites on this list. Movies on this website are available in 1080p quality. Website has little to no intrusive advertisements or pop-ups. With more than 40K movies, 5K TV Shows and around 60K Episodes, 123movies has one of the largest libraries of free to watch movies and tv shows online in the world.
The video player on this website is simple and you can turn on cinema mode with a single click anytime, even while streaming your video. Stream on any device and always enjoy fast no buffer movie and tv show streaming in high quality.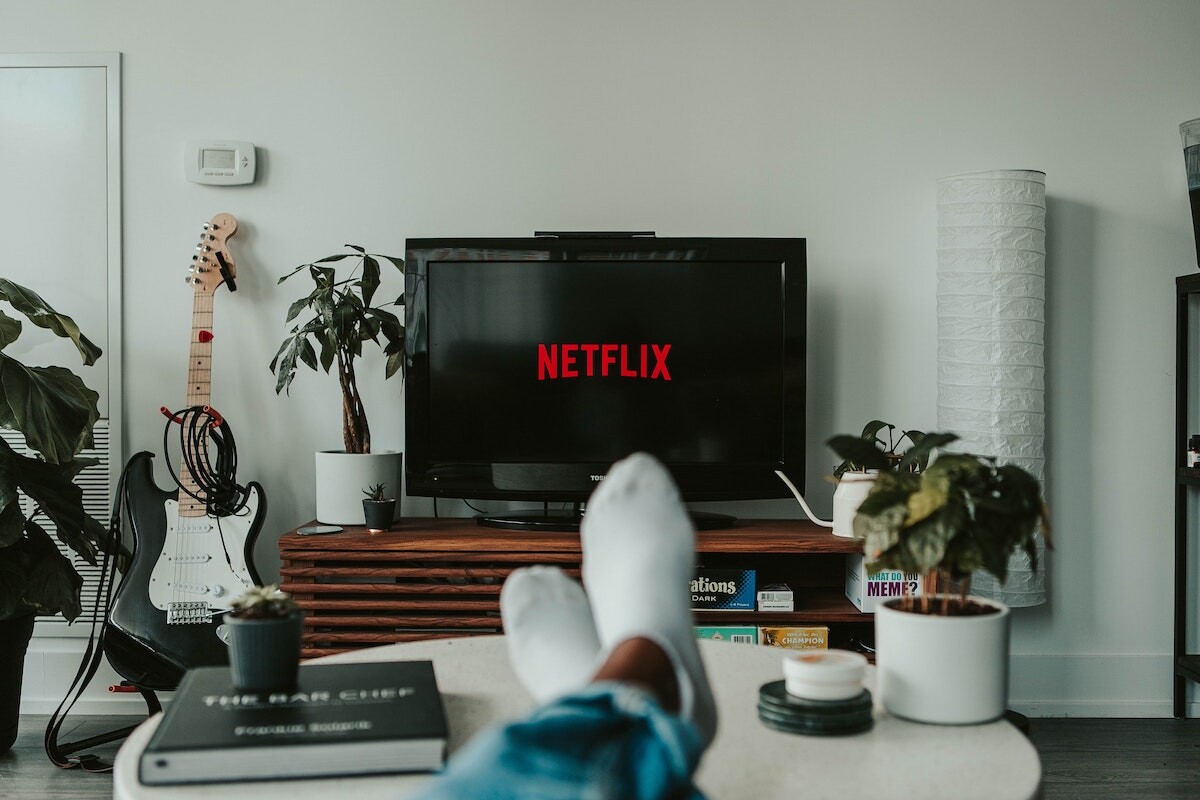 You might tell yourself: no way, it's subscription-based! Before you backpedal though, know that the world's largest streaming service offers a FREE 30-day trial for new members.
Sign up using your email and select a payment method (don't worry, you won't be charged until the free 30 days are up). Add family/friend profiles, and voila! You can now enjoy Netflix services. Just make sure to cancel BEFORE the 30 days are up so you don't get billed.
How about YOU: what's your favorite FREE online movie streaming site?