In a world dominated by pictures on both social media and on the web, having quality pictures is extremely important, both personally and in business. There are a wealth of tools and software both online and through applications that claim to be able to work wonders for your photos. However, most of them require you to do the touching up or editing by yourself. Most of us will not know exactly what to do, which can be a problem.
Furthermore, many tools don't allow for upscaling of images or it is limited to zooming, with no care for quality. This is where I tell you not to fear and introduce you to the world of AI image upscaling!
This list contains 5 of the best and most useful upscalers based on different criteria. Each upscaler makes the list for a particular reason. But before we dive into what each upscaling tool is and what it offers, there are a few questions that need to be addressed. 
What is an AI upscaling tool and how does it work?
The purpose of using an image upscaler is simple, if you have an image with a specific resolution or size and you wish to make the image clearer or larger, an upscaler will allow you to do it without compromising quality. An AI upscaler works differently to a regular photo enlarger, with most photo enlarger tools, an increase in size means a decrease in quality.
Not for AI upscalers, using advanced machine learning, the tools in the AI upscalers are intelligent and can maintain quality while increasing size. Perfect if you have a smaller or lower resolution picture and want to enlarge or clarify it. All AI Upscalers work quickly and efficiently, giving you what you need fast and in most cases, the services require no downloading of software, just upload the picture and let the tool work its magic. 
What to look for?
Cost effectiveness: in order to use a good upscaler, you will usually have to pay a subscription unless you utilise a free account, giving you limited uses. When searching for a quality service, paying a fair price may well be a factor for you, the list below will give you a mix of free and paid services letting you choose which service may work for your budget. 
Compatibility: you want to commit to a tool that works on as many platforms as possible. Ideally, it will be compatible on mobile devices, Mac, PC and Windows, allowing it to have a greater reach. Compatibilities also stretch to files and photo types, if a service limits file or photo types/sizes, you will need to research this before committing. 
Tools: does the service have what you need? If you need an image upscaled x20 and the service only provides x8 scaling, you should reconsider using it or find another tool. Some of the services on the list have unique enhancing tools and they will be highlighted so that if you are having trouble deciding, it will make it easier. 
1. Icons8 Upscaler
Using artificial intelligence (AI), Icons8 Smart Upscaler allows you to enlarge and enhance images up to 8x in three easy steps: First, upload the image, then get the result, and lastly, download your photo. Plus, it has the basic, beginner-friendly interface with just 1 button to make the process easier than ever.
It works best both for personal users and professional ones. You can either process a couple of photos for social media posts, or process as many photos as you wish with bulk uploading for your business. Smart Upscaler works online right from the web browser, so it doesn't matter what kind of operating system you have.
It has several monthly subscription options: limited subscription of $9 for 100 images and unlimited subscription of $99 for any number of images. The max size of uploading photo is 5Mb.
2. DepositPhotos Upscaler
Depositphotos, a famous digital asset website, has a free AI-powered online photo upscaler. This easy to use tool allows you to increase your photo's resolution and enhance its image quality.
So how does this tool come in handy? Well, if you're running an ecommerce store or need to resize an illustration for printing purposes, then this definitely comes in clutch.  Imagine getting crisp and clear commercial visuals for your business completely for free.
Thanks to Depostiphotos' neural network, the tool enlarges and enhances images after recognizing objects. In order to make pictures bigger without losing quality, they trained their system with over 217 million royalty-free images, vectors, and illustrations. So you can be confident that their app is an absolute beast!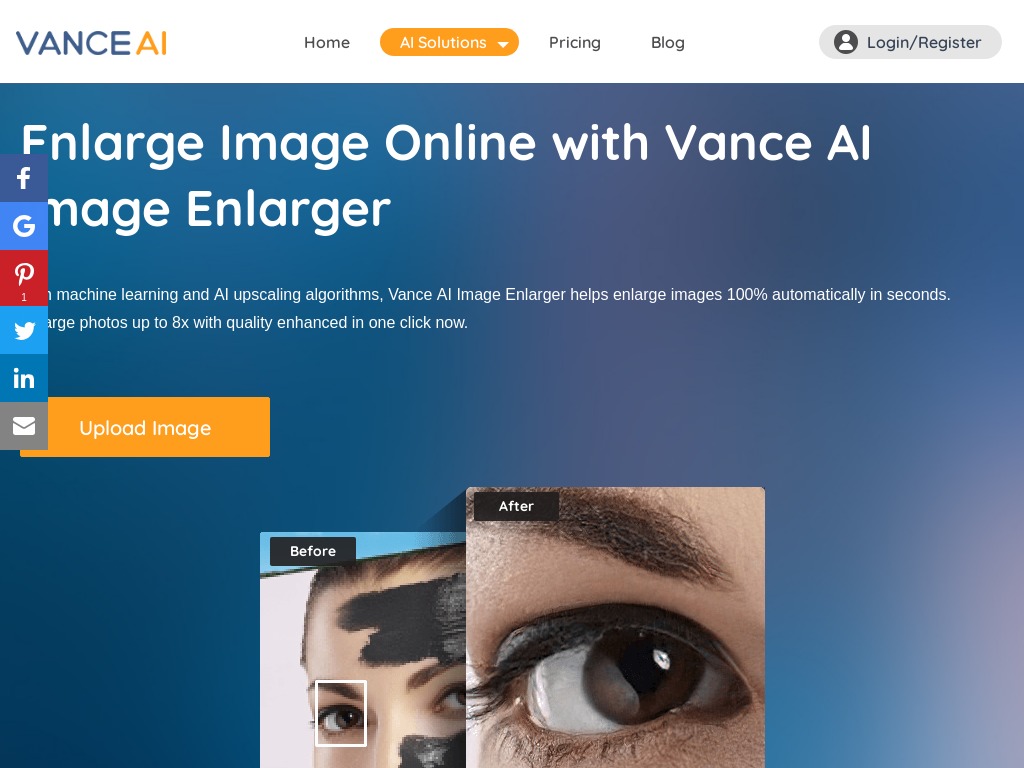 If you want the best upscaling software:  if you are looking to upscale an image, Vance is the strongest tool you can use. It allows you to enhance images up to 800% and manages to maintain the exact quality. They pride themselves on being perfect for both amateurs and professionals, with its easy drag and drop feature, you can easily have your pictures upscaled in seconds.
It also offers a data-safe guarantee, deleting all personal images within 24 hours. Its pricing structure is quite similar to Imglarger, but its basic $9.90 plan allows for up to 200 photos per month as opposed to 100, so Vance has more value on that end. It has 24/5 customer service and allows for up to 10mb pictures to be upscaled too!
It offers a 14-day money back guarantee if under 50 credits have been used which I see as a real show of competence and unused credits roll over into the next month to ensure you are getting value for money. All of this combined with its excellent upscaling artificial intelligence, makes Vance one of the best services on the market. 
For a fun option with cool features: Letsenhance is probably the most enjoyable tool that you can use on this list. It has a very slick interface, plenty of FAQs for their users and can perform high level 16x upscaling. There are a few key features that I feel make Letsenhance stand out. Firstly its 'Pre-sets' feature allows you to pre-set edits with the click of a button and use them again on future photos, saving you time in the future.
Secondly, its 'bundle' feature allows you to purchase 20 credits for $5 or 120 credits for $20. This is particularly useful if you have photos to upscale, want to utilize their features but don't want to pay a subscription. However, at $7 per month, it is reasonably priced anyway. Some reviews suggest that the processing time can be a little slower than other sites though so that is something to be aware of if you need images in a rush. You will also need to register once you upload a picture to be upscaled. 
If you want to upscale for free: However, an upscaling tool that requires no registration is Zyro. It is free and easy to use. Of course, free can only do so much, it only upscales 2x and the output quality is not world class but if you want a basic upscaling too to use casually, Zyro is the pick of the lot. It also acts as a website building tool, with multiple templates and they regularly run great promotions with 60-80% off monthly deals. In terms of its image upscaling quality, considering it is a free service, you can not complain.
The user interface is so simple, it lets you add a picture straight away and have an upscaled image quickly and hassle free. They also plan on upgrading their AI to be able to work on image noise reduction in the future which will give it more credibility as a solid software. Its price tag and easy to use software make Zyro the perfect candidate for the casual image upscaler that is looking for a quick fix (literally).
However, it does lack many of the features that other services on this list offer, so if you want to upscale an image to a greater extent or are looking for greater quality output, you may want to look at the others on this list.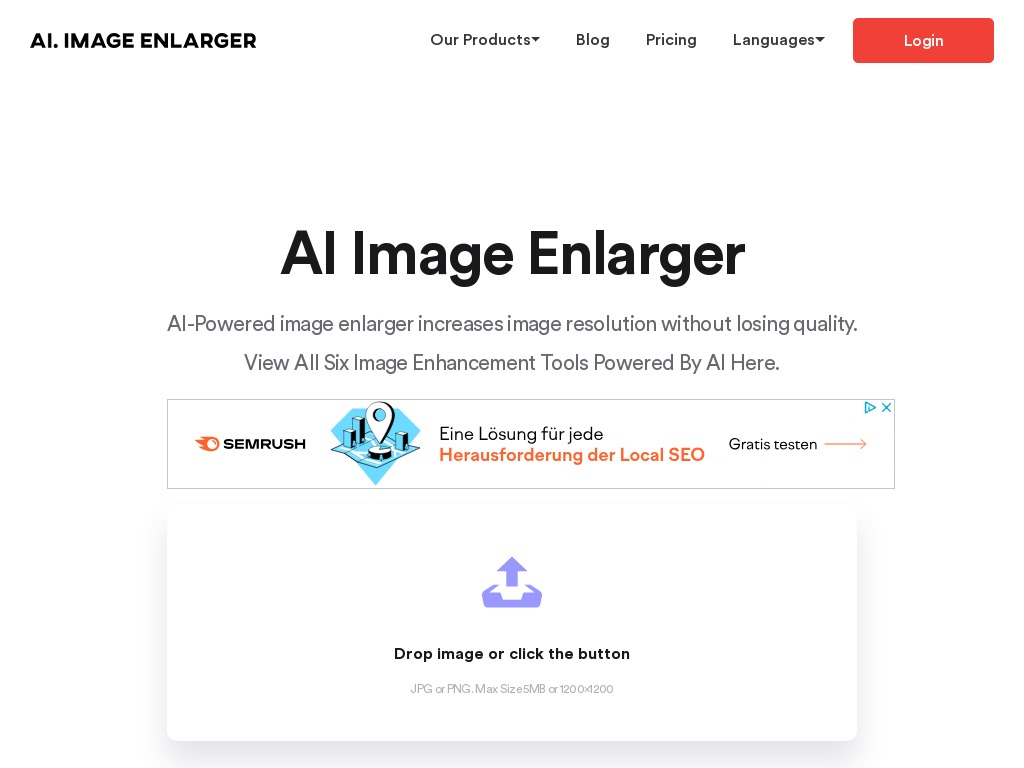 The best all-round upscaler: If you are looking for an AI image upscaler that is quality (4.8/5.0 avg customer rating) with a solid client base and a proven track record, that is cheap and easy to use and compatible, then look no further than imlarger.com. It requires no downloading or installing of any software and upscales your pictures in 15-30 seconds. In terms of pricing, it offers a free test package with 8 free credits which in my view is a fair deal, it gives you the basics and lets you work out if the service is for you.
The premium and enterprise packages start at $9 and $19 respectively and Include batch processing, increased maximum dimensions, email notifications for proof of upscaling, up to 100/500 images per month and they allow up to 10mb photos to be accepted. Considering many services only go up to 5mb, this is a solid feature.
Imglarger is also compatible with iOS, android, mac and pc, allowing you to upscale on the go as you need to. It may not be as technologically advanced as the likes of Vance AI (see next), and may not be the cheapest on the list, but it is the ideal service for someone who wants to use a solid all-round upscaler.