Last Updated on January 2, 2023
We all know that taking care of your teeth is an important aspect of taking care of your body as a whole.  There's an old saying that goes like this; "Never look a gift horse in the mouth", whose literal meaning is that in the scope of being polite, one should never check for flaws in a gift that is given to you. 

How does it apply to the topic at hand here today?  Well, the saying exists because a horse's teeth were once a major indicator of a horse's health and its subsequent value.  Rotted, decayed or worn-down teeth generally meant an unhealthy beast, or one that had many years under its hooves.  
Anyways, long story short, you need your teeth in good condition for the rest of your body to be in good health, and even if they are, they should look the part too.  This last sentence is the crux of the matter we're talking about here – the pursuit of great-looking teeth.
Most of us have heard of, or even spoken to our dentist about teeth whitening at one point or another.  It's a comparatively cheap option to bring back the dazzle in your smile, and it's fast too.  No expensive veneers that cost a small fortune and take three separate appointments to install, just a couple hundred bucks and two of hours in the hygienist's chair and you're good to go.  Professional teeth whitening sounds like a no-brainer when compared to an at-home kit, but is it?
Let's take a look at if the treatment is safe or if there are some side effects to having your teeth whitened.
How does a professional tooth whitening treatment work?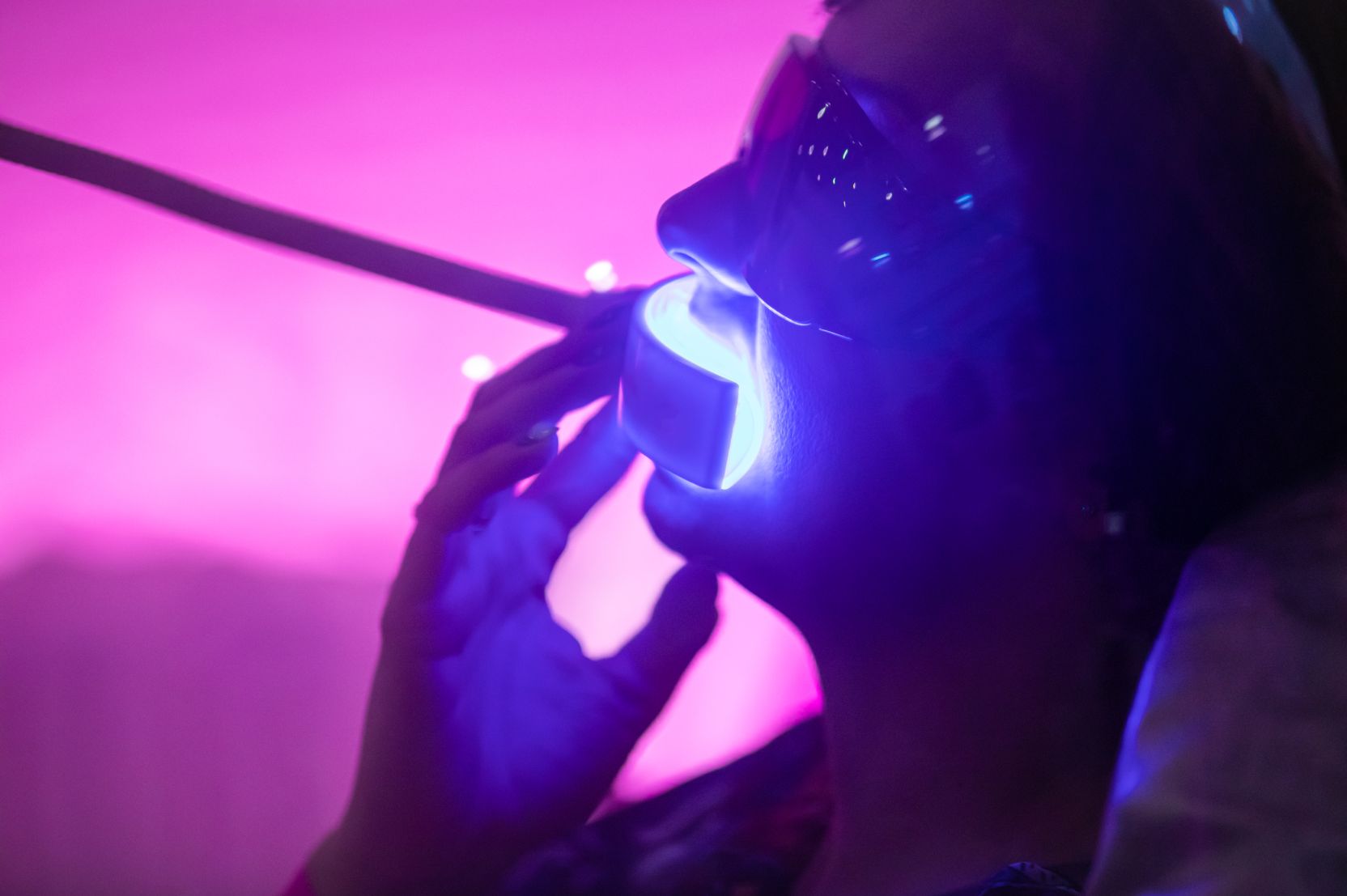 A pro teeth whitening treatment is typically performed by your dental hygienist (after a consultation with your dentist) and involves your teeth being coated in a specially formulated and quite strong peroxide bleach gel (29% active ingredient) that is activated by UV light.  This gel, once active, permeates the tooth enamel to get into the dentin (inside layer of your teeth), where most stains reside.  Once absorbed, the dentin will essentially get bleached to lighten the color and bring your teeth a few shades closer to fresh white.  The process takes about 15 minutes under the UV light and is repeated two to three times for best results (that's why the whitening takes about two hours).
The hygienist will need to prep your mouth first to ensure the gel doesn't get on any of the soft tissues in your mouth (gums, inside cheeks, tongue, etc.).  First, a mouthguard is inserted to keep your mouth open and your lips and tongue out of the way.  
Then a paste is used to mask off your teeth, which basically performs the same function as painters' tape would to stop overspill when painting the walls of your home.  
Once that's done, the gel is spread onto your teeth, the UV light is applied, and the whitening effect begins to happen.  After three rounds of the gel/UV light process, the hygienist will clean up your teeth, remove the blocking paste and take out the mouthguard apparatus.
You'll be asked to rinse; you might get a quick floss and that's it – teeth whitening complete.
How does a take-home whitening kit from the drugstore work?
Drugstore teeth whitening kits work in much the same way as an in-office treatment with a few notable differences.  For starters, the bleach solution used in over-the-counter kits is much weaker than that used in a dental office.  This is because it needs to be safe enough for non-professional use so it won't cause damage if used incorrectly.  However, this also means that the results won't be nearly as good and you'll be required to repeat the process multiple times for noticeable effects.
Generally, OTC teeth whitening kits come with the gel, an applicator, and one-size-fits-all trays that you'll fill with bleach gel and wear on your teeth for a specified amount of time.  The results are noticeable, it just takes way longer and there are more inherent risks.
Risks of teeth whitening
Let's be clear, teeth whitening has been around for a long time and the procedure has gotten really good.  As such, any side effects are almost always temporary, but that doesn't mean they don't exist.
The risks of teeth whitening we've been told about include side effects like:
Increased tooth sensitivity

Irritated gums and oral soft tissue

Unsatisfactory whitening results (not much happened in the way of brightening your teeth)

Weakened tooth enamel

Blotchy or stained teeth
Now let's find out whether or not the rumors are true!
We reached out to our resident dentist pal at Martindale Dental for some free consultation about whether a pro teeth whitening is actually really the better option when compared to the store-bought kits and if what the deal is in terms of side effects.  
Here's what we found out:
Teeth whitening is more or less a perfect treatment when done by a professional hygienist in the office.  Your hygienist is able to use a much stronger bleach that gives way better results in a fraction of the time.  They can use this special bleach because there is a whole host of safety precautions in place (as described above) to make sure no harm is done to the patient.  Compared to the drugstore kits, an in-office treatment is the safest and best choice for whiter teeth.
When it comes to side effects, gum irritation is the main issue with any type of whitening program.  That's because bleach is an irritant (regardless of strength) and will dry out the soft tissue inside the mouth.  The irritation will recede given some time but it's still better to not let it happen in the first place.
Tooth sensitivity is also a very real issue with whitening treatments because the bleach acts to temporarily demineralize your teeth.  Luckily, the increased sensitivity dissipates over the course of a few days and many patients don't experience much discomfort at all.  Drugstore kits usually don't increase sensitivity that much, but in-office treatments can really leave patients with tooth pain for a day or two.  Usually, a painkiller like Advil or Tylenol will take care of the issue until the tooth's dentin has remineralized and is back to normal.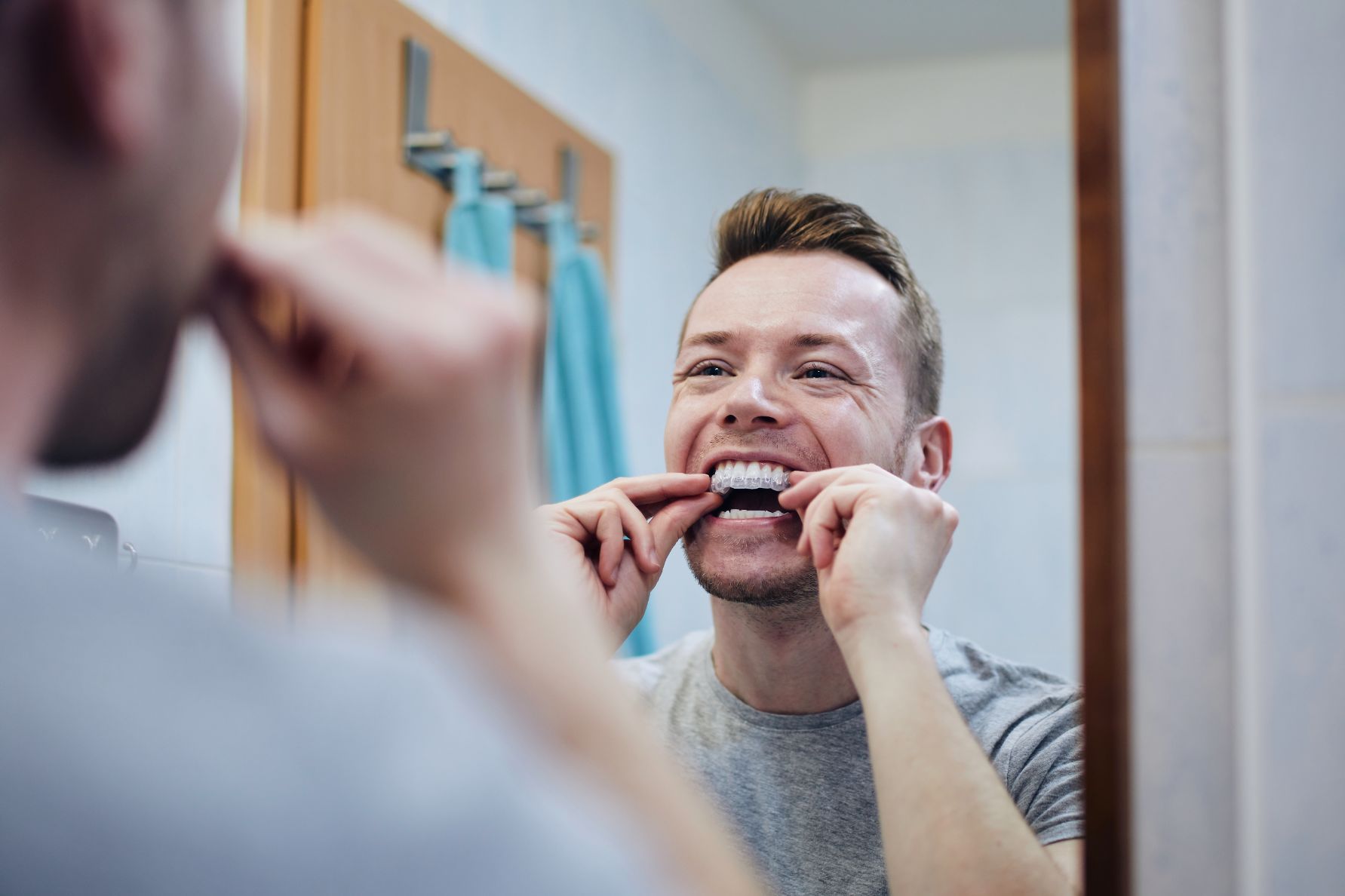 The same goes for blotchy or streaky teeth which are often seen with in-office treatments.  This is because the tooth enamel has also been demineralized (the bright white spots you see) and needs a few days to reabsorb everything it needs.  Your teeth should go back to a uniform shade like before (except brighter) shortly.
Teeth whitening does not permanently weaken or damage tooth enamel – that's a myth.
Go pro or do it at home:  What's the verdict?
If you're serious about teeth whitening, we recommend booking an appointment with your dentist to get it done.  Not only are the results better, but the whole thing is much safer, happens way faster and the cost, in the long run, isn't that much more expensive.  If you're interested in whitening, please speak with your dental professional for more information about the treatment and if it's the right choice for you.