One of the earliest of its kind, YouTube is the world's most popular video streaming site and is always at the forefront of video technology. It is also a great source of information, entertainment, sports, music, and games. 
With so much wonderful video content on YouTube, people regularly look for a way to save their favorite videos to watch on their Android phones, tablets, and electronic devices offline again and again.
Regrettably, YouTube does not allow its users to directly download videos from it, and any app on Google Play that tries to do so has been removed because it violates YouTube's terms.
Fortunately, hundreds of third-party software programs can download YouTube videos or audio directly to your phone's storage. They range from websites to mobile applications, and they can be acquired directly from their websites or independent app stores such as Uptodown, F-Droid, APKPure, and more.
10 Free Tools To Download YouTube Videos On All Devices
1. TubeMate
TubeMate is a well-known app for downloading YouTube videos, and it is among the most frequently searched apps in many popular app stores.
This app allows users to download YouTube videos directly to their mobile devices at high speed without compromising quality. TubeMate enables saving videos from Facebook, Vimeo, MetaCafe, or DailyMotion in addition to YouTube.
Furthermore, if you prefer audio over video, you can download the video directly as an MP3 file. When installing this YouTube video downloader Android app on your mobile devices, you should be cautious about the permissions you grant, as safety is the top priority. 
2. Snaptube
Snaptube is a secure YouTube video downloader app that lets you stream or download videos in several resolutions. It's one of the best options out there.
Snaptube has a nice interface and features that are simple to use. The Android app allows you to download online videos from various websites, including YouTube, Facebook, Twitter, IGTV, and Vimeo. 
The number-one feature of this tool is that it includes a built-in search box that allows you to search for videos using keywords without having to open YouTube. To save YouTube videos to your gallery or SD card, copy and paste the video link, and SnapTube will do the rest.
3. AllMyTube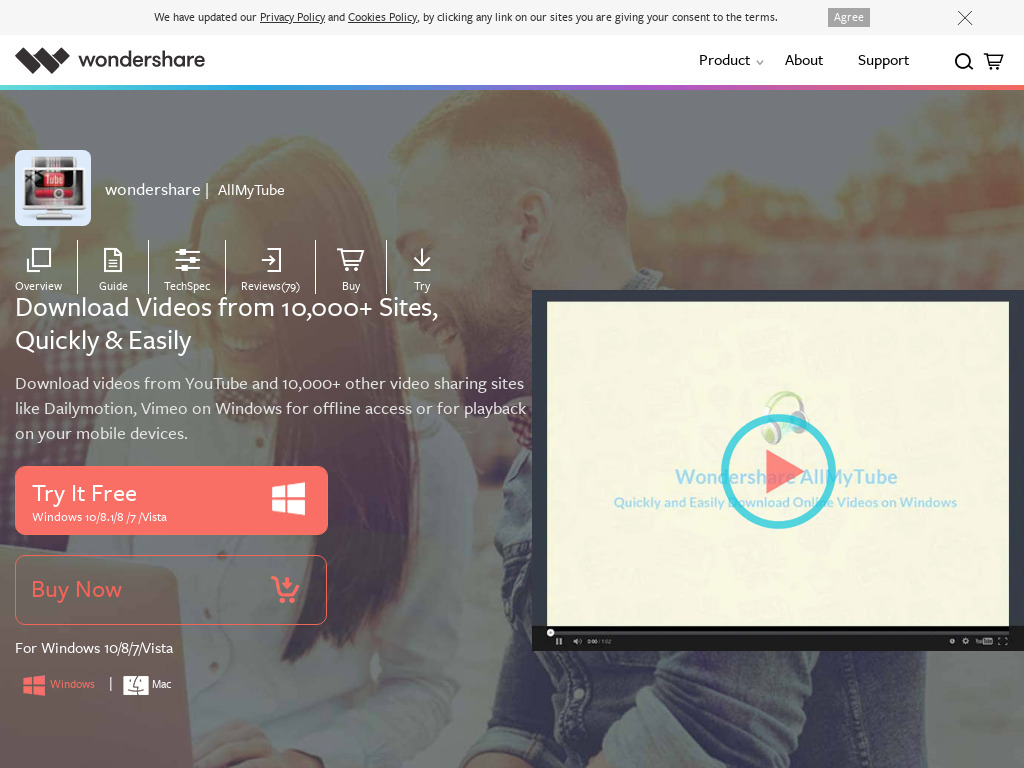 AllMyTube is a tool that allows you to save YouTube videos in easy steps. You can save both the YouTube channel and the playlist. It is compatible with over 10,000 websites.
It lets you download videos from other popular video-sharing websites besides YouTube, such as Facebook, Metacafe, Vimeo, and others. This software stands out from the many present downloaders due to its unique and additional features.
Its user-friendly, well-equipped interface clearly presents everything you need to get started and fully utilize this program. There are three possible methods when using this app: 
You copy and paste the video URL into the app's built-in browser.

You click the "Download" button at the top right corner of the video that is open in your browser. 

You can record the video while it is streaming (i.e., through Vimeo and other platforms) by clicking the "Record Video" button on the video downloader.
Furthermore, the tool makes transferring converted videos to a mobile device a breeze.
4. InsTube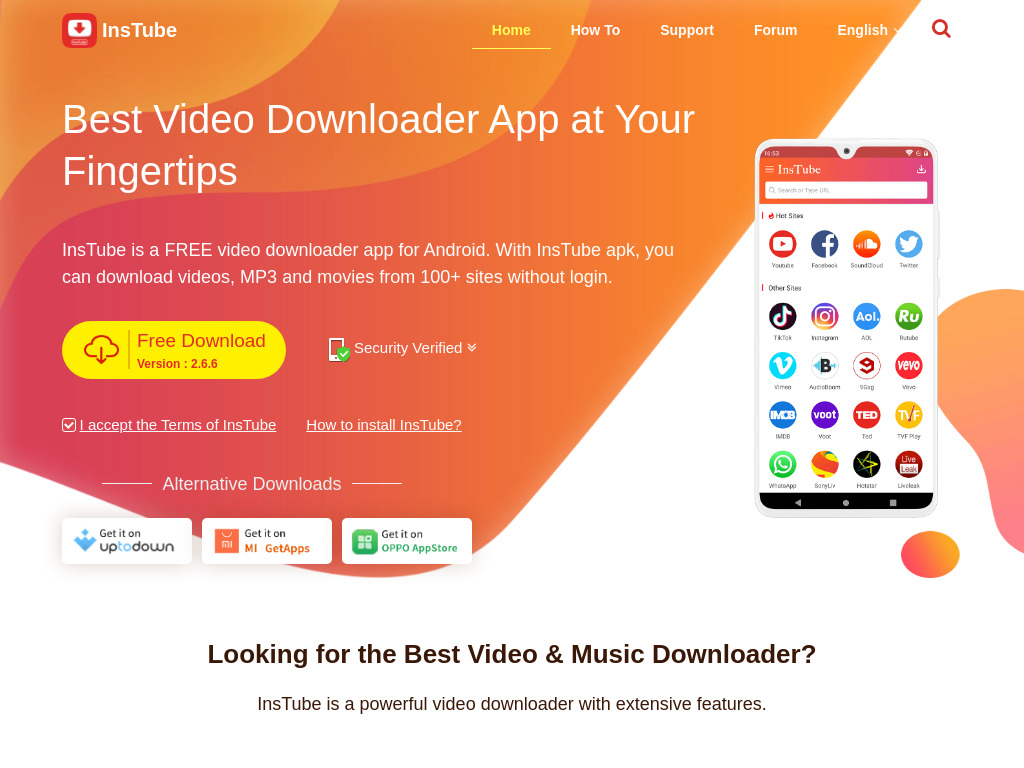 This popular video downloader app allows you to download videos and audio from over 100 websites. It is designed to enable multiple downloads concurrently without lagging behind.
You can save video and audio files directly to your device's storage, with the option to select the file's resolution and format. InsTube works as both a browser and a downloader app, which allows users to quickly grab a video while browsing the web. 
The app interface is simple and easy to use, with many customizable settings. You can download videos directly through the InsTube app by tapping the YouTube website icon to download, or you can use the "Share" icon while on YouTube below the video and choose "Download with InsTube." It will switch to InsTube.
5. Videoder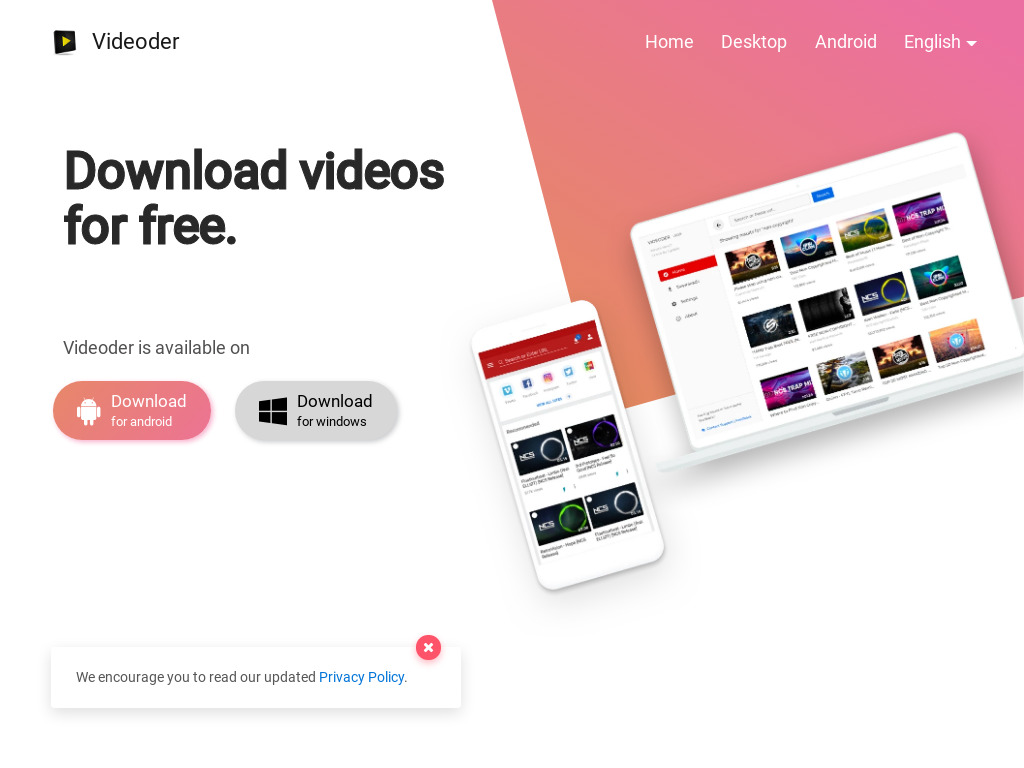 Another popular video downloading tool to try is Videoder. With its highly appealing interface and customizability, this app boasts a very smooth UI and simple features.
It provides increased download speeds and includes various themes, a night mode, a built-in video player, and other features. The program allows you to download videos from a variety of websites and apps, such as YouTube, Instagram, and others.
Videoder allows users to watch and download videos in a variety of formats. You can select any quality and share the video from within the app.
You can simply install the app by visiting their website since it's unavailable on the Google Play store. Once you've done so, open your video of choice, tap the share button, and click the Videoder icon to generate the links.
6. Y2mate.com
Positively, one of the most popular and easiest YouTube downloaders to use. Y2mate has a straightforward interface for downloading online videos.
The site allows users to search for videos by name or paste video links. This online download tool can extract video or audio from various applications such as YouTube, Facebook, Video, Dailymotion, and others. 
The app is great since it can be used on any device so long as there's an internet connection available. You can download YouTube videos on this site by the following:

Paste the YouTube URL or enter keywords into the search box.

Choose the output MP3 or MP4 format you prefer to download, then click the "Download" button.

The file conversion is completed, and you can download the file. 
7. NewPipe
This is a free, open-source application with an extremely user-friendly interface. NewPipe was made to provide users with the original YouTube app experience without annoying advertisements. 
Arguably, the most notable feature of this app is the background player, which allows you to view any YouTube video while using other apps.
Downloading videos on this tool is uncomplicated and provides fast download speeds. NewPipe allows its users to download YouTube videos and audio files in a diverse array of file formats and resolutions.
Moreover, the app protects users' privacy by not retaining user data or using any services that analyze user behavior.
Overall, NewPipe is considered one of the best free YouTube downloaders that don't need in-app purchases or advertisements. The download steps are super easy as well. All you need to do is click on the desired video after a straightforward search, and a download link will be generated with the quality and format you choose.
8. VidMate
VidMate is an excellent Android video downloader app. The app is extremely reliable for downloading YouTube videos. Users can search for files based on categories such as movies, music, and TV shows, or they can use the search bar instead.
VidMate offers fast video download speeds, but you can customize the rate and choose your preferred download location in the download settings. It also allows users to hide videos in an encrypted space within the app.
9. Yt5s
This is a free tool for downloading videos from YouTube to your devices. Regardless of its website format, Yt5s is a YouTube video downloader that works on all platforms, including Windows, Mac, Linux, Android, and iPhone. It does not necessitate any software download or installation.
Furthermore, Yt5s supports converting basic YouTube videos to several different video and audio formats and qualities for download, including MP3, 3GP, MP4, WMA, and many more.
To download a video on Yt5s.com, you merely paste the YouTube link or enter keywords in the search box. Then, choose the MP4 or MP3 output format you want to transfer and click the "Download" button. In a few seconds, the conversion is complete, and you just download the file.
10. YT3 YouTube Downloader 
YT3 YouTube Downloader is an Android app that allows you to quickly download any music or video from YouTube in mp3 or mp4 format.
It searches the web and displays the most relevant results. All that is simply needed is to click the download button. It is a simple yet powerful app with many great features, such as an easy-to-navigate user interface, high-definition downloads, and support for numerous video and audio file formats. 
Additionally, it includes support for lyrics. YT3 YouTube Downloader also offers a straightforward download procedure at lightning speed while requiring only a click on the download button.
The Bottom Line 

There you have it. You are now equipped with many of the tools you need to get all your fixes. With these, you can save YouTube content for free using the video downloader software. 
The tools listed above may have different features, but they ultimately all serve the same purpose: downloading music and videos. You can also change the resolution and the location where the file will be saved.
So don't stop by simply watching a video and putting it in your liked videos or playlists. Enjoy your favorite videos at any time on your phone with the help of these downloader programs, but don't forget to stream them occasionally!