What Is A YouTube to MP3 Converter?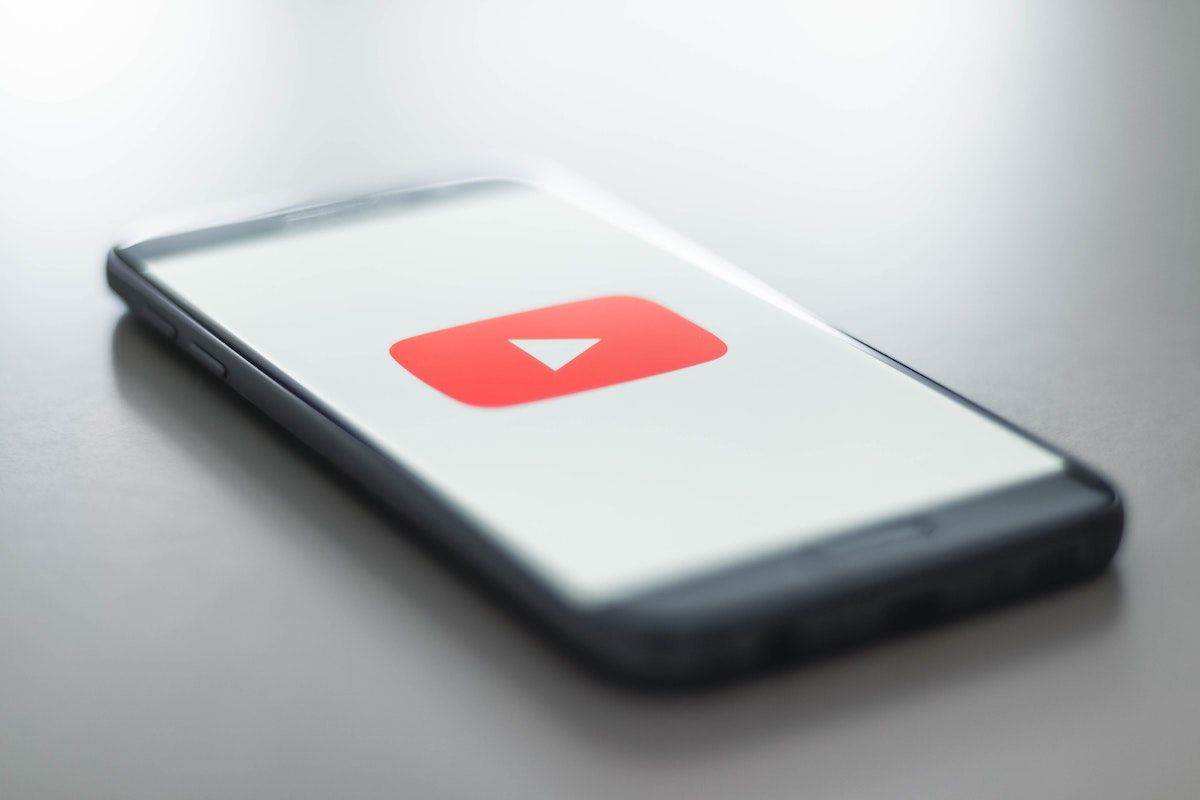 Have you ever found yourself playing a YouTube video when your only interest was to listen to the audio? Maybe all you want is to catch up with your favorite podcast or motivational speaker. It could also be that you're meditating and need a serenading audio that can help you to transition between the physical and the spiritual realms.
Now, the fact that YouTube is a video-based platform means that its contents are pretty much in audio-visual format. But as we've just highlighted, there are times when your interest is in the audios alone. It's also worth noting that YouTube videos only play when you're actively connected to a stable internet source. Therefore, it's necessary to convert YouTube videos into MP3 formats so that you can listen to your favorite audios on the go.
The best way to convert YouTube videos to MP3 formats is by use of special tools and services, which are simply known as YouTube to MP3 converter tools. This article reviews the most reliable and efficient YouTube converter tools.
How Do YouTube to MP3 Convertor Tools Work?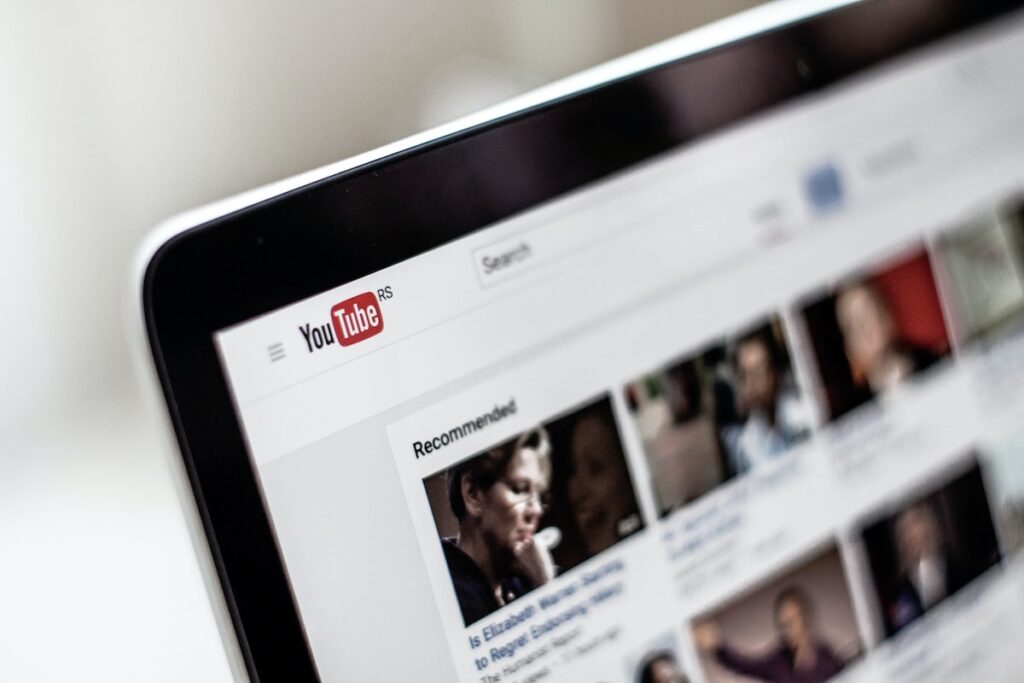 Although there might be a slight deviation in how they operate, most YouTube to MP3 convertor tools work in the following manner:
i. You open YouTube and search for the video that contains the song or soundtrack you're looking for
ii. Once you locate the video, open it and copy its URL
iii. Confirm that this is the track you're looking for by previewing it
iv. Paste the link to the converter tool
v. Press the 'Download' button on the tool or its equivalent. The tool will prompt you to choose your preferred file format (MP3 in this case).
vi. Once downloaded, play the entire song to check for quality
Best YouTube to MP3 Converters
This beautifully designed tool allows you to easily turn Youtube links into MP3 files in one click. Simply install the application on your computer, and start downloading your favorite music. Transfer the downloaded tracks to your smartphone, tablet, or flash drive to enjoy it everywhere you go.
Main Features: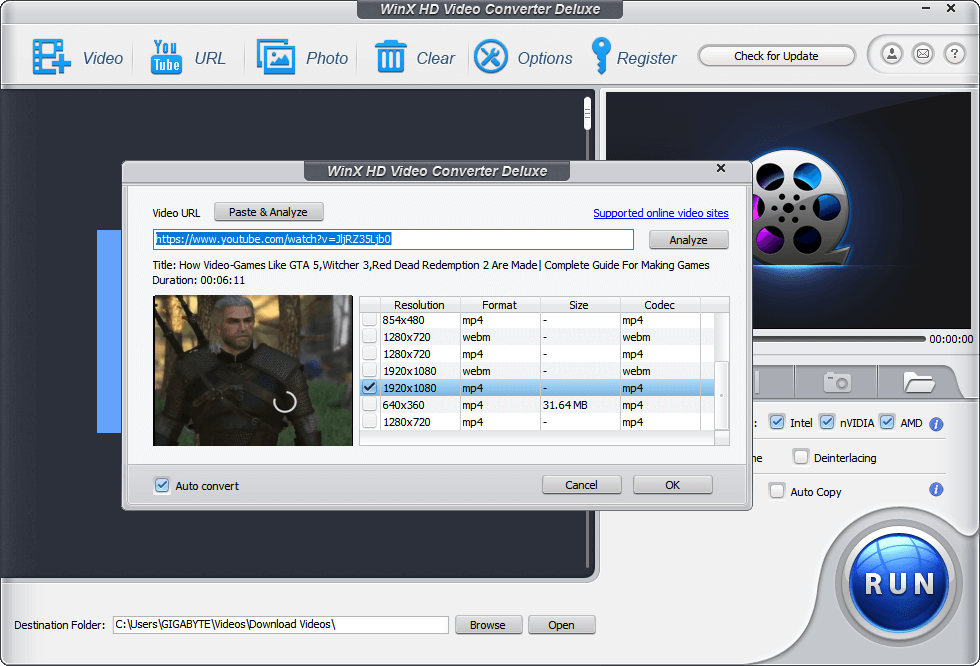 This software is a combination of video downloader and converter. It can batch download both videos and music from YouTube, and then extract MP3 from the downloaded videos. In addition to YouTube, WinX also supports to save videos from 1000+ sites. And by utilizing theGPU acceleration tech, it minimizes the CPU usage for a fast-ever video conversion.
VideoSolo Inovideo is a fast and secure video downloader that is used to download online videos to MP4 and MP3 from different websites with high output quality. It also supports downloading music in some music webistes, extracting audio from the video and save it as a separate audio file.
Main Features:
Both Windows and macOS are available.
It can achieve 8K, 4K, 1080P and 720P resolution.
Download video and music
Supports batch download
Free to try
Download4.cc is a free video download tool that supports downloading videos from over 1,000 websites. All you need to enter is the video link in the search box and the tool does the rest. Websites like Facebook, Twitter, Instagram, TikTok, Vimeo, Dailymotion, ESPN, and much more are supported.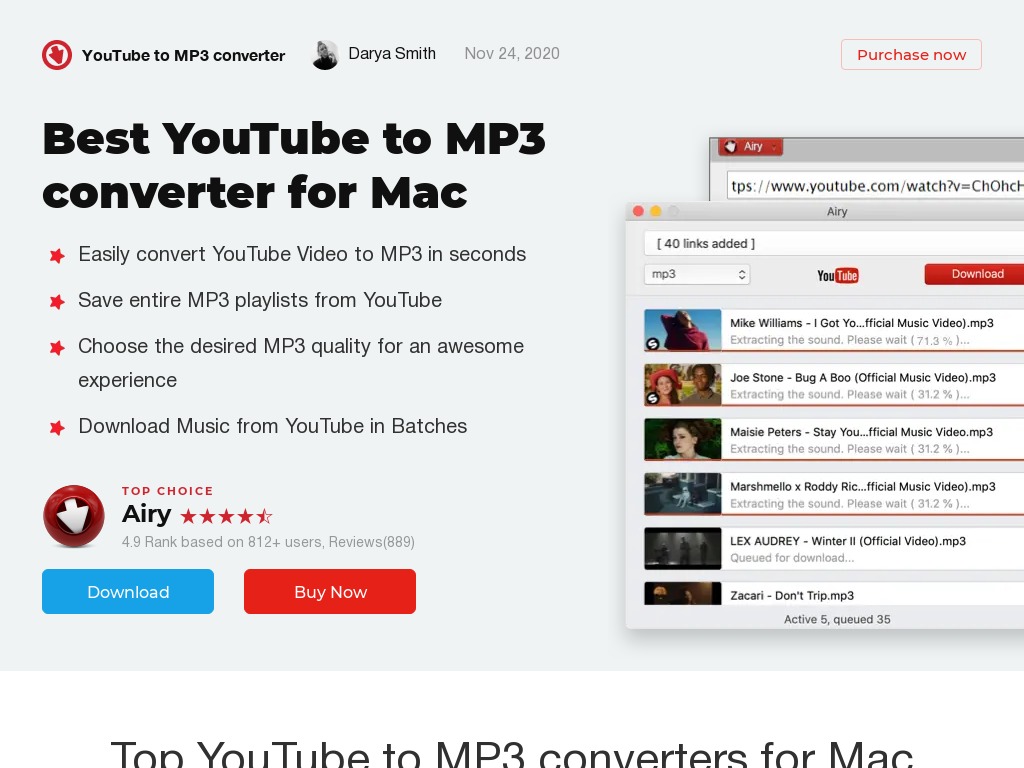 This Youtube to Mp3 converter works very fast. All you need to do is install it on your Mac, choose your desired URL, and flawlessly covert it to an MP3. You can even save entire music playlists from Youtube. The app supports MP4, FLV, and 3GP formats as well.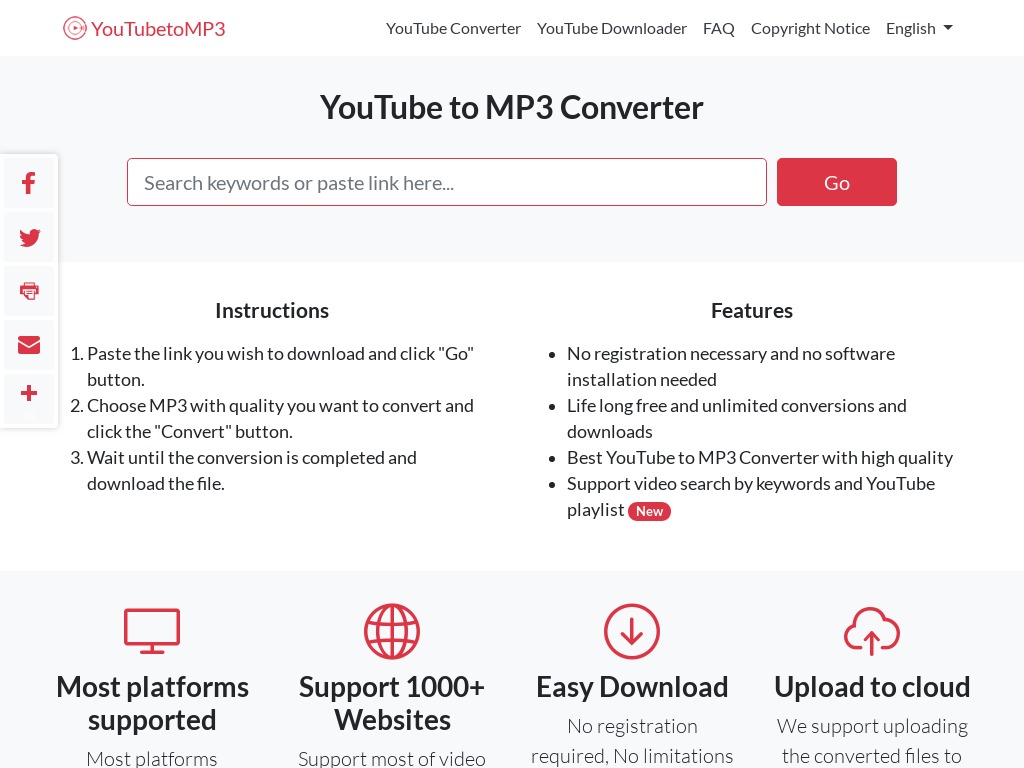 YouTubetoMP3 is another free YouTube to MP3 converter on this list that doesn't compromise on quality and download speeds. With this service, you can extract high-quality MP3 files of up to 320 kbps. And once converted, you can seamlessly play your tracks or upload them to more secure platforms like Dropbox and Google Drive.
YouTubetoMP3 supports unlimited conversions and doesn't restrict downloads based on video lengths. What's more – you require no registration or software installations to get started.
Free YouTube to MP3 Converter by DVDVideoSoft lets you convert YouTube videos to MP3 and lots of other file formats, including M4A, AAC, OGG, WAV, and FLAC. The tool is available for Windows, Mac, as well as Android devices.
Free YouTube to MP3 Converter sports a clean and clutterless interface, making it beginner-friendly. The best part is that the tool is available free of charge.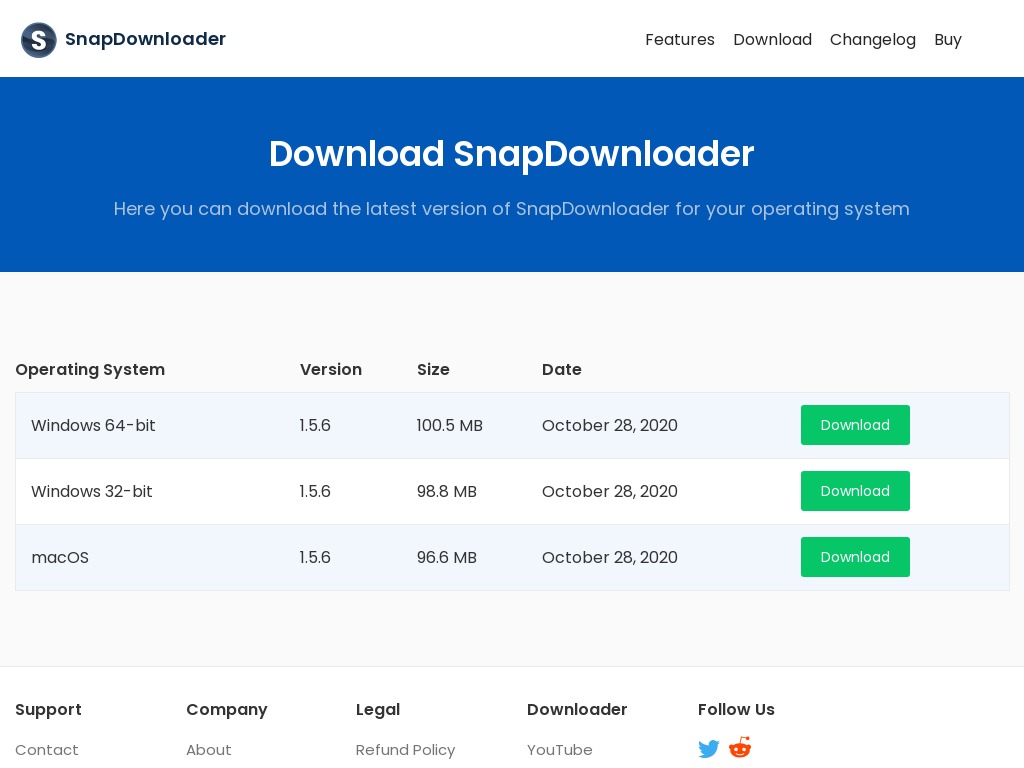 SnapDownloader is a desktop-based YouTube to MP3 converter tool that's compatible with both Windows and Mac operating systems. Just as the name implies, SnapDownloader works in seconds. But even then, the audio quality is never compromised.
The service supports hundreds of websites, including Facebook, Twitter, Dailymotion, and Vimeo. It comes with a 24-hour free trial period during which you can access all of its advanced features. After the trial period elapses, you only pay $19.99 for a lifetime license, which entitles you to free lifetime upgrades as well as 24-hour customer support.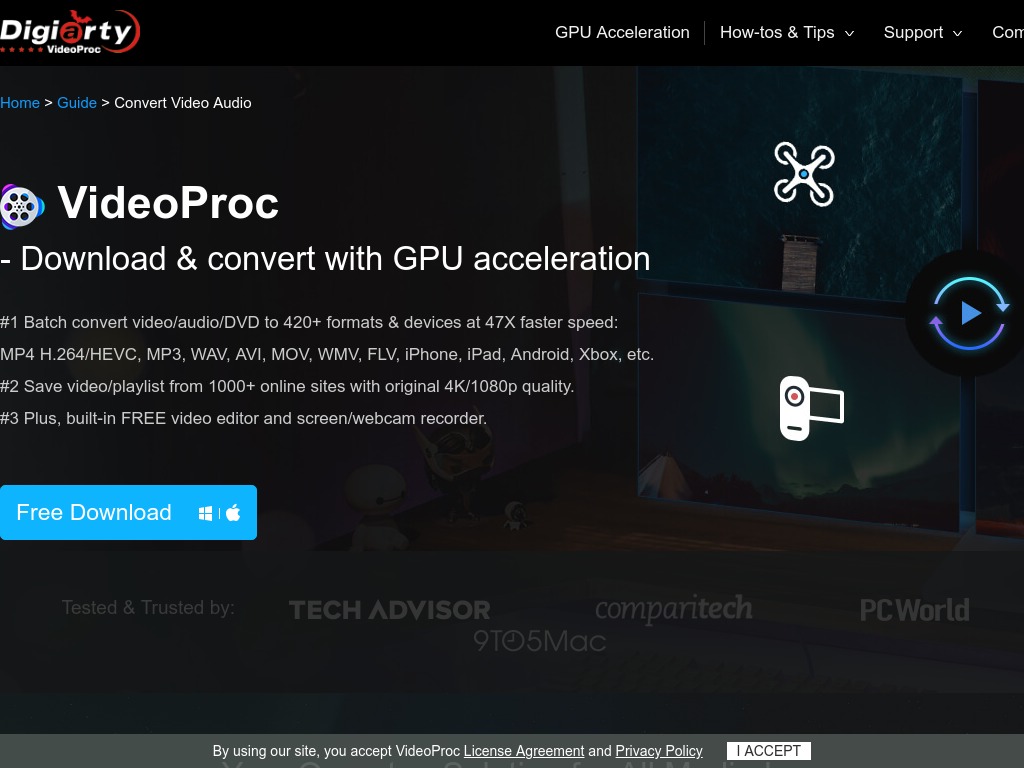 VideoProc is another YouTube to MP3 converter tool that prides itself on its incredible speeds. The tool can convert YouTube videos at GPU-accelerated speed. It's compatible with Windows and MacOS.
In addition to YouTube, VideoProc supports downloads from more than 1000 other websites. The tool comes with both free and paid versions. A one year license goes for $29.95, whereas a lifetime licenses will cost you $42.95. There's also the option of a family license at $57.95.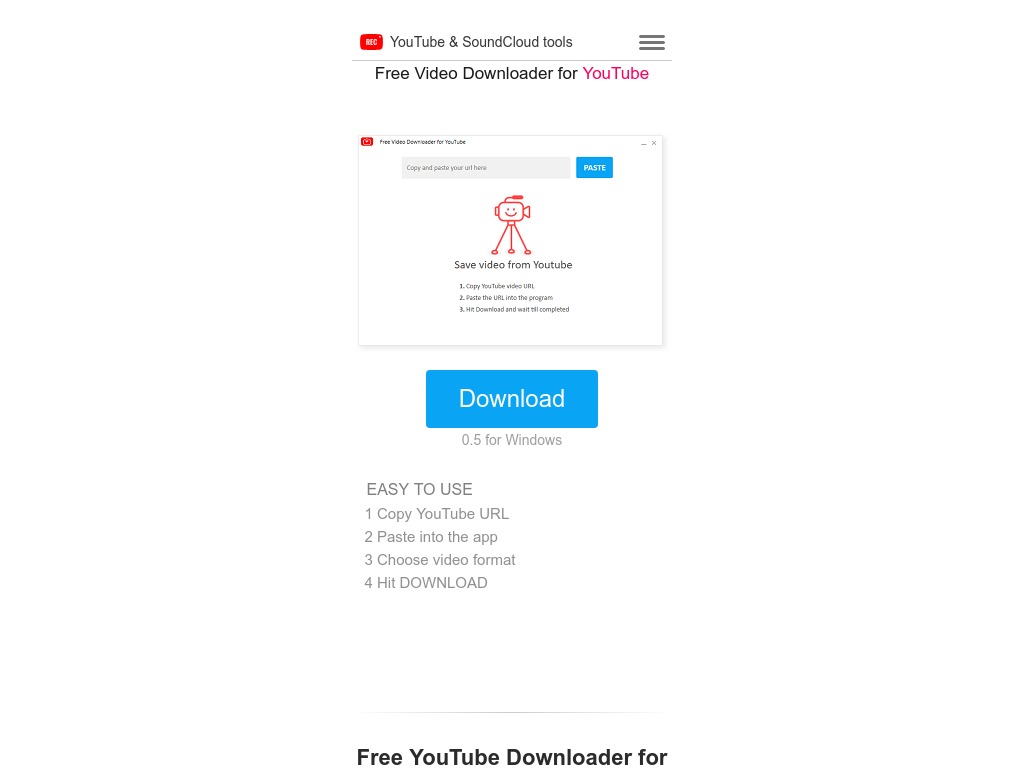 Free Video Downloader for YouTube is a fast and powerful YouTube to MP3 converter that allows you to convert your audios in the highest quality options, such as 4K and Full HD.
There are no speed limits, which means that you can convert your YouTube videos to audios in a matter of seconds. Suffice to mention that Free Video Downloader is a free service. Even so, it features a clean, ad-free interface.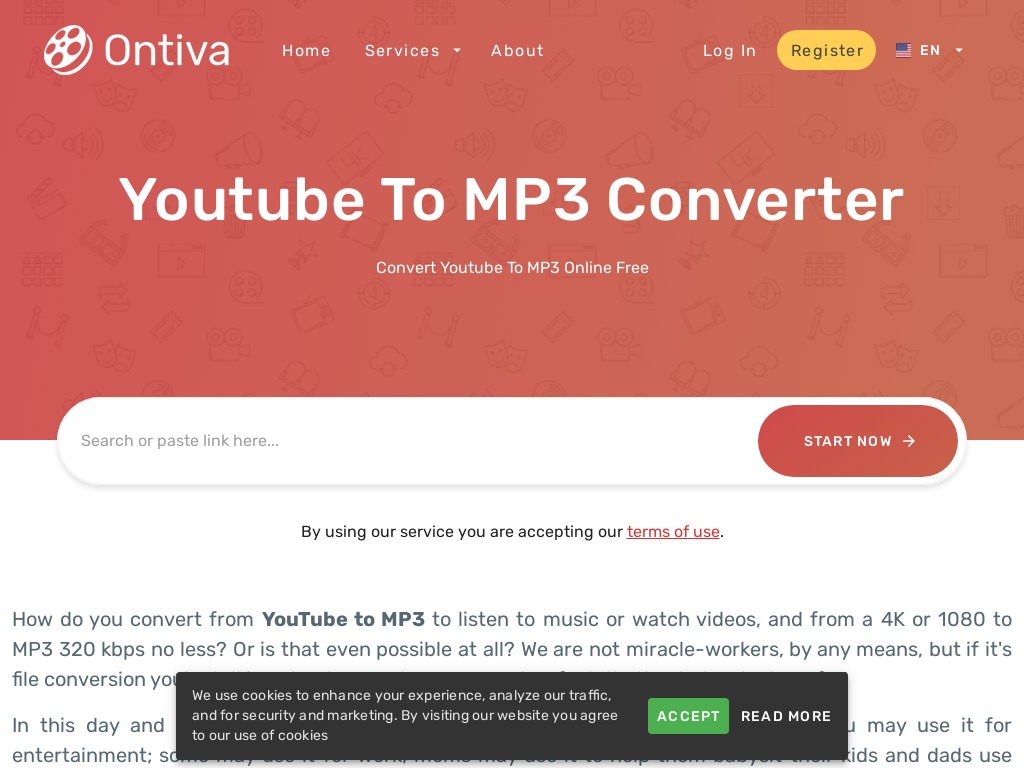 This free to use Youtube to MP3 converter is very easy to use. Simply paste the URL and the converter will get to work. No need to go through the hassle of downloading and installing software. As a music lover, I'm very thankful that this converter is optimized to deliver high quality 320kbps MP3 audio files. If you're an audiophile, you will the pleased.
13. Freedownloadhq
Freedownloadhq is a youtube to mp4 converter is easy to use and straight forward. After pasting your URL inside the search box, the tool will start downloading your desired video in MP4 format.
14. Getvideo.io
Getvideo.io is a video downloader that offers a quick solution to save your favorite videos from social media and other video platforms. If you can watch it, then you can save it. 4K, 2K, Full HD, 1080P, and many other exporting options are available.
15. Fastfrom Youtube to MP3
The best way to convert YouTube videos to MP3 formats is by use of special tools and services, which are simply known as Youtube to MP3 converter tools.
Here is a sneaky shortcut to downloading songs via Fastfrom
Method 1:
Just add "ff" to the video URL and press enter, then Youtube video will be instantly downloaded. Example: https://www.ffyoutube.com/watch?v=-e4HRHywkRE
Method 2:
Open the service page FastFrom.com with the appropriate tool.
Insert a link to the video of interest in the field. Links in different formats can be used, and the full list is provided in the form of a list.
Click the confirm button and wait for the conversion to finish and download the desired mp3 file.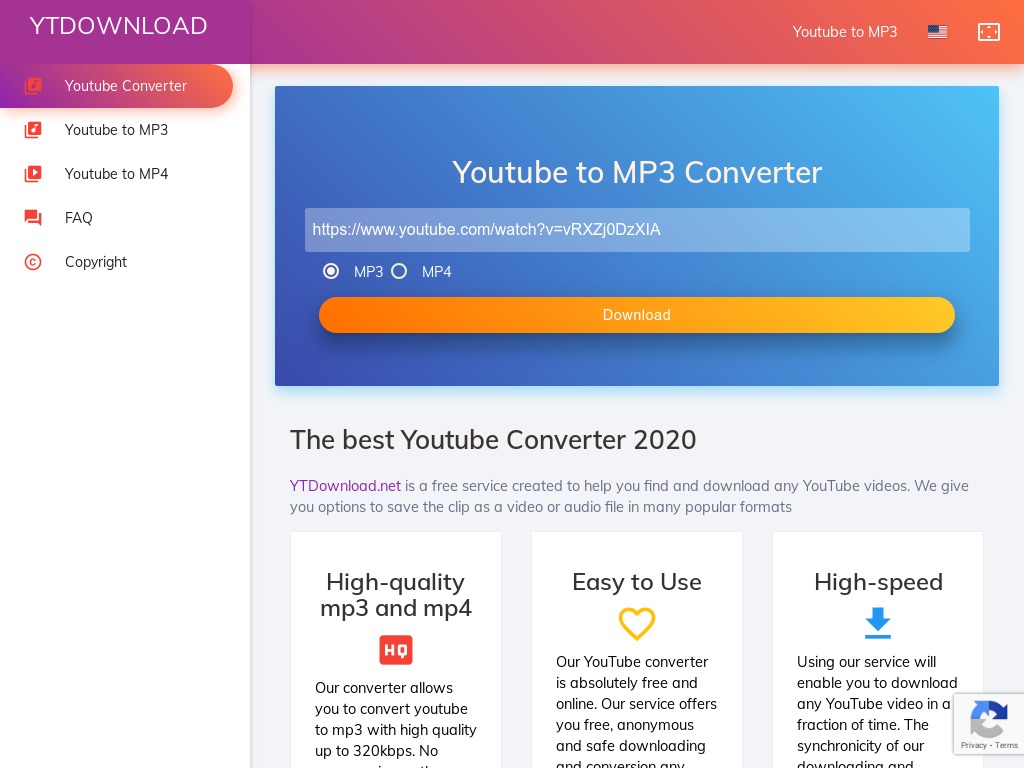 As you may already know, YouTube imposes restrictions when it comes to downloading copyrighted files. The best way around these restrictions is to use YouTube to MP3 converter tools that blocks copyrighted content, and MP3Convert.io is one such tool.
MP3Convert.io also scores highly as far as download speeds and quality are concerned. Plus, it's free to use and features no invasive ads. However, MP3Convert.io also imposes its own restrictions in terms of the video length you can download.
The name says it all. Any Video Converter converts any video to MP3 format, be it a YouTube video or videos obtained from other platforms like Amazon, Netflix, Vimeo, Spotify, etc. The tool supports more than 100 input formats and over 160 output formats. It utilizes NVIDIA NVENC accelerated encoding, which guarantees flawless and lossless downloading of 4K videos.
You can use Any Video Converter without worrying about distracting pop-up ads, malware, or spyware. The service comes with a 30-days money-back guarantee, unlimited free upgrades, and lifetime customer support. Paid versions start from $49.95.
Want to download Youtube video and convert it to an MP3 file? Ythub makes it super easy to do so. They provide various options of MP3 format with different file sizes. After downloading, you can transfer the file to your smartphone (iPhone, Android), tablet, or MP3 player to continue enjoying your favorite song, podcast, soundscape, or show.
4K Video Downloader converts YouTube videos to MP3 in high resolutions, including 4K, HD 1080p, HD 720p, and 8K. You can use this tool to download videos from YouTube as well as hundreds of other platforms, including Facebook, TikTok, and Vimeo.
The service works on Windows, Linux, and Mac devices. It comes in both free and paid versions. Paid plans cost $15 or $25, depending on the range of features offered.
MP3 Juice is easier and faster than ever with their advanced media conversion technology. Simply search for the video or paste the exact URL and the tool will allow you to download it.
ATube Catcher is a video downloader and screen recorder, all rolled up into one. The tool helps you to convert YouTube videos to MP3 and several other file formats, including 3G2, 3GP, AVI, XVID, MP2, MP4, GIF, FLAC, WMA, WMV, WAV, VOB, OGG, PSP, MPG, MOV, and AVI.
ATube Catcher is also compatible with Windows, Android, and iPhone devices. It features a multilanguage interface, supports downloads from scores of other websites, and is 100% free.
22.
MP3FY
MP3FY is a free YouTube to MP3 converter tool that's incredibly easy to use. You can complete the entire conversion process in just two clicks. MP3FY is designed with a search functionality that helps you to hunker down on the YouTube content you're looking for.
There's also an in-built feature that automatically converts your videos in the highest possible bitrates. What's more MP3FY – doesn't impose any restrictions on video/audio lengths. Plus, you can even access and convert videos that are currently blocked in your country.

One of the best things about BigConverter is its compatibility with numerous operating systems, including Windows, Android, iPhone, Linux, etc. The tool works online, which means that you won't need to download it.
BigConverter is also one of the free YouTube to MP3 converter services on this list that comes with a host of advanced features, including file editing and cloud support. You can extract your audio files from YouTube and tons of other websites like Facebook, Twitter, Google Drive, Instagram, and Vimeo.
YTMP3 is your go-to service if you're looking for a mobile-friendly YouTube to MP3 converter tool. The service works efficiently on mobile devices as it does on computers and tablets. It converts videos into high-quality audios in a matter of minutes.
YTMP3 is also free to use and you don't need any registration to get started. But like MP3Convert.io, YTMP3 has restrictions on the length of videos you can download in one go.
25. Go-mp3.com/en13 – Download MP3 files from YouTube videos and save them on your computer.
26. 320ytmp3.com/en7/ – Enables you to download and convert YouTube video to MP3 music with high quality up to 320kbps.
27.  Yt1s.com/en7 – Convert and download Youtube videos in MP3, MP4, 3GP for free.
28. Clickmp3.com/en13 – Download high quality MP3 files from YouTube.
29. Ytop1.com/en18 – Download & convert videos from Youtube, Facebook & 500 other famous websites
30. Y2mate.is/en44/ – Quickly convert and download your favorite Youtube videos to mp3 audio format.
31. Onlinevideoconverter.pro – Reliable online YT to mp3 converter with unmatched download speed.
32. Savemp3.net – a highly versatile service that allows you to convert music or videos from a variety of different sources.
33. Hdmp3converter.com – HD Youtube Video Converter & Downloader.
34. SnapDownloader – Great video downloader for Windows and macOS.
35. ClipGrab – ClipGrab is a free downloader and converter for YouTube, Vimeo, Facebook and many other online video sites.
36. MP3Studio – Your own YouTube downloader for PC!
37. aTube Catcher – The most popular Video Downloader and Screen Recorder.
38. KeepVid – Convert video and audio, edit video, compress video online. 100% free and safe.
39. yt5s.io – Tool to download Youtube video in 1080p, 2160p, 2k, 4k, 8k.
40. Dnapsave.io – Convert Youtube videos to mp3 in the highest quality.
Wrap Up
The above-reviewed YouTube to MP3 Converter tools work automatically without having to download the video first and then extract the audio file manually from it. Which saves you time as well as the cost you'd otherwise incur in purchasing editing software like iMovie, Adobe Premier Pro, or Final Cut Pro. The tools we mentioned today are also perfect for creating montages or roundups. Just download relevant video clips, for example I like to collect the funniest family guy moments, then merge video clips together, and upload it to Youtube and share it with my close friends.