One of today's popular web development practices involves the use of stock footage clips or video loops as website backgrounds. The videos are used to capture the interest of the site's targeted traffic. Your website is accountable for several factors that are crucial to the success of your business.
It offers useful facts about your products or services, collects critical contact details for lead generation, and even generates additional revenue if you implement an e-commerce plan. Therefore, the success of your website depends on its ability to appeal to and engage potential clients or users efficiently.
The Rise of Stock Videos for Web Design
The growth of the <video> tag in HTML5, new JavaScript strategies and breakthroughs in CSS has enabled web developers and designers to include more videos into websites without any significant complications with rendering.
This rise in popularity of using stock videos is visible throughout the internet, as increasing numbers of sites use full-screen video backgrounds page after page – and for a good reason. Based on a study conducted by Mist Media, on average, online users put in 88% more time on a site that features a video.
Also, user's knowledge of brand products boosts by 74% after watching a clip about the product. These numbers only prove one valid point – the use of stock video works.
How to Use Video Background on Websites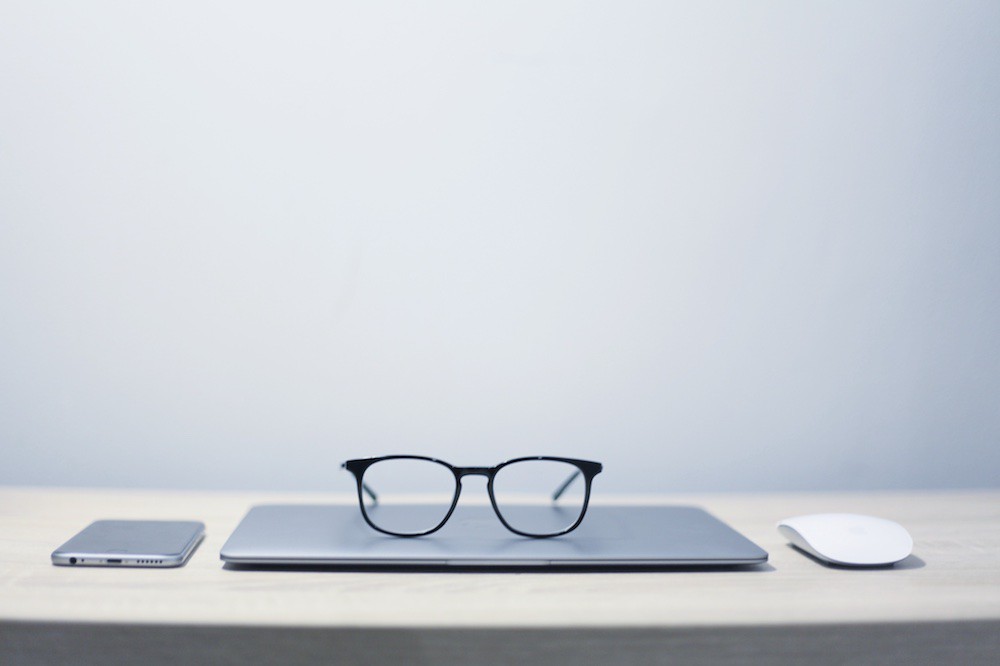 If used correctly, a video background on your site can be a big help in capturing the attention of your target market. Marketers love using video backgrounds since they make websites look advanced or cutting-edge.
They also create a sense of artistry that fixed imaged backgrounds are unable to meet. Websites with video backgrounds also have a higher conversion on sign ups and opt-ins from the site visitors.
According to FoodBloggerPro, websites can get up to 138% growth in conversion when the homepage's static background image is changed to a video background. It should be noted that such high statistic is the result of tests ran from a business POV.
So, it's fair to say that not all who use a video background – particularly those who own DIY websites –  will be able to see similar results. Having said that, even a 10% improvement in conversion and engagement is not bad, especially for new website owners who run their site without professional help.
When should you add video background on your website?
Video background is most efficient when you're able to use it to set a tone, create a vibe or stimulate an emotional reaction.
On Businesses and Organizations
Video backgrounds work well on professional websites like a consultancy business or a non-profit organization. Use a video background to display clips on how the staff handles the needs of different clients.
These snippets give your prospective clients an opportunity to become familiar with your process before even meeting with you. Also, it paints a clear visual representation of what they can expect you'll do to attend to their concerns.
Digital Products or Physical Services
Video backgrounds work extremely well if you're marketing a product or service. Create a video that demonstrates how people can use your product or service to fix their problem.
Show them how you're able to provide a solution. The important thing here is to invigorate the type of life your clients could have if they buy and use your product or service. By showing them a specific way of life, you're making them wish for what the video is showing them.
Experiences
Video backgrounds are particularly powerful in creating a sense of excitement, urgency or vibe. This strategy works effectively if you're an event coordinator, a B&B owner, a tour guide or any profession that relates to destination adventures, activities and experiences.
Physical Locations
Video backgrounds are best to showcase the beauty of physical locations like cafes, hotels, and resorts. It's easier to capture the attention of your market by showing them what they can experience rather than describing the place in paragraphs.  Video backgrounds can turn into visual guide tours to encourage potential clients to visit the place.
When should you NOT add video background to your website?
While video backgrounds are very effective in catching the attention of site visitors, they can backfire if you need your target audience to concentrate on very specific content on your site. It's almost impossible to disregard a video, and so if it's used aggressively, it may overpower other important pieces of content that your audience should pay attention to.
For this reason, a video background is often not recommended if you have an elaborate product or service that requires a comprehensive explanation for your target market to understand. In these scenarios, a video background may just draw attention away from the important details you need to highlight.
It's important that you realize that not all trend or strategy for web development applies to your business. If you're unsure if a video background is good for your website or brand itself, you can do a trial run for a week.
Monitor the conversion and engagement during the trial period and compare it to a timeline where your site only had a fixed background image.
Guidelines for Choosing a Stock Video Loop
While using a video background on the loop can improve your website, there are some factors you must consider during the selection process:
Relevance
It's likely that you've already come across websites where the video backgrounds have nothing to do with their product or service. Those sites are an example of choosing videos that are a poor fit. You must only use a video background if it can put emphasize more on the message shown in your content and copy.
Contrast
The video must contrast with any current features on your website. The objective of adding a video is to enhance the site's message – rather than diminish it – while still being unique enough to be acknowledged. A good example of contrast is the design of Airbnb's website: the homepage displays against a white "Welcome Home" background.
Duration of the Video
As your video facilitates the general message of your website, make sure there's sufficient copy on the page that communicates this without having to rely too much on the video. Like if you have a long video, viewers aren't likely to watch the whole thing, and, as a result, won't fully grasp your message.
A time-consuming video also puts stress on your servers and hinders the speed of your website. On the other hand, if the video is too short, the viewers will still find it confusing given it's repetitive .gif- like approach.
Browse and Cross-Device Compatibility
Like all elements of your website, a video background on loop must be optimized for different browsers and devices. A fixed placeholder image, such as a still from the clip, should show for web visitors on handheld devices or browsers that don't have particular video support.
Also, your video must support your site's message without drawing attention away from the other content relevant for all users using different browsers or devices.
Audio-Less
The audio that auto-plays when a page loads is rated as one of most infuriating elements when it comes to web experience. This is particularly true if the site starts blasting crude noises at work.
A video background instantly plays when you load a website, so if your video has sounds, the audio will also play automatically. If the audio is not an essential element in your video, make sure to mute it. Otherwise, choose or record sounds that won't annoy listeners. Youtube actually has thousands of royalty free songs which you can download MP3 and use in your videos.
Now, onto Free Resources:
Hard-coding a video background is an advanced skill. If you don't have the chops to do so, don't start a DIY approach for your website as it's too important to experiment with. Instead, use free stock footage and video clips online. There are tons of free resources you can check out. Here are the top 22: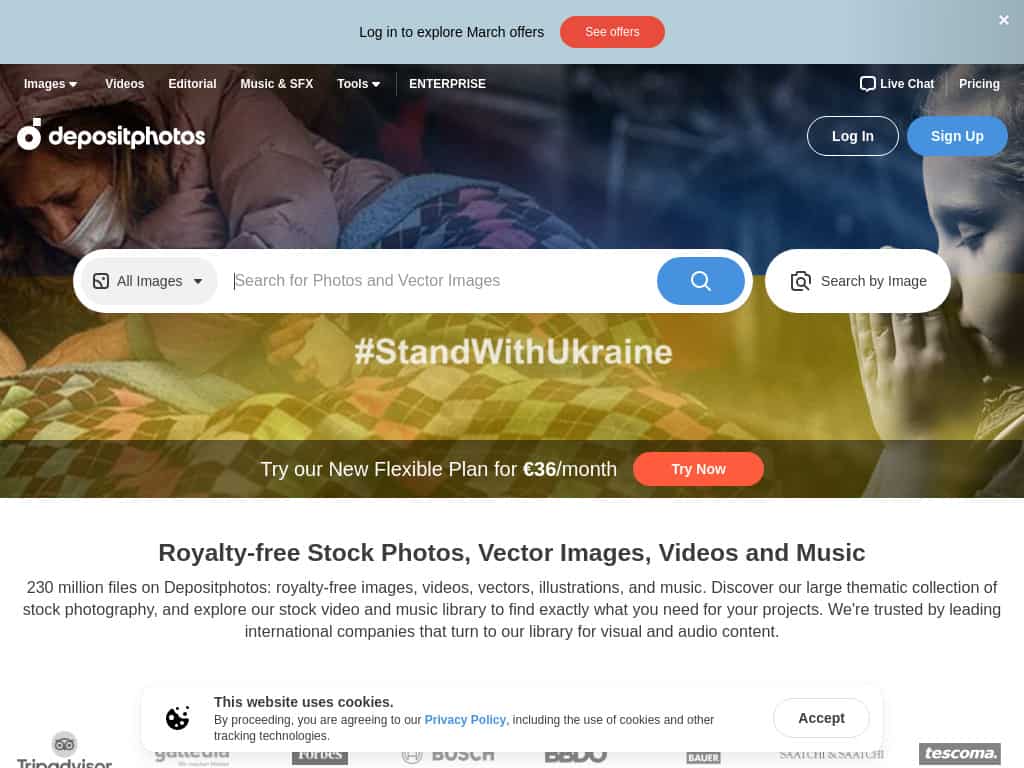 Depositphotos is an international stock content platform featuring 230+ million photos, vectors, illustrations, videos, music tracks, and sound effects. The library alone offers 11+ million high-quality, royalty-free videos in SD, HD, and 4K quality. Users can download files by purchasing affordable subscriptions or on-demand plans. 
In addition, there are 70,000+ free stock visuals. The content library is updated daily, and the stock footage is sorted into multiple categories and thematic collections. You can quickly find clips created by international contributors using AI-powered search filters.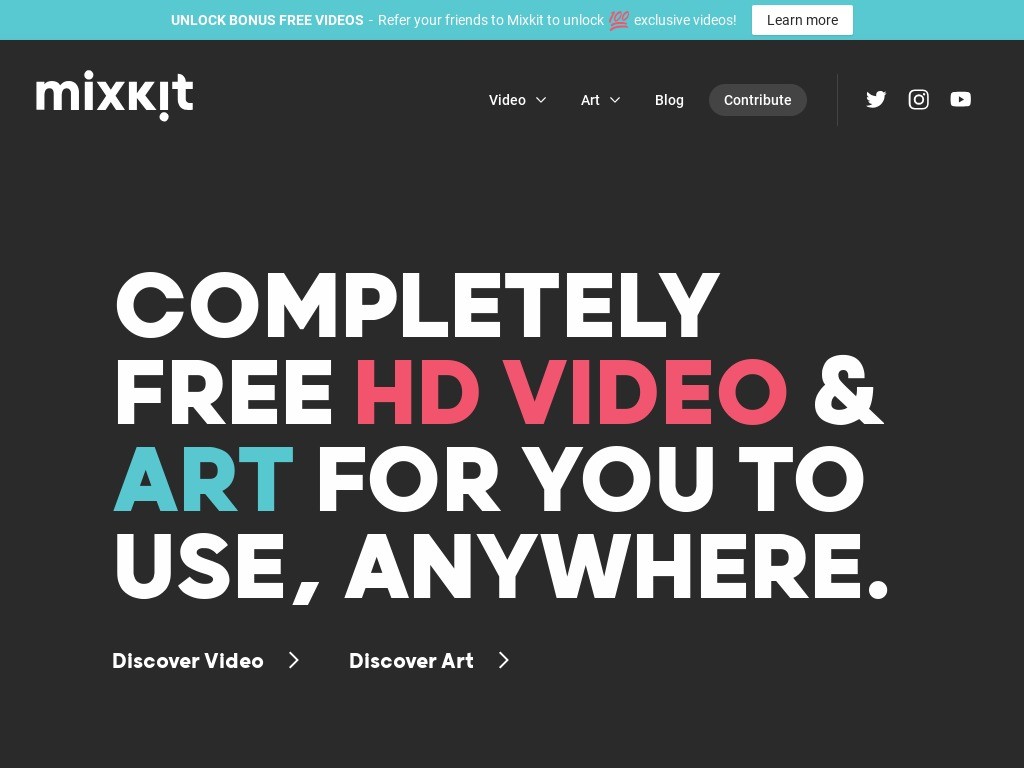 Mixkit is a gallery of extraordinary videos and beautiful art. They offer freshly curated content every single week. The icing on the cake is that everything is free. Find beautiful free visual art to add to your next project today!
Coverr is a collaboration between Veed.Me and CodersClan, two of the fastest-growing startups today. The website features a library of free videos which users can use on their websites. Every Monday, the site uploads seven newly shoot videos aka Coverrs.
Mazwai features an extensive collection of slow motion videos that can be a great fit for website homepage backgrounds. Time lapse videos are also available.
HD Stock Footage is a Vimeo group created and curated by Vimeo user Phil Fried. The collection of videos is pretty diverse – from graveyards to vineyards, from sun reflections to pollution, disco clubbing to beach bumming, and so on.
PEXELS features an extensive collection of good-quality CC0 license videos, which are available for download free of charge. The videos are particularly suitable for landing pages. Users can get a weekly roundup of their newly released videos through their subscription mailing list.
Beachfront B-Roll features unique HD stock footage clips users can download for free. The site also offers animated backgrounds suitable for any production design purposes. All videos use a straightforward "right-click-save" function.
Vidsplay displays new royalty free video loops every week. The site's directory contains a decent collection of videos, although they are uncategorized. Users can download as many videos as they want for free.
Videvo offers a vast library of stock videos and motion graphics for free. The site, created by Tom Limb, has over 3600 HD videos. Videvo is fast becoming the go-to resource for free stock videos.
Videezy features good-quality stock footage clips users can download for free. The site has thousands of videos sectioned by category and date for easy look-up.
Cute Stock Footage, founded by childhood friends Michael and Chris, offers video, sound and photo materials for newbie and pro filmmakers and video editors. Users need to pay a small fee to download high-quality multimedia files from the site.
ClipCanvas, founded in 2007, is now one of the best resources of royalty-free video clips for both amateur and professional video editors and designers. The site features over 600,000 videos as of date, shot by tens of thousands movie makers worldwide.
Distill is a video clip resource designed for the creatives. The site features curated free videos suitable for any commercial and website projects. Distill uploads ten new videos every ten days.
Motion Elements has an extensive selection of royalty-free video clips on virtually every subject imaginable. The site's library offers free video clips and free HD videos for download. All Motion Elements videos are compatible with several premiere video editing software.
Life of Vids, founded by an ad agency in Montreal, features royalty-free videos, clips, and loops with no copyright limitations. The site offers high-res files users can download through the brand's Vimeo account. New videos are added every week.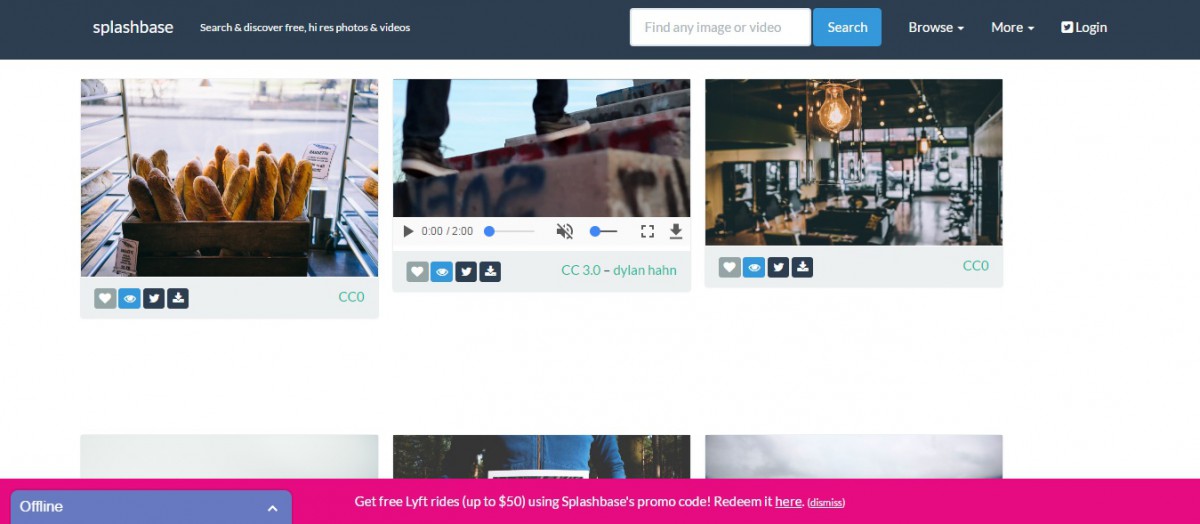 Splashbase is a "search and discover" platform for free high-res stock photos and videos. Users may also submit their own pictures and video clips.
Open Images is an open media platform created to help searchers find top-quality audiovisual resources for their film, commercial or online projects. The program is designed by the Netherlands Institute for Sound and Vision. Knowledgeland is known collaborator of the program.
NASA Galleries, as the name suggest, features a video gallery of the latest launch videos and animations from NASA. The site also posts mission updates. All clips on the site are HD.
XStockVideo offers high-res stock videos, clips and images users can download for free. The site houses hundreds of HD footage clips.
Vidlery is a cool source of unique animations users can download as backgrounds for their respective sites. They only have to download their favorite animation and upload it to their website.
Stock Footage For Free, as the name suggests, offers free stock footage videos and clips. The site features an extensive collection of professional quality videos.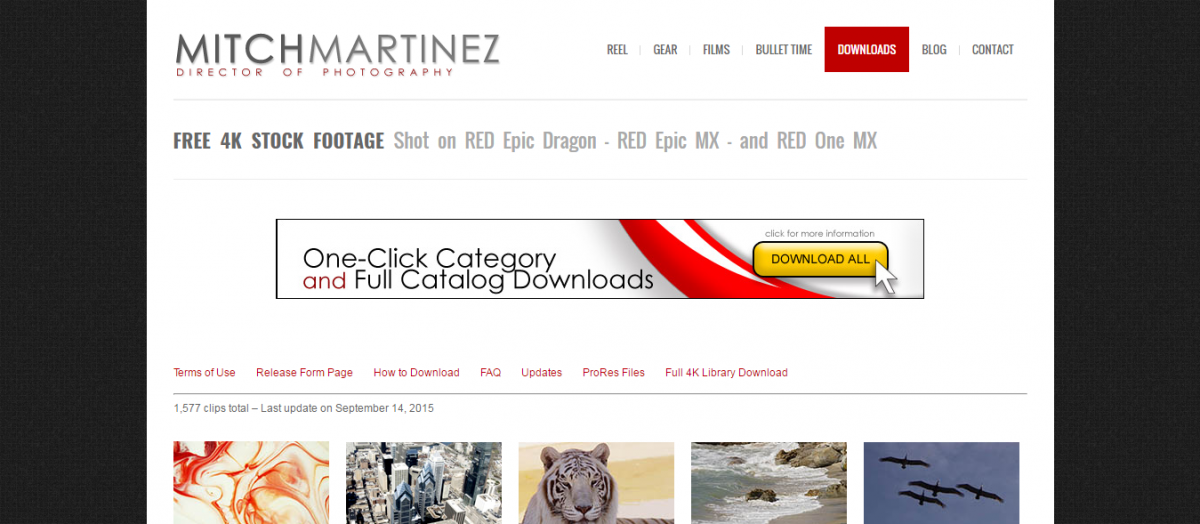 MitchMartinez.com features a free 4K stock footage videos and clips for free. For easy search, the videos are divided by category.