Last Updated on April 3, 2023
When people think of style, they often think of clothes or shoes. The clothes you wear represent who you are and give people a picture of you. However, most people also agree that their homes and apartments can showcase their style too! If you are decorating your home, you need to make sure it has features and pieces that show who you are as a person. 
One way to show guests and visitors your style is by making your living room fit your style. This includes the furniture you choose, the photos you hang, and the colors you paint the walls. This guide will help cover some easy and simple steps to take to make sure your living room represents you! 
Add Your Favorite Colors 
Just like with clothes, you can add some things within your home that are your favorite colors. Since colored couches and upholstery tend to be more expensive, you can always accent with your favorite colors and keep your current furniture or buy new couches that are a neutral color. 
Adding a pop of color is also trending in 2022. You'll notice that many home designers are using bright colors to create splashes of color in otherwise neutral-colored rooms. 
Add Some New Seating 
If you have the budget to buy some new pieces for the room, consider getting a new couch or loveseats. These sale loveseats are a great addition to any room because they are modern and spacious. It's always important to have nice places for your guests to sit so they can be comfortable in your home. 
Having a nice loveseat is also a nice place to relax when you get home from a long day of work. Many people prefer loveseats to traditional couches because they take up less space. If your room is large enough though, you can always get a matching love seat and couch.  
Choose Moveable Furniture 
This one is important because you might always want to be changing up the room and the position of the furniture. Moving around furniture can make your space feel new even if you have lived in the same home for years. Lightweight furniture can be moved around easier. 
Tables, ottomans, and stools should also be easy to move. This makes it easier to have visitors as well because you can move around the furniture to make more space for people to sit. 
Get an Area Rug 
Getting a nice carpet or area rug can add more style to your room because it adds extra color and texture to the room. Make sure the area rug is the right size. You should still be able to see the bare floor around the edges of the carpet and it should not touch the walls. 
Getting a rug that's too large might make the room seem too crowded. Pick a rug that showcases your style whether it be a funky design, a solid color, or something that is textured. 
Add in Lighting 
Some people like bright rooms while others like their rooms to have more warmth. No matter which one you prefer, make sure to pick lighting pieces to match your unique style. Lamps on end tables are a nice way to add warmth or more brightness depending on the shades and the bulbs you choose. 
Adding in Wall Art 
Putting art on the wall is one of the top ways to showcase your style. You can buy art from an artist or get printables from online sources and frame them yourself. Some also choose to frame their own photos from traveling or other experiences. 
The best part about wall art is that you can mix and match it. Feel free to add in some of your own photos along with the ones you bought. The frames can also be unique to match your style or you can hang them without frames. 
Choose Your Own Layout 
Part of designing your own eating room is making the layout. You can visualize it in your head or you can actually draw it out with pen and paper. While it can be tempting to just start placing furniture anywhere, you need to make sure you have measured the space and have an idea of the placement of everything before just bringing things into the house. 
When making the layout, also keep in mind where outlets are located as you will need to plug in the TV, lamps, and other items you might have. 
Add Some Greenery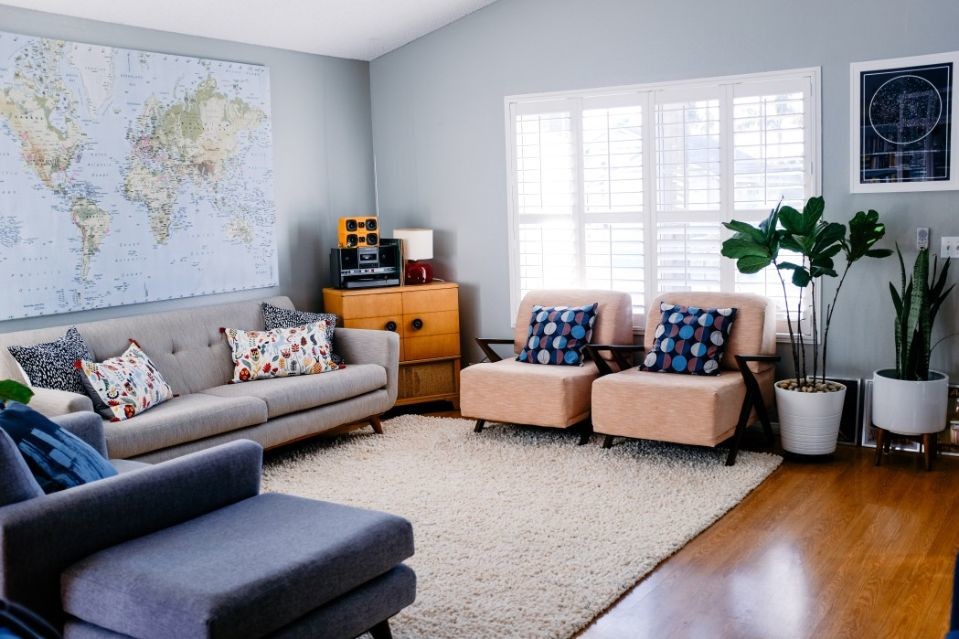 Adding faux plants or real plants is a major decorating trend in 2022. Faux plants are perfect for those who don't have time to water plants. Faux plants are also perfect for rooms that do not receive a ton of sunlight and for those who have allergies. 
Plants often look best in corners but try placing them in several different areas and see what looks best! 
Make a Theme…or Don't 
If you like things to match and look well put together, you can make a theme for the sitting room. Buying furniture and decorations according to a theme is a fun way to show your style. If you prefer to just go with the flow though, you don't need a theme! 
You can buy pieces as you find them. You can even find great items at vintage or third stores if your style is less modern. If you're not sure what your style is, you can always go with minimalism as it has been trending for years now. Minimalist furniture is also easy to decorate with and style since the colors are neutral. 
Make Your Living Room More Stylish Today 
Redesigning your living room might seem like a huge task, but with the right vision and tips, it can be easy Just make sure to have a layout and some measurements in mind when buying big pieces of furniture. Making your living room your own will make you feel more at home and show people your uniqueness as soon as they step foot in the door.