What Is an Invoice Generator?
Invoicing is a crucial process in any business, be it an SME or giant corporation. Basically, an invoice refers to a document that you send to notify your clients concerning the products or services you delivered, so that they can fast-track your payment. Invoices generally specify the types of goods or services you supplied, as well as the quantity supplied, the cost per unit, and the sum total.
Besides reminding your clients to make payments for the goods delivered or services rendered, an invoice can also help you to track your revenue and organize your finances properly. Plus, your clients are likely to take you more seriously when you invoice them as opposed to issuing verbal, phone call, or email reminders.
But as important as invoices are, the invoice generation process also happens to be a time-consuming affair. Fortunately, there are tools and services or you can also use an invoice creator that can help you to create invoices fast and use those invoice templates readily within your web browser. Such tools are known as invoice generators.
To make your work easier, invoice generators follow a special template that usually includes crucial details pertaining to the nature of your business. The best thing is that these templates aren't cast in stone, as you can always customize them further to suit the specific needs of your business.
Now, it's important to reiterate that invoice generators are not the same as invoice tracking apps. While you can also use an invoice generator to track your invoices, their fundamental role is creating invoices.
This post shall highlight some of the most reliable apps that you can use to generate invoices fast and hassle-free.
Best Invoice Tools & Generators
1. Indy Invoice Generator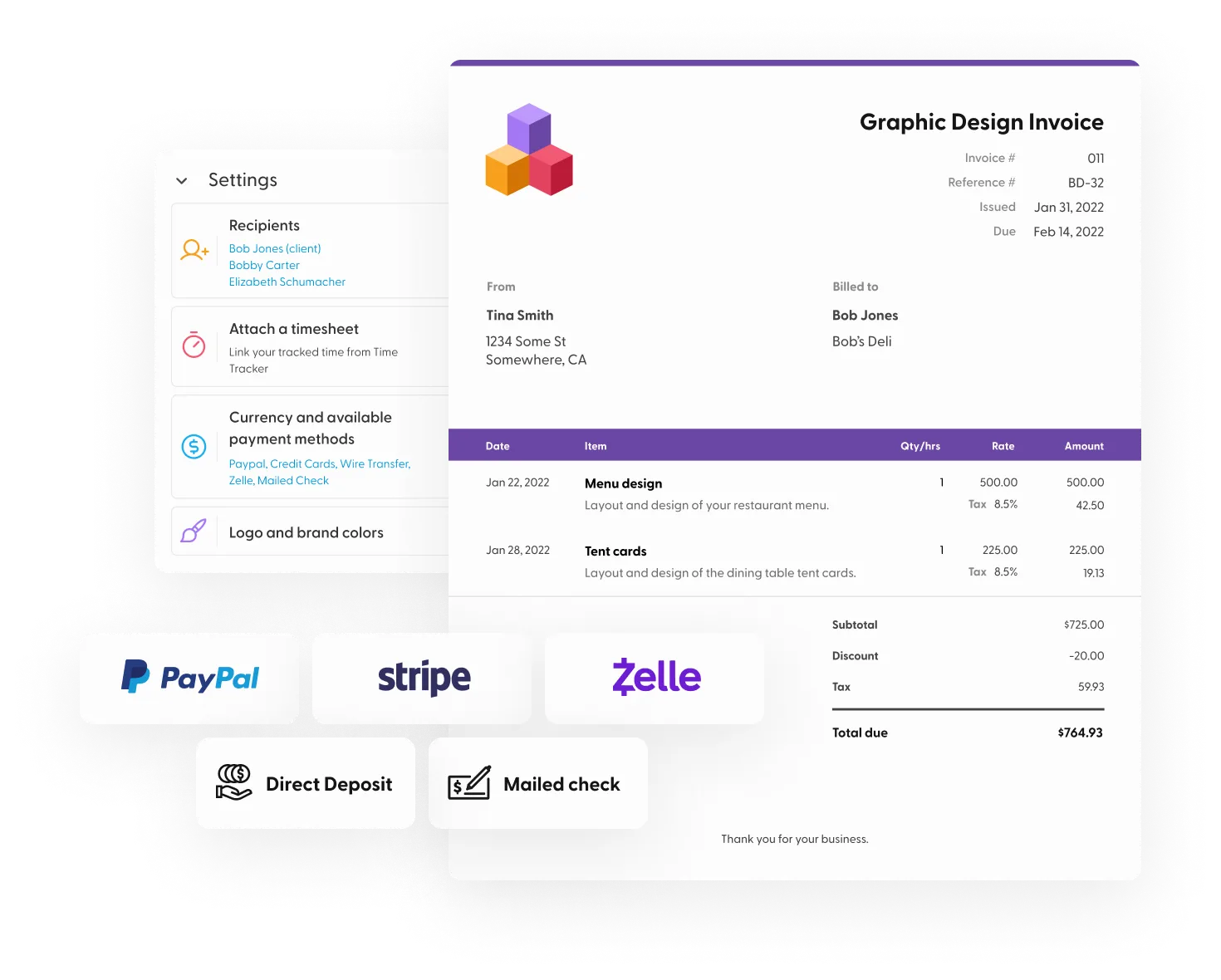 Indy is an all-in-one management software that helps self-employed people and small businesses easily manage their invoices. Invoice templates include all the info your clients need and give you the ability to add your personal branding. You can link working hours directly to an invoice using the Time Tracker tool and save yourself time. The invoice generator uses the industry's most trusted online payment solutions, and clients are one click away from paying using the method of their choice. Start Indy's Free plan today and take full control of your independent business from start to finish. Or upgrade to Pro plan for just $12 a month.
Invoicequick lives up to its name – allowing you to generate invoices fast. The invoice generation process with Invoicequick is usually complete in a matter of minutes. In addition to its speed and efficiency, Invoicequick also sports a clean and simple interface. It's also one of the few invoice generators that makes it possible for your business to receive payments by snail mail.
And like many high-end invoice generators, the invoices generated by Invoicequick can be customized further to suit the needs of your business. One of the customizations is the possibility of incorporating your company logo into the invoice template. What's more – the app lets you save your customers' profiles and invoices, which you can always access on the go.
BillQuick is not your ordinary invoice creation software. Besides allowing you to generate unlimited invoices, you can also use this software to track your workflow and boost your overall productivity. Some of the other functions you can perform using BillQuick include accounting, time tracking, expense tracking, and project management. That makes it a highly resourceful tool, particularly for established businesses.
All the tasks on BillQuick, including invoice generation, are automated and repetitive. Which saves you the time you'd have otherwise invested creating and tracking your invoices manually.
Just like BillQuick, Bill4Time is a resourceful software that helps you to create invoices as well as manage a variety of processes to optimize your productivity and boost your revenue. The app brings invoicing capabilities as well as accounting capabilities, client and project management, time tracking, and expense tracking under one roof.
Although Bill4Time is ideal for anyone, lawyers and accountants will benefit the most from its advanced features. That's because the app integrates with various financial and legal systems, including Quickbooks. It also packs a slew of customization features, such as the option of embedding invoices with your company's logo, as well as choosing from a wide array of invoice templates.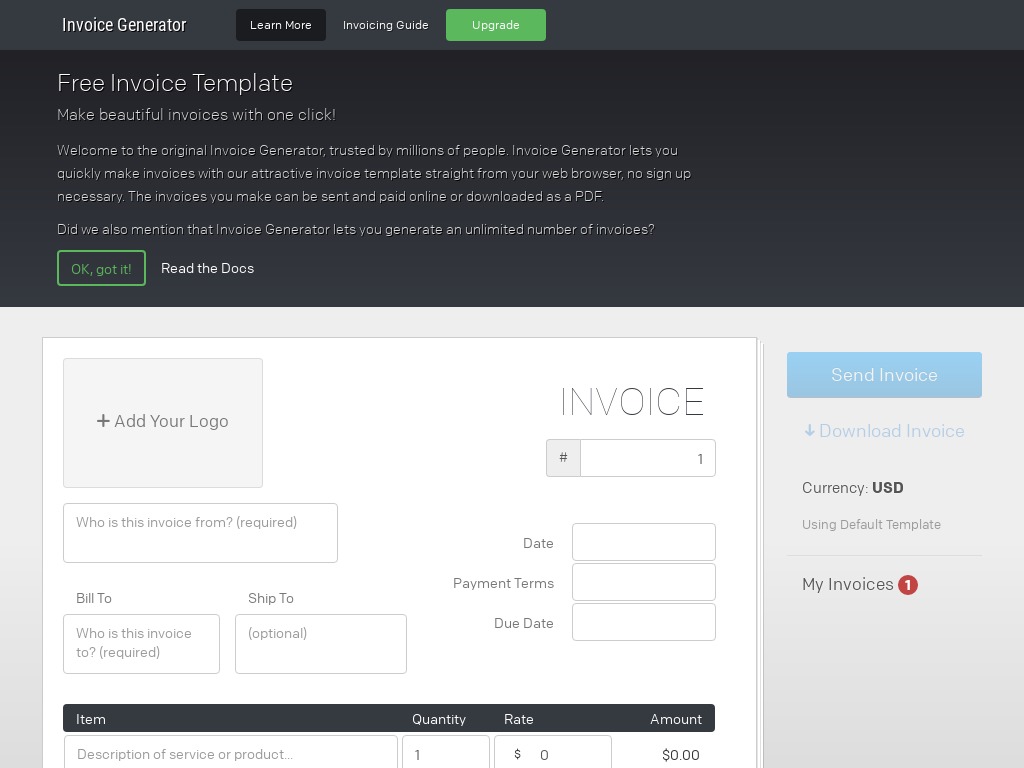 Invoice Generator by Invoiced bills itself as 'the original invoice generator,' and the software attempts to live up to that description. For starters, the app sports a simple and intuitive interface that makes it beginner-friendly. It also comes with lots of customizable features, including the ability to upload your company's logo along with your invoices and a variety of currencies for billing.
Invoiced's Invoice Generator also includes an informative section where startups can learn about the importance of invoicing while checking out the step-by-step instructions on how to use the app to generate invoices.
Zoho is a household name as far as designing cloud-based software and Service as a Software (SaaS) solutions for SMEs is concerned. The company's solid reputation is the reason it enjoys more than 40 million regular users worldwide.
Using Zoho's invoice generator, you can customize your templates by embedding your company's logo and slogans. The tool also lets you automate various aspects of invoicing that are usually time-consuming, such as recurring invoicing and payment reminders. The app integrates with some of the best cloud-based and online payment platforms like Dropbox, G Suite, PayPal, and Stripe.
Zintego.com is the perfect solution for small business owners to manage their invoicing needs quickly and easily. It offers professional invoice templates, an online invoice generator, and easy to use estimate templates. You can make receipts with just a few clicks and send them straight to customers. With Zintego.com, you can save time, stay organized, and look professional. It's the world's simplest way to invoice customers.
One of the striking features about Free Invoice Builder is its ability to create invoices in PDF formats. As you probably already know, PDF is considered the most flexible file formats, particularly for online engagements. Another thing to love about Free Invoice Builder is that the app lets you customize each invoice to the specific client you're sending it to.
You can embed your company's logo, add client and sender information, and add invoice terms (such as billing currency, taxes applicable, and shipping details). And just as its name implies, Free Invoice Builder allows you to generate as many invoices as you wish without paying additional fees.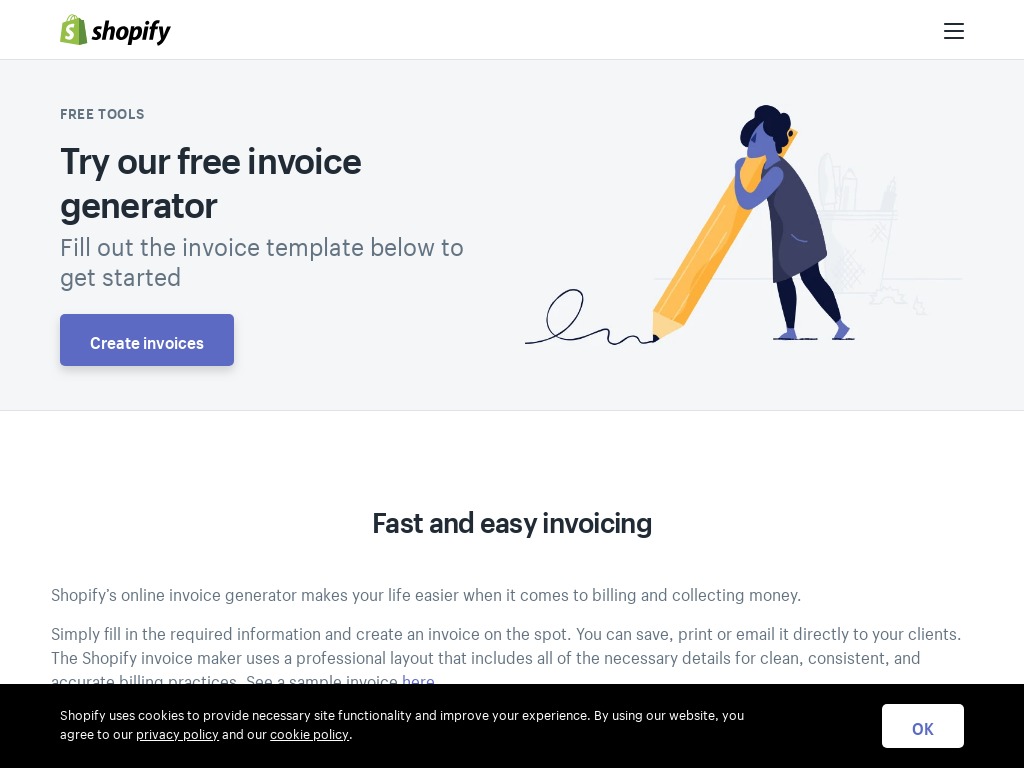 Shopify is a renowned brand that has helped thousands of startups around the world to set up their e-commerce stores. Adding to their long list of benefits for SMBs is their intuitive invoice creation tool known as Free Invoice Generator. To use Shopify's invoice generator, you begin by filling an online form, then upload your company's logo to Shopify, and allow the platform to do the rest.
After a few minutes, Shopify will generate an invoice template that you can download and print or send to your clients automatically online. You can create unlimited invoices using Shopify's Free Invoice Generator and you don't even need to be a Shopify client to take advantage of its invoice generator.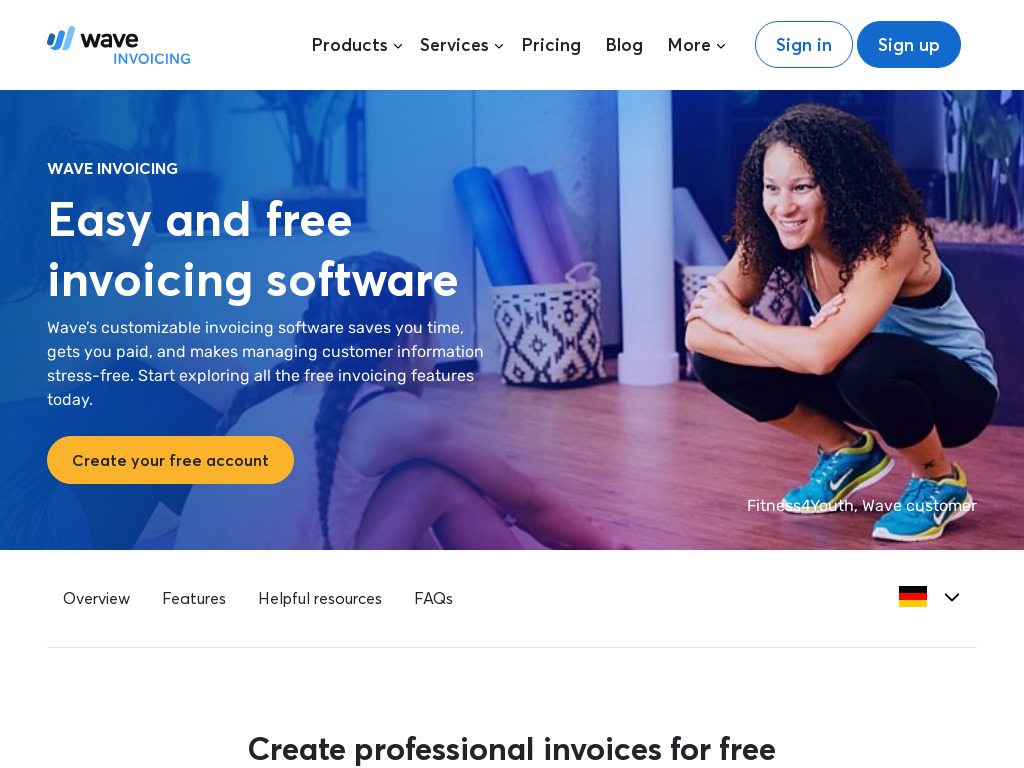 While some invoice generators require you to sign up for an account before you can use their services, Wave is readily available online. No account signup process is needed, neither do you need to download and install the app. Wave also comes with tons of customization features.
Besides adding your company's logo to an invoice, you can also include various invoicing details, such as the customer information, billing information, and shipping terms. Additional features by Wave include accounting capabilities, receipt scanning, recurring billing, as well as alerts and notifications when your clients view your invoices.
Zervant is an online tool that you can use to perform a range of functions besides generating invoices. The app is also effective for invoice tracking, time tracking, and expense management.
But here's the best part – when you integrate Zervant's invoice generator with your other expense and revenue management systems, the software will transfer all invoice payments automatically to your relevant accounts. After that, it avails various useful financial reports, including Income and Expense Reports, Transaction Reports, and Value Added Tax (VAT) Reports.
Invoicely is an easy-to-use invoice generator that comes with a beautifully-designed interface, complete with numerous features. The software lets you generate and customize your invoice templates, and there's no limit on the number of invoices you can create.
Invoicely also allows you to bill your clients in any currency and accepts payment via major online payment platforms like PayPal. Besides invoice generation, you can also use Invoicely to track your invoices and the general workflow through its reliable notifications system.
Think of all the advanced features you can expect in a top invoice generator and imagine that Invoice Ninja packs most (if not all) of those features. There's a reason the designers of this online invoice generator adopted the name 'Ninja,' and it's neither by default nor coincidence.
Invoice Ninja is probably the most customizable invoice generator on this list. The app also comes with a truckload of other nifty features, including a live PDF preview that offers you control over the invoice creation process. Online payment integration with trusted companies like PayPal, Stripe, and Authorize.net further give Invoice Ninja an edge over other invoice generators.
Conclusion
Invoice creation doesn't have to be an expensive and tedious process. Not when there are tons of powerful and affordable invoice generator tools that you can use.