Last Updated on June 28, 2022
A pair of scissors is a necessary household, school, and office tool. It's a safe bet that most people use scissors for anything many times a week, if not daily. It's one of the first functional and fun tools a person learns to use.

Scissors can be used in a variety of ways. Adults entertain children with blunt scissors and colorful papers. Crafters need scissors to start and finish their projects. Dressmakers can't do their work without scissors; the same thing goes for gardeners.
Students and office workers need scissors on standby as well. Needless to say, it's a tool that is important to have both at home or work.
Random Facts about Scissors
Did you know that…
…the basic pair of scissors was invented in 1500 BC in Egypt. Romans enhanced the design, upgrading it a cross-cut action, in 100 AD.
…the word "scissors" came from the Latin term "cisoria" which means cutting instrument.
…initially, the blades of scissors were constructed from bronze, and then later, iron.
…pivot action scissors were prominently used in the 6th century. Robert Hinchliffe started the

manufacture

of cast metal scissors in 1761.
…scissors are usually just between 6 and 7.8 inches in length. Big-size scissors are commonly called shears.
…the finger holes of scissors normally have similar size. On the other hand, shears usually have uneven size finger – one is larger than the other to accommodate for more fingers enables extra cutting strength.
…scissor blades must often be sharpened for smoother cutting. Oiling them every once in a while is also necessary.
Types of Scissors
Scissors come in different sizes and styles. The most common ones are as follows:
Safety Scissors – a.k.a. children's scissors. This kind of cutting tool has dull blades and ends and are usually encased in plastic so that kids won't accidentally hurt themselves. Some safety scissors are even made of plastic for extra protection.
Standard Scissors – a.k.a. office scissors. As the name suggests, these are the most commonly used type of scissors. They are basic in style and design. They have straight, functional blades that work well with the handles. Majority of households have a pair of standard scissors on hand as they are the most versatile type. They can be used for a lot of different things and materials, but they also require regular maintenance to keep the blades sharp and even.
Fabric Scissors – a.k.a. sewing scissors. This is the type that is commonly used by dressmakers and designers that work primarily with fabrics. They have longer blades with ergonomic handles usually made of plastic for a more comfortable grip. Fabric scissors are known for their sharpness and exclusivity – they should only be used for cutting materials since using them to cut paper can quickly dull the blades.
Pinking Shears – a.k.a. the serrated scissors. They are called as such because they "pink" or cut materials in a steady zigzag motion. Pinking shears are often used for decorative purposes like scrapbooking. They also help keep certain fabrics from raveling.
Bandage Scissors – a.k.a. the nurse scissors. They have short blades with long handles. One of the blades has a blunt end; another one has a pointed tab. They are sometimes referred to as nurse's scissors because they allow nurses and other medical practitioners to slip the blade under a bandage without slicing or harming the patient's skin.
Non-stick Scissors – are used to cut adhesive tapes and other sticky materials without the blades getting dull or gummy. The blades of non-stick scissors are usually coated with a special coating to do their job efficiently.
Heavy Duty Scissors – as the name suggests, are specially created for heavy duty use. They have a unique joint that helps the blades automatically adjust and cut through the thickness of the materials. Heavy duty scissors can cut through foam cores, corks, and even certain types of wood and metal.
Paper Edges Scissors – are part of the decorative type of scissors. They have interesting edges to create decorative borders on papers or fabrics. They usually have zigzag and scallop designs.
Detail Scissors – have detailed and finely honed blades that enable users to cut intricate shapes in tight corners and sharp angles.
Fringe Scissors – as the name implies, are specially made to make instant fringes. A pair of fringe scissors usually has five blades that do simultaneous cuts. This is a pair perfect for making confetti or shredding paper.
Perfect Scissors for Your Workspace
Here are 10 of the best scissors you can buy for your home or office use.
Even more great additions to your workspace: 

Made in Japan, Craft Design Tecnolgy Scissor is solid stainless steel with a delicate hairline finish. It's a multi-awarded office tool in terms of design and quality. It's available in both black and natural steel color.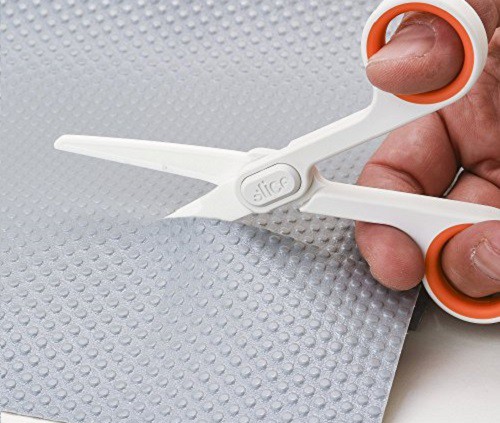 Best for making baby food, Slice 10544 Ceramic Scissors never rust. It's compact, safer than metal blades, and free of lead and Phthalate. The pair is also finger-friendly so even kids can enjoy using it. It cuts through Kevlar Fiber, papers, cardboards, and fishing wires.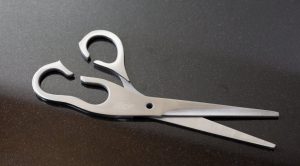 Featured before in the Museum of Modern Art (MoMA) store for its unique lay flat design, Slice 10420 is 100 percent all-metal, food grade, functional art scissors. It's sharp enough to cut through synthetic materials with ease. It can be used to slice pizza and baby food.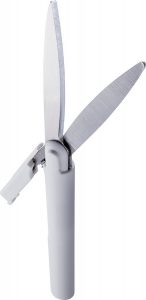 Perfect for cutting papers, strings and clothe tags, the Plus Pen Style Compact Twiggy Scissors is specially made for students and seniors. The pen style scissors can be carried in your bag, briefcase, pencil case, and even in your pocket. It's a great crafting and sewing tool.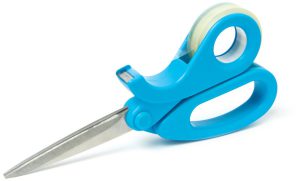 As the name suggests, Scissortape is a pair of scissors and tape in one. The shears have a built-in tape dispenser at its handle. It's best for gift wrapping and art projects.
Made from stainless, Kikkerland Toucan Kitchen Shears is both a pair of scissors and a bottle opener. It has a handy magnetic cover so it can be placed like a ref magnet. It has soft, colorful grips with steel tooth inset for long-lasting use.
Ideal for sewing, the Fiskar 8 Inch Forged Scissors can cut through a wide variety of fabrics like denim and silk. It features forged steel blades that provide long-lasting sharpness. This pair of Forged Scissors also has a lifetime warranty.
As the name suggests, this pair of scissors is made specifically for bonsai cutting. It's designed and created by Japanese Master Craftsmen. It's considered the most versatile bonsai scissors because it can cut through leaves, branches, and roots. This butterfly pair of scissors has a 3-year unconditional warranty.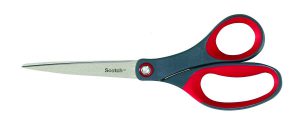 This 8-inch, stainless steel pair of scissors is made with the finest-quality materials to ensure a sharp edge and long cutting life. Scotch Precision also comes in 6-inch and 7-inch sizes. It also offers a lifetime warranty.
Known as the original Titanium Bonded scissors, the Westcott Titanium has blades three times harder than steel that also stays sharp for a long time. It features soft grip holes that maintain a comfortable yet tight handle around the scissors. It's ideal for both home and office use.
As their name implies, these shears are specifically designed to be used on facial hair which is why they are shorter than regular ones to get to hard-to-reach areas of the face effortlessly. Four essential features in beard scissors are blade length, steel quality, size and ease of grip because they determine how the shears will perform and whether they'll be portable.
Usually, they come with a convenient finger rest and offer the possibility of tightness adjustment with the tension screw, which is a circular knob in the middle of the scissors. Check the best ones at
Beardoholic
. For a great haircut, check the scissors listed by our friend at
Hot Styling Tool Guide.