Last Updated on May 23, 2023
The idea of an online ruler is somewhat fathomable. But what of an online life size ruler?
Well, as strange as it sounds, there are actually numerous virtual rulers that allow you to calculate measurements in both metric and inches systems. And they're nearly as accurate as physical ones.

Generally, online rulers are calibrated based on various parameters, including comparing the size of common actual objects, referring to the size of your screen (in inches), or referring to your monitor pixels-per-inch (PPI).

The following section details the ten best online actual size rulers that are just as effective as physical rulers.
With an online ruler, you can accurately measure the size of any object by simply placing them on your desktop screen. Also, it's a convenient alternative to a physical ruler. Now you don't need to carry a physical ruler all the time.

Simply visit https://ruler-online.net, the website will automatically take your screen resolution and show an accurate ruler on your screen. There is an option to set the Pixels per inch(PPI) to calibrate the ruler. In addition, you will get the ability to change the graduation of an inch. Most importantly, it shows the measurements in mm, cm, and inches.

Using this ruler, you can save your PPI for future use or you can restore it anytime. Once the calibration process is complete, you can start measuring the object.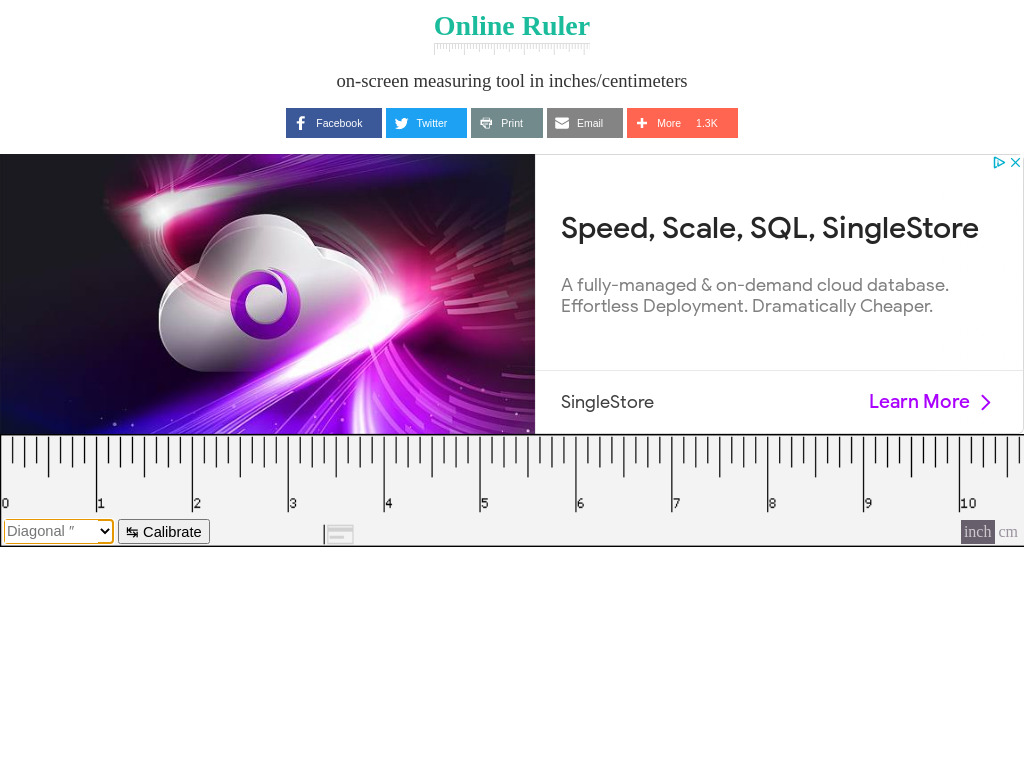 Online Ruler is a free to use on-screen measuring tool which comes in inches or centimeters. What we like about this tool is that you can calibrate the ruler in proportion to the actual physical size of your screen. This web-based app works on mobile gadgets as well as large screen computers such as laptops. We love the fact that the website is clean and easy to use, with no annoying ads distracting you.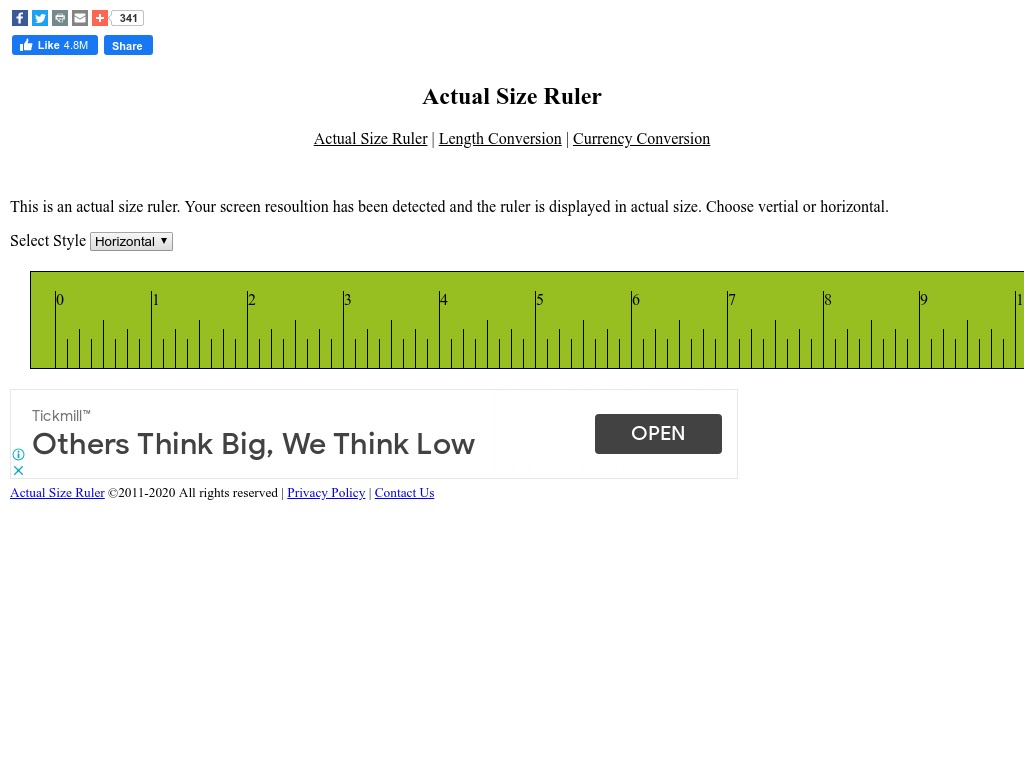 Not to be confused with Ehi Kioya's Actual Size Online Ruler, Actual Size Ruler is a distinct virtual ruler that boasts ease of use and high accuracy.

Unlike many virtual rulers, Actual Size Ruler doesn't ask that you adjust your screen resolution or monitor size. Instead, it automatically detects your screen resolution or monitor size and displays itself in the actual size.

You can choose between the vertical or horizontal scale, depending on the layout of the object you want to measure.
iRuler features prominently in numerous publications as one of the most reliable virtual rulers, mostly due to its accuracy. Whether you want to measure your actual physical objects in metrics (centimeters and millimeters) or inches, you can trust this online ruler to deliver.

iRuler is also incredibly easy to use. The tool is conspicuously visible on the http://iruler.net/ platform as a brownish ruler which is pretty much similar to a physical ruler.

When you look beneath the ruler, you'll be able to see your screen size, which you can use to measure the dimension of a physical object.
Are you an iPhone user trying to access a virtual ruler but feel left out? Perhaps you should consider Ruler.iphonemarks.

Now, Ruler.iphonemarks is basically the web-browser version of an iPhone application. Therefore, it allows you to convert your iPhone into a powerful measuring device. You can use it to measure the physical dimensions of your object in both metrics and inches.

As Ruler.iphonemarks is compatible with iPhone devices, iPhone users don't need to download additional apps to use this virtual tool.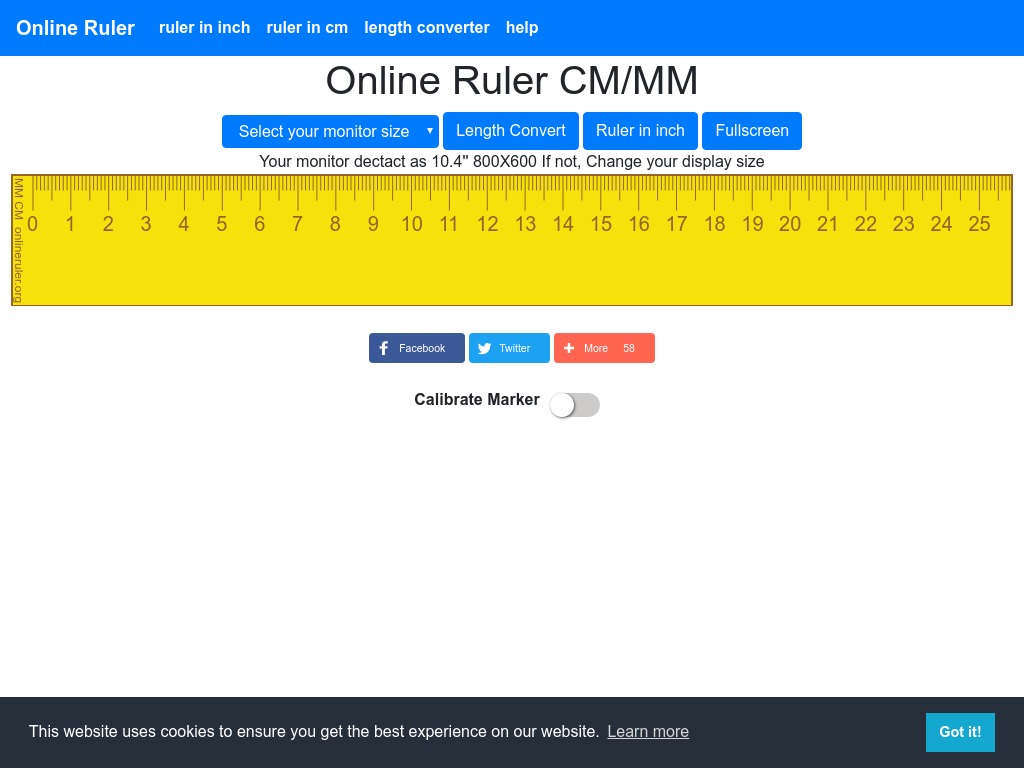 Online Ruler may not boast a fancy name. But it's one of the most powerful virtual rulers out there. For starters, the tool is highly accurate. Once your computer is accurately configured, Online Ruler will be able to measure your physical objects down to a fraction of an inch.

Another thing to love about Online Ruler is that it's completely written in Cascading Style Sheets (CSS), making the ruler presentable on computer monitors of different sizes.

When you visit the https://onlineruler.org/ web page, you'll be able to choose between two rulers, including an inch-based and a centimeter-based ruler. You can use either ruler depending on your familiarity with its calibration system.
As the name implies, PreciseRuler lets you determine the precise dimensions of your physical object. The tool boasts a clean and clutter-free interface, which speaks to its user-friendliness.

When you land on the http://preciseruler.com/ page, you'll be greeted by a huge ruler that runs both horizontally and vertically. You'll also see a notice asking you to specify the actual size of your monitor. That's necessary in getting accurate measurements.

You can specify your monitor's screen size by heading to the 'Monitor Size: unspecified' function on top of the page and adjusting the size from the dropdown menu. Once you've specified your monitor size, PreciseRuler will adjust its scale accordingly, at which point you're ready to measure your physical object.
GetRuler bills itself as the 'most accurate online ruler,' a description that it endeavors to live up to. Like most virtual rulers, this tool will ask that you calibrate it to suit your screen size before getting started.

You can simply calibrate the display using your credit card or driving license. Once you're through with the calibration, GetRuler will automatically adjust its scale to fit your screen.

Another standout feature about GetRuler is that the virtual ruler lets you adjust the image in centimeters, millimeters, inches, or pixels. Plus, you can use the tool either on your PC or mobile device.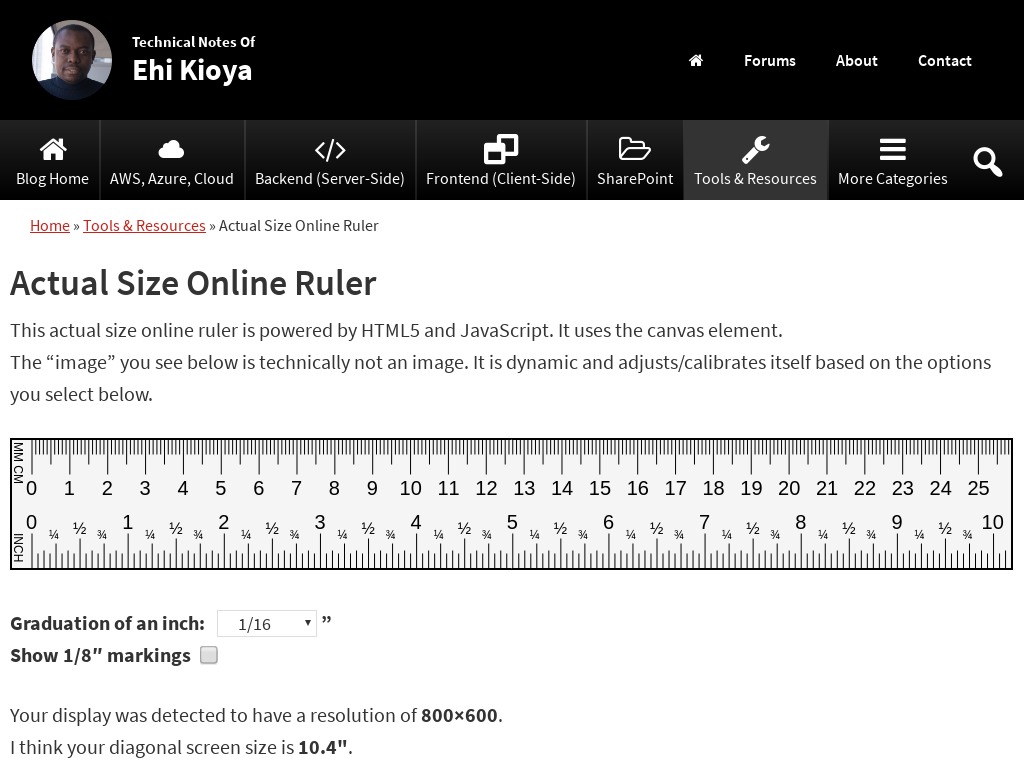 Actual Size Online Ruler is a project by Ehi Kioya and is available on his own blog, ehikioya.com. The ruler is designed to rely on your screen resolution when measuring the size of physical objects.

When you visit http://ehikioya.com/online-ruler/, the website will immediately capture your screen dimension. The dimensions are based on the display size as measured by your device's CPU. There's a provision for selecting another screen dimension from the dropdown menu if you believe that the displayed dimension doesn't match that of your screen.

Once Actual Size Online Ruler has accurately captured your monitor size and screen resolution, you can now proceed to measure your object, making reference to your monitor screen.
GiniFab is another great virtual ruler that you can use to determine the dimension of physical objects. The tool is very easy to use, as you can easily drag it left or right to match the actual size of the physical object in your hand.

To get started, you'll need to head to the https://www.ginifab.com/feeds/cm_to_inch/actual_size_ruler.html website and adjust the ruler in actual size.

When you're done, remember to save the settings of your monitor to your desired pixels before exiting the website. After saving the settings, you can refresh your browser to verify the results.
Final Word
There goes our review of the top ten free online rulers. Whichever tool you choose, remember that its accuracy in measuring your physical objects will depend on the accuracy of your monitor size or screen resolution.