Up until recently, recording a phone call required an external device that worked as a transmitter between a digital recorder and a desk phone's handset and base. While some people still go for this traditional phone recording technique, others prefer more ingenious and convenient ways like the use of third-party apps and cloud-based services.

Besides their remarkable convenience, third-party apps are also reasonably affordable. There are no costs incurred in procuring large and bulky external devices. You only need to download and install the app to enjoy endless days of phone call recording. Now, Android and iOS devices are not natively able to record phone calls. However, their respective app stores are awash with apps that make phone call recording a breeze.

The following is a rundown of 6 apps that allow you to record both incoming and outgoing phone calls.
iOS Download Link: https://itunes.apple.com/us/app/call-recording-by-nonotes/id522637615?mt=8&ign-mpt=uo%3D4

NoNotes was originally designed for iOS devices. But now, Android users can also take advantage of this ingenious phone call recording software. To record your phone conversations on NoNotes, you'll need to register for a NoNotes account using your phone number, email address, and unique pin. After signing up, you get up to 20 minutes worth of free phone call recording. You can exceed that limit by paying an additional fee.

In addition to phone call recording, NoNotes is also one of the most popular transcription services, boasting thousands of active monthly users. That means after recording your phone call using this software, you can automatically have it transcribed.
ACR is an abbreviation for Another Call Recorder. It's a free phone call recording app that comes with advanced built-in features. With ACR, you can search your recordings using the contact name, phone number, or note. Phone call recordings by ACR are stored in various file formats, including MP3, MP4, MPA, WAV, OGG, AMR, FLAC, and 3GP.

The app also comes with a feature that auto-deletes old recordings. And on the off chance that you accidentally delete a recording, you can use Recycle Bin to recover the deleted files. What's more, you can password-protect your recordings to restrict access to them. And like NoNotes, ACR also offers transcription services.
If you're an Android user, you probably already have the Google Voice app installed on your phone. Even if you haven't installed it yet, the app is readily available on the Google Play Store. Like most Google products, Google Voice is reasonably easy to use.
You'll begin by selecting a dedicated phone number through which all your incoming calls would be routed to your actual mobile number. The next step is setting up a Google Voice account. Once you have the Google Voice account, tap on the app's hamburger icon that's located in the upper left corner. Next, tap the Settings command, swipe down the screen and finish the process by turning on the 'Incoming call options.'

Whenever you wish to record a call, you simply press number 4 on the keypad after answering the call. You'll hear a notification that Google Voice is recording the conversation. You can end the recording by pressing 4 on the keypad again. After stopping the call, Google Voice will automatically save the recording in your inbox. One glaring drawback with Google Voice is that you can only record incoming calls.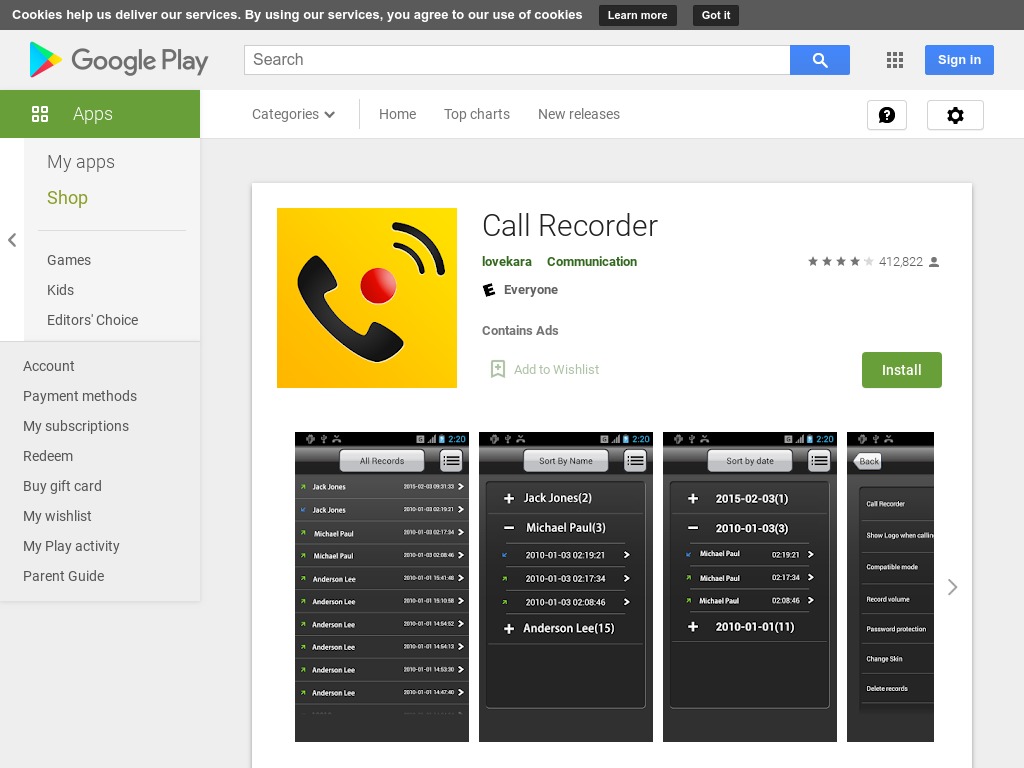 If you're looking for a phone call recording app that features a clean and minimalistic interface, look no further than Call Recorder. Using this app by Lovekara, you can decide to record your conversations either manually or automatically.

Other admirable features about Call Recorder is that you can set your preferred file location and change the recording source. The app also lets you organize your call records so that you can access them using various parameters like the time of recording, name of caller, or date of recording. But while Call Recorder is totally FREE, it features some invasive ads.
Automatic Call Recorder by from Appliqato is a user-friendly app that you can use to record both incoming and outgoing calls. To use the tool, you'll need to start by configuring its settings in the Settings menu. On this menu, you can enable the option to record your calls automatically. Alternatively, you could opt for the more convenient option of recording your conversations by simply shaking your phone. There's also the option of recording specific phone calls and ignoring others.

After recording your calls using Automatic Call Recorder, you can save or export the files to other secure platforms like Google Drive and Dropbox. However, note that this software is incompatible with some devices, regardless of whether those devices are Android-based or not. So, it's always prudent to try out the free version before purchasing the premium plans.
iOS Download Link: https://apps.apple.com/us/app/rev-voice-recorder-memos/id598332111

Rev Voice Recorder doesn't record your calls directly. To take advantage of this tool, you'll need to make a call on speakerphone and then submit the recorded file to the service for transcription. Once a Rev transcription is ready, you can download the file immediately or export it to other services, such as Box.net, Dropbox, or Evernote. Rev Voice Recorder may not be the best software in terms of its ease of use. But it's one of the most efficient apps when you're looking for accuracy of the recorded calls, thanks to its reliable transcription services.

To record incoming calls, accept the call and then press the Home button. Open the Rev app and tap the Start Recorded Call > Incoming Call. Next, tap 'Call' to dial Rev's recording line and then tap 'Merge Calls' to connect the two calls.

For outgoing calls, begin by heading to the Rev's app and tapping the Start Recorded Call. Enter the phone number you wish to call and then tap "Start Call." Next, tap on 'Call' to call into Rev's recording line and tap 'Call' again to call the recipient. Once both calls are connected, tap 'Merge Calls' to start recording.
Final Thoughts
Phone call recording is an excellent way of preserving your phone conversations for future reference. But note that in some countries, the law requires both parties to consent to having the phone conversation recorded. Therefore, you'll need permission from the person on the other end of the line before you can record the conversation.