Last Updated on April 26, 2021
Online, your identity is your domain name. In simple terms, it's the avenue where online users take note of your website, the name which potential and current customers pass to other people. This is why choosing a domain name that adds value to your business calls for careful thought and consideration.
It's perhaps the trickiest stage when you're to establish your brand identity online because you have to make it one of a kind. And in most cases, there's no changing your domain name once it's registered in the domain registrar company.
Importance of Your Domain Name
Your domain name is a crucial element of your website or blog. Simply put, it can make or break your site. It's important for many reasons, but mainly because:
It's your brand's "first impression." Your website address is one of – if not – the first thing users see when they visit your site or blog. A great domain name can make a favorable and lasting impression, while a poor one can send potential visitors running away.

It influences SEO. While Exact Match Domains are not a requirement anymore, keywords in your URL still help your SEO ranking.

It outlines your brand. In simple words and fewer characters, your domain name describes your business. The right website name can also boost brand recognition.
Deciding on the name of your domain is as significant as naming your newborn baby. For as long as the business exists, it will be known by its domain. So, the name needs to be snappy and unique. It must also effectively convey something about your business or brand.
Given that a significant number of top-level domains (TLDs) are already used, choosing a domain name is not an easy feat. In the past, securing a domain name was restricting as the majority of the popular words on .com and .org were already taken.
Today, the options are varied with regards to domain name extensions like .io, .net, .co and many others. Depending on your niche, you can get creative and pick a domain name that fits best for your business. For example, if you're selling different kinds of lipstick, you can use lipsti.ck instead of lipstick.com.
Basics of Choosing a Unique Domain Name
There are several strategies to come up with a good and strong domain name, but here are the guidelines you must always follow:
Keywords + Words
Your domain name should reflect, or at least, be connected to your brand, product or service. This way, when online users see your URL on their search engine result, they'll know, more or less, what your site is about. To come up with a unique, memorable domain name, use keywords related to your niche.
Choose ten keywords, five random popular words and a few prefixes or suffixes, and try to mix and match. You can use a domain name generator or a name randomizer to make the process easier. Using a tool can also help you save time as it'll eliminate domains that are already taken.
One of the best ways to look for a free and register domain name relevant to your business is to combine a keyword to a prefix or suffix until you find a match that is unique and memorable. Here are some of prefixes and suffixes you can use:
Classic Prefixes
the

me

pro

super

cyber

free

meta

re

bis (twice)

ad (to, towards)

exo (outside)

extra (addition)

hyper (over)

macro (large)

multi (many)

neo (new)
Classic Suffixes
central

home

place

spot

dome

bay

web

net

base

heaven

portal

camp

network

street

city

book

guide

link

lab
Click here for more ideas of descriptive words you can add to your chosen keywords.
Domain Name Extension
Deciding what domain name extension you must use can be quite confusing, but always prioritize .com. If it's not available with your chosen domain name (and if you don't want to change your name), you may use a different extension in the new generic top-level domains (gtLDs) like. oi, .guru, .co and so on. Keep in mind though, that it's in your brand's best interest to come up with a name using the .com extension.
Easy to Remember
Your domain name must be memorable. There are millions of domain names online, and if you want to your target market to remember you in a snap, your site's URL must be easy to remember. Imagine getting introduced to a person with a difficult-to-pronounce name.
After a few minutes, most likely, you'll have a hard time remembering the person's name. It's similar to choosing a domain that is hard to recall. "Unique" that is memorable and clever is different from "unique" that is difficult and confusing. Stick with the first strategy.
Copyright Infringement
Before choosing a domain name, ensure you're not violating any pre-existing brand or company copyright policies. A quick search online about domain copyright infringement can save you from any legal troubles.
Tips for Choosing the Best Domain Name
Deciding on your domain name is a big deal. To help make the process easier, here are tips to follow:
Brainstorm for domain name ideas.
Good old-fashioned brainstorming is an excellent idea if you can't figure out the best name for your website or blog. If you have a team, ask them to come up with good domain name ideas. Encourage them to think broadly and outside the box. Take note of anything that is relevant to your business, even just remotely. You never know where the best idea will come from.
Also, use keywords to help you come up with ideas (as explained above). The keywords research for your domain is one of the top key components that can help you obtain higher rankings in different search engines.
That being said, you must not acquire a domain name based on the keywords alone. An amalgamation of a keyword and your business is necessary.
Keep the name short and simple.
A concise domain name is an unforgettable URL. Steer clear from complex and difficult-to-spell name ideas as they will lessen your site's progress online.
When it comes to the length of your domain name, shorter is better. Based on a study from Gaebler.com, the top five websites for every niche have approximately six characters in their domain names.
Aim for a URL that is between 6 to 14 characters. It's likely that the shorter domains are already taken and sold for an obscene amount of money. So, if you can't find something short, make it brandable.
Go with .com.
Domain name extensions today are wide-ranging, from the ubiquitous .com, .net and .org to niche-related extensions such as .photo, .sushi and .travel. While the new ones are fun and creative, .com is still the recommended extension, especially for business sites and blogs. Dot-com remains the most established and credible extension online. Also, majority of smartphone keyboards today have a .com button.
Most online users, particularly those who are not tech-savvy, add ".com" at the end of every domain they key in without thinking about it. For example, if your website is snapmemories.travel, and users, without thought, type in snapmemories.travel.com, they'll be directed to an error page on travel.com. It's best to avoid this risk by choosing the .com extension.
Target your location.
Using your vicinity in your domain name can result in increased sales and conversions. This is a tried-and-tested technique for small to medium-sized local businesses. The ideas you can come up for your domain name don't have to be limited to your brand name. They can incorporate your location or other factors relevant to your business.
Use a thesaurus.
Domain name generators and other online tools can't always find the perfect domain name for your website or blog, but they can help a great deal. One tool you can use is an online thesaurus like this one.
Type in the primary keywords you've brainstormed as well as features, selling points, product benefits, and services connected to your business. The online thesaurus will give you a longer list of possible words to mix and match.
Make sure the name is easy to spell and pronounce.
You must be able to effortlessly share your URL when you say it out loud as well as when you write it down. When you meet with potential clients in person, it's likely you'll mention your website.
Listeners should understand and spell your domain name even without a cheat sheet. This also makes it easy for them to share your domain by word of mouth.
Also, if your URL is easy to spell, visitors will be able to type your domain without a hitch. If you have to spell it a couple of times for it to be understood, then it's too complex.
Come up with a "unique" name.
In a way, your website or blog domain must be one of a kind, so you'll get noticed ahead of your competition. It's a smart strategy to investigate other sites in your niche and see what their domains are. From their names, you can eliminate ideas in your list to avoid being accused of copying.
Avoid hyphens.
A hyphen in your URL can be confusing. It can also lead to a typo. Your domain name should be simple and smooth, and hyphens get in the way of that.
Refrain from using double letters unless it's necessary.
It's smart to avoid a domain name with double letters since it can raise the likelihood of losing traffic due to typing errors. For instance, a URL like accessaccommodations.com will be more susceptible to typos, which can be annoying.
Check name availability on social media platforms.
Before you buy a specific domain name, make sure to check if the name is still available on different social media sites. To build a strong brand, it's best to have the same name across the board – social networking sites included. This creates familiarity and makes it easy for your target market to find you online.
Leave room for expansion.
It's best if you go with a domain name that is connected with your niche since it gives users a hint or an idea of what your website or blog is about. However, avoid limiting your ideas too much. For example, if you're creating a website for your cupcake business, you may initially choose a domain like prettycupcakes.com.
But what happens when you start selling baked goods beside cupcakes?  In this case, your domain may keep you from attracting potential customers interested in cakes and other pastries.
Use a domain name generator.
There's a huge selection of domain name generators online, most of which are free. Many of them use a special algorithm that gives possible domain names based on the keywords you've keyed in. Let's take a look.
BustAName enables you to get the best domain name using its word combiner which finds similar words and checks for available domain names. You can review the possible names provided by the generator, switch the word order to create new possibilities and mix up to three words. You may also set up a group of words to create domains, apply hyphens, make it plural or even remove the last vowel.
Namemesh is one of the most popular free domain name generators available. The great thing about this tool is you can look for domain availability for new domain name extensions. You can also outline the maximum number of characters for your preferred URL.
Shopify's Business Name Generator generates and delivers ideas for possible domain names. Use the keywords you want your domain to incorporate, and you'll get a list of suggestions. Even though the website recommends you to make a Shopify shop with the names it suggested, you can go elsewhere to get the URL. All suggestions use the .com extension.
Nameboy lets you find readily available domains in line with the keywords you pick out. Key in up to two keywords and the generator will promptly produce a list of recommended domain names. Its charts make it simple to figure out which extensions are used and which ones you may still get. You may also see which domains are up for resale and enable hyphenated ideas and rhyming keywords. Nameboy is especially effective if you already have a solid idea of what keywords you want to apply but are interested in suggestions on its different variations.
NameStall provides a number of tools to assist you in your domain name lookup. You can start with its domain name generator that looks for possible domain names using the keywords you've typed in. You may also use other filters like parts of speech, popular keywords and industry categories. You can pick out in what order your keyword appears: at the beginning or at the end of your domain name or if you want a hyphenated website address. The site also lets you choose extensions quickly through its filter function.
Use Lean Domain Search in a variety of ways. The simplest approach is to use a single keyword to look for domain options on the site's database. Your query will generate hundreds, if not thousands, of URL suggestions. All results are available on .com extension. With this domain name tool, you can also filter your search alphabetically or by length, track your search history, and save your favorite domain names. It also instantly shows the results of your search.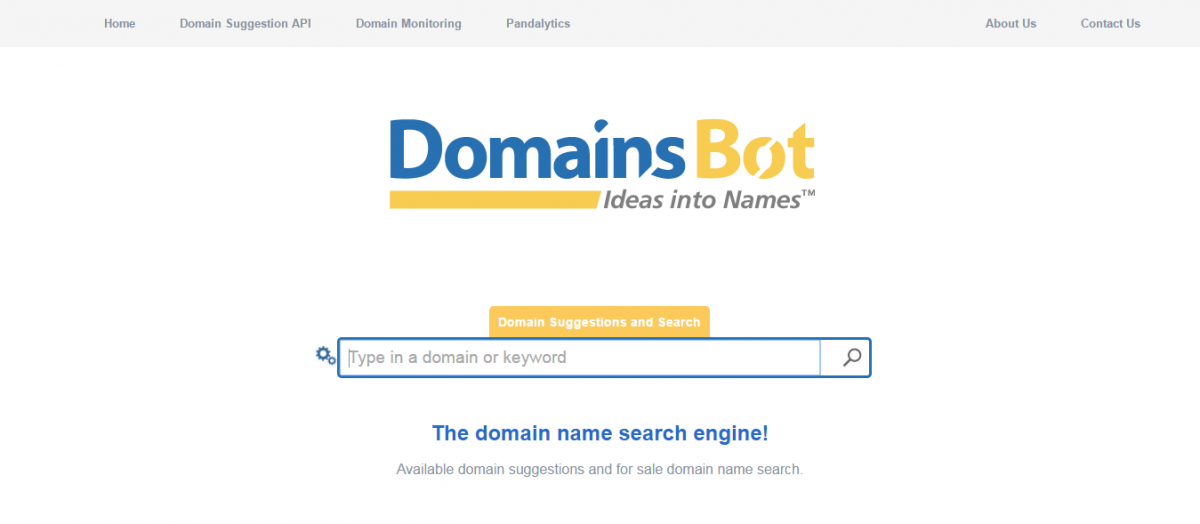 Domainsbot is a straightforward domain suggestion tool that incorporates your keyword to ensure you get excellent domain ideas. The great thing about this tool is when you look for a niche-based keyword, it also detects the domain listings and prices from GoDaddy and SEDO. This can be useful in finding the right keyword-rich domain for your website or blog.  
Domainr enables you to check out the entire domain name world past the omnipresent extensions –  .com, .net and .org – and uncover new and unique domains. It also anonymously records queries and monitors over 1,700 top-level domain names and about 1300 common TLDs.
Impossibility! is a domain name tool that generates your keyword and integrates it with a meticulously selected set of nouns, verbs and adjectives, preceding the search for unregistered domains. It utilizes a number of servers to help make the process as fast as possible.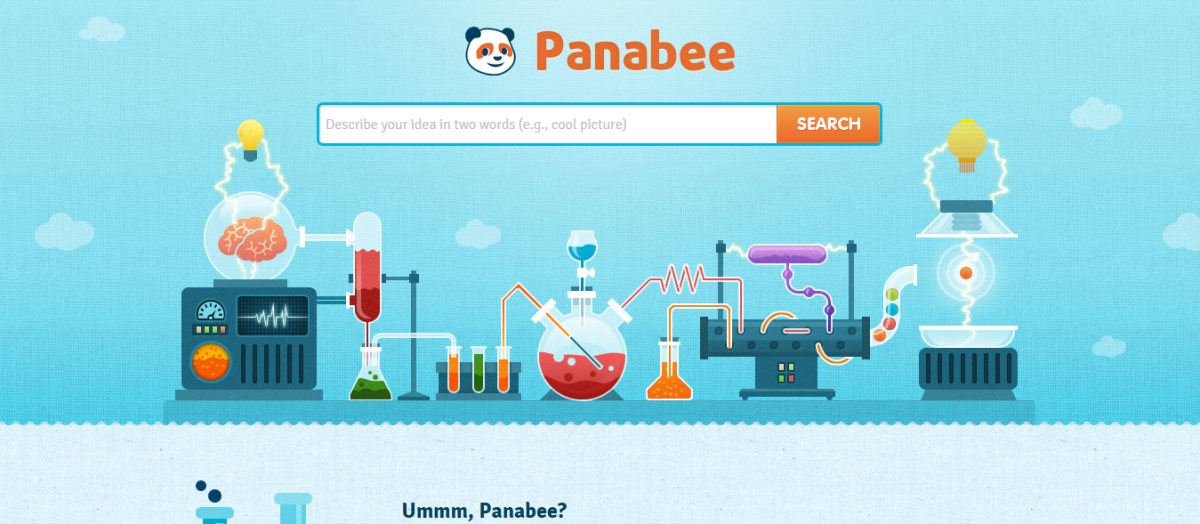 Panabee is a URL search tool as well as a company and domain name generator. Start with two keywords, and look for domain name recommendations. If the URL you want is already taken, you can go to GoDaddy to see what other extensions are available for your chosen domain name. If you don't like the suggestions, Panabee will provide related terms you can look for. Along with displaying available domains, Panabee also indicates if your ideal domain is already used in a social media platform as a username.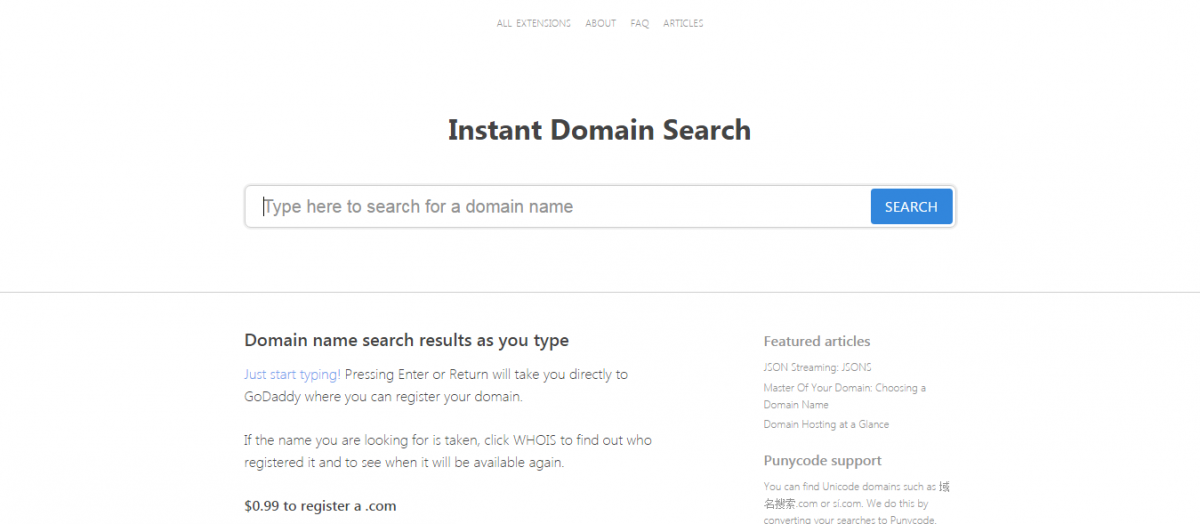 Instant Domain Search is a resource that works efficiently if you already have a website name in mind. Enter your idea, and the program will tell you if it's still available or not. If it's already taken, it will provide alternatives. IDS will also inform you which names are up for auction and resale. You can acquire the name through a link on the site that will redirect you to GoDaddy to complete your purchase.
I Want My Name is much like Instant Domain Search as it is most effective if you already have a preferred domain name. Type in the URL you like, and the program will tell you if it's still up for grabs. If not, it will provide alternatives and their corresponding prices. You may also filter the result by hiding domains that are already used.
Kick start Name Station by registering for a free account (you can use your email or Facebook account to do so). With this resource, you'll have access to different domain name generators, instant availability checker and keyword suggestions. You may filter the result based on extension, the number of characters, name length and so on. If you're out of keyword ideas, you can start a search for ideas by industry.
Wordoid makes made-up words that are different and unique but still sound and look good. Each "fake" word is ten letters long or less. You can choose from up to five languages, and even combine different languages to generate a one of a kind fusion. The program also lets you customize the level of quality from low to high, where high quality means the word looks like natural words from your chosen language/s.
NameTumbler provides you with website names by mixing up keywords you like with a word or term from the NameTumbler repository. When you merge the words, you can also pick the keyword placement. You may use hyphens to split up recommended names, go with the extension of your choice and view the results.
Cool Name Ideas boasts of a company name generator that informs you if the URL name is still available. The thing that makes this name generator unique is that it lets you choose filters depending on the size of your company and your target market. This makes the domain name suggestions perfectly suitable for your business. The advanced options also enable you to choose character length and the placement of the keywords you've used. You will also receive a notification if your preferred domain name is used as a Twitter handle.
Domain Puzzler is a user-friendly application with lots of options. You can start with the "easy" version, and type in your preferred keywords, pick out your domain extensions and look for ideas. The great thing about this generator is you can add several keywords instead of just a couple like with other domain name tools. It will also merge your keywords into multiple variations. You can add the results to your favorites list or try using the advanced search. The app also provides a comparison page so you can check the page ranking of different URLs.
Dot-o-Mator enables you to produce domain name recommendations by choosing a list of words for the beginning and end of the web address. If you find a name you like, you can incorporate the two and see the result. If you find the result favorable, it will then be directed to the scratch box to assess its availability. The program is also available as an iOS app.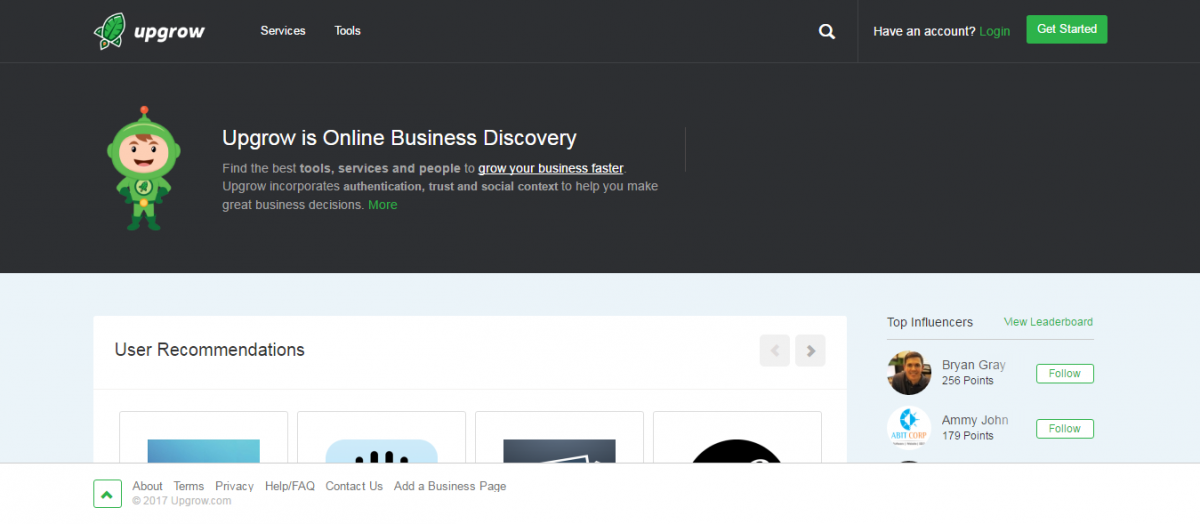 Bulktopia offers domain name ideas determined by your keywords, in addition to analysis into potential domain names, including age, expiration, page ranking, backlinks, and social media name availability.
This URL generator lets you look for domains with the following extensions: .com, .cc, .TV, .net. The adult name suggestion is turned off by default, although you have the option to turn it on. This is not recommended, however, as most firewalls prohibit access to websites based on keywords in their domain names.